Graphene Oxide Decorated Nanometal-Poly(Anilino-Dodecylbenzene Sulfonic Acid) for Application in High Performance Supercapacitors
1
SensorLab, Department of Chemistry, University of the Western Cape, Private Bag X17, Bellville, Cape Town 7535, South Africa
2
School of Chemical Engineering, Section I: Chemical Sciences, Lab of Inorganic and Analytical Chemistry, National Technical University of Athens, 9 Heroon Polytechniou Str., 15773 Athens, Greece
*
Authors to whom correspondence should be addressed.
Received: 1 December 2018 / Revised: 4 February 2019 / Accepted: 6 February 2019 / Published: 11 February 2019
Abstract
Graphene oxide (GO) decorated with silver (Ag), copper (Cu) or platinum (Pt) nanoparticles that are anchored on dodecylbenzene sulfonic acid (DBSA)-doped polyaniline (PANI) were prepared by a simple one-step method and applied as novel materials for high performance supercapacitors. High-resolution transmission electron microscopy (HRTEM) and high-resolution scanning electron microscopy (HRSEM) analyses revealed that a metal-decorated polymer matrix is embedded within the GO sheet. This caused the M/DBSA–PANI (M = Ag, Cu or Pt) particles to adsorb on the surface of the GO sheets, appearing as aggregated dark regions in the HRSEM images. The Fourier transform infrared (FTIR) spectroscopy studies revealed that GO was successfully produced and decorated with Ag, Cu or Pt nanoparticles anchored on DBSA–PANI. This was confirmed by the appearance of the GO signature epoxy C–O vibration band at 1040 cm
−1
(which decreased upon the introduction of metal nanoparticle) and the PANI characteristic N–H stretching vibration band at 3144 cm
−1
present only in the GO/M/DBSA–PANI systems. The composites were tested for their suitability as supercapacitor materials; and specific capacitance values of 206.4, 192.8 and 227.2 F·g
−1
were determined for GO/Ag/DBSA–PANI, GO/Cu/DBSA–PANI and GO/Pt/DBSA–PANI, respectively. The GO/Pt/DBSA–PANI electrode exhibited the best specific capacitance value of the three electrodes and also had twice the specific capacitance value reported for Graphene/MnO
2
//ACN (113.5 F·g
−1
). This makes GO/Pt/DBSA–PANI a very promising organic supercapacitor material.
View Full-Text
►

▼

Figures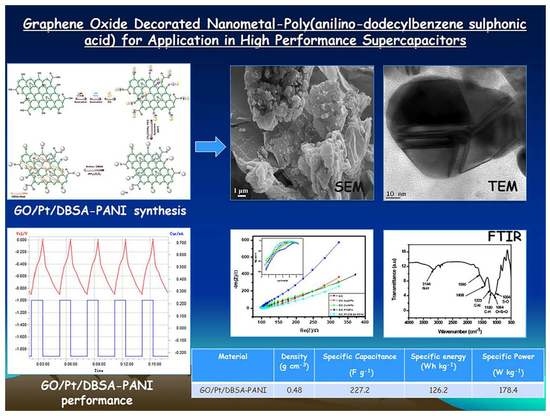 Graphical abstract
This is an open access article distributed under the
Creative Commons Attribution License
which permits unrestricted use, distribution, and reproduction in any medium, provided the original work is properly cited (CC BY 4.0).

Share & Cite This Article
MDPI and ACS Style
Dywili, N.R.; Ntziouni, A.; Ikpo, C.; Ndipingwi, M.; Hlongwa, N.W.; Yonkeu, A.L.D.; Masikini, M.; Kordatos, K.; Iwuoha, E.I. Graphene Oxide Decorated Nanometal-Poly(Anilino-Dodecylbenzene Sulfonic Acid) for Application in High Performance Supercapacitors. Micromachines 2019, 10, 115.
Note that from the first issue of 2016, MDPI journals use article numbers instead of page numbers. See further details here.
Related Articles
Comments
[Return to top]