Open Access This article is
freely available
re-usable
Review
Three-Dimensional Printed Devices in Droplet Microfluidics
1
State Key Laboratory for Turbulence and Complex Systems, Department of Mechanics and Engineering Science, BIC-ESAT, College of Engineering, Peking University, Beijing 100871, China
2
Department of Production Engineering, KTH Royal Institute of Technology, SE-100 44 Stockholm, Sweden
3
Department of Machine Design, KTH Royal Institute of Technology, SE-100 44 Stockholm, Sweden
4
CAPT, HEDPS and IFSA Collaborative Innovation Center of MoE, Peking University, Beijing 100871, China
*
Authors to whom correspondence should be addressed.
Received: 29 September 2019 / Accepted: 8 October 2019 / Published: 4 November 2019
Abstract
:
Droplet microfluidics has become the most promising subcategory of microfluidics since it contributes numerous applications to diverse fields. However, fabrication of microfluidic devices for droplet formation, manipulation and applications is usually complicated and expensive. Three-dimensional printing (3DP) provides an exciting alternative to conventional techniques by simplifying the process and reducing the cost of fabrication. Complex and novel structures can be achieved via 3DP in a simple and rapid manner, enabling droplet microfluidics accessible to more extensive users. In this article, we review and discuss current development, opportunities and challenges of applications of 3DP to droplet microfluidics.
Keywords:
3D printing; additive manufacturing; droplet; emulsion; microfluidics
1. Introduction
Droplet microfluidics is one of the most important subcategories of microfluidics, which creates and manipulates discrete droplets through immiscible multiphase flows inside microchannels [
1
]. Droplet microfluidics mainly refers to chip fabrication, droplet formation, manipulation and applications [
2
]. Its rapid development contributes a significant number of applications to various fields [
3
]. Conventional chip fabrication methods are usually complicated and expensive, which hinders droplet microfluidics further development. Thus researchers are devoted to developing new fabrication methods bearing with simple and low-cost manner. Recent development of three-dimensional printing (3DP), or additive manufacturing (AM), technologies open a new door for fabrication of microfluidic devices. It was developed in early 1980s [
4
], which featured layer-by-layer fabrication process. 3DP is attractive for the fabrication of microfluidic devices based on the following reasons: (1) 3DP provides freedom of designing novel structures and capability of creation of truly three-dimensional (3D) structures. (2) It is easier to learn and operate whereas conventional methods usually require professional knowledge and additional training to understand. (3) Computer-aid as a center role integrating digital design, automated fabrication and fast prototyping is the next generation manufacturing mode, which is able to greatly reduce the production cycle life time and make it possible for cloud manufacturing.
Therefore, the application of 3DP techniques in microfluidics experienced explosive growth in recent years and many excellent reviews have reported 3DP development in microfluidic community [
5
,
6
,
7
,
8
,
9
,
10
,
11
]. To our best knowledge, no review works have dedicated exclusively to 3DP applications in droplet microfluidics which is the most important subcategory of microfluidics. Most excellent reviews summarize relevant studies based on different printing methods and discuss from manufacturing view. This review will focus on discussion of 3DP employment in droplet microfluidics from droplet dynamics perspective: (i) A brief summary of droplet microfluidics is first introduced, especially focusing on droplet generation methods including both passive and active methods. (ii) A brief summary of printing methods exclusively available for droplet microfluidic is then conducted. (iii) Studies on 3DP droplet microfluidics are categorized based on the manner of droplet formation and manipulation. (iv) The challenges and opportunities for 3DP development in droplet microfluidics are discussed.
3. Available 3D Printing Techniques for Droplet Microfluidics
4. 3DP Droplet Microfluidics
In this section, we will review the recent development of 3DP in droplet-microfluidics, which is first summarized in
Table 1
and then details will be introduced in the following subsections.
5. Challenge and Opportunities for 3DP in Droplet Microfluidics
In this section we will discuss the most concerned aspects for applying 3DP to droplet microfluidics. For example, the surface wettability and roughness of the channel is crucial for droplet microfluidics whereas they are less important for other microfluidic applications. We summarize the challenges of 3DP applications in droplet microfluidics in the following sections. The challenges are also the developing opportunities for 3DP in droplet microfluidics, and regarding improvement works for challenges are also summarized.
6. Conclusions
3DP droplet microfluidics is still at an early stage. SLA, DLP and FDM printing are three main printing methods applied in droplet microfluidics and each has their individual advantages and disadvantages. Currently, most studies focus on the droplet generation. 3DP offers greater freedom for the design and fabrication of droplet formation devices. The fabrication development experienced the single monolithic device, hybrid/modular device as well as the integrated system, and the droplet generation structure evolved to be truly 3D where surface treatment of channel wall can be avoided for different emulsion production. The droplet generation method developed from passive to active and high throughput manner. 3DP can play more important role in active and high throughput droplet generation by integrating various functional materials and introducing novel structures to the microfluidic device. External actuation fields can be introduced through functional materials integrated on the device, which is easily achieved by multimaterial 3DP. High throughput droplet generation always requires more complicated structures which are rather difficult to fabricate for conventional methods, whereas 3DP has the capability of creating such complex structures without intense labor. Furthermore, 3DP opens a door for new droplet manipulation strategies. Various novel 3D structures can be used for passively manipulating droplets, and available functional materials printed by multimaterial 3DP also liberate researchers to develop new active manipulation methods. These relevant studies were rarely reported and there is still much room for 3DP development in the above mentioned areas.
Printing resolution, printed channel quality and material biocompatibility still remain challenging, and many researchers are devoted to solving these limitations. These limitations will be no doubt improved and finally solved in the near future. By that time, 3DP advantage will be more prominent. 3DP represents the next generation manufacturing technology. Digital 3D design and rapid prototyping will completely change the current manufacturing manner. Design files can be easily shared with other distant collaborators and manufacturing process can also be supervised online. On the other hand, long cycle times of prototyping and fabrication can be greatly reduced. From design to fabrication of one microfluidic chip typically take days for conventional methods, while 3DP can finish the whole process in a couple of hours. Researchers will spend much less time verifying their ideas and the manufacturer will significantly reduce the production life cycle. Therefore, we envision that 3DP applications in droplet microfluidics or more general microfluidic fields will have a bright future.
Author Contributions
writing—original draft preparation, J.M.Z.; writing—review and editing, Q.J. and H.D.; project administration, H.D.
Funding
This research was funded by National Natural Science foundation of China (NSFC) grant number 91848201, 11521202, and 11872004.
Conflicts of Interest
The authors declare no conflict of interest.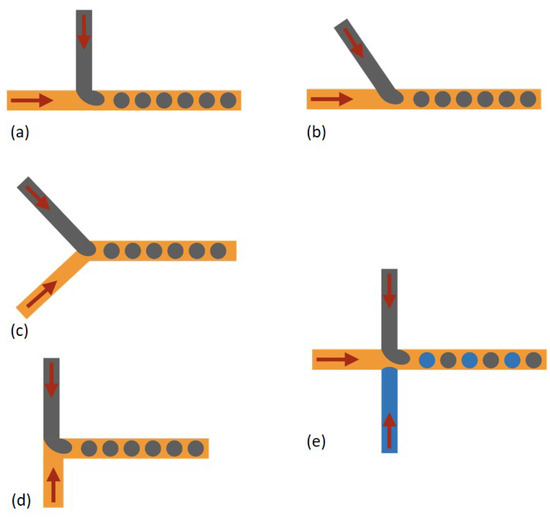 Figure 1. Cross-flow for droplet generation. (a) T-junction. (b) and (c) Y-junction. (d) Head-on junction. (e) Alternating T-junction.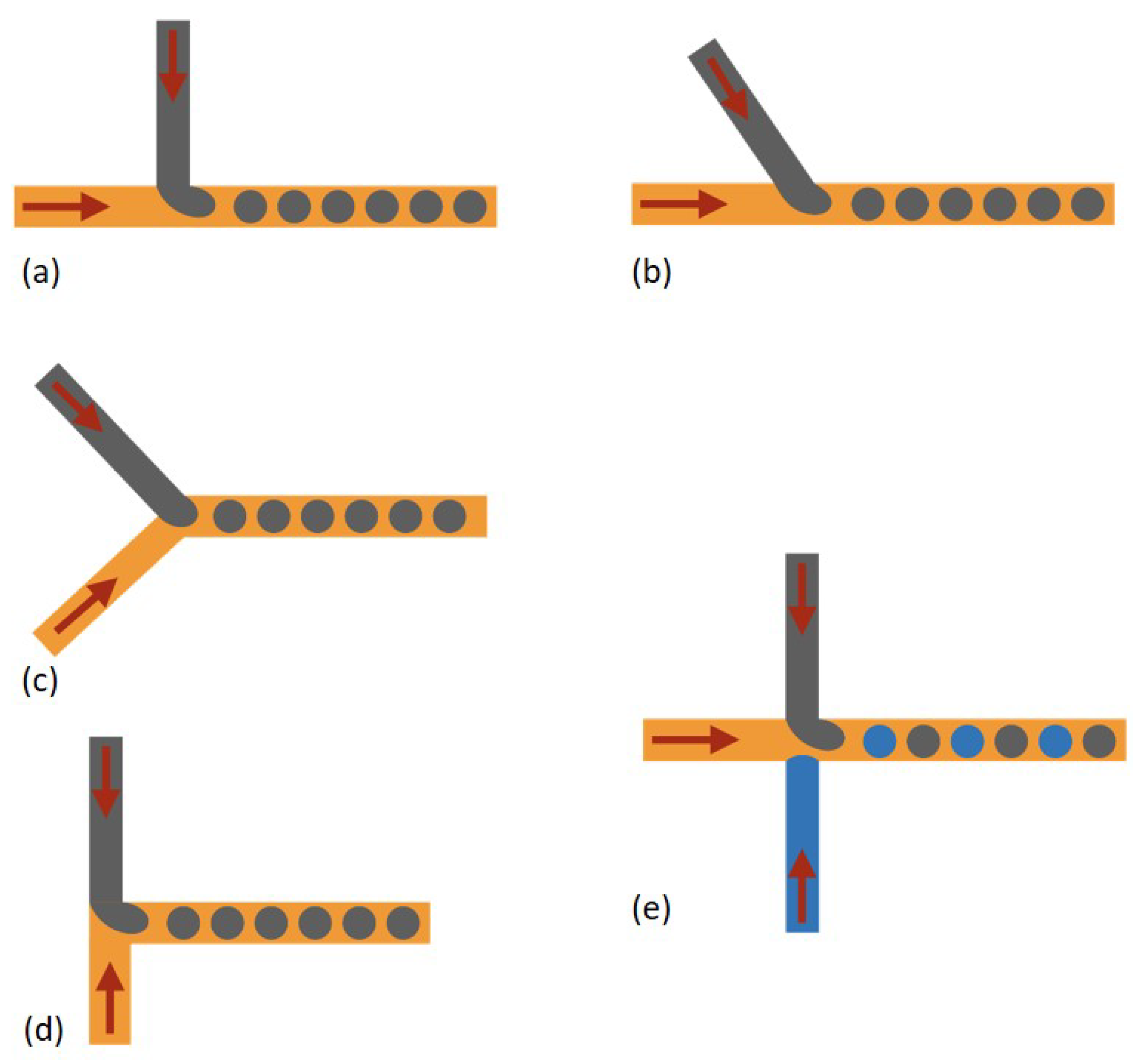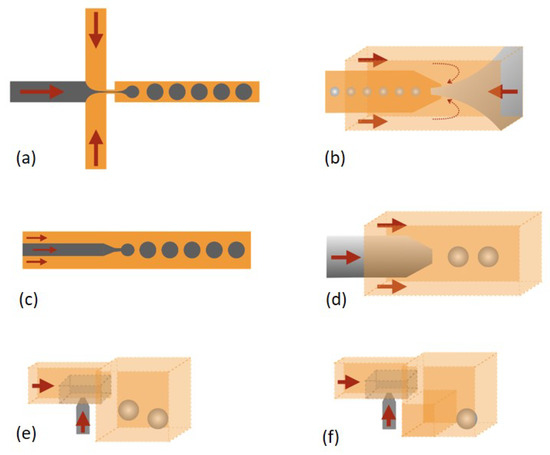 Figure 2. (a) Planar flow-focusing. (b) 3D axisymmetric flow-focusing. (c) Planar co-flow. (d) 3D axisymmetric co-flow. Step emulsification: (e) One step. (f) Two steps, or microchannel emulsification.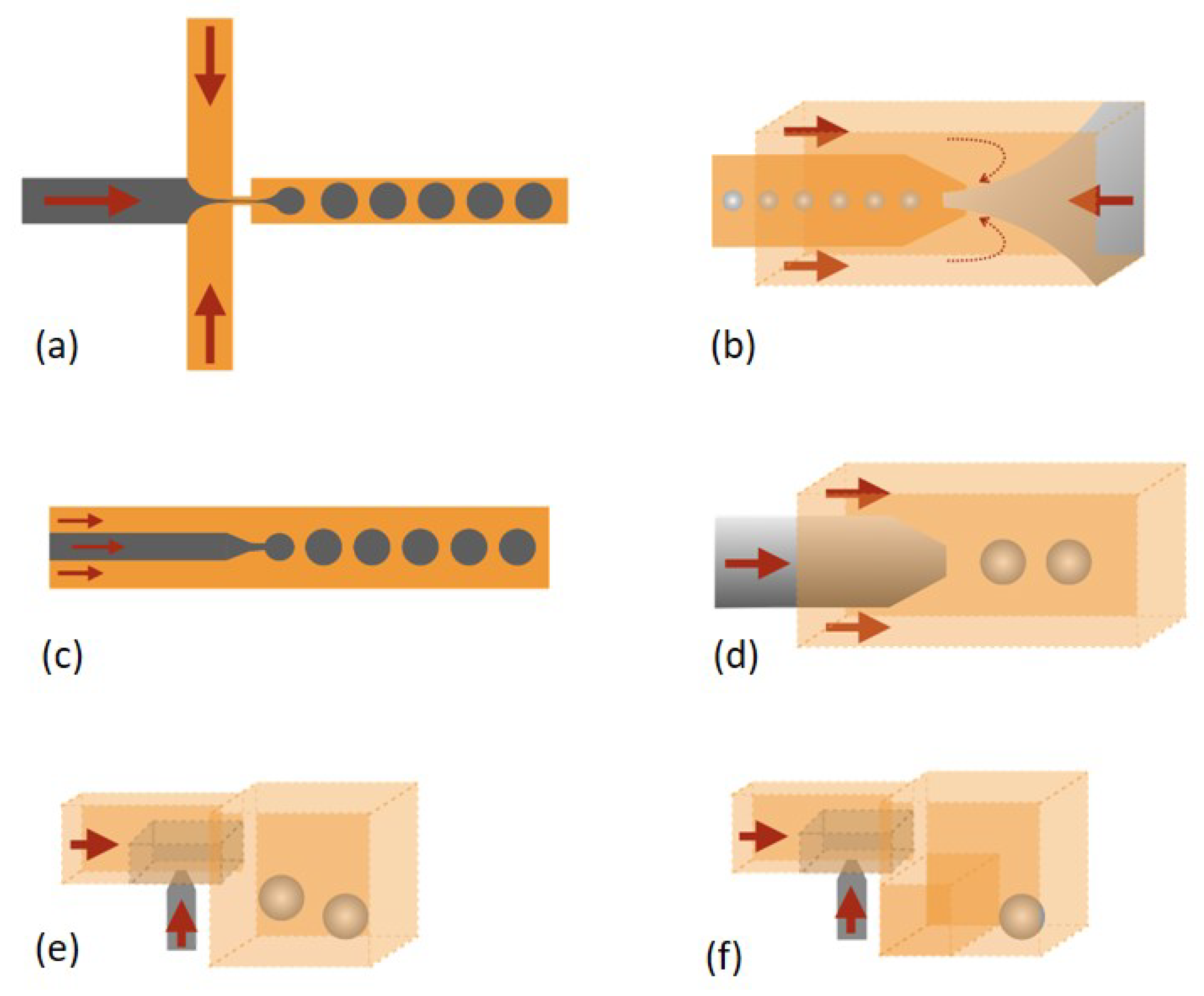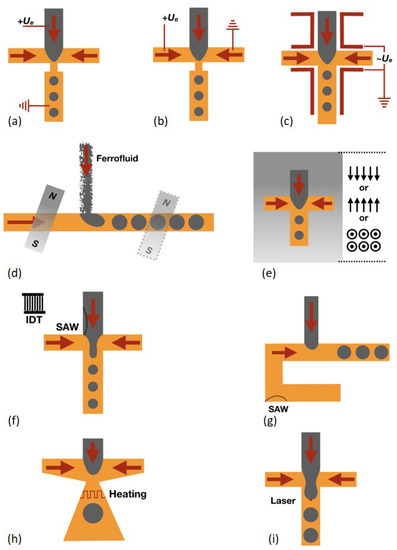 Figure 3. Electrical control methods: (a) Electrical field parallel to the flow. (b) Electrical field perpendicular to the flow. (c) Electrodes arrangement without contact with fluids. Magnetic control methods: (d) Magnet placed either upstream or downstream. (e) Magnet can be placed parallel and perpendicular to the flow direction or out-of-plane. Acoustic control methods: (f) SAW affects the liquid-liquid interface. (g) SAW affects the continuous phase. Thermal control methods: (h) Resistive heater at the junction. (i) Laser induced thermal effect on the droplet.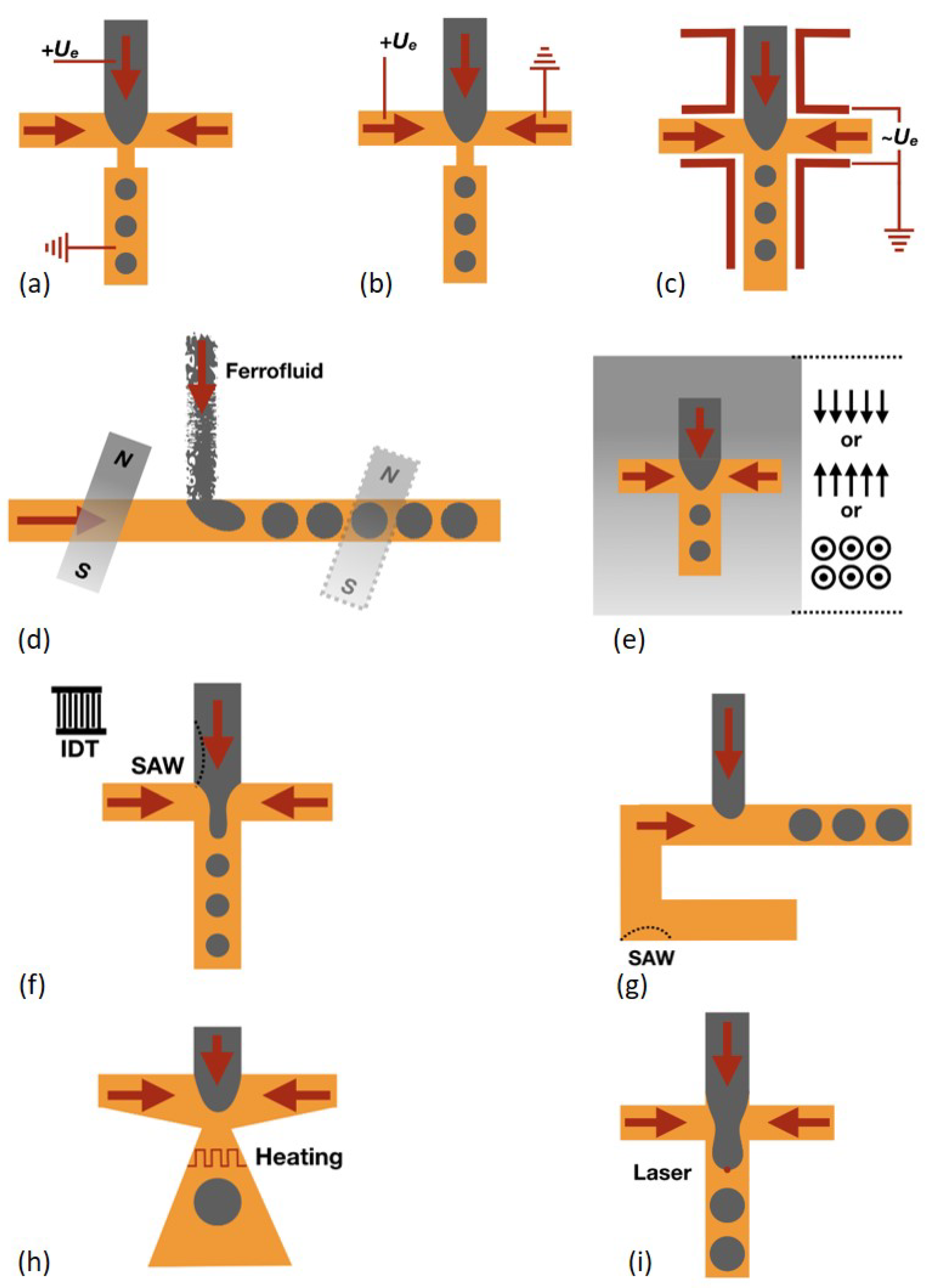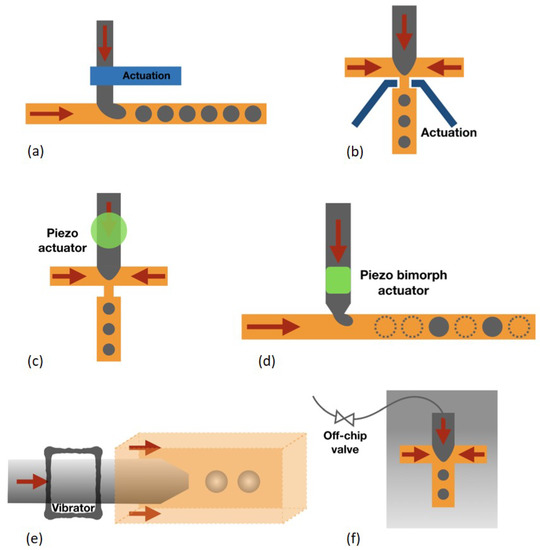 Figure 4. Pneumatic control methods: (a) One-side actuation channel. (b) Two-side actuation channels. Piezo actuation: (c) Piezoelectric disc under the dispersed phase. (d) Piezo bimorph actuator for on-demand droplet generation. Off-chip vibration: (e) A mechanical vibrator vibrates the microtubing. (f) Off-chip valves control dispersed phase flow.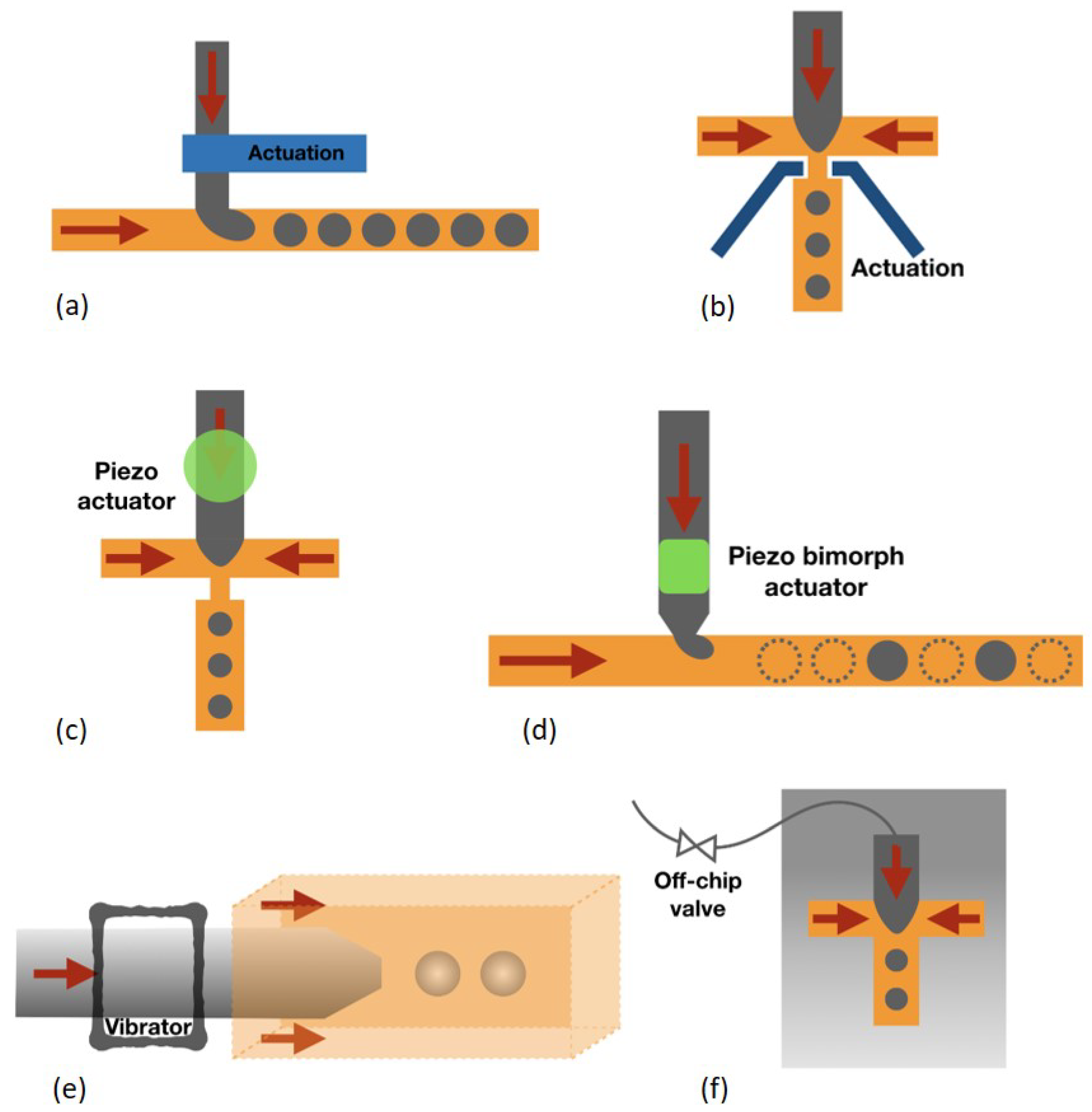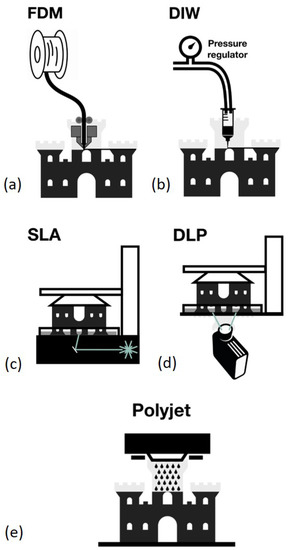 Figure 5. Current 3DP techniques applied in droplet microfluidics. (a) Fused deposition modeling (FDM). (b) Direct ink writing (DIW). (c) Stereolithography (SLA). (d) Digital light processing (DLP). (e) Photopolymer inkjet printing (Polyjet).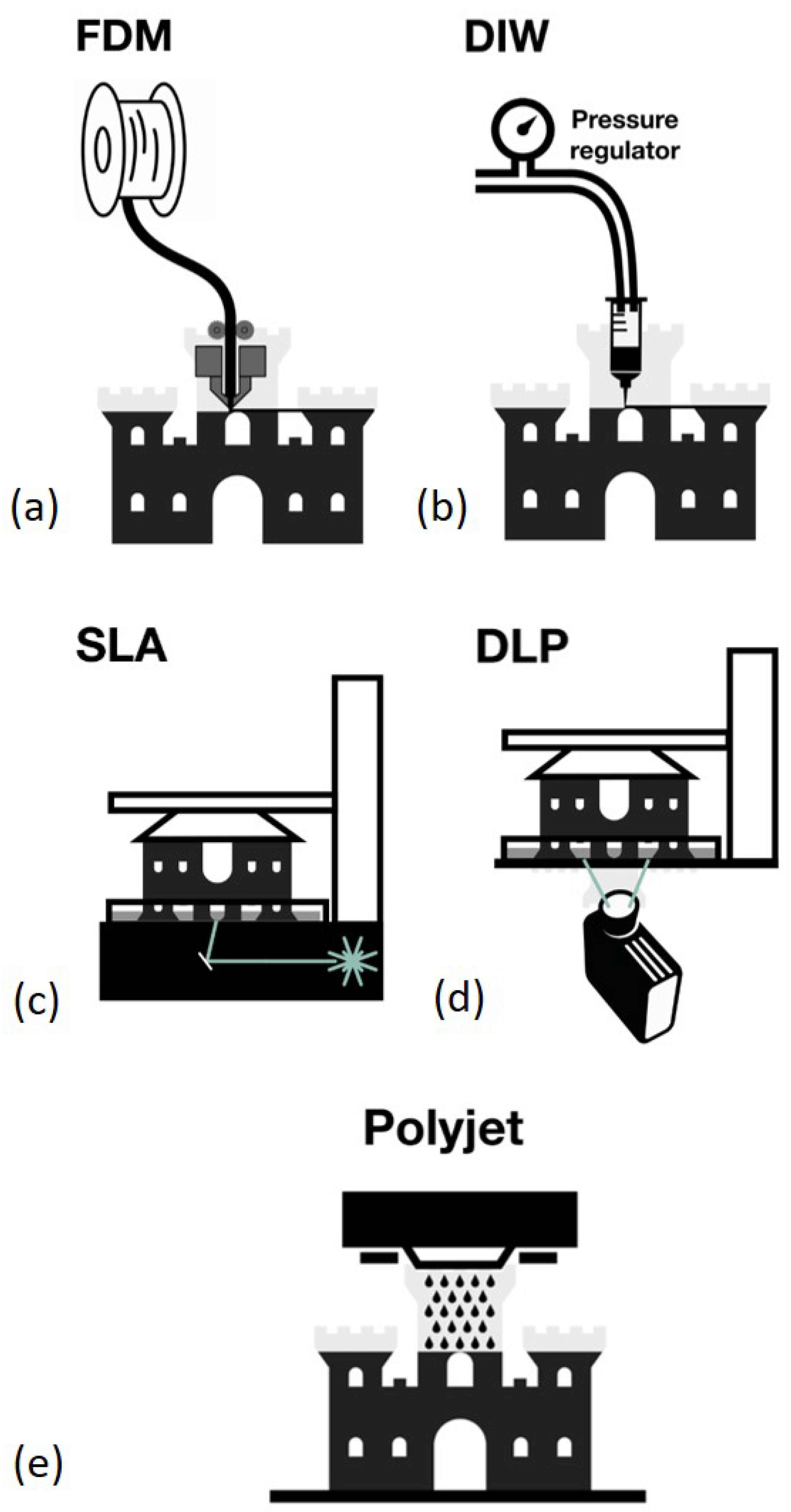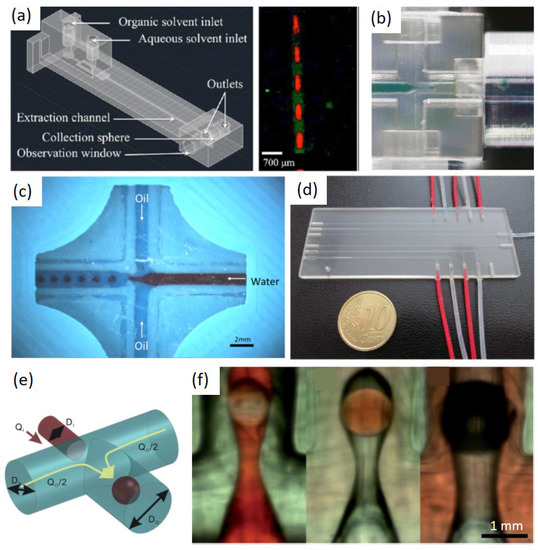 Figure 6.
Current 3DP techniques applied in droplet microfluidics. (
a
) A flow-focusing structure printed by a desktop DLP printer. (
b
) A flow-focusing structure printed by SLA printing. (
c
) A flow-focusing structure printed by FDM printing. (
d
) A T-junction structure printed by Polyjet printing. (
e
) A schematic of non-planar structure printed by a desktop SLA printer and (
f
) different double emulsions were produced in this non-planar structure. Reproduce of [
70
,
71
,
82
,
96
].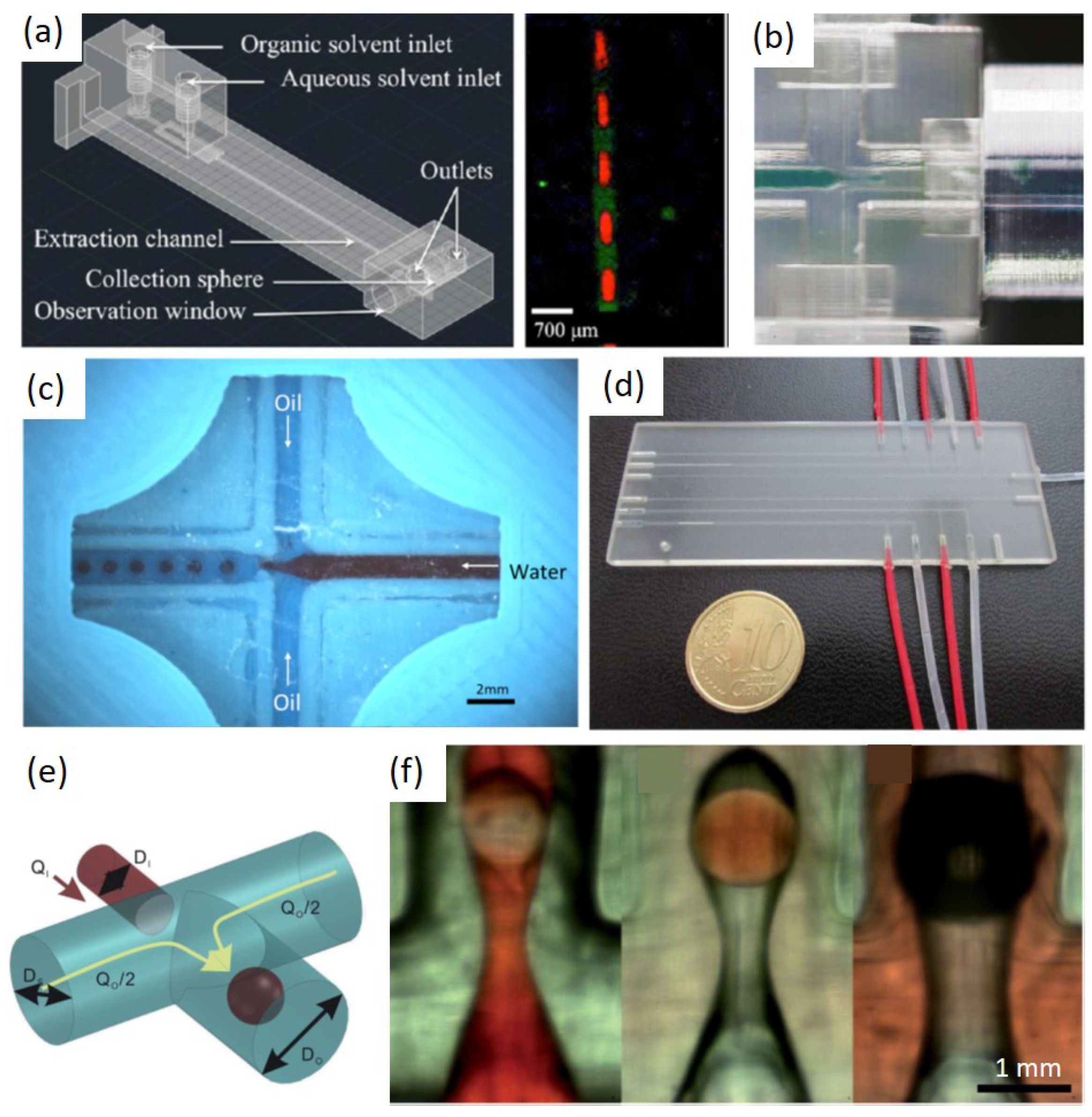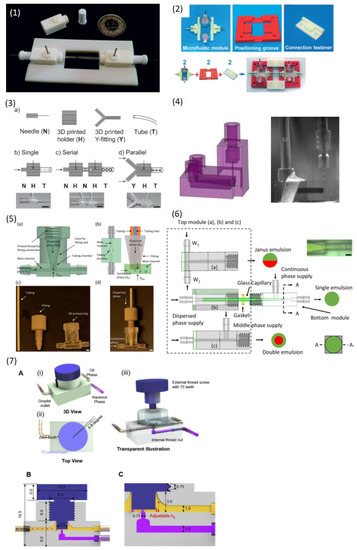 Figure 7.
Hybrid droplet microfluidic devices. (
1
) A 3D-printed mold for flexible alignment of the glass capillary for generating double emulsions. (
2
) A 3D-printed groove and connection fastener for assembly of flow modules to produce multiple emulsions. (
3
) A 3D-printed holder and fitting for assembly of commercial needles and tubing for emulsion formation. (
4
) A 3D-printed chamber combined with commercial tubing to create smaller droplets. (
5
) 3D-printed various modules combined with a glass capillary to produce versatile emulsions. (
6
) A vertical T-junction structure consisting of a 3D-printed structure and commercial tubing. (
7
) A flexible T-junction structure formed by a 3D-printed chamber with a nut and a commercial screw. Reproduce of [
72
,
75
,
78
,
79
,
80
,
81
,
93
].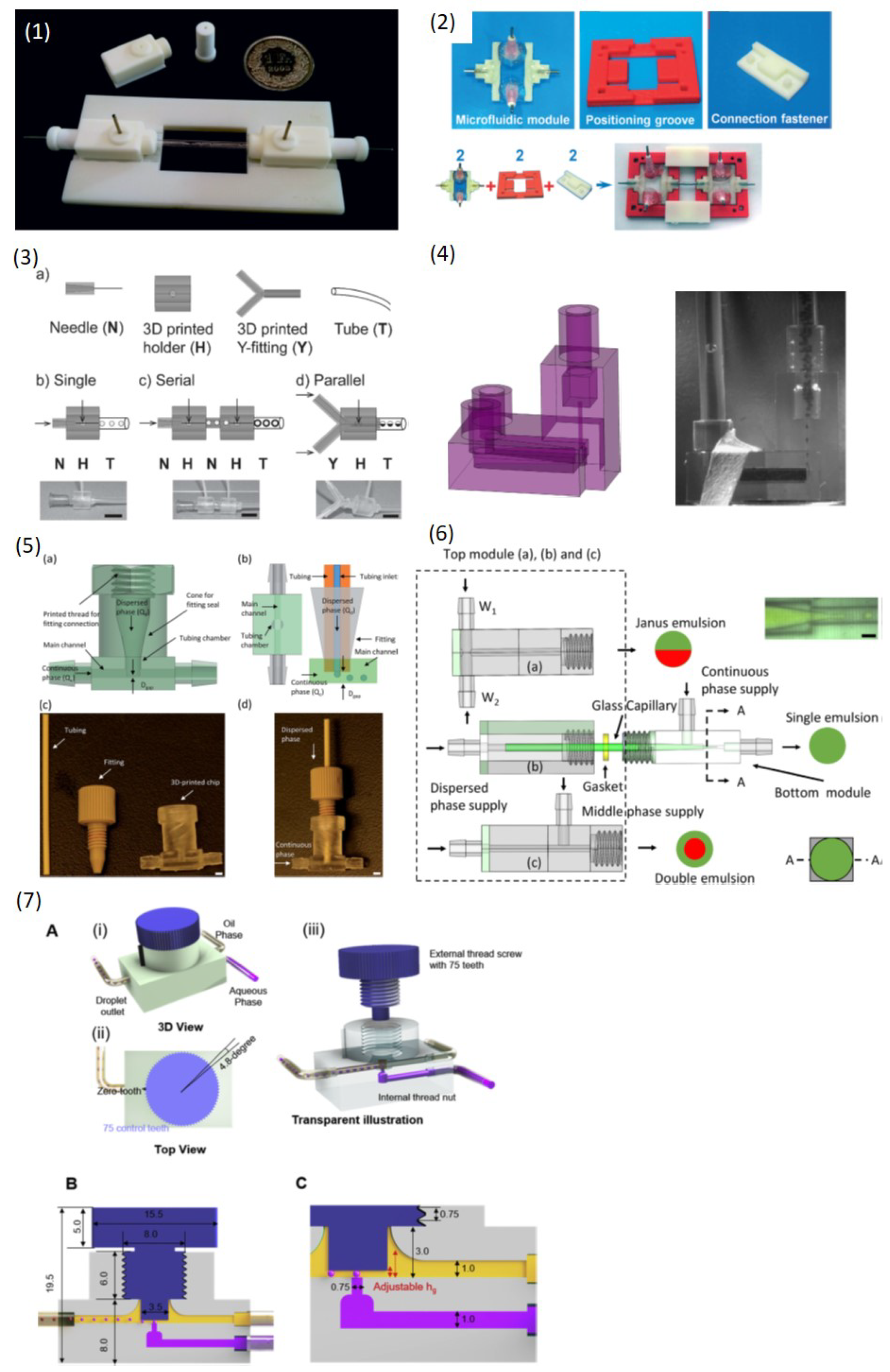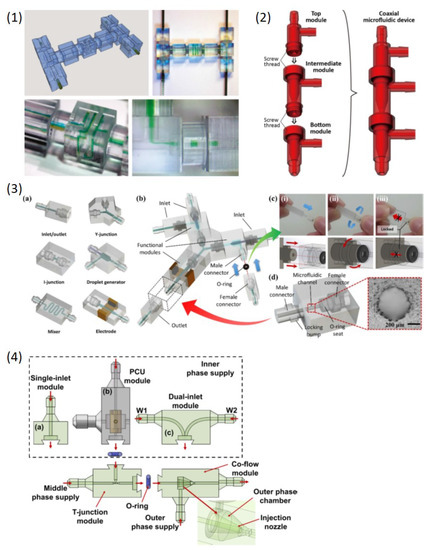 Figure 8.
Modular droplet microfluidic devices. (
1
) 3D-printed modules were assembled to form a T-junction and a 3D helical mixer. Each module was connected with a male-male connector aligned with female-type ports. (
2
) Different 3D-printed modules were assembled to produce single and double emulsions. A notch structure with an O-ring connected each module. (
3
) Assembled 3D-printed modules to produce multiple emulsions with screw-thread as connection. (
4
) Various functional 3D-printed modules can be assembled to achieve different functions including droplet generation and manipulation. Male-female connectors with locking bump and O-rings connected each module. Reproduce of [
77
,
82
,
92
,
94
].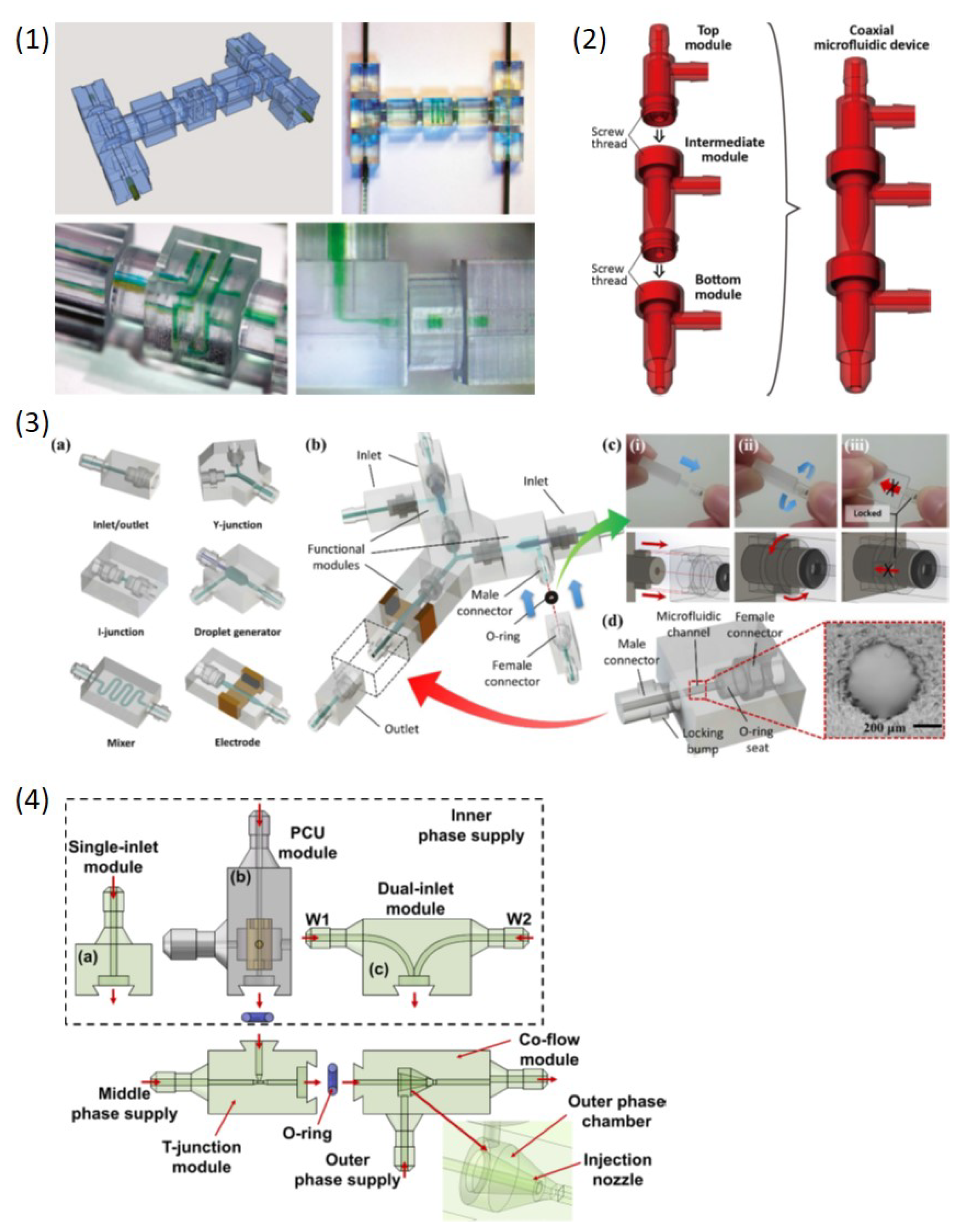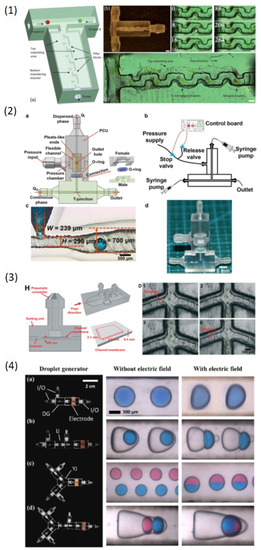 Figure 9.
(
1
) Pneumatic control of droplet formation through a 3D-printed flexible membrane. (
2
) Pneumatic control of droplet sorting through a 3D-printed flexible valve. (
3
) Droplet coalescence in a 3D-printed channel consisting of a top layer for flow drainage and a bottom rail layer for droplet guide. (
4
) Droplet deformation, release and coalescence in a 3D-printed channel through an external electric field. Reproduce of [
83
,
92
,
93
,
94
].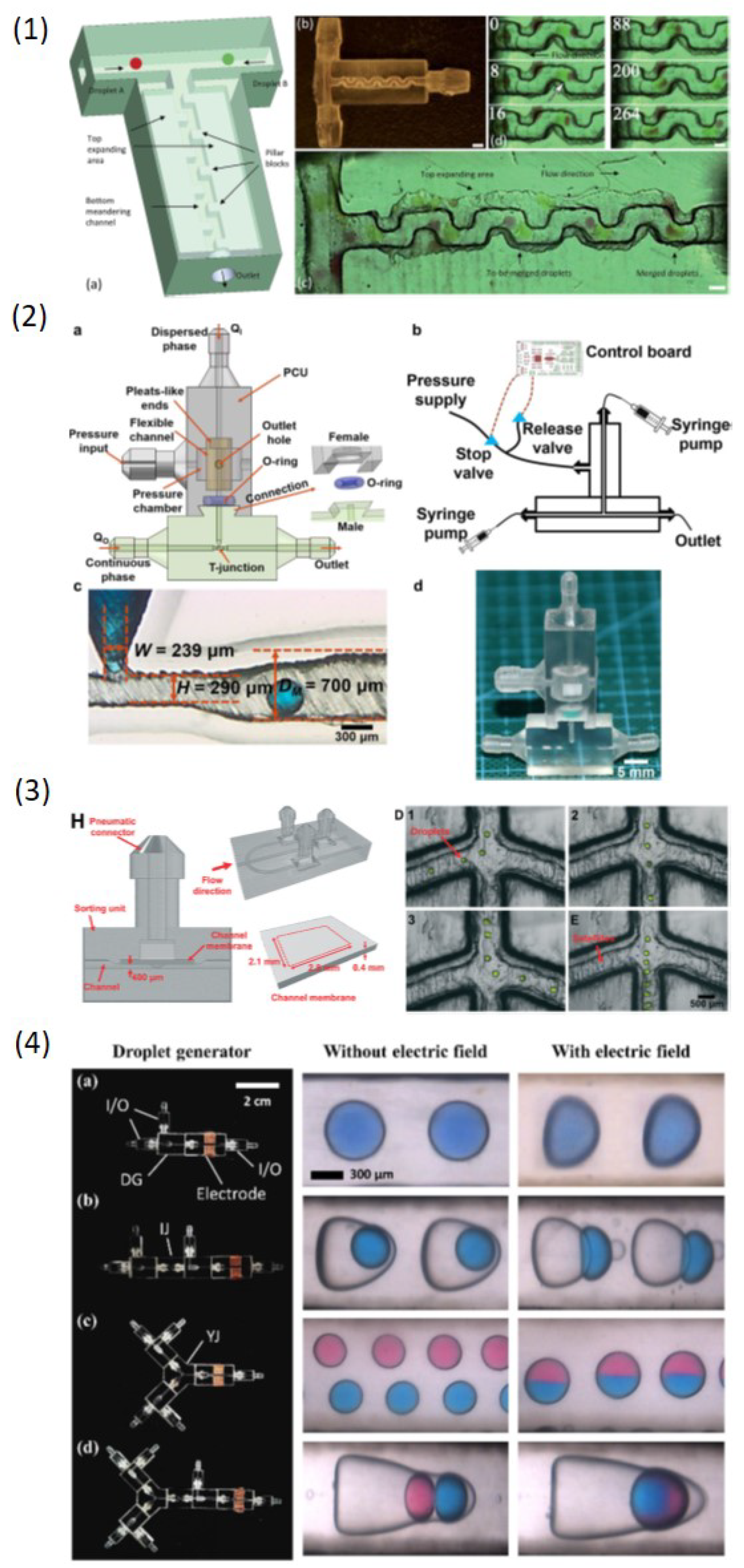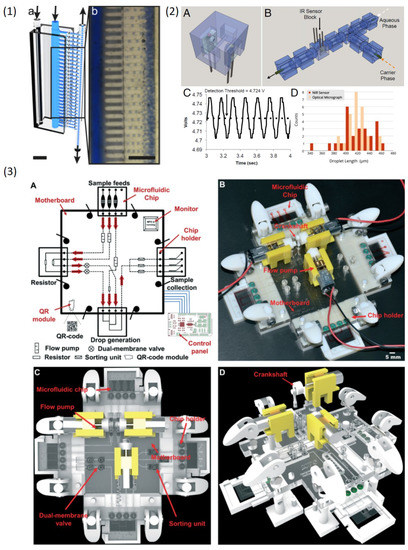 Figure 10.
(
1
) 3D-printed parallel flow-focusing structures for high throughput production of emulsions. (
2
) A near-infrared sensor embedded on a 3D-printed device to monitor droplet generation. (
3
) An integrated milli/microfluidic processing system printed by Polyjet including droplet generation, detection, sorting and collection. Reproduce of [
82
,
83
,
95
].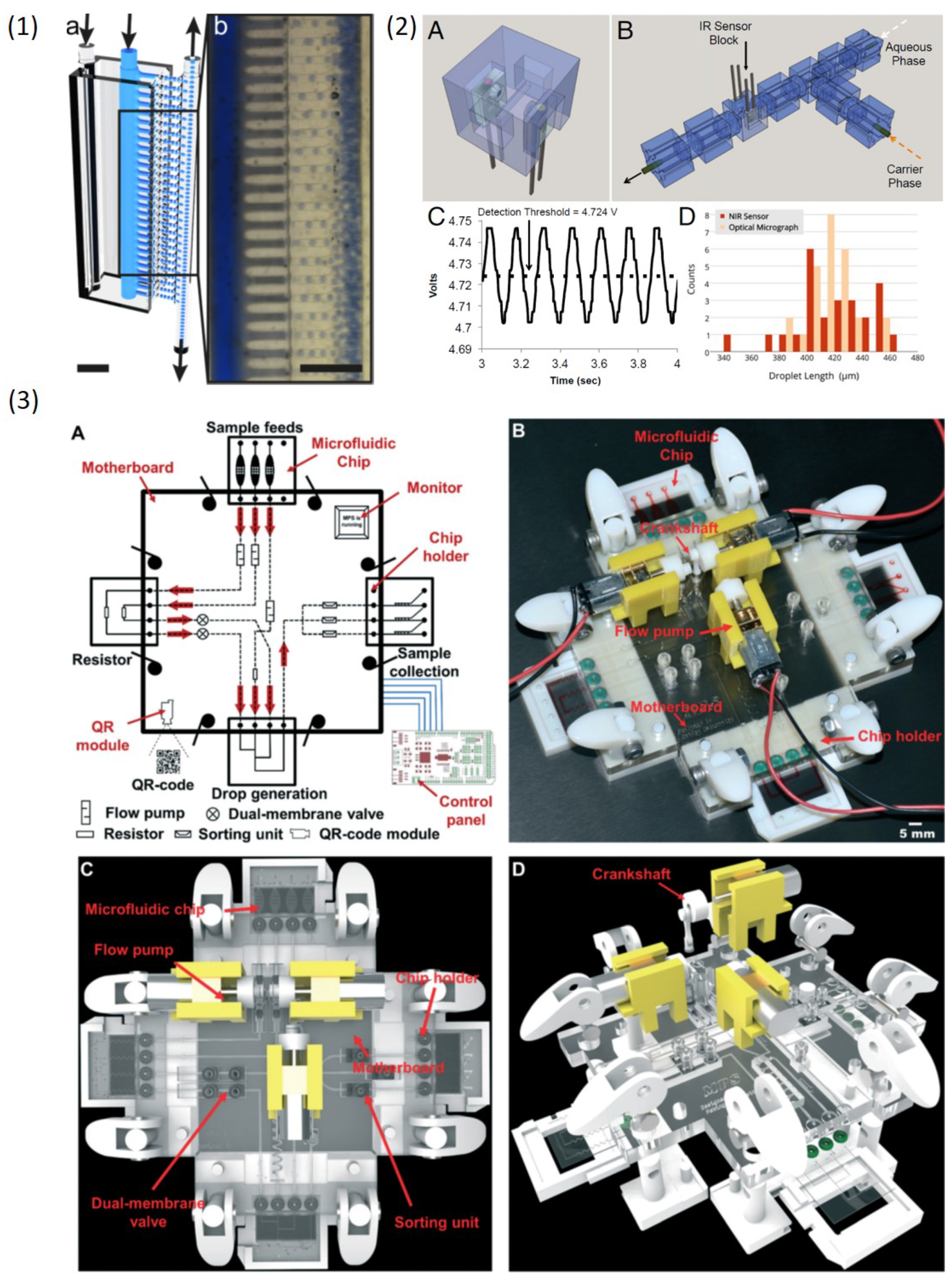 | 3DP Development | Specification | Reference |
| --- | --- | --- |
| Monolithic | Single chips were produced and existing structures have recurred. Non-planar structures have also been reported. | [68,69,70,71] |
| Hybrid and modular | Combine tubing or glass capillaries to produce droplets. Smaller droplets can be produced. Flexible and modular assembly methods were reported. The advantage of 3DP in droplet-microfluidics was demonstrated. | [72,73,74,75,76,77,78,79,80,81] |
| Integrated system | Complicated and integrated devices were reported, whereas they are difficult to fabricate through conventional methods. The potentials of 3DP can be envisioned. | [82,83,84] |
| Droplet Manipulation and active control | Besides simple droplet generation, droplet manipulation and active control were reported. | [85,86,87,88,89,90,91,92,93,94] |
| High-throughput droplet production | 3DP enables fast-prototyping parallel droplet generator which requires complicated fabrication process for conventional methods. | [95] |
| | FDM | SLA or DLP | Polyjet |
| --- | --- | --- | --- |
| Principle | Extrusion | Photocuring | Inkjet |
| Material | Thermoplastic | Liquid photosensitive resin | Liquid photosensitive resin |
| Feature resolution | ∼100 m | ∼25 m | ∼14 m |
| Reported drop size | ⪆100 m | ⪆50 m | ⪆100 m |
| Advantage | Simple, low-cost and biocompatible | Transparent, smooth surface and high accuracy | Multimaterial, large printable dimension and high accuracy |
| Disadvantage | less transparent, rough surface and low resolution | Limited material, less biocompatible and limited open-source | Rough surface, less biocompatible and high costs |

Table 3. Surface wettability of some printing materials used for fabrication of droplet microfluidic devices.

© 2019 by the authors. Licensee MDPI, Basel, Switzerland. This article is an open access article distributed under the terms and conditions of the Creative Commons Attribution (CC BY) license (http://creativecommons.org/licenses/by/4.0/).