Cooked Red Lentils Dose-Dependently Modulate the Colonic Microenvironment in Healthy C57Bl/6 Male Mice
1
Guelph Research and Development Center, Agriculture and Agri-Food Canada, Guelph, ON N1G 5C9, Canada
2
Human Health and Nutritional Sciences, University of Guelph, Guelph, ON N1G 2W1, Canada
3
Department of Physiology and Biochemistry of Nutrition, Max Rubner-Institute, 76131 Karlsruhe, Germany
4
School of Nutrition Sciences, University of Ottawa, Ottawa, ON K1H 8L1, Canada
*
Author to whom correspondence should be addressed.
Received: 17 June 2019 / Revised: 30 July 2019 / Accepted: 1 August 2019 / Published: 9 August 2019
Abstract
Dietary pulses, including lentils, are protein-rich plant foods that are enriched in intestinal health-promoting bioactives, such as non-digestible carbohydrates and phenolic compounds. The aim of this study was to investigate the effect of diets supplemented with cooked red lentils on the colonic microenvironment (microbiota composition and activity and epithelial barrier integrity and function). C57Bl/6 male mice were fed one of five diets: a control basal diet (BD), a BD-supplemented diet with 5, 10 or 20% cooked red lentils (by weight), or a BD-supplemented diet with 0.7% pectin (equivalent soluble fiber level as found in the 20% lentil diet). Red lentil supplementation resulted in increased: (1) fecal microbiota α-diversity; (2) abundance of short-chain fatty acid (SCFA)-producing bacteria (e.g.,
Prevotella, Roseburia
and
Dorea spp.
); (3) concentrations of fecal SCFAs; (4) mRNA expression of SCFA receptors (G-protein-coupled receptors (
GPR 41 and 43
) and tight/adherens junction proteins (Zona Occulden-1 (
ZO-1
), Claudin-2, E-cadherin). Overall, 20% lentil had the greatest impact on colon health outcomes, which were in part explained by a change in the soluble and insoluble fiber profile of the diet. These results support recent public health recommendations to increase consumption of plant-based protein foods for improved health, in particular intestinal health.
View Full-Text
►

▼

Figures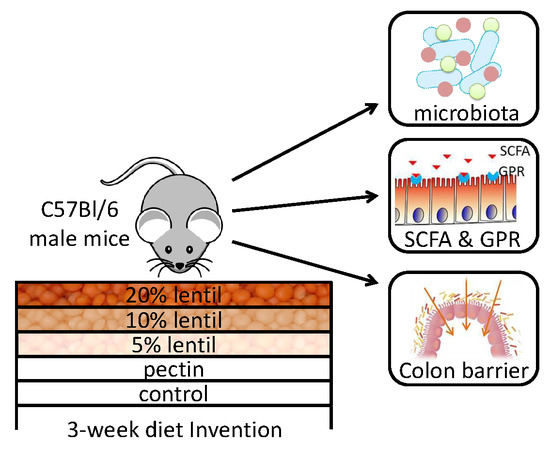 Graphical abstract
This is an open access article distributed under the
Creative Commons Attribution License
which permits unrestricted use, distribution, and reproduction in any medium, provided the original work is properly cited (CC BY 4.0).

Share & Cite This Article
MDPI and ACS Style
Graf, D.; Monk, J.M.; Lepp, D.; Wu, W.; McGillis, L.; Roberton, K.; Brummer, Y.; Tosh, S.M.; Power, K.A. Cooked Red Lentils Dose-Dependently Modulate the Colonic Microenvironment in Healthy C57Bl/6 Male Mice. Nutrients 2019, 11, 1853.
Note that from the first issue of 2016, MDPI journals use article numbers instead of page numbers. See further details here.
Related Articles
Comments
[Return to top]