Fatty Acid Desaturase Involvement in Non-Alcoholic Fatty Liver Disease Rat Models: Oxidative Stress Versus Metalloproteinases
1
Department of Internal Medicine and Therapeutics, University of Pavia, 27100 Pavia, Italy
2
Centro Grandi Strumenti, University of Pavia, 27100 Pavia, Italy
3
Institute of Molecular Genetics, Italian National Research Council (CNR), 27100 Pavia, Italy
4
Department of Molecular Medicine, University of Pavia, 27100 Pavia, Italy
5
Fondazione IRCCS Policlinico San Matteo, 27100 Pavia, Italy
6
Emergency Department, Fondazione IRCCS Policlinico San Matteo, 27100 Pavia, Italy
*
Authors to whom correspondence should be addressed.
†
Both authors contributed equally.
Received: 6 March 2019 / Revised: 2 April 2019 / Accepted: 3 April 2019 / Published: 8 April 2019
Abstract
We investigated changes in fatty acid desaturases, D5D, D6D, D9-16D and D9-18D, and their relationship with oxidative stress, matrix metalloproteinases (MMPs) and serum TNF-alpha in two rat models of non-alcoholic fatty liver disease NAFLD. Eight-week-old male Wistar rats fed for 3 weeks with methionine-choline–deficient (MCD) diet and eleven-week-old Obese male Zucker rats were used. Serum levels of hepatic enzymes and TNF-alpha were quantified. Hepatic oxidative stress (ROS, TBARS and GSH content) and MMP-2 and MMP-9 (protein expression and activity) were evaluated. Liver fatty acid profiling, performed by GC-MS, was used for the quantification of desaturase activities. Higher D5D and D9-16D were found in Obese Zucker rats as well as an increase in D9-18D in MCD rats. D6D was found only in MCD rats. A negative correlation between D5D and D9-16D versus TBARS, ROS and TNF-alpha and a positive correlation with GSH were shown in fatty livers besides a positive correlation between D9-18D versus TBARS, ROS and TNF-alpha and a negative correlation with GSH. A positive correlation between D5D or D9-16D or D9-18D versus protein expression and the activity of MMP-2 were found. NAFLD animal models showed comparable serum enzymes. These results reinforce and extend findings on the identification of therapeutic targets able to counteract NAFLD disorder.
View Full-Text
►

▼

Figures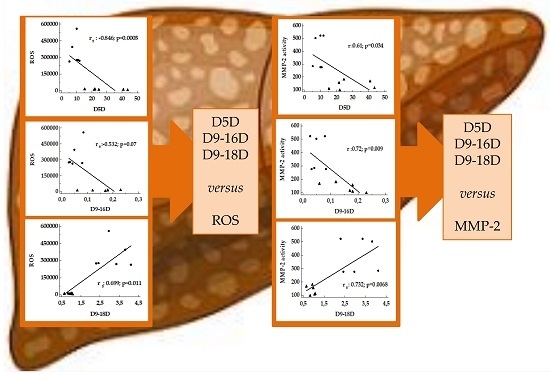 Graphical abstract
This is an open access article distributed under the
Creative Commons Attribution License
which permits unrestricted use, distribution, and reproduction in any medium, provided the original work is properly cited (CC BY 4.0).

Share & Cite This Article
MDPI and ACS Style
Palladini, G.; Di Pasqua, L.G.; Berardo, C.; Siciliano, V.; Richelmi, P.; Mannucci, B.; Croce, A.C.; Rizzo, V.; Perlini, S.; Vairetti, M.; Ferrigno, A. Fatty Acid Desaturase Involvement in Non-Alcoholic Fatty Liver Disease Rat Models: Oxidative Stress Versus Metalloproteinases. Nutrients 2019, 11, 799.
Note that from the first issue of 2016, MDPI journals use article numbers instead of page numbers. See further details here.
Related Articles
Comments
[Return to top]