Enhancement of Exercise Performance by 48 Hours, and 15-Day Supplementation with Mangiferin and Luteolin in Men
1
Department of Physical Education and Research Institute of Biomedical and Health Sciences (IUIBS), University of Las Palmas de Gran Canaria, Campus Universitario de Tafira s/n, 35017 Las Palmas de Gran Canaria, Spain
2
Nektium Pharma, Las Mimosas 8, Agüimes, 35118 Las Palmas de Gran Canaria, Spain
3
Department of Biomedical Sciences, Faculty of Medicine and Health Sciences, University of Alcalá, Ctra. Madrid-Barcelona, km 33,600, 28871 Alcalá de Henares Madrid, Spain
*
Author to whom correspondence should be addressed.
Received: 7 January 2019 / Revised: 26 January 2019 / Accepted: 29 January 2019 / Published: 6 February 2019
Abstract
The natural polyphenols mangiferin and luteolin have free radical-scavenging properties, induce the antioxidant gene program and down-regulate the expression of superoxide-producing enzymes. However, the effects of these two polyphenols on exercise capacity remains mostly unknown. To determine whether a combination of luteolin (peanut husk extract containing 95% luteolin, PHE) and mangiferin (mango leave extract (MLE), Zynamite
®
) at low (PHE: 50 mg/day; and 140 mg/day of MLE containing 100 mg of mangiferin; L) and high doses (PHE: 100 mg/day; MLE: 420 mg/day; H) may enhance exercise performance, twelve physically active men performed incremental exercise to exhaustion, followed by sprint and endurance exercise after 48 h (acute effects) and 15 days of supplementation (prolonged effects) with polyphenols or placebo, following a double-blind crossover design. During sprint exercise, mangiferin + luteolin supplementation enhanced exercise performance, facilitated muscle oxygen extraction, and improved brain oxygenation, without increasing the VO
2
. Compared to placebo, mangiferin + luteolin increased muscle O
2
extraction during post-exercise ischemia, and improved sprint performance after ischemia-reperfusion likely by increasing glycolytic energy production, as reflected by higher blood lactate concentrations after the sprints. Similar responses were elicited by the two doses tested. In conclusion, acute and prolonged supplementation with mangiferin combined with luteolin enhances performance, muscle O
2
extraction, and brain oxygenation during sprint exercise, at high and low doses.
View Full-Text
►

▼

Figures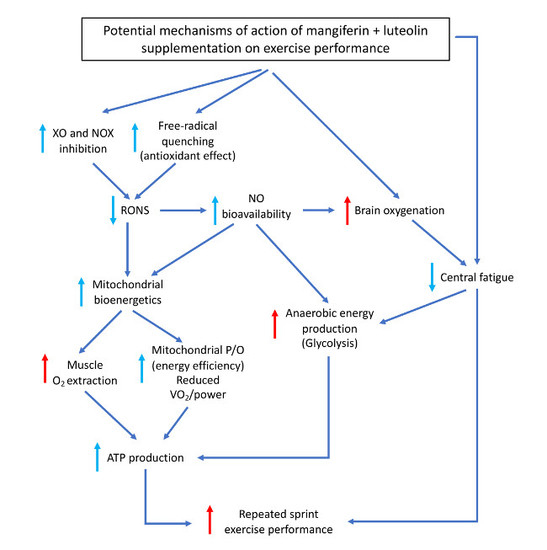 Graphical abstract
This is an open access article distributed under the
Creative Commons Attribution License
which permits unrestricted use, distribution, and reproduction in any medium, provided the original work is properly cited (CC BY 4.0).

Share & Cite This Article
MDPI and ACS Style
Gelabert-Rebato, M.; Wiebe, J.C.; Martin-Rincon, M.; Galvan-Alvarez, V.; Curtelin, D.; Perez-Valera, M.; Juan Habib, J.; Pérez-López, A.; Vega, T.; Morales-Alamo, D.; Calbet, J.A.L. Enhancement of Exercise Performance by 48 Hours, and 15-Day Supplementation with Mangiferin and Luteolin in Men. Nutrients 2019, 11, 344.
Note that from the first issue of 2016, MDPI journals use article numbers instead of page numbers. See further details here.
Related Articles
Comments
[Return to top]