Open Access This article is
freely available
re-usable
Communication
Vitamin E Supplementation and Mitochondria in Experimental and Functional Hyperthyroidism: A Mini-Review
1
Dipartimento di Scienze e Tecnologie, Università degli Studi di Napoli Parthenope, via Acton n. 38, I-0133 Napoli, Italy
2
Dipartimento di Biologia, Università di Napoli Federico II, Complesso Universitario Monte Sant'Angelo, Via Cinthia, I-80126 Napoli, Italy
*
Author to whom correspondence should be addressed.
Received: 30 October 2019 / Accepted: 26 November 2019 / Published: 1 December 2019
Abstract
:
Mitochondria are both the main sites of production and the main target of reactive oxygen species (ROS). This can lead to mitochondrial dysfunction with harmful consequences for the cells and the whole organism, resulting in metabolic and neurodegenerative disorders such as type 2 diabetes, obesity, dementia, and aging. To protect themselves from ROS, mitochondria are equipped with an efficient antioxidant system, which includes low-molecular-mass molecules and enzymes able to scavenge ROS or repair the oxidative damage. In the mitochondrial membranes, a major role is played by the lipid-soluble antioxidant vitamin E, which reacts with the peroxyl radicals faster than the molecules of polyunsaturated fatty acids, and in doing so, protects membranes from excessive oxidative damage. In the present review, we summarize the available data concerning the capacity of vitamin E supplementation to protect mitochondria from oxidative damage in hyperthyroidism, a condition that leads to increased mitochondrial ROS production and oxidative damage. Vitamin E supplementation to hyperthyroid animals limits the thyroid hormone-induced increases in mitochondrial ROS and oxidative damage. Moreover, it prevents the reduction of the high functionality components of the mitochondrial population induced by hyperthyroidism, thus preserving cell function.
Keywords:
mitochondria; vitamin E; hyperthyroidism; cold exposure
Author Contributions
All authors contributed substantially to the preparation of this review. P.V., S.D.M., and G.N. drafted and wrote the manuscript. P.V., S.D.M., G.N., and G.F. edited and critically reviewed the manuscript. All authors discussed and confirmed the final manuscript.
Funding
This work was supported by grants from the University of Naples Federico II [Ricerca Dipartimentale 2017-2019].
Acknowledgements
The authors thank Claudio Agnisola for his precious contribution in the revision of the paper.
Conflicts of Interest
The authors declare no conflict of interest.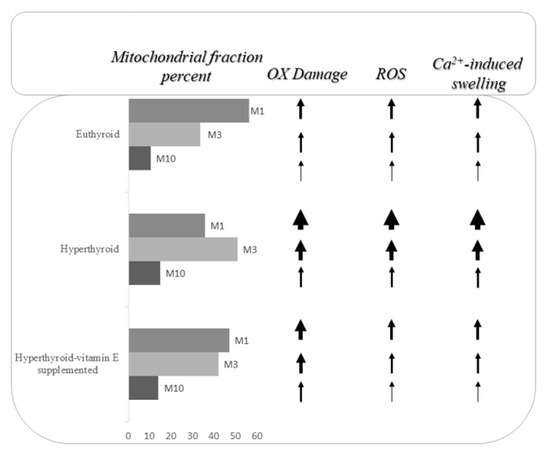 Figure 1. Image representative of the vitamin E supplementation effects on liver mitochondrial fractions obtained at 1000, 3000, and 10,000 g. OX: oxidative damage. The different thickness of the arrows indicates the different sizes of the changes. ROS: reactive oxygen species.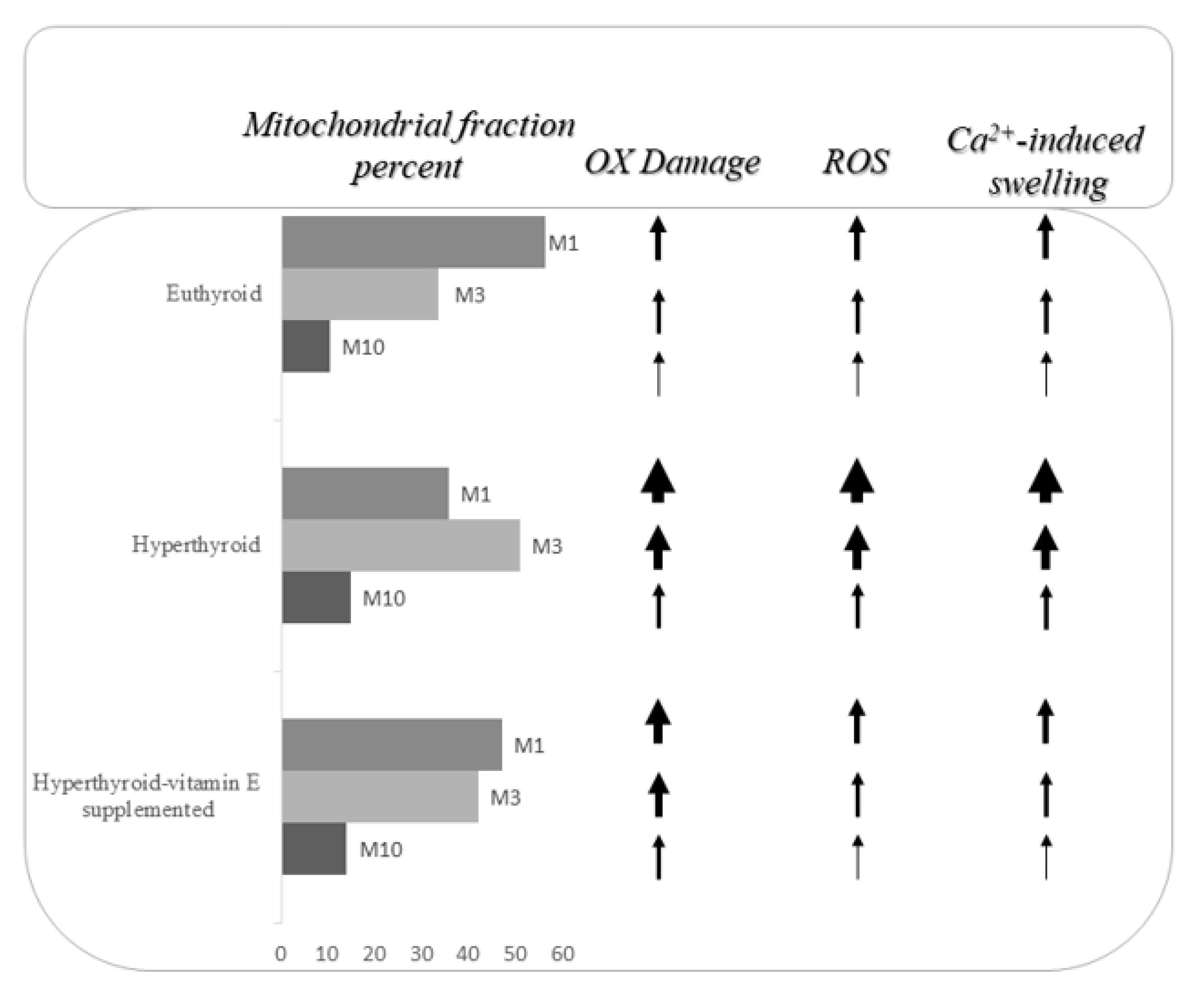 © 2019 by the authors. Licensee MDPI, Basel, Switzerland. This article is an open access article distributed under the terms and conditions of the Creative Commons Attribution (CC BY) license (http://creativecommons.org/licenses/by/4.0/).