A Randomized, Controlled Trial of Vitamin D Supplementation on Cardiovascular Risk Factors, Hormones, and Liver Markers in Women with Polycystic Ovary Syndrome
1
Department of Academic Diabetes, Endocrinology and Metabolism, Hull York Medical School, University of Hull, Hull HU3 2JZ, UK
2
Department of Pathophysiology and Allergy Research, Center of Pathophysiology, Infectiology, and Immunology, Medical University of Vienna, Vienna 1090, Austria
3
Department of Pathology, Sidra Medical and Research Centre, Doha PO Box 26999, Qatar
4
Gastroenterology Research Department, Hull Royal Infirmary, Hull HU3 2JZ, UK
5
Hull York Medical School, University of Hull, Hull HU3 2JZ, UK
6
Weill Cornell Medical College Qatar, Education City, Doha PO Box 24144, Qatar
*
Author to whom correspondence should be addressed.
Received: 14 December 2018 / Revised: 10 January 2019 / Accepted: 15 January 2019 / Published: 17 January 2019
Abstract
Polycystic ovary syndrome (PCOS) increases the risk of metabolic syndrome and non-alcoholic-fatty-liver disease (NAFLD). Vitamin D supplementation may exert positive effects on liver biochemistry in patients with NAFLD; however, its effects on PCOS are unknown. This randomized, double-blind, placebo-controlled study explored the effect of vitamin D supplementation on cardiovascular risk factors (high-sensitivity C-reactive protein (
hs
-CRP), weight, body mass index (BMI), lipid profile, glucose levels, insulin levels, the homeostatic model assessment-insulin resistance (HOMA-IR), hormones (free androgen index (FAI), testosterone, sex hormone binding globulin (SHBG), and liver markers (alanine aminotransferase (ALT), hyaluronic acid (HA), N-terminal pro-peptide of type III procollagen (PIIINP), tissue inhibitor of metallo-proteinases-1 (TIMP-1), and the enhanced liver fibrosis (ELF) score). Forty women with PCOS were recruited and randomized to vitamin D (3200 IU) or placebo daily for 3 months. All outcomes were measured at baseline and 3 months follow-up (FU). Greater increases in vitamin D levels were shown in the supplementation group (vitamin D, baseline: 25.6 ± 11.4 nmol/L, FU: 90.4 ± 19.5 nmol/L vs. placebo, baseline: 30.9 ± 11.1 nmol/L, FU: 47.6 ± 20.5 nmol/L,
p
< 0.001). Between groups comparisons (% baseline change) revealed significant differences in ALT (
p
= 0.042) and a weak effect indicating a greater reduction in the HOMA-IR in the vitamin D group (
p
= 0.051). No further between group differences were seen in other cardiovascular risk factor, liver markers, or hormones. This study supports beneficial effects of vitamin D supplementation on liver markers and modest improvements in insulin sensitivity in vitamin D deficient women with PCOS.
View Full-Text
►

▼

Figures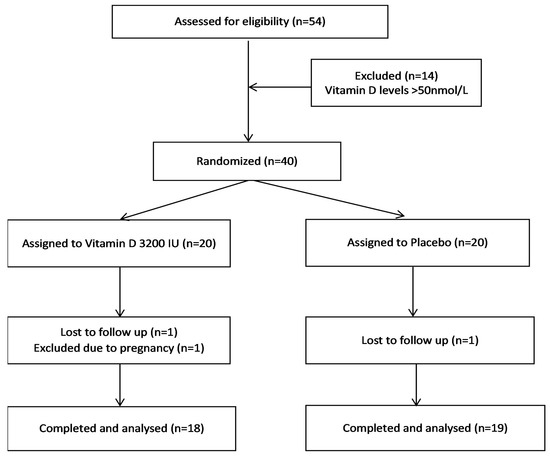 Figure 1
This is an open access article distributed under the
Creative Commons Attribution License
which permits unrestricted use, distribution, and reproduction in any medium, provided the original work is properly cited (CC BY 4.0).

Share & Cite This Article
MDPI and ACS Style
Javed, Z.; Papageorgiou, M.; Deshmukh, H.; Kilpatrick, E.S.; Mann, V.; Corless, L.; Abouda, G.; Rigby, A.S.; Atkin, S.L.; Sathyapalan, T. A Randomized, Controlled Trial of Vitamin D Supplementation on Cardiovascular Risk Factors, Hormones, and Liver Markers in Women with Polycystic Ovary Syndrome. Nutrients 2019, 11, 188.
Note that from the first issue of 2016, MDPI journals use article numbers instead of page numbers. See further details here.
Related Articles
Comments
[Return to top]