Identification of Six Phytochemical Compounds from
Asparagus officinalis

L. Root Cultivars from New Zealand and China Using UAE-SPE-UPLC-MS/MS: Effects of Extracts on H2O2-Induced Oxidative Stress

1

State Key Laboratory of Biobased Material and Green Papermaking, College of Food Science and Engineering, Qilu University of Technology, Shandong Academy of Science, Jinan 250353, China

2

Department of Food Science, University of Otago, P.O. Box 56, Dunedin 9054, New Zealand

3

Shaanxi Key Laboratory of Bioresources, Shaanxi University of Technology, Hanzhong 723000, China

4

Department of Food Science and Nutrition, College of Food and Agricultural Sciences, King Saud University, Riyadh 4545, Saudi Arabia

5

College of Food and Pharmacy Sciences, Xinjiang Agricultural University, Urumqi 830000, China

6

Department of Anatomy, University of Otago, P.O. Box 56, Dunedin 9054, New Zealand

7

Department of Pharmacology, Faculty of Veterinary Medicine, Cairo University, Giza 12211, Egypt

8

Department of Medical Pharmacology, Medical Faculty, Ataturk University, 25240 Erzurum, Turkey

*

Authors to whom correspondence should be addressed.

Received: 6 November 2018 / Revised: 25 December 2018 / Accepted: 26 December 2018 / Published: 7 January 2019

Full-Text

|

PDF

[1333 KB, uploaded 7 January 2019]

|

|

Review Reports
Abstract
A simple, rapid, specific, and sensitive method was developed for the simultaneous identification and quantification of six major bioactive compounds, namely, caffeic acid, quercetin, apigenin, ferulic acid, baicalein, and kaempferol, from
Asparagus officinalis
roots (ARs) native to New Zealand (green and purple cultivars) and China (yellow, green, purple, and white cultivars) using ultrasound-assisted, solid-phase extraction (UASE-SPE) coupled with ultra-performance liquid chromatography-tandem mass spectrometry (UPLC-MS/MS). The method was validated in terms of linearity, limit of detection (LOD), limit of quantification (LOQ), accuracy (expressed as recovery %), and precision (expressed as relative standard deviation (%RSD)). The retention times, ultraviolet visible (UV-vis) data, and mass spectral patterns of the detected peaks matched those of commercial standards, allowing characterization of the target compounds. The LODs and LOQs were 23 ng/mL and 70 ng/mL, 50 ng/mL and 150 ng/mL, 10 ng/mL and 30 ng/mL, 18 ng/mL and 54 ng/mL, 14.4 ng/mL and 43.6 ng/mL, and 7.5 ng/mL and 22.5 ng/mL for caffeic acid, quercetin, apigenin, ferulic acid, baicalein, and kaempferol, respectively, and the mean recovery rates were 85.8%, 73.0%, 90.2%, 80.6%, 76.7%, and 74.5% for the six compounds, respectively. The levels of the target compounds were significantly different (
p
< 0.05) among the six cultivars. The Chinese yellow AR had the highest levels of bioactive compounds: 6.0, 3.9, 0.4, 1.0, 0.86, and 0.8 mg/g for caffeic acid, quercetin, apigenin, ferulic acid, baicalein, and kaempferol, respectively. The AR extracts showed protective effects against oxidative stress in the HepG2 and L929 cell lines. The results indicate that AR extracts contain high flavonoid levels that provide protective functions against oxidative stress and support the potential commercial application of AR extracts.
View Full-Text
►

▼

Figures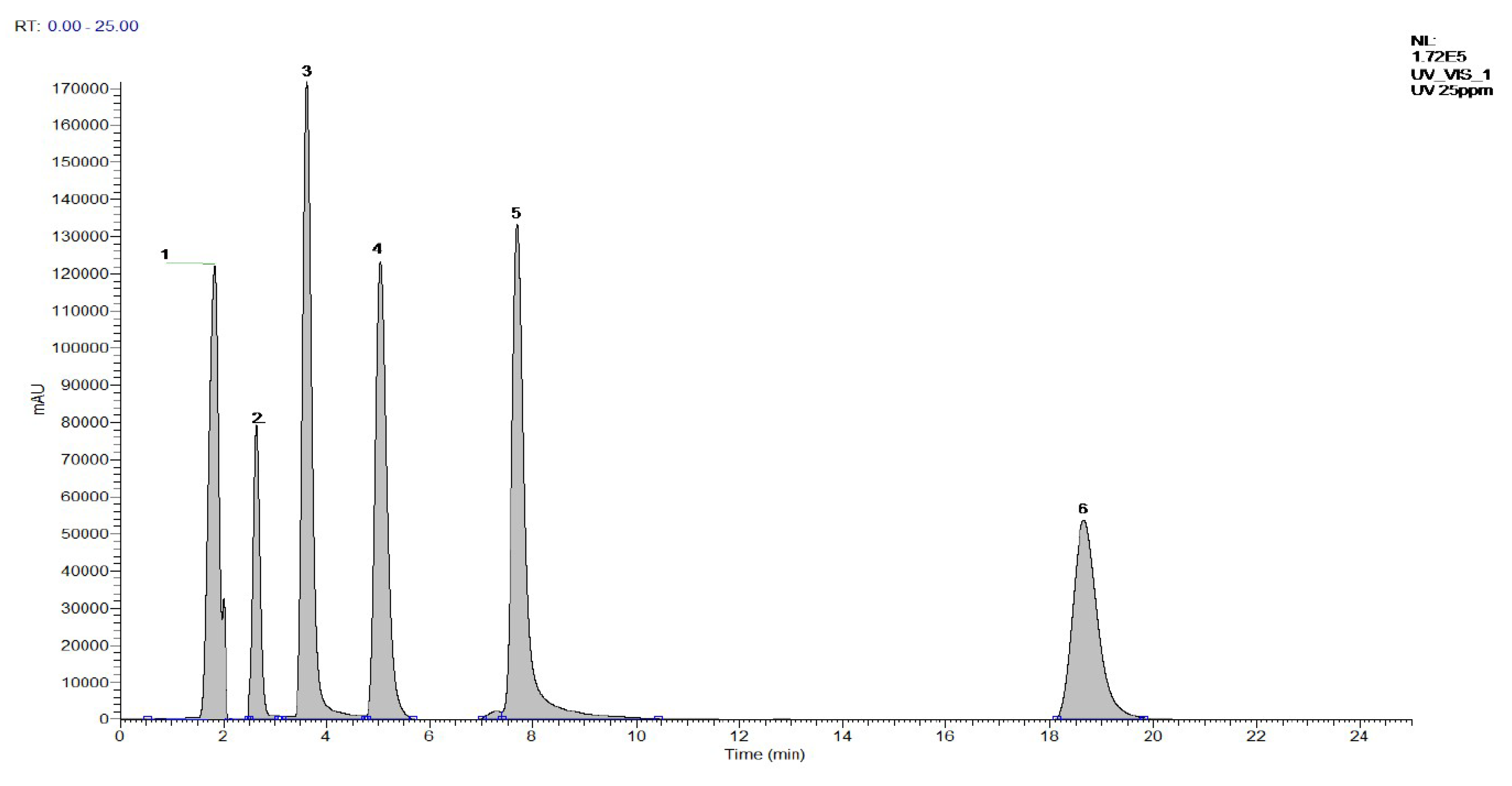 Figure 1
This is an open access article distributed under the
Creative Commons Attribution License
which permits unrestricted use, distribution, and reproduction in any medium, provided the original work is properly cited (CC BY 4.0).

Share & Cite This Article
MDPI and ACS Style
Zhang, H.; Birch, J.; Pei, J.; Mohamed Ahmed, I.A.; Yang, H.; Dias, G.; Abd El-Aty, A.M.; Bekhit, A. .-D. Identification of Six Phytochemical Compounds from Asparagus officinalis L. Root Cultivars from New Zealand and China Using UAE-SPE-UPLC-MS/MS: Effects of Extracts on H2O2-Induced Oxidative Stress. Nutrients 2019, 11, 107.
Note that from the first issue of 2016, MDPI journals use article numbers instead of page numbers. See further details here.
Related Articles
Comments
[Return to top]