Satiety Factors Oleoylethanolamide, Stearoylethanolamide, and Palmitoylethanolamide in Mother's Milk Are Strongly Associated with Infant Weight at Four Months of Age—Data from the Odense Child Cohort
1
Strategic Business Unit Pediatric, Arla Foods Ingredients Group P/S, DK-8260 Viby J, Denmark
2
Hans Christian Andersen Children's Hospital, Odense University Hospital, DK-5000 Odense C, Denmark
3
Department of Clinical Research, Faculty of Health Sciences, University of Southern Denmark, DK-5000 Odense C, Denmark
4
Clinical Chemistry, County Council of Västerbotten, SE-901 85 Umeå, Sweden
5
Department of Clinical Sciences, Pediatrics, Umeå University, SE-901 87 Umeå, Sweden
6
Department of Nutrition, Exercise and Sports, Faculty of Science, University of Copenhagen, DK-1958 Frederiksberg C, Denmark
7
Department of Pharmacology and Clinical Neuroscience, Umeå University, SE-901 87 Umeå, Sweden
*
Author to whom correspondence should be addressed.
Received: 20 September 2018 / Revised: 2 November 2018 / Accepted: 6 November 2018 / Published: 13 November 2018
Abstract
Regulation of appetite and food intake is partly regulated by
N
-acylethanolamine lipids oleoylethanolamide (OEA), stearoylethanolamide (SEA), and palmitoylethanolamide (PEA), which induce satiety through endogenous formation in the small intestine upon feeding, but also when orally or systemic administered. OEA, SEA, and PEA are present in human milk, and we hypothesized that the content of OEA, SEA, and PEA in mother's milk differed for infants being heavy (high weight-for-age Z-score (WAZ)) or light (low WAZ) at time of milk sample collection. Ultra-high performance liquid chromatography-mass spectrometry was used to determine the concentration of OEA, SEA, and PEA in milk samples collected four months postpartum from mothers to high (
n
= 50) or low (
n
= 50) WAZ infants. Associations between OEA, SEA, and PEA concentration and infant anthropometry at four months of age as well as growth from birth were investigated using linear and logistic regression analyses, adjusted for birth weight, early infant formula supplementation, and maternal pre-pregnancy body mass index. Mean OEA, SEA, and PEA concentrations were lower in the high compared to the low WAZ group (all
p
< 0.02), and a higher concentration of SEA was associated with lower anthropometric measures, e.g., triceps skinfold thickness (mm) (β = −2.235, 95% CI = −4.04, −0.43,
p
= 0.016), and weight gain per day since birth (g) (β = −8.169, 95% CI = −15.26, −1.08,
p
= 0.024). This raises the possibility, that the content of satiety factors OEA, SEA, and PEA in human milk may affect infant growth.
View Full-Text
►

▼

Figures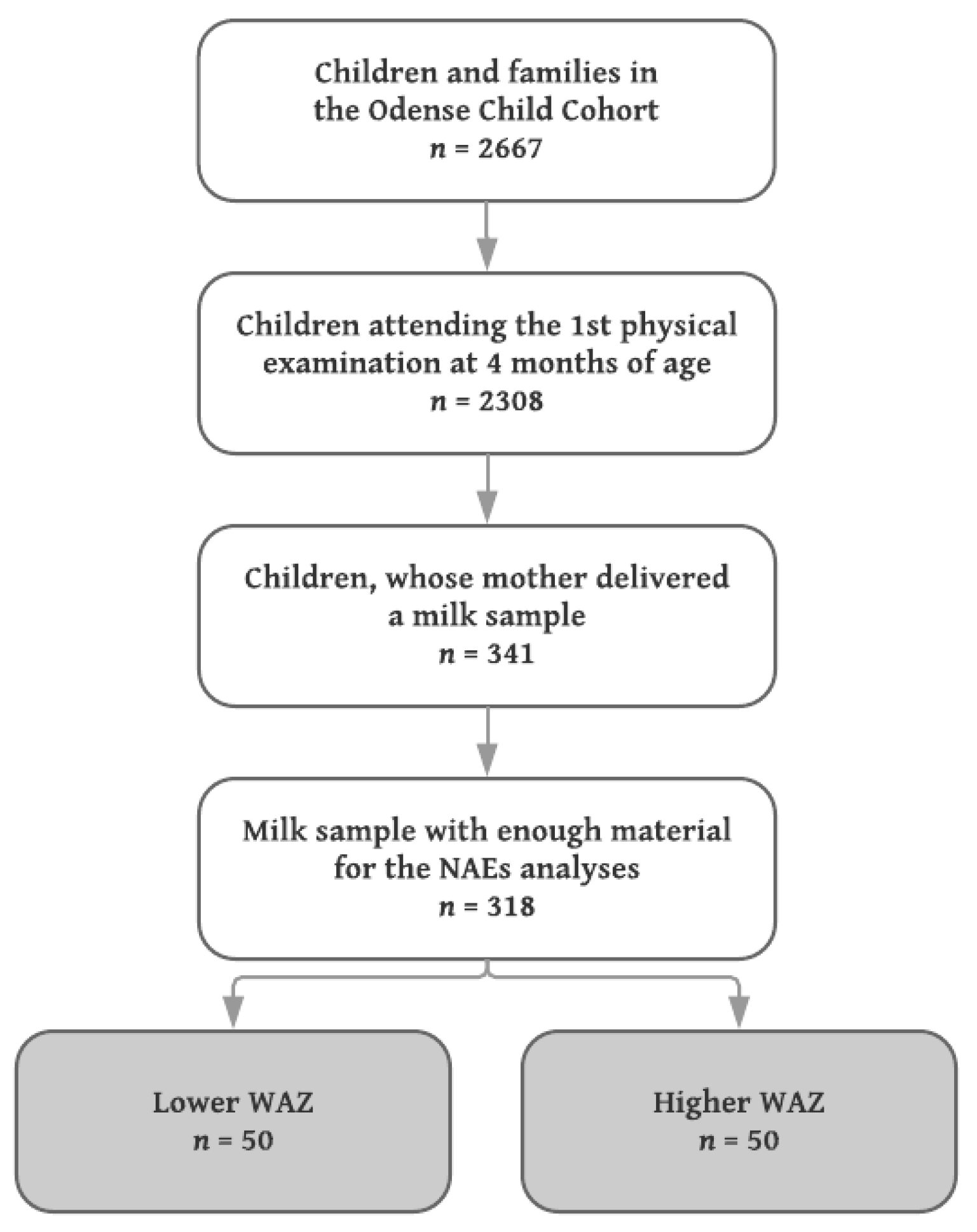 Figure 1
This is an open access article distributed under the
Creative Commons Attribution License
which permits unrestricted use, distribution, and reproduction in any medium, provided the original work is properly cited (CC BY 4.0).

Share & Cite This Article
MDPI and ACS Style
Bruun, S.; Gouveia-Figueira, S.; Domellöf, M.; Husby, S.; Neergaard Jacobsen, L.; Michaelsen, K.F.; Fowler, C.J.; Zachariassen, G. Satiety Factors Oleoylethanolamide, Stearoylethanolamide, and Palmitoylethanolamide in Mother's Milk Are Strongly Associated with Infant Weight at Four Months of Age—Data from the Odense Child Cohort. Nutrients 2018, 10, 1747.
Note that from the first issue of 2016, MDPI journals use article numbers instead of page numbers. See further details here.
Related Articles
Comments
[Return to top]