Impact of Soil Moisture Data Characteristics on the Sensitivity to Crop Yields Under Drought and Excess Moisture Conditions
1
Agriculture and Agri-Food Canada, Ottawa, ON K1A0C6, Canada
2
Department of Geography, University of Guelph, Guelph, ON N1C1A6, Canada
3
Environment and Climate Change Canada, Dorval, QC H4S1Y9, Canada
*
Author to whom correspondence should be addressed.
†
Her Majesty the Queen in Right of Canada, as represented by the Minister of Agriculture and Agri-Food Canada.
Received: 13 December 2018 / Revised: 4 February 2019 / Accepted: 11 February 2019 / Published: 13 February 2019
Abstract
Soil moisture is often considered a direct way of quantifying agricultural drought since it is a measure of the availability of water to support crop growth. Measurements of soil moisture at regional scales have traditionally been sparse, but advances in land surface modelling and the development of satellite technology to indirectly measure surface soil moisture has led to the emergence of a number of national and global soil moisture data sets that can provide insight into the dynamics of agricultural drought. Droughts are often defined by normal conditions for a given time and place; as a result, data sets used to quantify drought need a representative baseline of conditions in order to accurately establish a normal. This presents a challenge when working with earth observation data sets which often have very short baselines for a single instrument. This study assessed three soil moisture data sets: a surface satellite soil moisture data set from the Soil Moisture and Ocean Salinity (SMOS) mission operating since 2010; a blended surface satellite soil moisture data set from the European Space Agency Climate Change Initiative (ESA-CCI) that has a long history and a surface and root zone soil moisture data set from the Canadian Meteorology Centre (CMC)'s Regional Deterministic Prediction System (RDPS). An iterative chi-squared statistical routine was used to evaluate each data set's sensitivity to canola yields in Saskatchewan, Canada. The surface soil moisture from all three data sets showed a similar temporal trend related to crop yields, showing a negative impact on canola yields when soil moisture exceeded a threshold in May and June. The strength and timing of this relationship varied with the accuracy and statistical properties of the data set, with the SMOS data set showing the strongest relationship (peak X
2
= 170 for Day of Year 145), followed by the ESA-CCI (peak X
2
= 89 on Day of Year 129) and then the RDPS (peak X
2
= 65 on Day of Year 129). Using short baseline soil moisture data sets can produce consistent results compared to using a longer data set, but the characteristics of the years used for the baseline are important. Soil moisture baselines of 18–20 years or more are needed to reliably estimate the relationship between high soil moisture and high yielding years. For the relationship between low soil moisture and low yielding years, a shorter baseline can be used, with reliable results obtained when 10–15 years of data are available, but with reasonably consistent results obtained with as few as 7 years of data. This suggests that the negative impacts of drought on agriculture may be reliably estimated with a relatively short baseline of data.
View Full-Text
►

▼

Figures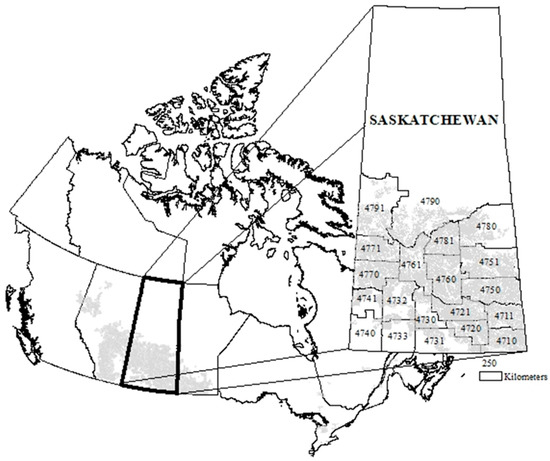 Figure 1
This is an open access article distributed under the
Creative Commons Attribution License
which permits unrestricted use, distribution, and reproduction in any medium, provided the original work is properly cited (CC BY 4.0).

Share & Cite This Article
MDPI and ACS Style
Champagne, C.; White, J.; Berg, A.; Belair, S.; Carrera, M. Impact of Soil Moisture Data Characteristics on the Sensitivity to Crop Yields Under Drought and Excess Moisture Conditions. Remote Sens. 2019, 11, 372.
Note that from the first issue of 2016, MDPI journals use article numbers instead of page numbers. See further details here.
Related Articles
Comments
[Return to top]