Latent Heat Flux in the Agulhas Current
1
Department of Oceanography, Ma-Re Institute, University of Cape Town, Cape Town 7701, South Africa
2
Nansen Tutu Center for Marine Environmental Research, University of Cape Town, Cape Town, 7701 South Africa
3
GEOMAR Helmholtz Centre for Ocean Research Kiel, 2405 Kiel, Germany
4
Nansen Environmental and Remote Sensing Research Center and Geophysical Institute, University of Bergen, N-5006 Bergen, Norway
*
Author to whom correspondence should be addressed.
Received: 29 April 2019 / Revised: 21 June 2019 / Accepted: 24 June 2019 / Published: 3 July 2019
Abstract
In-situ observation, climate reanalyses, and satellite remote sensing are used to study the annual cycle of turbulent latent heat flux (LHF) in the Agulhas Current system. We assess if the datasets do represent the intense exchange of moisture that occurs above the Agulhas Current and the Retroflection region, especially the new reanalyses as the former, the National Centers for Environmental Prediction Reanalysis 2 (NCEP2) and the European Centre for Medium-Range Weather Forecast (ECMWF) reanalysis second-generation reanalysis (ERA-40) have lower sea and less distinct surface temperature (SST) in the Agulhas Current system due to their low spatial resolution thus do not adequately represent the Agulhas Current LHF. We use monthly fields of LHF, SST, surface wind speed, saturated specific humidity at the sea surface (Qss), and specific humidity at 10 m (Qa). The Climate Forecast System Reanalysis (CFSR), the European Centre for Medium-Range Weather Forecast fifth generation (ERA-5), and the Modern-Era Retrospective analysis for Research and Applications version-2 (MERRA-2) are similar to the air–sea turbulent fluxes (SEAFLUX) and do represent the signature of the Agulhas Current. ERA-Interim underestimates the LHF due to lower surface wind speeds than other datasets. The observation-based National Oceanography Center Southampton (NOCS) dataset is different from all other datasets. The highest LHF of 250 W/m
2
is found in the Retroflection in winter. The lowest LHF (~100 W/m
2
) is off Port Elizabeth in summer. East of the Agulhas Current, Qss-Qa is the main driver of the amplitude of the annual cycle of LHF, while it is the wind speed in the Retroflection and both Qss-Qa and wind speed in between. The difference in LHF between product are due to differences in Qss-Qa wind speed and resolution of datasets.
View Full-Text
►

▼

Figures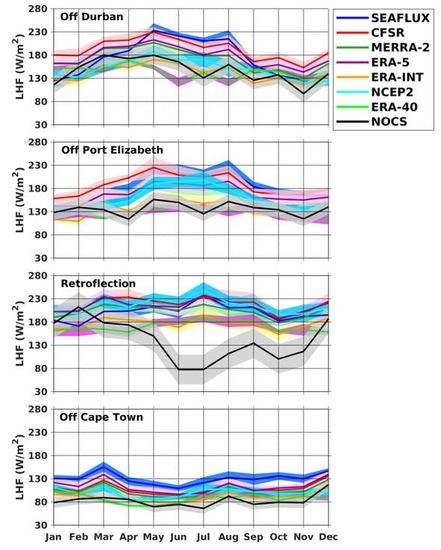 Graphical abstract
This is an open access article distributed under the
Creative Commons Attribution License
which permits unrestricted use, distribution, and reproduction in any medium, provided the original work is properly cited (CC BY 4.0).

Share & Cite This Article
MDPI and ACS Style
Imbol Nkwinkwa N., A.S.; Rouault, M.; Johannessen, J.A. Latent Heat Flux in the Agulhas Current. Remote Sens. 2019, 11, 1576.
Note that from the first issue of 2016, MDPI journals use article numbers instead of page numbers. See further details here.
Related Articles
Comments
[Return to top]