Health Risk Assessment of Vegetables Grown on the Contaminated Soils in Daye City of Hubei Province, China
1
Research Center for Environment and Health, Zhongnan University of Economics and Law, Wuhan 430073, China
2
Institute of Environmental Management and Policy, Zhongnan University of Economics and Law, Wuhan 430073, China
3
School of Information and Safety Engineering, Zhongnan University of Economics and Law, Wuhan 430073, China
*
Author to whom correspondence should be addressed.
Received: 24 September 2017 / Revised: 12 November 2017 / Accepted: 17 November 2017 / Published: 20 November 2017
Abstract
China is an agriculturally-producing country and the safety of its vegetables will have an extensive attention at home and abroad. Recently, contamination of soils and vegetables caused by mining activities is of great social concern because of the potential risk to human health, especially to the residents whom live near metal or metalloid mines. In this study, 18 topsoil and 141 vegetable samples were collected from the contaminated areas in Daye City Hubei Province, China and the concentrations of copper (Cu), zinc (Zn), arsenic (As), cadmium (Cd) and lead (Pb) were analyzed. A self-designed questionnaire was assigned to obtain the exposure scenario and the USEPA health risk assessment model was adopted to assess two type of risks (non-carcinogenic risks and carcinogenic risks) of vegetables to humans. The results showed that the average contents of metal(loid)s in soils exceeded the background value of Daye City. The average contents of metal(loid)s, especially As, Cd, Pb, in three kinds of vegetables were significantly higher than the permissible values based on Chinese national standard. Leafy vegetables had relatively higher concentrations and the transfer factors of As (0.015), Cd (0.080) and Pb (0.003) were comparable to leguminous and fruit vegetables. Leguminous vegetables had relatively higher concentrations and transfer factors of Cu (0.032) and Zn (0.094) than leafy and fruit vegetables. The transfer factors from soil to plants follows a decreasing order as Cd (0.068), Zn (0.047) > Cu (0.023) > As (0.006), Pb (0.002). Furthermore, health risk assessment revealed the following results: the non-carcinogenic risk decreased in the order of children, adult, adolescent, while the carcinogenic risk followed a decreasing order of adult, adolescent, children; the calculated carcinogenic and non-carcinogenic risk of the metal(loid)s by vegetable consumption decreased in the order of leafy vegetables > fruit vegetables > leguminous vegetables. The relatively lower transfer factors and lower risks may suggest that leguminous and fruit vegetables are more suitable for planting in Daye City. Based on the contributions of five kinds of metal(loid)s from three types of vegetables, Cd and As are found to be the dominant sources of health risk.
View Full-Text
►

▼

Figures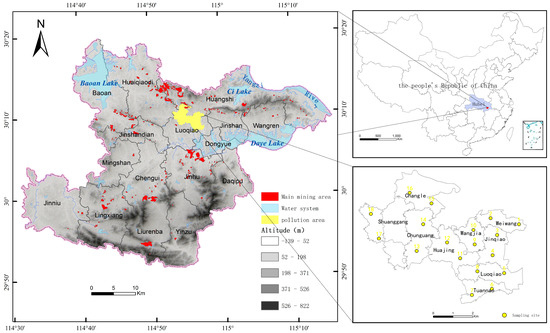 Figure 1
This is an open access article distributed under the
Creative Commons Attribution License
which permits unrestricted use, distribution, and reproduction in any medium, provided the original work is properly cited (CC BY 4.0).

Share & Cite This Article
MDPI and ACS Style
Yang, J.; Lv, F.; Zhou, J.; Song, Y.; Li, F. Health Risk Assessment of Vegetables Grown on the Contaminated Soils in Daye City of Hubei Province, China. Sustainability 2017, 9, 2141.
Note that from the first issue of 2016, MDPI journals use article numbers instead of page numbers. See further details here.
Related Articles
Comments
[Return to top]