Open Access This article is
freely available
re-usable
Article
The 'GartenApp': Assessing and Communicating the Ecological Potential of Private Gardens
1
Landscape Ecology and Environmental Systems Analysis, Institute of Geoecology, Technische Universität Braunschweig, 38106 Braunschweig, Germany
2
Institute of Biodiversity, Johann Heinrich von Thünen-Institute, 38116 Braunschweig, Germany
3
Berlin-Brandenburg Institute of Advanced Biodiversity Research, 14195 Berlin, Germany
*
Author to whom correspondence should be addressed.
Received: 31 October 2019 / Accepted: 20 December 2019 / Published: 21 December 2019
Abstract
:
Private gardens make up large parts of urban green space. In contrast to public green spaces, planning and management is usually uncoordinated and independent of municipal planning and management strategies. Therefore, the potential for private gardens to provide ecosystem services and habitat and to function as corridors for wildlife is not fully utilized. In order to improve public knowledge on gardens, as well as provide individual gardeners with information on what they can contribute to enhance ecosystem services provision, we developed a GIS-based web application for the city of Braunschweig (Germany): the 'GartenApp' (garden app). Users of the app have to outline their garden on a web map and provide information on biodiversity related features and management practices. Finally, they are asked about observations of well recognizable species in their gardens. As an output, the gardeners are provided with an estimate of the ecosystem services their garden provides, with an evaluation of the biodiversity friendliness, customized advice on improving ecosystem services provision, and results from connectivity models that show gardeners the role of their garden in the green network of the city. In this paper, we describe the app architecture and show the first results from its application. We finish with a discussion on the potential of GIS-based web applications for urban sustainability, planning and conservation.
Keywords:
green infrastructure; urban; ecosystem services; connectivity modelling; citizen science
3. Results
Since 2016, we collected 75 gardens and backyards during five public events in: 'TU Night' (open day of the Technische Universität Braunschweig) in 2016, 2018 and 2019, 'Langer Tag der StadtNatur' (day of urban nature) in 2018, 'Aktionstag Natur zum Anfassen' (nature action day) in 2019. The garden areas range between 24 and 7060 m², with a median of 405 m² (N = 75;
Figure 4
). In 2019, we updated the questionnaire for the biodiversity assessment, and so the following results on gardens refer to the 26 gardens we collected since then. While more than half of the gardens provided nesting boxes and food for birds, deadwood and wild patches, open compost, nesting sites for wild bees, unclipped hedges and berry patches, 10 gardens provided drywalls and only four gardens provided ponds (
Figure 5
). In total, 17 gardeners checked the most diverse image for flower patches in the questionnaire. Only half of the gardens were used for growing vegetables (N = 14). Slightly more than one-third of the gardens provided meadow patches (N = 10). Four gardeners stated that they did not have a lawn or vegetable patches, but meadow and flower patches instead. Gardeners reached 36%–87% (median of 72%) of the potential maximum for biodiversity support in their gardens (
Figure 6
).
The comparison of gardener's observations of squirrels and hedgehogs (N = 75) with current densities showed no significant results. In the case of squirrels, the median of maximum current densities from the connectivity model was lower for absence statements than for presence statements (
Figure 7
a), but according to a Wilcoxon rank sum test, the effect is non-significant (W = 425, P = 0.19). For the hedgehogs, the median of maximum current densities from the connectivity model was also lower for absence statements than for presence statements, but again, the difference was not significant (W = 420.5, p-value = 0.36;
Figure 7
b).
4. Discussion
There are also uncertainties linked to the ecosystem service and biodiversity assessment. The carbon storage calculation is rather simplistic and based on multiplying a factor to canopy cover, ignoring heights. While cooling is based on measurements from Braunschweig, it ignores the wider surrounding and features such as waterbodies or buildings. The shading by vegetation is important but may be dwarfed by the shading from buildings. For the current purpose of the app, these issues are of minor importance, however, because the main output are bar graphs with relative values on a scale from 'low' to 'high'.
5. Conclusions
Gardens make up large quantities of UGSs and cities cannot afford to ignore this resource. Here, we have introduced an innovative web application that makes state-of-the-art research directly available to citizens and, at the same time, allows them to contribute their local knowledge. It is based on open-source software and can be adapted to local needs. From our own experience, but also considering the literature, the GartenApp will, however, not have a big impact as a standalone tool. Instead, we view the GartenApp as a building block for the governance of gardens to overcome the 'Tyranny of Small Decisions.'
Author Contributions
Conceptualization, A.-K.S. and M.W.S.; Writing—Original Draft, A.-K.S. and M.W.S.; Formal analysis A.-K.S., M.W.S. and M.A.; Software A.-K.S. and M.W.S.; Writing—Review and Editing, A.-K.S., M.W.S., M.A. and B.S.; Funding acquisition, B.S. All authors have read and agreed to the published version of the manuscript.
Funding
This research was funded by the program 'Science for Sustainable Development' of the Volkswagen Foundation and the Ministry for Science and Culture of Lower Saxony (
metapolis
, grant No. ZN3121).
Acknowledgments
We thank the city of Braunschweig and the Regionalverband Braunschweig for providing geodata. Thanks to Andreas Dahlkamp who contributed to an early version of the GartenApp and to Julian Jentsch for setting up the servers and for technical support.
Conflicts of Interest
The authors declare no conflict of interest.
Appendix A

Table A1.
The landscape resistance values used for the Circuitscape modelling of squirrels, based on resistance set 'R26' from [
45
].
| Description | Resistance |
| --- | --- |
| Buildings | No Data |
| Water | 1000 |
| Agricultural land | 800 |
| Railway, roads, impervious surfaces | 800 |
| Trees | 1 |
| Shrubs | 10 |
| Grass layer | 100 |

Table A2.
The landscape resistance values used for the Circuitscape modelling of hedgehogs, based on resistances from [
46
].
| Description | Resistance |
| --- | --- |
| Gardens | 1 |
| Pasture | 1 |
| Public green areas | 1 |
| Allotment gardens | 1 |
| Cemeteries | 1 |
| Deciduous forest | 3 |
| Grove | 3 |
| Sports area | 5 |
| Airfield | 5 |
| Ruderal | 6 |
| Small streets | 8 |
| Impervious | 14 |
| Paths | 16 |
| Squares | 16 |
| Opencast mining | 39 |
| Mixed Forest | 50 |
| Tram | 100 |
| Swamp | 100 |
| Highways | 100 |
| Railway | 100 |
| Coniferous forest | 100 |
| Big streets | 100 |
| Waterbodies | 100 |
| Arable land | 100 |
| Buildings | No Data |
| Canal | No Data |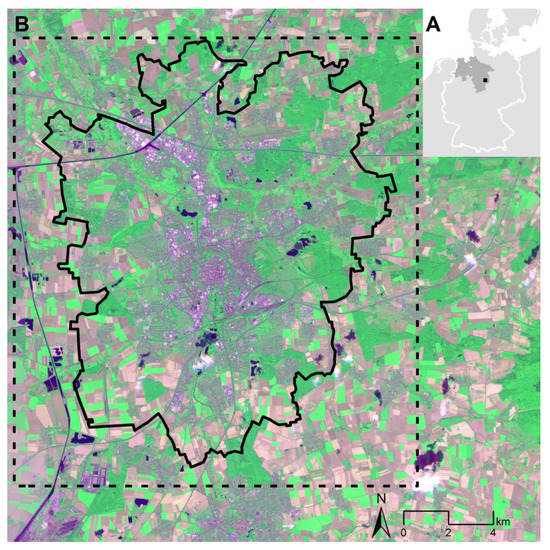 Figure 1.
The location of Braunschweig (black square) in Germany (white line) and in the federal state of Lower Saxony (dark gray; (
A
)); and city of Braunschweig (black line) in a false-color satellite image highlighting vegetation (
B
). The GartenApp works within the dashed line. Data A: ESRI basemap Europe and [
40
]. Data B: RapidEye Science Archive Project-ID 00253; [
40
].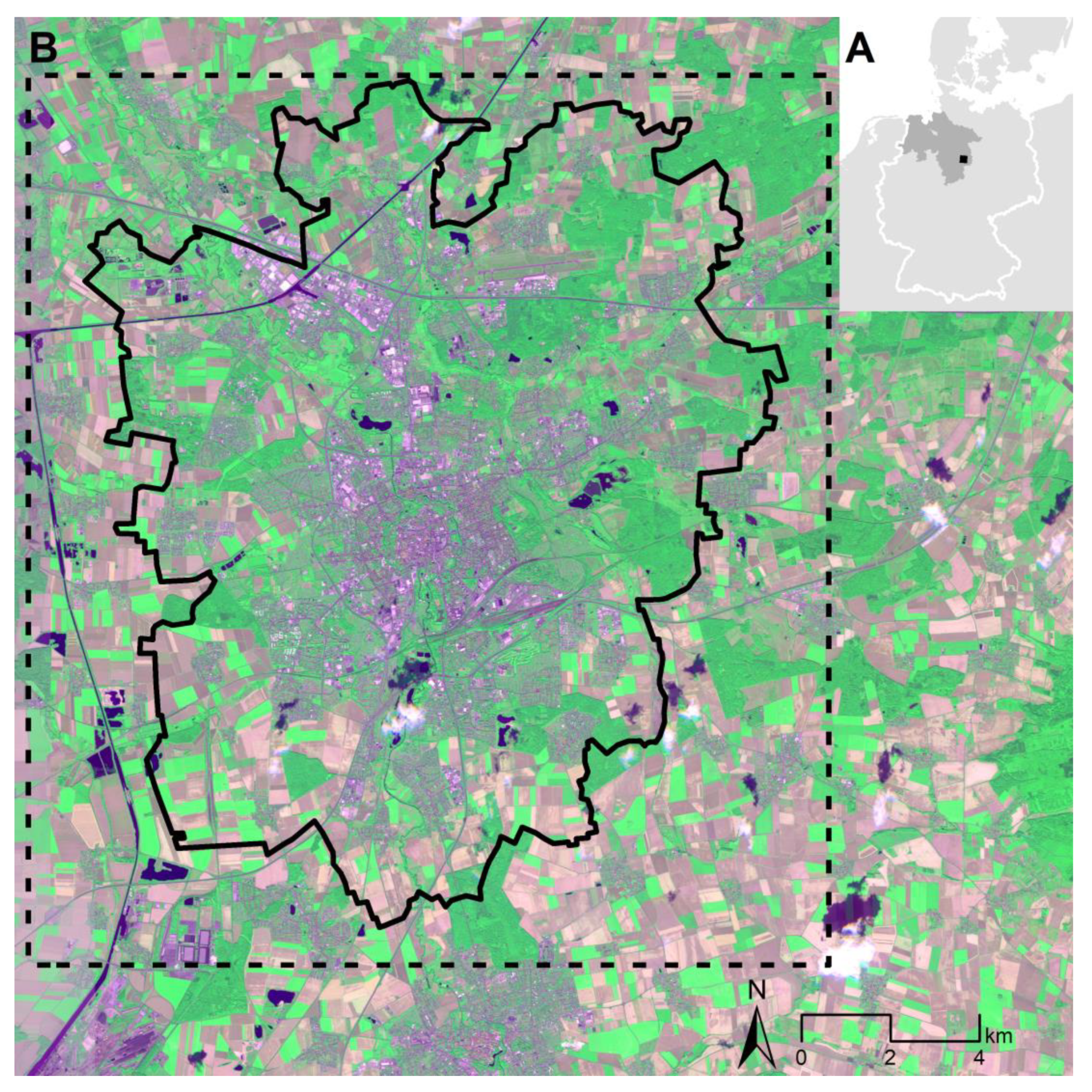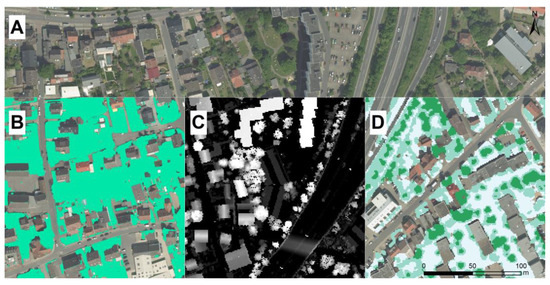 Figure 2. An overview on how vegetation heights were created: First, color infrared orthophotos (A) were classified into 'vegetation' and 'other' (B). The vegetation was then combined with net heights (C) to create a vegetation height layer (D).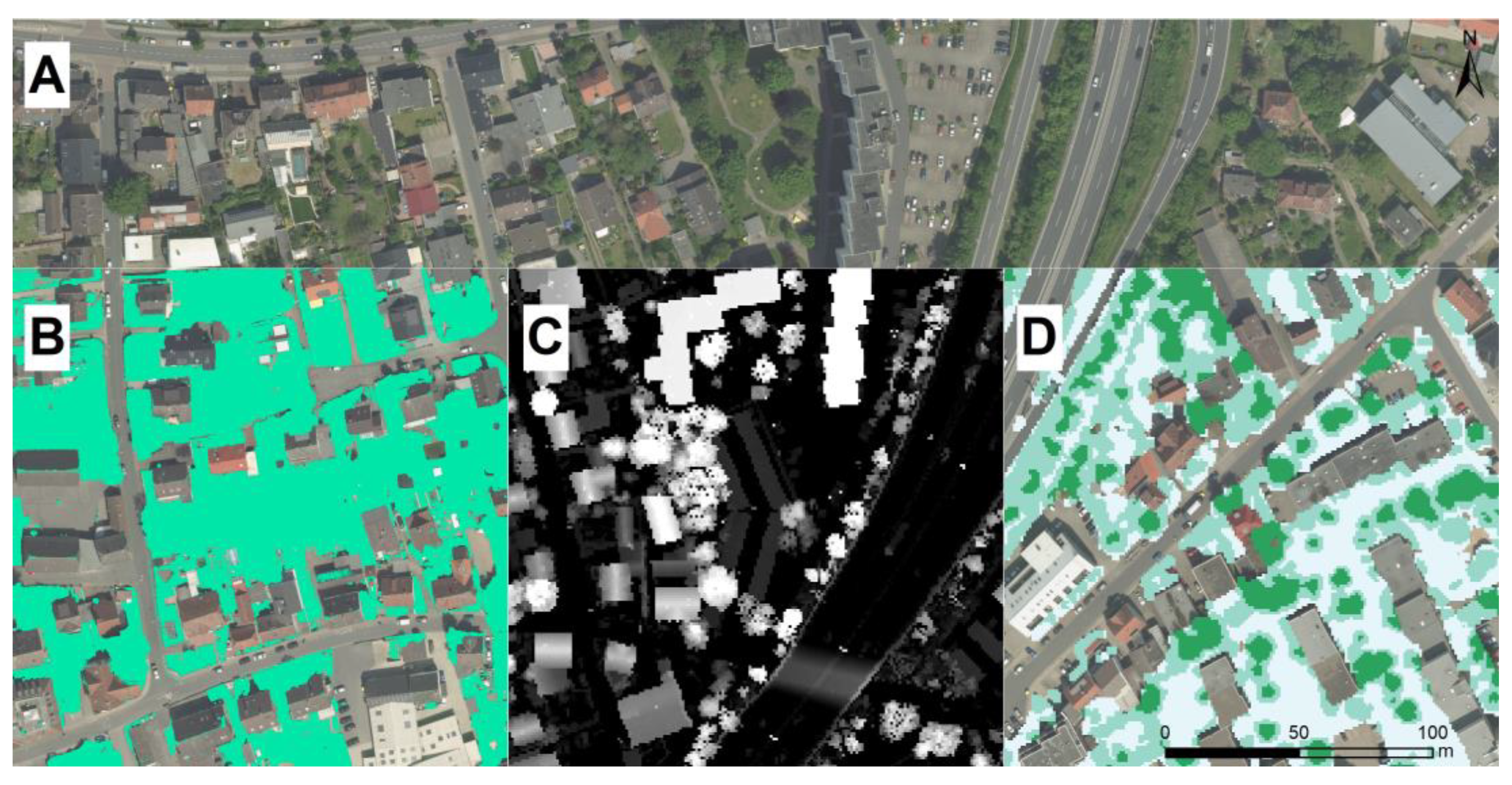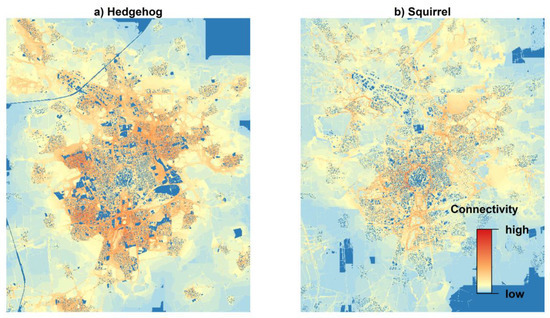 Figure 3. Current flow densities for (a) hedgehogs and (b) red squirrels. Current flow density is given as relative connectivity ranging between low and high, because absolute values are not comparable.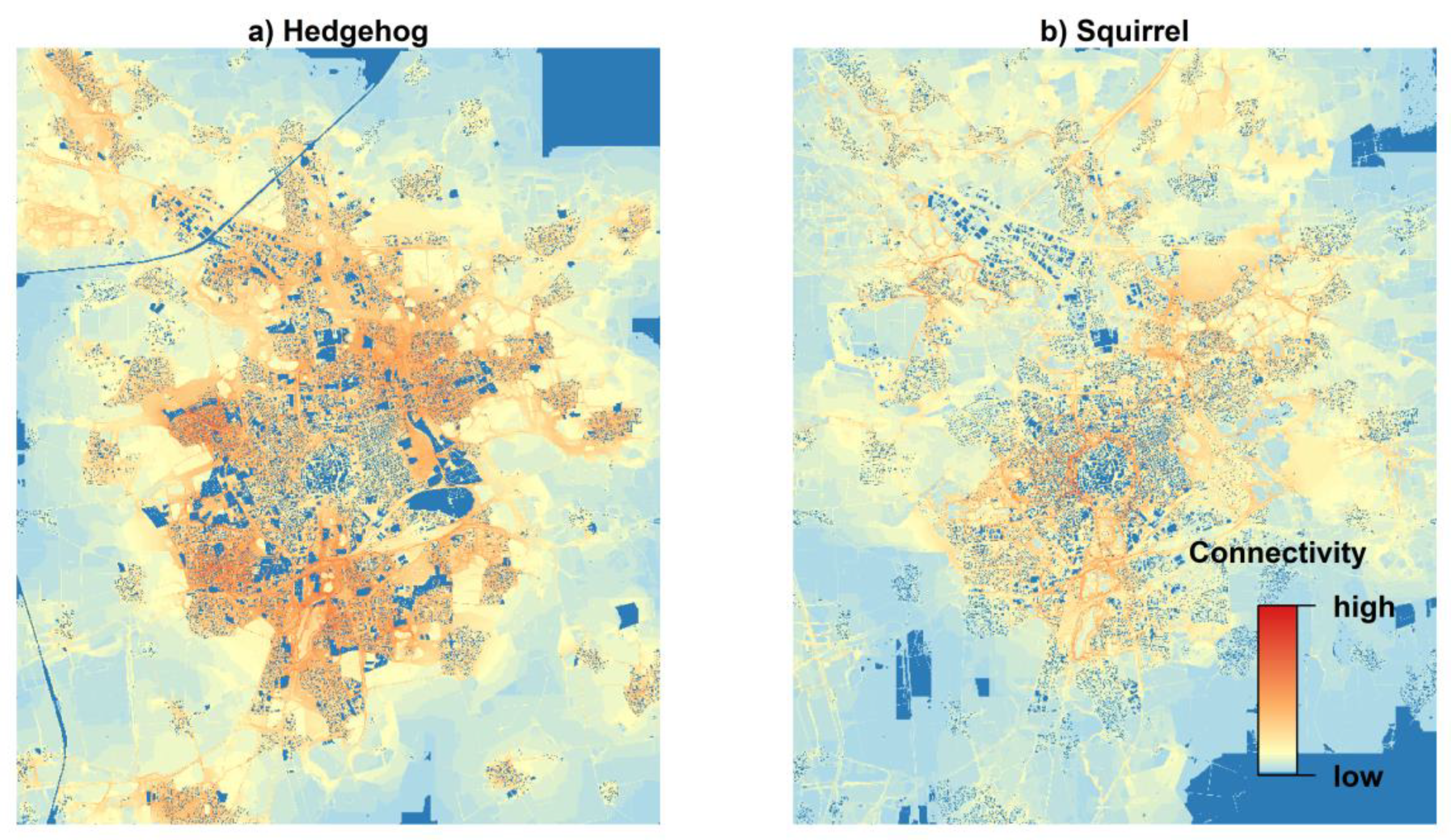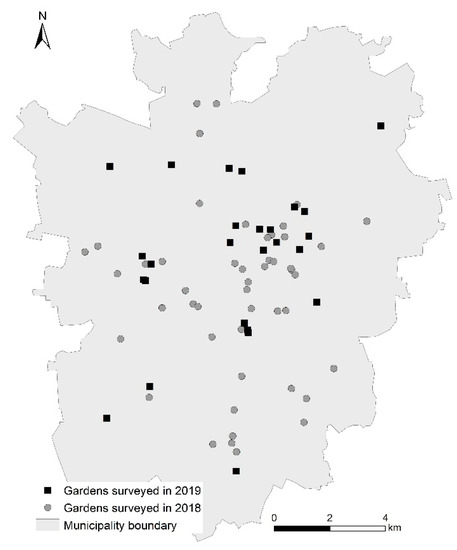 Figure 4. Locations of 75 gardens collected during several public events between 2016 and 2019. Black squares are gardens collected in 2019 after updating the questionnaire for the biodiversity assessment.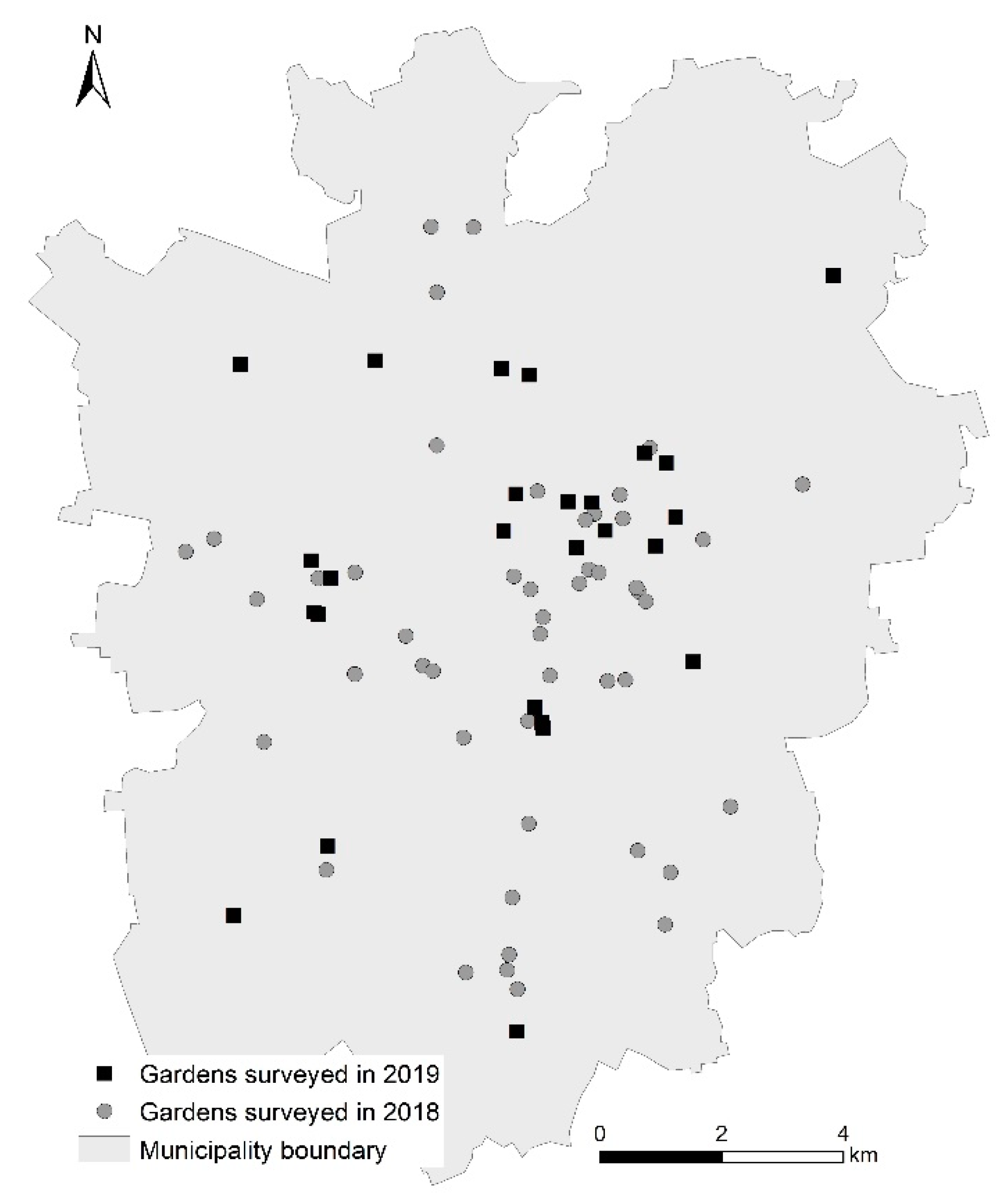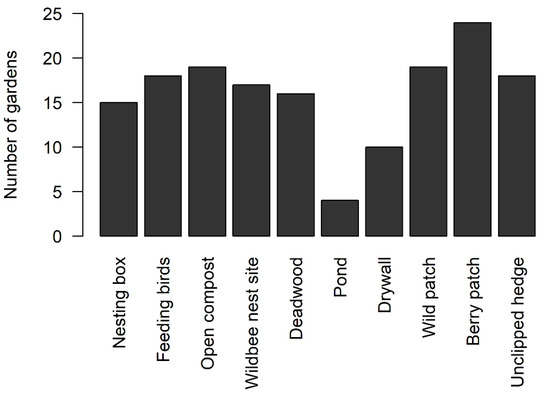 Figure 5. Presence of features that enhance the biodiversity potential of gardens for 26 gardens collected during three public events in 2019.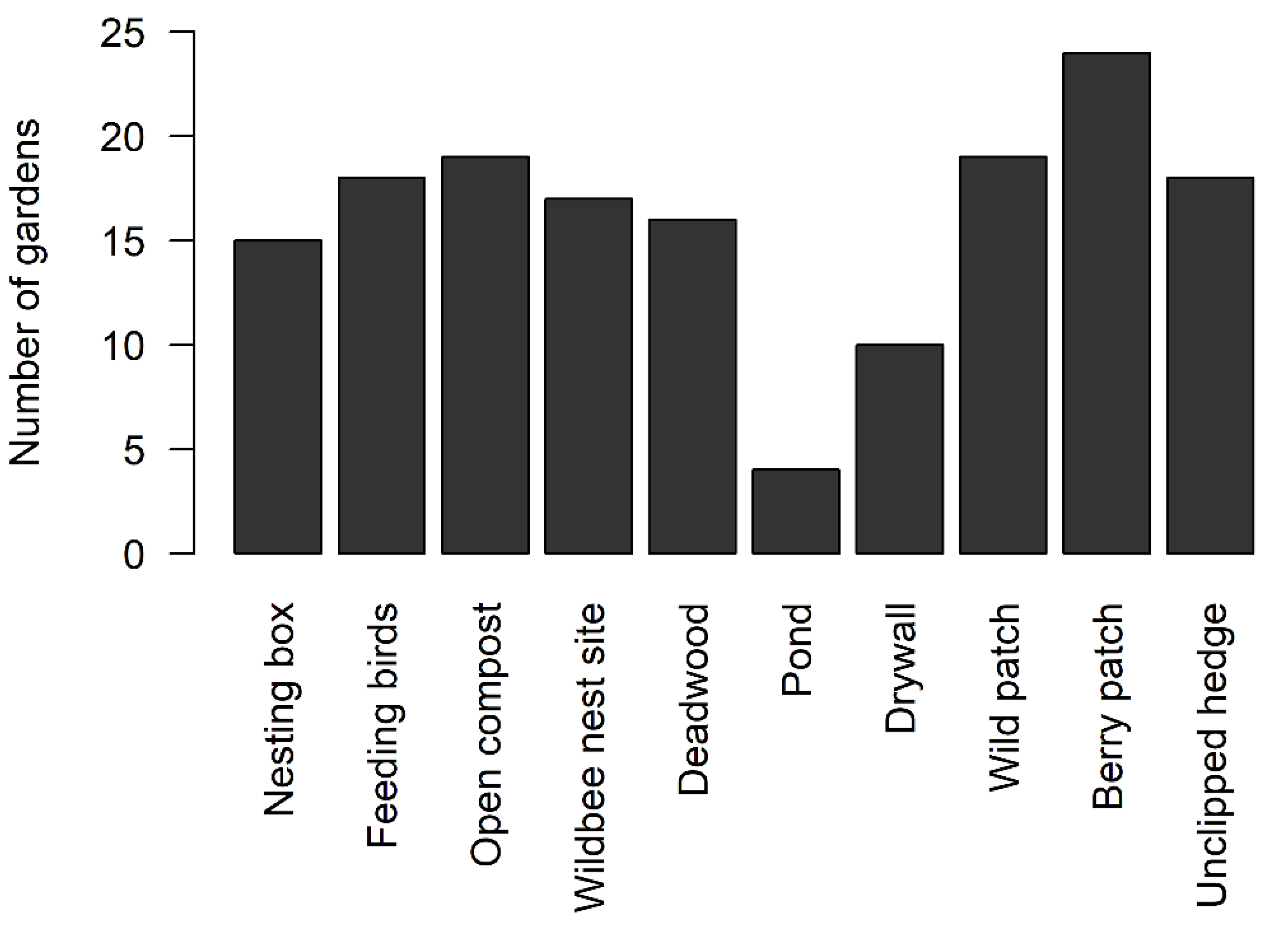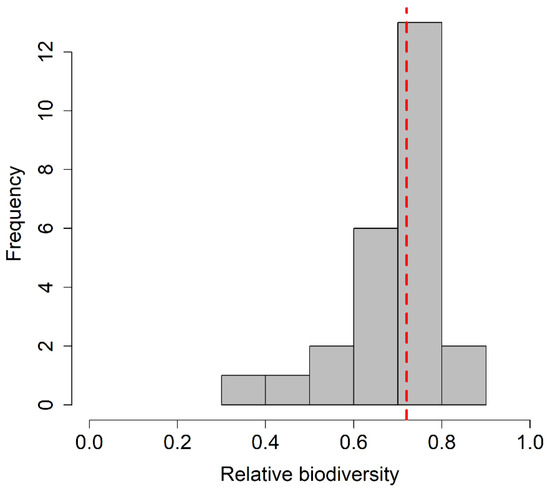 Figure 6. Relative biodiversity for 26 gardens collected during three public events in 2019. Maximum is reached when all checkboxes in the biodiversity questionnaire are checked and lawn, meadow, flower and vegetable patches are marked at highest diversity levels. The dashed line shows the median of relative biodiversity.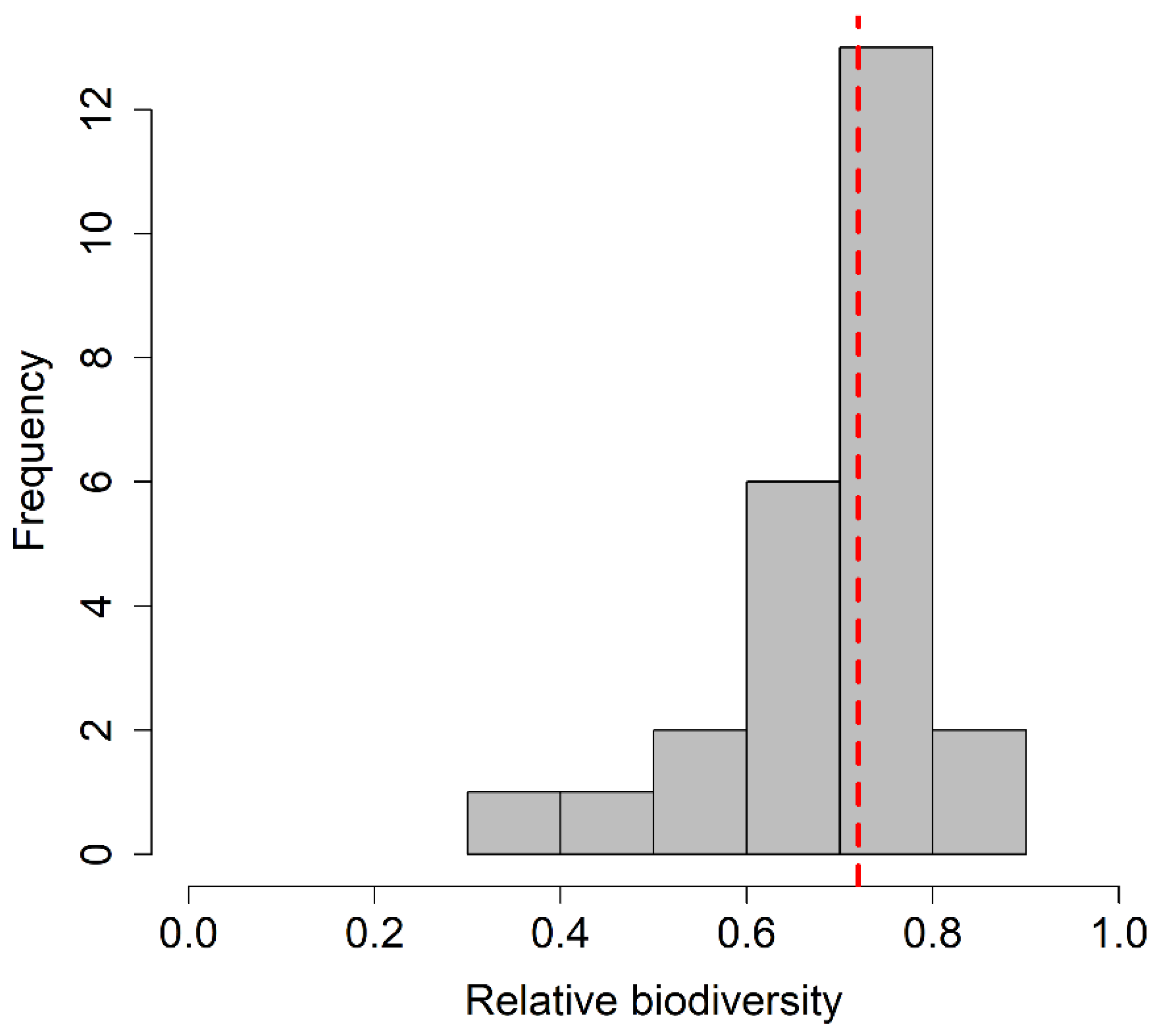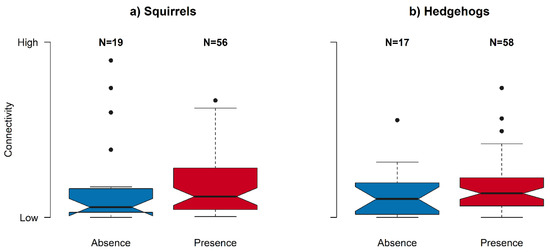 Figure 7. Maximum current density from the 75 gardens according to the connectivity models for (a) squirrels and (b) hedgehogs related to gardeners' observations of the presence/absence of these species in their gardens. Current flow density is given as relative connectivity ranging between low and high, since real values are not comparable.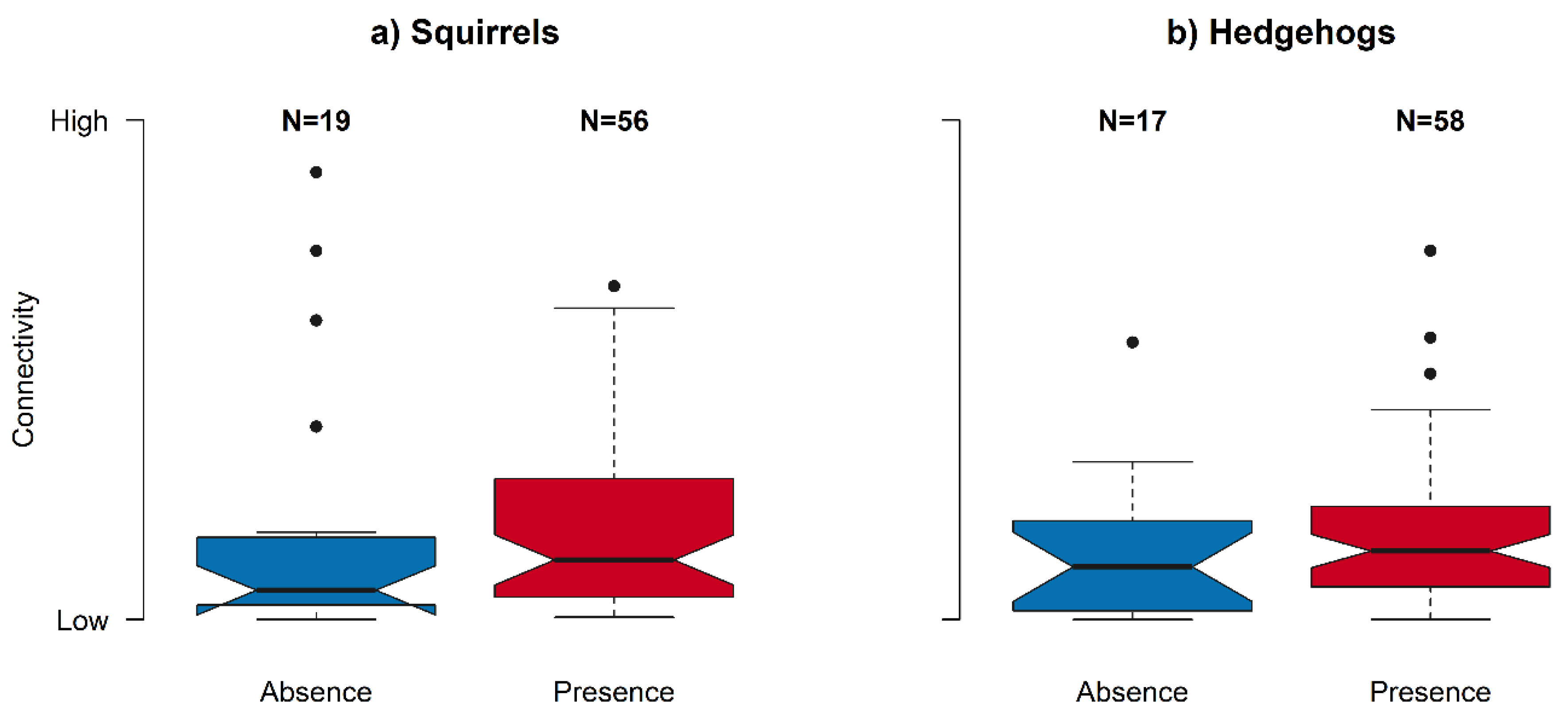 Table 1. Ecological functions of biodiversity friendly features in gardens derived from a literature survey.
Feature
Function
Reference
Nesting box for birds
increases species richness of birds;
an indirect effect can be an increase in the number of bumblebee nests
[11,51]
Bird feeder
increased resource availability increases bird density and occurrence of certain bird species
[52,53,54]
Hedge
provide nesting opportunities for bumblebees;
provision of shelter and litter for snails
[51,55]
Compost heap
increases number of bumblebee nests;
habitat for beetles, springtails and mites;
increases beetle and slug species richness
[51,55,56,57]
Fruit trees and berry shrubs
increases resource availability and habitat for birds and insects (sugar-rich fruits as resource for garden-inhabiting species, lipid-rich fruits for migrating species)
[58,59]
Deadwood storage
increases presences of fungi and other saproxylic species
[57]
Stone wall
habitat for lizards, insects and xerophilous plants and lichens;
increases species richness of slugs, snails
[55,59]
Wild patches
increase diversity and abundance of bees
[60]
Nesting support for insects
increases survival probability of pollinators
[61]
Ponds
habitat for water plants, amphibians and insects;
watering place for birds;
increases presence of a broad range of wild species (e.g., foxes, moles, snakes)
[57,59,62,63]
At the end of the section, we ask the gardeners to check whether they observed certain species during the last 12 months within their own garden: squirrels, foxes, wild rabbits, hedgehogs, domestic cats, amphibians (e.g., treefrogs, toads), and reptiles (e.g., lizards). At the end of this panel, the gardener has to press the 'Calculate' button which triggers the download of data from the database and the calculation of ecosystem services (see also Video S2).

Table 2. Estimated regression parameters from linear mixed effects model fitting. Random effects variance of 'date' is 4.18. Approximate p-values for estimated parameters are . χ² test for fixed effect yielded a significant effect of incorporating 'Vegetation volume' in the model (). Marginal explained variance ('fixed effects only') is and conditional explained variance (fixed + random effects) is .
Parameter
Estimate
Standard Error

t

-Value
Intercept [°C]
26.38
0.92
28.63
Vegetation volume [m³]
−0.60 × 10−3
6.38 × 10−5
−9.38

© 2019 by the authors. Licensee MDPI, Basel, Switzerland. This article is an open access article distributed under the terms and conditions of the Creative Commons Attribution (CC BY) license (http://creativecommons.org/licenses/by/4.0/).