Open Access This article is
freely available
re-usable
Article
Education for Sustainable Leadership: Fostering Women's Empowerment at the University Level
Business Department. University Rey Juan Carlos, 28032 Madrid, Spain
*
Author to whom correspondence should be addressed.
Received: 2 September 2019 / Accepted: 3 October 2019 / Published: 9 October 2019
Abstract
:
Education is imperative to driving sustainability and gender equity. Moreover, it is extremely important to develop initiatives in sustainable leadership education for women in order for them to acquire skills and competencies in leadership and to improve their self-perception of their capabilities. The purpose of this study was to assess a Women's Leadership Program for university students. The sample consisted of 50 students enrolled in the program. A mixed-method approach was applied. Quantitative methods with a survey were conducted to evaluate the training and attainment of leadership skills. In the data analysis, a descriptive statistics variance analysis, using a Welch statistic and T2 Dunnett test, was applied. Qualitative research methods were conducted through three focus groups to evaluate changes in their perceptions of themselves and their self-confidence. The results suggest that the female students in the program obtained a level of leadership knowledge with practical tools for their future. The program inspired them and confirmed changes in their self-confidence and view of their personal capacities, including reflection on facing challenges in the work environment. The findings support the effectiveness of specific education in breaking two barriers, identified in the literature, for women in managerial positions: lack of training and self-confidence.
Keywords:
education for sustainable leadership; gender equality; competencies; higher education; women managers
1. Introduction
In this context and in response to fostering women's self-confidence to develop leadership competences, a specific training program for female students was launched at the University Rey Juan Carlos in collaboration with the Women's CEO Association (WCA). The objective was to ensure the acquisition of skills, competencies, and tools for leadership, and to increase their self-perceptions, networking, and motivations.
2. Materials and Methods
2.1. The Research Background
This research focuses on the results of the Women Leadership Program (WLP), which took place over two years, 2017 and 2018. The course was designed for female students only, based on the lack of training in leadership skills highlighted by the literature. The main objective of the WLP was that the female students enrolled on the program acquired skills, competences, and tools related to management and leadership. As a second goal, the course attempted to improve student motivation, self-esteem, and self-perception to empower females about their own value. Furthermore, it explained the difficulties women face in the labor market and with balancing their personal life, with case studies offered through managers' practical experiences and advice on how to overcome barriers. The total number of applications for enrolment in the WLP was four times the number of places offered; therefore, a selection process was necessary. The final groups constituted a heterogeneous team in terms of their academic profiles, including students pursuing Business, Social Science, and Engineering degrees. It was intended that the program provided access to leadership training not only to students in Business, but also to those with more technical profiles, such as women in Architecture, Medicine, and Engineering. Therefore, in the second year, the WLP ensured that half of the students enrolled were from these technical degrees.
The WLP included theoretical classes (a total of 24 hours), a case study, several visits to companies, a visit to the European Parliament in Brussels, and a coaching system. In the 2018 edition, students were also given an individualized test on their own leadership style and competencies, thanks to the collaboration of a Coaching Human Resources Company, Psicotec.
Currently, a good leader must know how to communicate, work in a team, negotiate, coordinate, and motivate a team in an increasingly changing and globalized environment [
52
]. Therefore, the theoretical modules were designed according to these needs. The topics covered areas such as
Personal branding;

Communicating efficiently;

Social media and networking;

Public speaking;

Negotiating efficiently;

Leadership style and techniques;

Business management.
All the modules included specific reflections on the situation of women in the work environment. The 21 lecturers, men and women, were experienced managers from different economic sectors, who were very committed.
2.2. Methods and Sample
Evaluation of the impact on the acquisition of student competencies was a fundamental aspect of the WLP. A multi-source program evaluation design based on the students' perception was used for the analysis.
The evaluation considered two points: (a) a performance assessment of the WLP itself and the training received, and (b) the results in terms of the skills and confidence acquired by the students themselves. A mixed-method approach was applied.
For the assessment of the WLP itself and the training received, a quantitative survey was developed at the end of each theoretical module via a self-administered survey. The questionnaire included a ten-point Likert scale with nine questions about theoretical and practical subjects, the documentation, and the lecturers, in addition to their previous knowledge about the topics, how the module contributed to their future and capability, and a global evaluation.
The final survey sample was a total of 50 students, 25 from each year. No one declined to answer the questionnaire. Most of them added some positive comments at the end of the questionnaire. On average, they were 21.6 years old and were in the final year of their Bachelor's degree in Business, Social Sciences, Law, Engineering, and Architecture. Some of them were combining their university classes with mandatory business practices.
Secondly, for the evaluation of the results in the acquisition of skills and self-confidence, a qualitative methodology was used. At the end of each year, focus groups were held with the students to evaluate their perception of the program, the lessons they learned from it, and the personal change they experienced. Three focus groups were conducted, with eight participants in each one. A total of 24 students participated in the qualitative study. The interview schedule comprised open questions. In addition, four individual informal interviews were carried out with a selected group of students. The main objective of this qualitative approach was to obtain a deep comprehension of the students' perceptions about whether the program favored individual changes in their behavior or the way they think about or perceive themselves. It was fundamental to evaluate the real impact on improving self-confidence in university students who stand on the threshold of the labor market.
2.3. Analysis
The analysis of the quantitative data was realized with a classical descriptive analysis, with an evaluation of the mean, standard deviation, percentages, etc., using the SPSS v.25 software. Additionally, stochastic treatment of the data was carried out. The stochastic analysis relating to the inter-group comparisons was conducted using an analysis of variance (ANOVA). To test homoscedasticity, we used a Levene test. The analysis of variance was carried out using a Welch statistic, due to the heteroscedasticity of the sample. This test uses a modified F-statistic to analyze significant effects and is commonly used to deal with heteroscedastic samples [
53
]. Moreover, to identify inter-group differences, we used a T2 Dunnett test.
The qualitative data were recorded with participants' consent and were later transcribed. The analysis was carried out as a conventional content analysis (inductive analysis), in order to capture relevant information [
54
]. The analysis identified two categories: Program category related to the course performance, and how the program changed capacities and self-confidence categories, considering changes at the individual and personal level.
3. Results
The results of the quantitative and qualitative research are presented below.
3.1. Quantitative Data
Nevertheless, descriptive analysis only provides an initial examination. To validate the robustness of these descriptive analyses, a stochastic analysis was realized. The analysis of variance permitted the identification of significant differences between subject evaluation and skills provided through all the specific subjects of the training program (p < 0.05). Moreover, a post hoc test offered more in-depth information about the inter-group differences. Specifically, ANOVA analyses were applied, combining each factor with each variable.
3.2. Qualitative Results
The qualitative analysis identified two main evaluation categories: one about course performance and one related to how the WLP changed the abilities and self-confidence of the students. Regarding the first, the results were coincident with the quantitative data. In this part of the study, only students' self-performance or confidence changes were analyzed.
In general, the program had a very significant effect on students. They considered that they had learned many tricks to communicate, lead, and apply skills for their working future. A good proof of this is that they would recommend it to other students. Specifically, they considered the following:
Meeting with people in the real business world had been a key part of the WLP. Participants valued the diversity of the speakers/professors and found them "very interactive, very exciting, very inspiring" (Focus group 1). In this sense, they valued the opportunity to meet great professionals; to analyze very important issues for them, which are not usually taught; and to realize the importance of certain issues for further professional development (Focus group 1). Students agreed that the course had been very useful for them, particularly as regards the specific reflections on the situation of women in the work environment and the challenges that they might face;

They agreed that they had more tools and guidelines when it comes to personal branding and public speaking, interacting with people, and communicating with more security. For example, they learned how to create more impact in the introduction and closing of professional presentations;

They discovered what kind of leaders they were and, therefore, they determined the points that they needed to strengthen or improve upon when delegating, due to the individual tests they took;

The WLP helped them to know themselves better in relation to their professional field as they saw themselves in new situations which, if it were not for the course, they would not have faced;

The WLP helped them to manage their feelings of being overwhelmed.
The WLP organizers had a special interest in developing self-confidence, motivation, and ambition in students, teaching them practical advice, skills, and tools from real managers' experiences. In this regard, students recognized that the program offered them "a motivation to move forward every Wednesday" (Focus group 2). They were tired of hearing that "there is no future for them, that scholars and women find it difficult to grow in employment, etc." (Focus group 2). The course provided them with constant motivation, which many students needed to hear at this time in their lives. They all came out more empowered, and with a broader vision of the future by constantly being in contact with women who were a clear example of success and who gave them a shot of positivity: "Yes, you can!" (Focus group 2). Some students even commented that this motivation gave them the courage to demand certain labor rights in their current external practices or in their current jobs.
Furthermore, in capital letters, everyone thinks that it gave them a key to "Believe in themselves and self-confidence" (Focus group 3). There was a change in attitude towards their skills and aptitudes. In the interviews with the students and during the development of the program, many of them stated that they had gained motivation and self-confidence:
"It has served a lot on a personal level of self-esteem, motivation, trust, decision that you can get things done if you work with others".

(Focus group 2)
"The program has provided tools to empower you as a woman, as a leader".

(Focus group 3)
"Trust more in myself and in my qualities. I set a goal and know where I want to go and go on, go on, go on…".

(Focus group 1)
Additionally, this confidence began from the same selection process that they liked, not only because of what they learned during it (how a selection interview is carried out and surmounted), but also because it motivated them to know that they had been chosen from among a large number of applications.
Finally, the students also stated that the course had opened their eyes to the reality that they would have to face as women in the workplace, but also in their family balance:
"On a personal level it has helped a lot. It has opened my eyes to what is there. When I went to work … now I have seen details that have made me alert. Nor do I have to be waiting and demonstrate, demonstrate, demonstrate. You, yourself know what you're worth, and you have to demand according to your merits according to what you're worth. I am more alert".

(Focus group 1)
"The program wakes you up. I did not know that I will face problems between my family and my professional career…".

(Focus group 3)
4. Discussion and Conclusions
In conclusion, sustainability is a theme that extends to all realms of life, including education and gender equity. The present study stressed the relevance of education for women students to build their leadership strengths, skills, tools, and capabilities and also to reinforce their self-confidence. A strong commitment to developing leadership education for women could create a crucial scenario to break down the current barriers females face in obtaining management positions. Universities are well-placed to facilitate education that builds a more sustainable and gender-equitable legacy for future generations.
Author Contributions
Paper conceptualization, M.S.-P., P.L.-S. and C.d.l.F.-C.; study administration and data collection P.L.-S.; methodology, software and data validation, M.S.-P.; writing-original draft preparation: concepts on gender, methodology and results M.S.-P.; introduction and background: P.L.-S. and C.d.l.F.-C., discussion and conclusions: M.S.-P., P.L.-S. and C.d.l.F.-C.; review and editing: C.d.l.F.-C.
Funding
This research received no external funding.
Acknowledgments
The authors would like to express their gratitude to WCEO's support and to the students who participated in this study for their selflessness collaboration.
Conflicts of Interest
The authors declare no conflicts of interest.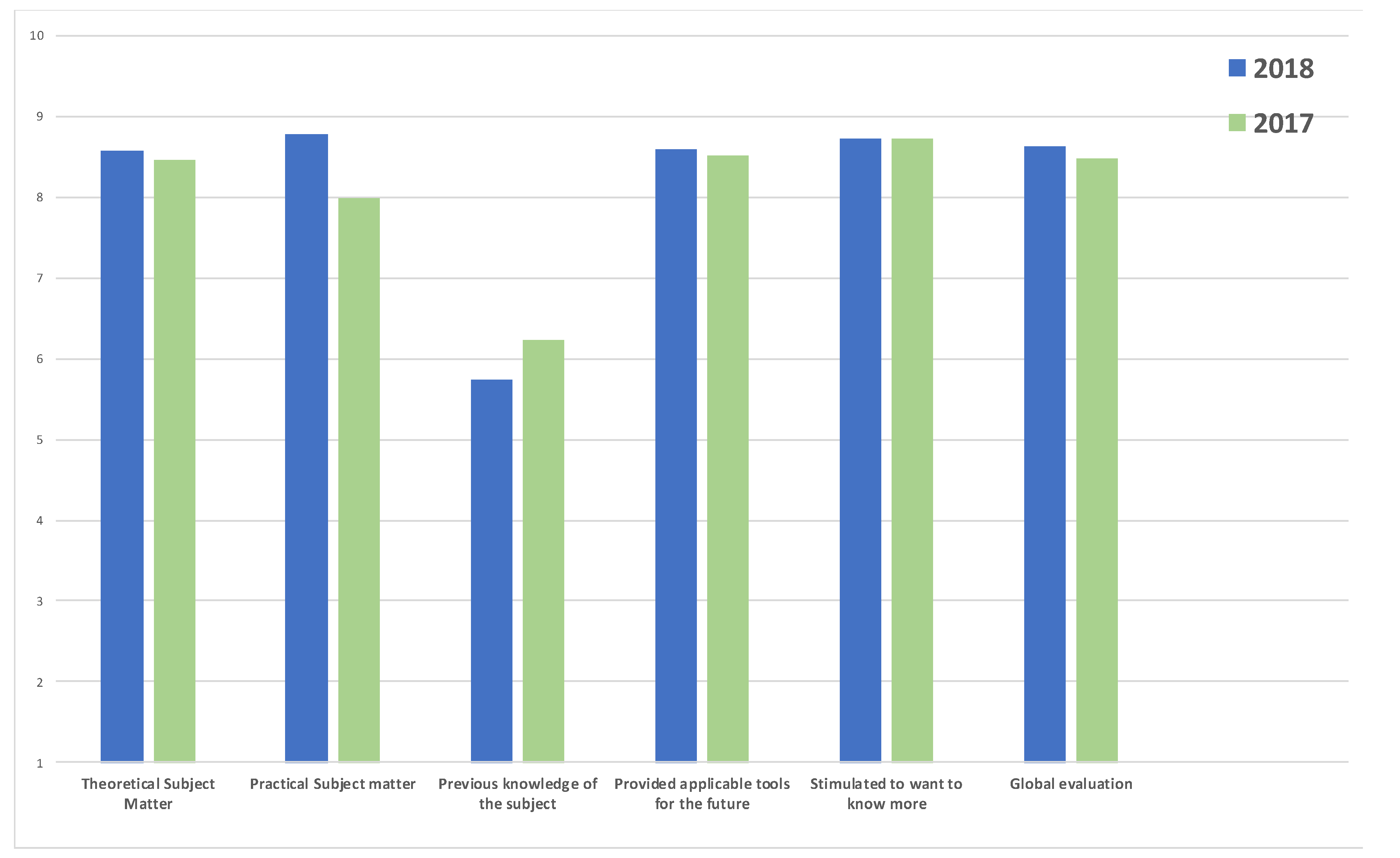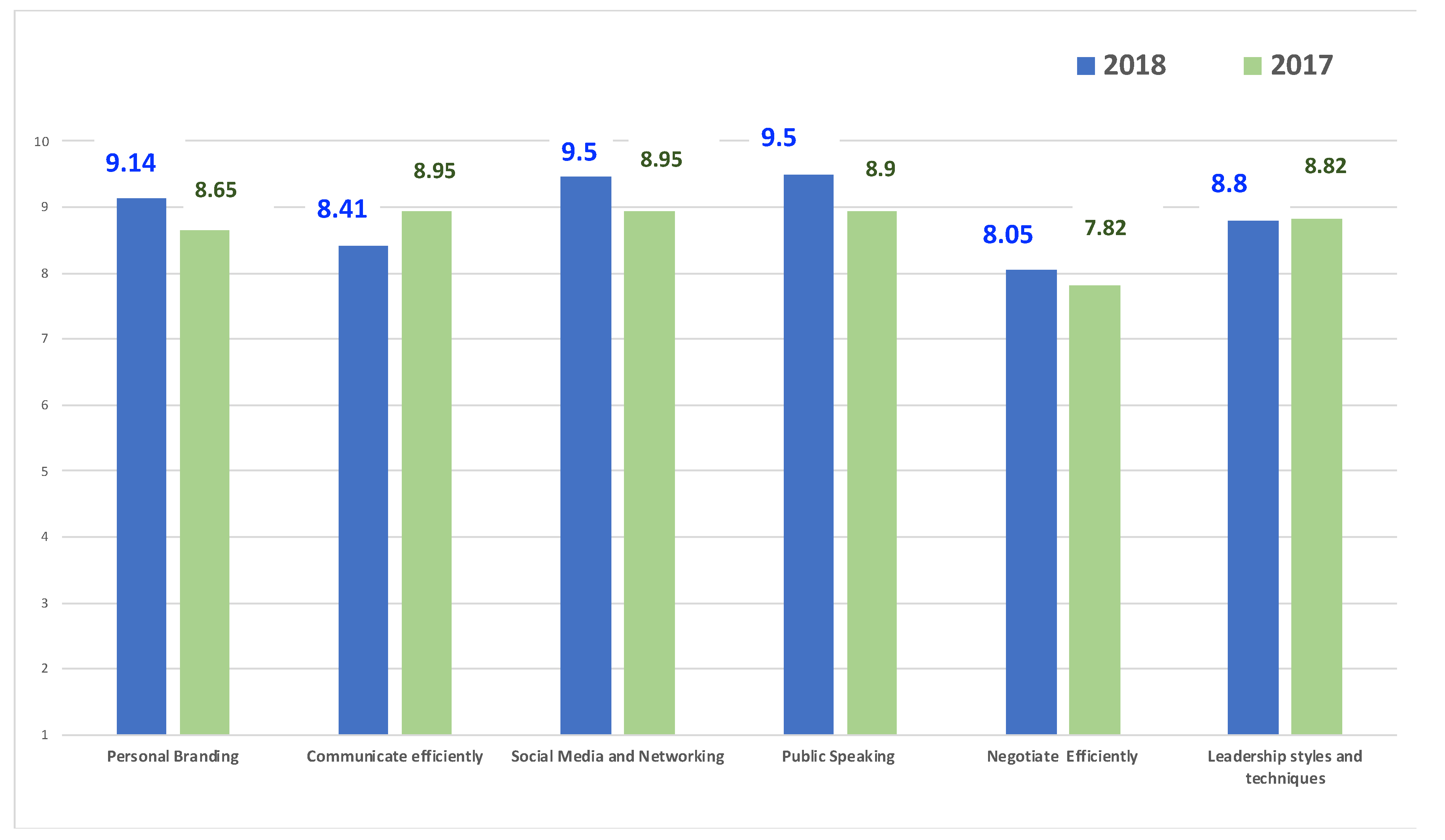 Subject Evaluation
Mean
Standard Deviation
Theoretical Subject Matter
Personal Branding
9.05
1.068
Communicating Efficiently
8.18
1.66
Social Media and Networking
8.97
1.088
Public Speaking
8.64
1.515
Negotiating Efficiently
8
1.7
Skills Provided
Mean
Standard Deviation
Previous knowledge of the subject
Personal Branding
5.79
1.567
Communicating Efficiently
5.91
1.736
Social Media and Networking
6.36
1.857
Public Speaking
5.92
1.903
Negotiating Efficiently
5.84
1.993
Provided applicable tools for the future
Personal Branding
9.07
1.009
Communicating Efficiently
8.09
1.626
Social Media and Networking
8.92
1.085
Public Speaking
9.03
1.464
Negotiating Efficiently
8.22
1.436
Stimulated a desire to know more
Personal Branding
9.21
1.206
Communicating Efficiently
8.41
1.821
Social Media and Networking
9.18
1.121
Public Speaking
8.89
1.41
Negotiating Efficiently
8.56
1.382
| | Welch | Gl1 | G2 | Sig. |
| --- | --- | --- | --- | --- |
| Theoretical Subject Matter | 2.829 | 5 | 103.748 | 0.02 |
| Provide applicable tools for the future | 3.814 | 5 | 108.329 | 0.003 |
Theoretical Subject Matter
Groups
Mean
Differences
Standard Error
Sig
Personal Branding
Communicating efficiently
0.936 *
0.301
0.004
Provided applicable tools
Mean
Differences
Standard Error
Sig
for the future
Groups
Personal Branding
Communicating efficiently
0.979 *
0.289
0.017
* Statistically significant at 95%.

© 2019 by the authors. Licensee MDPI, Basel, Switzerland. This article is an open access article distributed under the terms and conditions of the Creative Commons Attribution (CC BY) license (http://creativecommons.org/licenses/by/4.0/).