The Contribution of Traditional Agroecological Knowledge as a Digital Commons to Agroecological Transitions: The Case of the CONECT-e Platform

1
Internet Interdisciplinary Institute (IN3), Universitat Oberta de Catalunya, Av. Carl Friedrich Gauss, 5. Parc Mediterrani de la Tecnologia, Castelldefels, 08860 Barcelona, Spain
2
Institut de Ciència i Tecnologia Ambientals (ICTA), Universitat Autònoma de Barcelona, Bellatera, 08193 Barcelona, Spain
3
Red de Semillas "Resembrando e Intercambiando", Caracola del Cir, Parque de San Jerónimo s/n, 41015 Sevilla, Spain
4
Departamento de Biología (Botánica), Universidad Autónoma de Madrid, C/Darwin, 2. Ciudad Universiaria de Cantoblanco, 28049 Madrid, Spain
5
Fundación Entretantos, Calle Antonio Lorenzo Hurtado, 1, 47014 Valladolid, Spain
6
Universidad de la Laguna, Calle Padre Herrera, s/n, San Cristóbal de La Laguna, 38200 Santa Cruz de Tenerife, Spain
7
Institució Catalana de Recerca i Estudis Avançats (ICREA), Pg. Lluís Companys 23, 08010 Barcelona, Spain
*
Author to whom correspondence should be addressed.
Received: 18 July 2018 / Revised: 15 August 2018 / Accepted: 3 September 2018 / Published: 8 September 2018
Abstract
Traditional agroecological knowledge (TAeK) refers to the cumulative and evolving body of knowledge, practices, beliefs, institutions, and worldviews about the relationships between a society or cultural group and their agroecosystems. These knowledge systems contribute to maintaining environmental and culturally sensitive food systems and have been considered very relevant for agroecological transitions, or the processes of scaling-up and -out agroecology. However, TAeK's erosion and enclosure threatens its use and reproduction, which in turn might affect TAeK's potential contribution to agroecological transitions. Here, we explore how transforming TAeK, and particularly TAeK on landraces, into a digital commons can contribute to its maintenance and protection, and thus to agroecological transitions. We do so by analyzing the CONECT-e platform, an initiative for digitally storing and sharing TAeK in a participatory way. One year after being launched, CONECT-e has documented 452 geographically distinct landraces from 81 different species. The information shared in this platform is well-structured, clear, and reliable; it thus allows for the replication of the knowledge reported. Moreover, because CONECT-e makes the documented information freely available and protects it with a copyleft license, placing information in this platform could help one face landrace misappropriation issues. CONECT-e, or similar initiatives, could contribute to agroecological transitions via maintaining TAeK under the digital commons framework, making it accessible to all society and avoiding enclosure processes.
View Full-Text
►

▼

Figures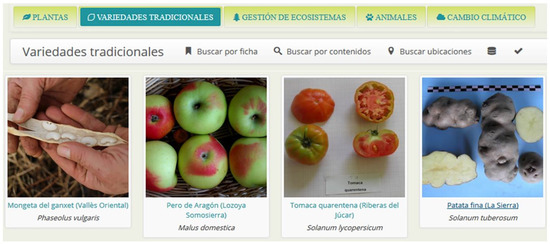 Figure 1
This is an open access article distributed under the
Creative Commons Attribution License
which permits unrestricted use, distribution, and reproduction in any medium, provided the original work is properly cited (CC BY 4.0).

Share & Cite This Article
MDPI and ACS Style
Calvet-Mir, L.; Benyei, P.; Aceituno-Mata, L.; Pardo-de-Santayana, M.; López-García, D.; Carrascosa-García, M.; Perdomo-Molina, A.; Reyes-García, V. The Contribution of Traditional Agroecological Knowledge as a Digital Commons to Agroecological Transitions: The Case of the CONECT-e Platform
. Sustainability 2018, 10, 3214.
Note that from the first issue of 2016, MDPI journals use article numbers instead of page numbers. See further details here.
Related Articles
Comments
[Return to top]