Transcriptional Regulation of Latent Feline Immunodeficiency Virus in Peripheral CD4+ T-lymphocytes
1
Department of Pathology, Microbiology & Immunology, School of Veterinary Medicine, University of California, Davis, 4206 Vet Med 3A, Davis, CA 95616, USA
2
Department of Medicine and Epidemiology, School of Veterinary Medicine, University of California, 3115 Tupper Hall, Davis, CA 95616, USA
3
Department of Pathology and Laboratory Medicine, Center for Comparative Medicine, University of California, Davis, County Road 98 and Hutchison Drive, Davis, CA 95616, USA
*
Author to whom correspondence should be addressed.
Received: 23 April 2012 / Revised: 12 May 2012 / Accepted: 15 May 2012 / Published: 23 May 2012
Abstract
Feline immunodeficiency virus (FIV), the lentivirus of domestic cats responsible for feline AIDS, establishes a latent infection
in peripheral blood CD4+ T-cells approximately eight months after experimental inoculation. In this study, cats experimentally infected with the FIV-C strain in the asymptomatic phase demonstrated an estimated viral load of 1 infected cell per approximately 10
3
CD4+ T-cells, with about 1 copy of viral DNA per cell. Approximately 1 in 10 proviral copies was capable of transcription in the asymptomatic phase. The latent FIV proviral promoter was associated with deacetylated, methylated histones, which is consistent with a condensed chromatin structure. In contrast, the transcriptionally active FIV promoter was associated with histone acetylation and demethylation. In addition, RNA polymerase II appeared to be paused on the latent viral promoter, and short promoter-proximal transcripts were detected. Our findings for the FIV promoter in infected cats are similar to results obtained in studies of human immunodeficiency virus (HIV)-1 latent proviruses in cell culture
in vitro
studies. Thus, the FIV/cat model may offer insights into
in vivo
mechanisms of HIV latency and provides a unique opportunity to test novel therapeutic interventions aimed at eradicating latent virus.
View Full-Text
►

▼

Figures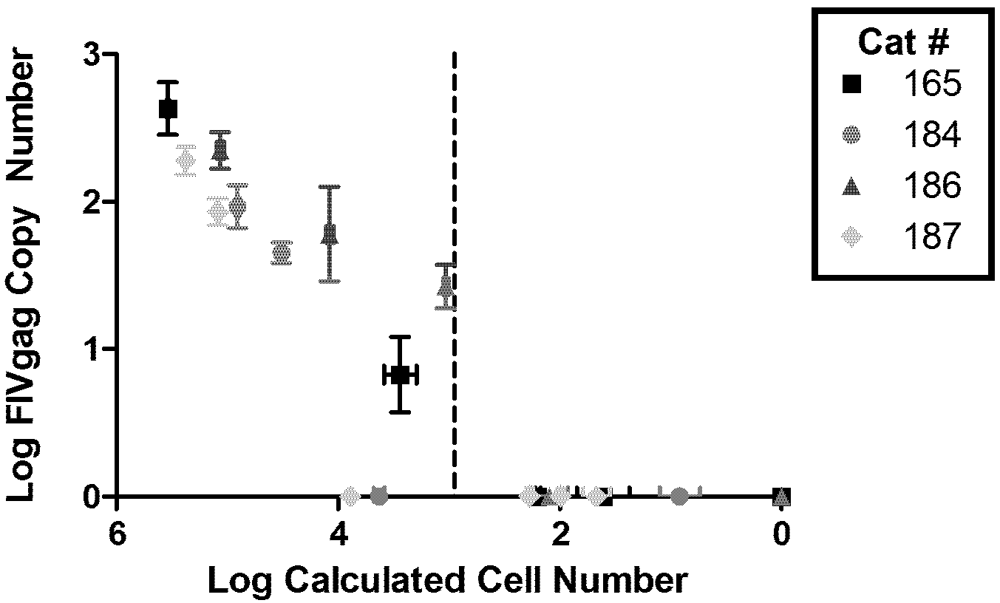 Figure 1

Share & Cite This Article
MDPI and ACS Style
McDonnel, S.J.; Sparger, E.E.; Luciw, P.A.; Murphy, B.G. Transcriptional Regulation of Latent Feline Immunodeficiency Virus in Peripheral CD4+ T-lymphocytes. Viruses 2012, 4, 878-888.
Related Articles
Comments
[Return to top]