Open Access This article is
freely available
re-usable
Review
African Horse Sickness: A Review of Current Understanding and Vaccine Development
1
Biopharming Research Unit, Department of Molecular and Cell Biology, University of Cape Town, Rondebosch 7701, Cape Town, South Africa
2
Institute of Infectious Disease and Molecular Medicine, Faculty of Health Sciences, University of Cape Town, Observatory 7925, Cape Town, South Africa
*
Author to whom correspondence should be addressed.
Received: 31 July 2019 / Accepted: 4 September 2019 / Published: 11 September 2019
Abstract
:
African horse sickness is a devastating disease that causes great suffering and many fatalities amongst horses in sub-Saharan Africa. It is caused by nine different serotypes of the orbivirus African horse sickness virus (AHSV) and it is spread by Culicoid midges. The disease has significant economic consequences for the equine industry both in southern Africa and increasingly further afield as the geographic distribution of the midge vector broadens with global warming and climate change. Live attenuated vaccines (LAV) have been used with relative success for many decades but carry the risk of reversion to virulence and/or genetic re-assortment between outbreak and vaccine strains. Furthermore, the vaccines lack DIVA capacity, the ability to distinguish between vaccine-induced immunity and that induced by natural infection. These concerns have motivated interest in the development of new, more favourable recombinant vaccines that utilize viral vectors or are based on reverse genetics or virus-like particle technologies. This review summarizes the current understanding of AHSV structure and the viral replication cycle and also evaluates existing and potential vaccine strategies that may be applied to prevent or control the disease.
Keywords:
African horse sickness; virus structure; replication; vaccine strategies
1. Introduction
For several centuries, the devastating African horse sickness (AHS) has been a cruel scourge to horse owners in sub-Saharan Africa. The disease is infectious but non-contagious and causes high fatality rates in susceptible hosts. It is listed as a notifiable viral disease by the World Organization for Animal Health (OIE) because of its severity and the potential risk it poses for rapid global spread [
1
]. AHS remains the most economically significant equine disease worldwide.
The first known historical reference to AHS was recorded in an Arabian document entitled "Le Kitab El-Akoual El-Kafiah Wa El Chafiah", which apparently relates to an epidemic that occurred in the Yemen in 1327 [
2
]. However, the virus is believed to have originated in Africa, with the first record of the disease on the continent being made by Father Monclaro in his account of the journey of Francisco Barreto to East Africa in 1569 [
1
]. Unlike zebras, which are endemic to the region, horses are not native to southern Africa and reference to AHS in South Africa was first made about fifty years after the introduction of horses and donkeys to the Cape of Good Hope by the early Dutch Settlers in 1657. A major outbreak occurred in 1719 when almost 1700 animals were reported to have succumbed to the dreaded "perreziekte" or "pardeziekte" [
2
]. Prior to 1953, periodic outbreaks seemed to occur at roughly 20–30 year intervals, the most severe being the outbreak in South Africa in 1854–1855, which claimed the lives of nearly 70,000 horses, more than 40% of the entire horse population of the Cape at the time [
3
]. Indeed in South Africa, the economic impact of the disease has been such that it directly and significantly influenced the progress and development of the field of veterinary science itself [
4
].
AHS continues to occur regularly in southern African countries, but the virus has also occasionally escaped its geographical limitations and extended further afield to countries in North Africa, the Middle East, the Arabian peninsula, South-West Asia and the Mediterranean region (
Figure 1
) [
5
,
6
,
7
]. The severe epizootic in the Middle East and South West Asia between 1959 and 1963 was responsible for the deaths of over 300,000 equines and was finally only arrested as a result of a concerted vaccination campaign and widespread depletion of susceptible animals [
7
,
8
]. AHS-free countries with milder climate conditions are believed to be increasingly at risk for outbreaks of the disease due to the northward migration of the midge vector as a result of global warming and climate change [
9
,
10
,
11
]. Such an AHS outbreak in Europe would have significant economic and emotional consequences for horse owners on the continent, indicating the pressing need to develop new, safe, efficacious and cost-effective vaccines which would additionally allow differentiation between vaccinated and infected animals (DIVA). Such vaccines would not only address the concerns of the South African equestrian community but would also serve as acceptable prophylactic or rapid response vaccines in the European and other emerging outbreak contexts.
2. African Horse Sickness Virus
3. Viral Infection and Replication
4. African Horse Sickness Disease
5. Prevention and Control
There is no cure for AHS and no specific treatment aside from rest and good animal husbandry. Various interventions, such as non-steroidal anti-inflammatory drugs for alleviating pain and reducing fever, antimicrobials to fight secondary bacterial infection or corticosteroids to help stabilize cell membranes and preserve vascular membrane integrity, have been employed, but all these treatments are supportive rather than curative (African Horse Sickness Trust). Anecdotal reference to homeopathic remedies has also been made, but there is no scientific evidence to prove the efficacy of such treatments in AHS cases. The implementation of certain husbandry modifications, such as stabling animals before dark in vector-proof housing, using insect repellants and encouraging natural vector predators like fish, frogs and bats, may assist in prevention [
1
,
100
]; however, ultimately, vaccination of animals remains the most successful method of prevention and control.
5.1. Live Attenuated Vaccines
Alexander [
101
] was the first to demonstrate that a mouse-adapted strain of AHSV could be propagated in chicken embryos, and that serial passage in embryonated hens' eggs caused attenuation of the virus without loss of immunogenicity. His studies also supported the existence of multiple strains of the virus, as he found a large variation (26%–81%) in the number of horses that were protected after being challenged a second time with a different virus isolate. The successful propagation of AHSV in mammalian tissue culture by Erasmus [
102
], aided by the discovery that viral plaque size could be used as a genetic marker to identify avirulent clones of AHSV from a mixed population [
78
], further advanced the development of live-attenuated vaccine (LAV) strains. The polyvalent LAVs that have been successfully used to vaccinate horses over the past six decades are based on these viral formulations. However, although the frequency and severity of outbreaks has declined significantly since these vaccines have come into use, many horse deaths due to AHS still occur in South Africa every year.
The currently used LAV is supplied in two polyvalent vials containing 3 (serotypes 1, 3 and 4) and 4 (serotypes 2, 6, 7 and 8) AHSV serotypes each. Neither AHSV 5 nor AHSV 9 are included in the vaccine [
103
]: serotype 5 was originally included but was withdrawn in 1990 following reports of residual virulence, believed to be the result of re-assortment between serotypes 4 and 5 in the vaccine formulation [
104
]. Serotype 9 has never been included due to its low incidence in southern Africa and, because cross protection between serotypes 1 & 2, 3 & 7, 5 & 8 and 6 & 9 has been documented [
3
,
78
,
104
], protection against AHSV 9 is expected to be provided by AHSV 6. There is no cross-protection between AHSV 4 and any of the other serotypes. Of concern, however, is the fact that in 2006 both AHSV 5 and 9 dominated outbreaks in South Africa, particularly in the Western Cape Province: this raises questions about the competency of the LAV to provide sufficient protection against these two AHSV serotypes.
Although there is little argument that the LAV is still the best option in the fight against AHS, its use has raised concerns with regard to other important issues. The serotype-specific immune response within horse populations, as well as between the different serotypes appears to be quite variable, and it may take as many as 8 vaccination courses over 6 years before an animal is fully protected against all nine AHSV serotypes [
104
,
105
,
106
]. Furthermore, gene segment re-assortment between outbreak and vaccine strains may lead to the establishment of new genetic variants or reversion to virulence of attenuated vaccine strains [
1
]. Indeed, a study comparing the whole genome sequences from AHSV isolates responsible for outbreaks between 2004 and 2014 in the controlled area of the Western Cape with LAV and AHSV reference strains demonstrated conclusive evidence of re-assortment between and reversion to virulence of viruses within the LAV itself [
88
]. The outcome of this study highlights the importance of employing judicious LAV vaccination strategies and genetic screening of circulating field strains during AHS outbreaks.
Another shortcoming of the LAV is the inability to serologically differentiate vaccine-induced immunity from that induced by natural infection, i.e., the absence of what is known as DIVA capacity. This differentiation is important both for early detection of disease and sero-surveillance and can also limit unnecessary culling of animals in an outbreak situation. A further major issue regarding routine vaccination with the LAV is the fact that it is not licensed for use outside of the African sub-continent, which has a hugely negative impact on the international equine trade and export industry.
5.2. Inactivated Vaccines
Inactivated or "killed" vaccines have been prepared by treating mammalian cell-cultured AHSV with formaldehyde or ß-propiolactone [
107
] or with bromoethylenimine [
108
]. The latter acts on nucleic acid but not protein, ensuring that the immunogenic properties of the vaccine are not compromised. An inactivated AHSV 9 vaccine tested in guinea pigs and horses [
109
] elicited a comparable neutralizing antibody response in both animal species, confirming the usefulness of the guinea pig as a small animal model to test the efficacy of potential vaccine candidates [
110
]. The vaccine proved to be safe and all horses survived a challenge with the same virus used to generate the killed vaccine.
A formalin-inactivated AHSV vaccine was commercially produced and used during the 1987–1991 AHS outbreak in Spain, Portugal and Morocco, but although it proved to be efficacious at the time, this vaccine is no longer available [
1
]. The main drawbacks with regard to inactivated vaccines are firstly that they are expensive to produce, requiring large-scale isolation of infectious virus, which poses a significant bio-containment risk; secondly, repeated inoculations may be required to ensure long-lasting protective immunity. Furthermore, although the risk of gene segment re-assortment and reversion to virulence are mitigated with this type of vaccine, differentiation between vaccinated and infected animals is not possible.
5.3. Recombinant Vaccines
Due to raised international awareness and local dissatisfaction with the current vaccine, in recent years, AHSV research has focussed on the development of recombinant vaccines. These have largely been based on producing the antigenic AHSV proteins involved in eliciting a protective immune response, particularly the outer capsid proteins VP2 and VP5, and investigating the best ways in which to present them to the host's immune system.
5.3.1. DNA Vaccines
Besides the AHSV proteins themselves, there has been some investigation of the efficacy of using naked AHSV VP2 DNA as a vaccine candidate [
111
]. Although a VP2-specific humoral and cellular immune response following inoculation of a single horse was observed, and the same horse survived an AHS outbreak during the following rainy season, the neutralizing antibody titre reported was sub-optimal and no experimental challenge ensued. Furthermore, vaccination of hens with cloned VP2 cDNA stimulated the production of egg yolk IgY antibodies with a serum neutralization titre 80-fold less than that obtained following vaccination with purified AHSV. The potential for producing a suitable AHSV DNA vaccine thus seems limited.
5.3.2. Subunit Vaccines
Recombinant AHSV VP2 produced via the baculovirus expression system has been used either singly or in combination with VP5 and/or VP7 as a subunit vaccine, and was shown to induce protective immunity against the virus [
112
,
113
,
114
]. However, recombinant soluble antigens are generally poorly immunogenic and the aggregation of baculovirus-expressed VP2 purified from insect cell lysates together with the requirement for repeated boost inoculations [
115
], and the use of potent adjuvants to enhance immunogenicity [
116
] have limited the usefulness and application of this type of vaccine. Furthermore, although subunit vaccines are advantageous in that they permit differentiation between AHSV-vaccinated and infected animals, baculovirus expression requires growth under sterile conditions and is uneconomical for an animal vaccine due to the high cost of media required to culture insect cells.
5.3.3. Poxvirus-Vectored Vaccines
Poxvirus vectored vaccines are recombinant poxvirus strains which have been genetically modified to contain a copy of the gene of interest within the viral genome. The vaccine is delivered directly to the cells where the viral protein is expressed and presented to the host immune system for the stimulation of both humoral and cellular immunity.
5.3.4. Reverse Genetics Vaccines
Over the last decade, reverse genetics systems have been used to generate novel live virus-based BTV and AHSV vaccine candidates, engineered according to a rational design rather than by random serial passage attenuation [
127
,
128
,
129
,
130
,
131
,
132
,
133
,
134
,
135
,
136
,
137
,
138
]. These live vaccine strains depend on the availability of cloned cDNA copies of the viral genes and are produced in mammalian cell lines via a double transfection strategy. Firstly, a primary viral replication complex is pre-expressed by transfection with expression plasmids encoding the five viral proteins, VP1, VP3, VP4, VP6 and NS2. A second transfection with ten exact copy capped T7 viral RNA transcripts, which serve as effective substitutes for authentic core-derived viral transcripts, then triggers full replication and enables virus rescue. Different AHSV serotypes can be rescued by using the same primary transcription complex, and then exchanging the T7 RNA transcripts of one or more capsid proteins [
130
]. More importantly for vaccine purposes, genes encoding these proteins can be incorporated into a common viral genome which has been precisely engineered to contain one or more defective genes.
Two main vaccine platforms to produce defective virus strains have been developed using this technology. Entry Competent Replication Abortive (ECRA) vaccine strains, previously also referred to as Disabled Infectious Single Cycle (DISC) vaccines, lack a functional VP6 gene and are therefore unable to complete even a single replication cycle in infected cells [
127
,
131
]. The defective vaccine is rescued and propagated in a complementary cell line expressing VP6
in trans
and viral antigens capable of eliciting the expected antibody response are expressed in normal cells, but no active infection ensues. In contrast, Disabled Infectious Single Animal (DISA) vaccine strains lack a functional gene for expression of non-essential non-structural protein NS3/NS3a [
129
,
132
,
135
]. The absence of these proteins prevents viral egress, thus inhibiting viraemia and allowing only local replication in infected cells, with no propagation in nor transmission by midges. Both these vaccine candidates fulfil the criteria for DIVA compliance, as antibodies to the missing viral protein in each case would be absent in vaccinated animals but present in animals which have been infected.
The main goal in new AHSV vaccine development is to provide protection against all nine serotypes of the virus. Initially, an attempt was made to develop a set of defective AHSV virus strains, each consisting of a common core coated with a different serotype-specific outer capsid protein VP2 [
129
]. However, the exchange of only a single protein resulted in unequal and significantly lower re-assortant viral titres compared to the parental virus strain. To produce suitably-replicating defective vaccine strains for each serotype, it appears necessary to exchange between two (VP2 and VP5) and five (VP2, VP3, VP5, VP7 and NS3) proteins on the common backbone, the number depending on the desired viral serotype [
127
]. The safety and immunogenicity of both monospecific (AHSV 4) and multivalent cocktail (AHSV 1/4/6/8) ECRA vaccines was tested in ponies; these were protected against virulent challenge with AHSV 4 [
131
]. Pre-challenge serum neutralization titres were in the range of 8–64 (expressed as the reciprocal of the highest dilution that provided >50% cell protection), below those generally obtained following vaccination with the AHS LAV [
106
], but nevertheless demonstrating the potential efficacy of a reverse genetics vaccine candidate to protect against the disease. Although the technology looks promising, further research is necessary to determine the minimum dose requirement and longevity of the immune response. Furthermore, the associated cost and upscaling requirements may deter successful commercialization of these potential vaccine candidates.
5.3.5. Virus-Like Particle Vaccines
6. Conclusions
African horse sickness is a lethal and debilitating disease of domestic equids. There is little doubt that the live attenuated vaccine that has been used in South Africa to protect horses against AHSV for the past six decades [
160
,
161
] has ensured their continued existence. However, the manufacture of this vaccine uses very old technology and production volumes that cannot meet the current demand. Furthermore, the fact that many horses still contract the disease and often die in spite of vaccination, as well as the fact that this vaccine is not licensed for use outside of the African sub-continent, has led to an increasing demand for a new, safer and more cost-effective vaccine which would not only address the concerns of South African horse owners, but also meet approval in the wider international context where live vaccines for the disease would not be acceptable. Biotechnological advances over the past few decades have paved the way for new generation vaccines which lack the associated negative features of the LAV, and which could potentially serve as adequate replacement vaccines.
An ideal AHSV vaccine would activate both humoral and cell-mediated immune responses and provide rapid and long-lasting protective immunity against all nine serotypes of the virus. It would block viraemia, disallow transmission by the midge vector, ensure that no risk of reversion to virulence nor re-assortment with outbreak strains was possible, and permit accurate differentiation between vaccinated and infected animals. It should be possible to safely, consistently and economically produce sufficient doses of such a vaccine to meet the demands of both the private and rural sectors. Importantly, the vaccine should hold sufficient interest and market potential to capture the attention of the manufacturing industry.
Five types of alternative AHS vaccine platforms have been described in recent years. Two of these, the ECRA (Entry Competent Replication Abortive) [
131
] and DISA (Disabled Infectious Single Animal) [
132
] candidate vaccines, stem from research in the area of reverse genetics technology, while the third and fourth are based on modified pox viruses [
117
,
122
]. Although the results obtained in experimental trials with these vaccines look promising, issues of cost and scalability have thus far prevented any from being commercialized. The newest VLP candidates have the potential to be as efficacious as the currently used live attenuated vaccine, but without the latter's accompanying risks and shortcomings. Furthermore, they have the associated benefits of cheap and scalable production processes. However, challenge trials with live virus and further investigation into the development of VLPs of the other AHSV serotypes are required to conclusively demonstrate the protective efficacy of these plant-produced vaccines.
Patents
The authors AM and ER have filed a patent application protecting the production of chimaeric orbivirus virus-like particles in plants (PCT/IB2017/052236).
Author Contributions
S.J.D. conceived and prepared the manuscript; A.E.M., I.I.H. and E.P.R. provided consultation and read and approved the final manuscript.
Funding
This research received no additional external funding.
Acknowledgments
The author SD acknowledges the Technology and Innovation Agency (Grant number: TAHIC13-00023-CC); the Poliomyelitis Research Foundation and the Council for Scientific and Industrial Research for PhD funding.
Conflicts of Interest
The authors declare no conflict of interest.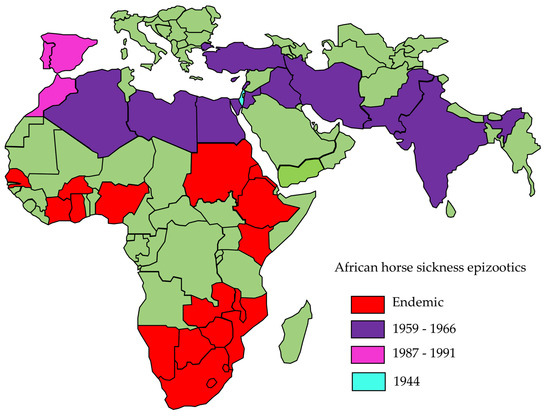 Figure 1. A map of African horse sickness outbreaks that have occurred worldwide during the last century.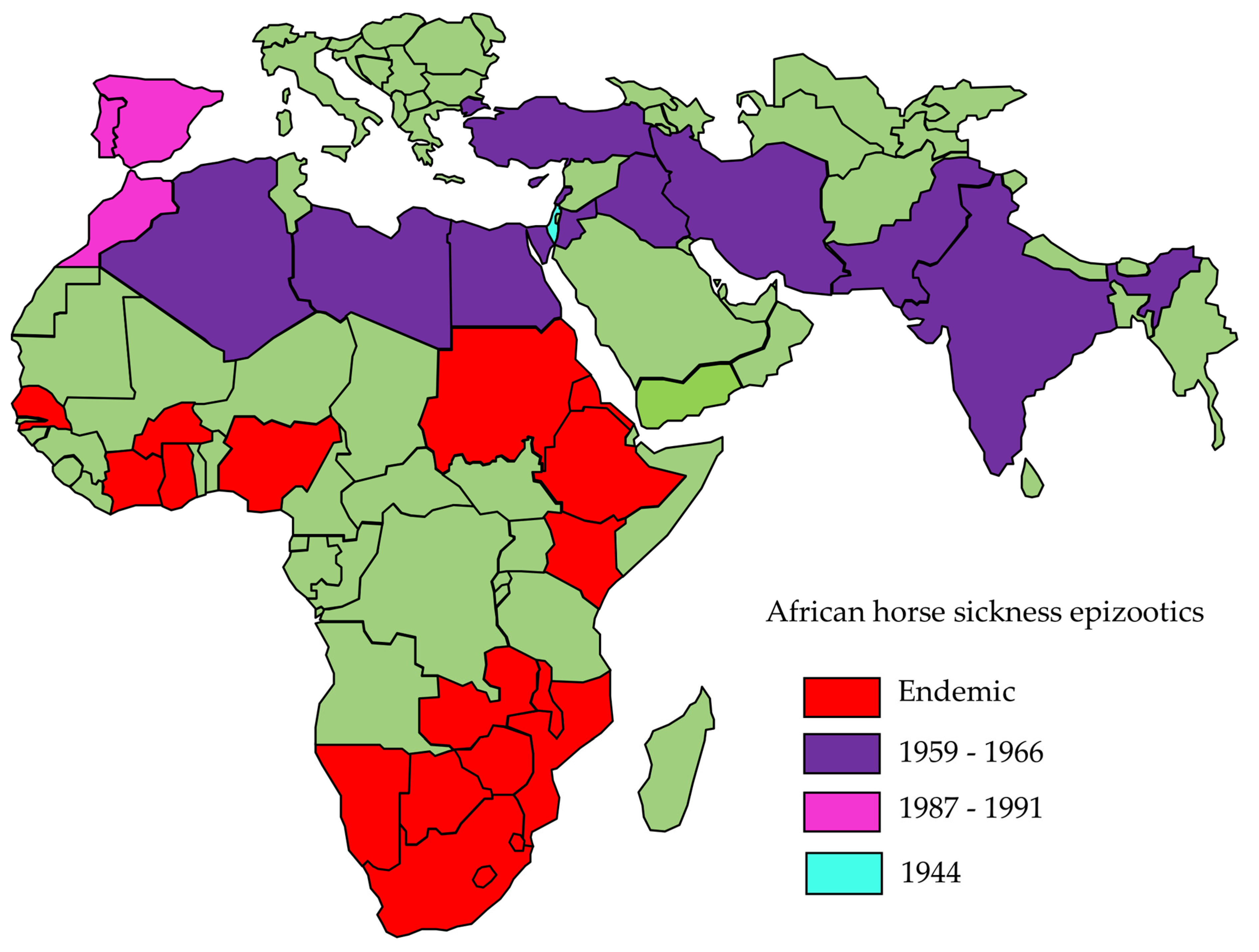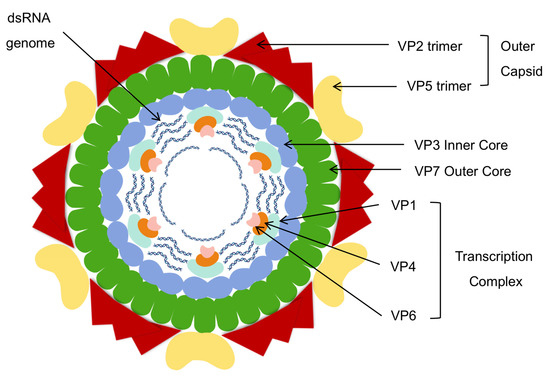 Figure 2.
Schematic representation of the AHSV virion. The genome contains 10 segments of linear dsRNA coding for 12 proteins. The virion is non-enveloped with a triple capsid structure and is about 80 nm in diameter, enclosing the genome and transcription complexes. The inner core layer has T = 1 symmetry with each of the 60 units composed of a homodimer of VP3, while the outer core is composed of 260 trimers of VP7 and has T = 13 icosahedral symmetry. The outer capsid layer consists of 180 globular trimers of VP5 and 60 triskelion-shaped spikes of VP2.
Image created with Biorender.com
.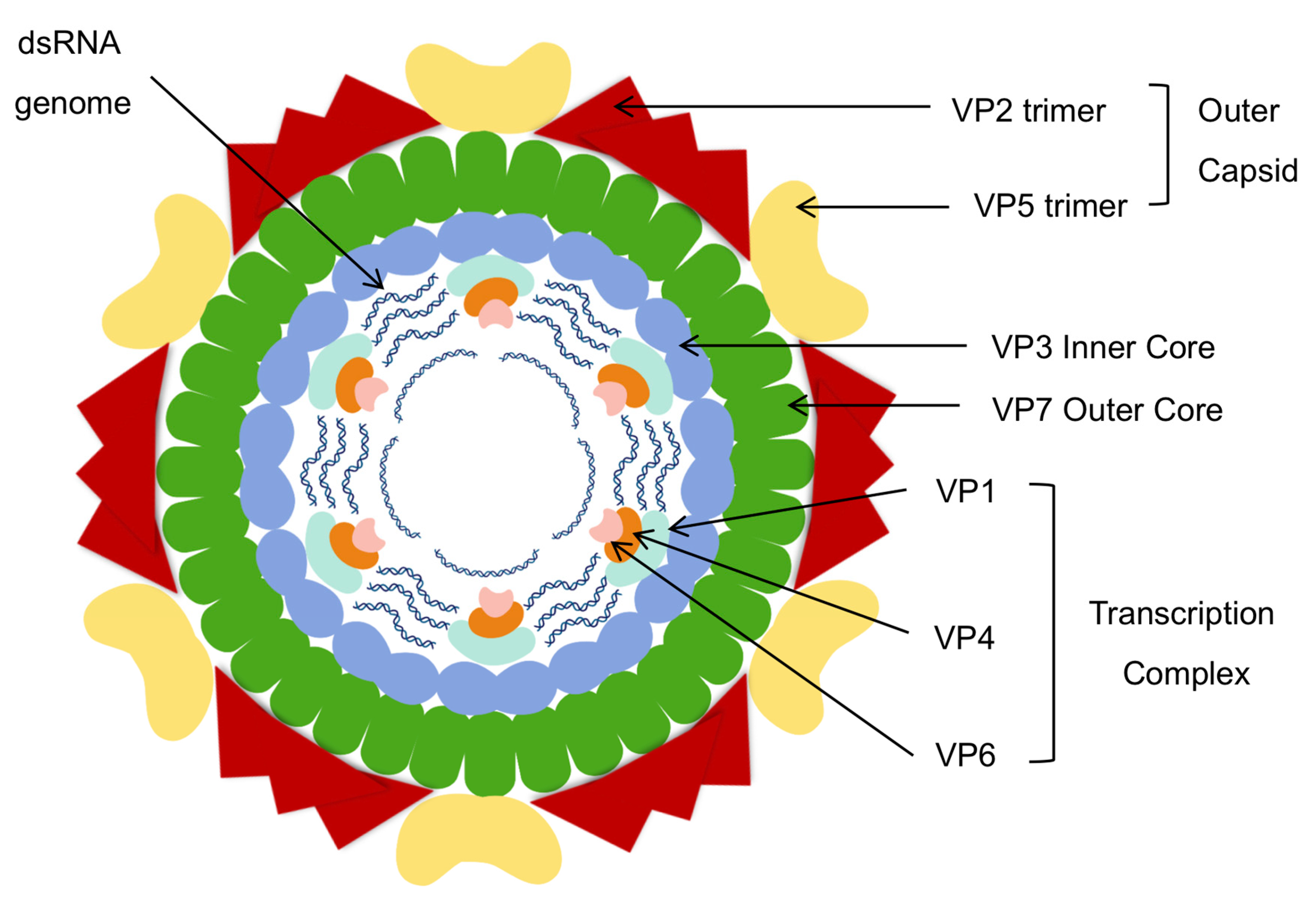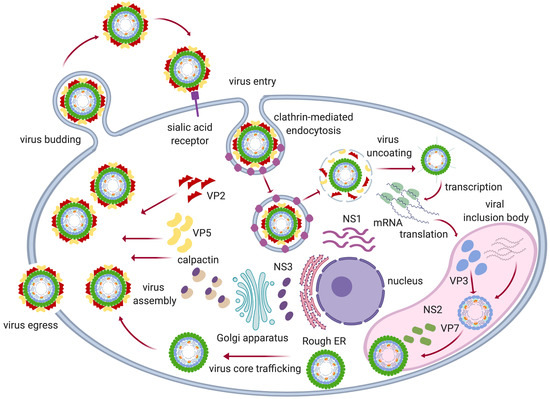 Figure 3.
Diagrammatic representation of the replication cycle of BTV/AHSV. The virus enters the cell by the attachment of VP2 to sialic acid receptors and either clathrin-mediated endocytosis or macropinocytosis. The acidic pH in the endosome causes the loss of VP2 and mediates VP5 membrane permeabilization, which results in uncoating of the virion and release of the transcriptionally active core particle into the host cell cytoplasm. Transcription and translation of viral proteins occurs, utilizing the host cell machinery and the VIBs act as sites of assembly for the progeny virions. Assembled core particles are then trafficked from the VIB on exocytotic vesicles by NS3 interaction with calpactin. The outer capsid proteins VP5 and VP2 are acquired during this process to produce mature virions. Particles are released from the cell via budding mediated by NS3 or via host cell lysis.
Image adapted from
[
53
]
and created with Biorender.com
.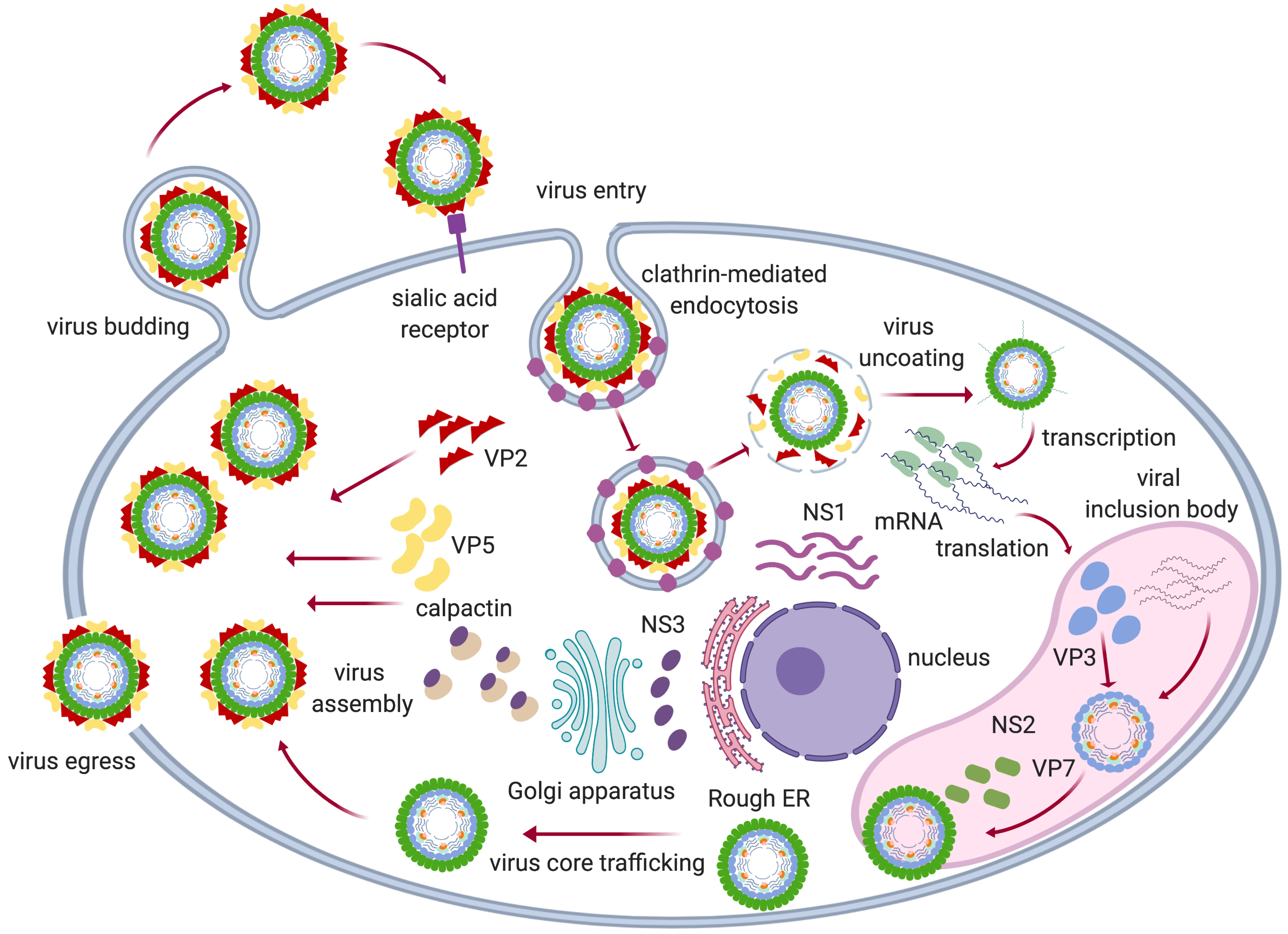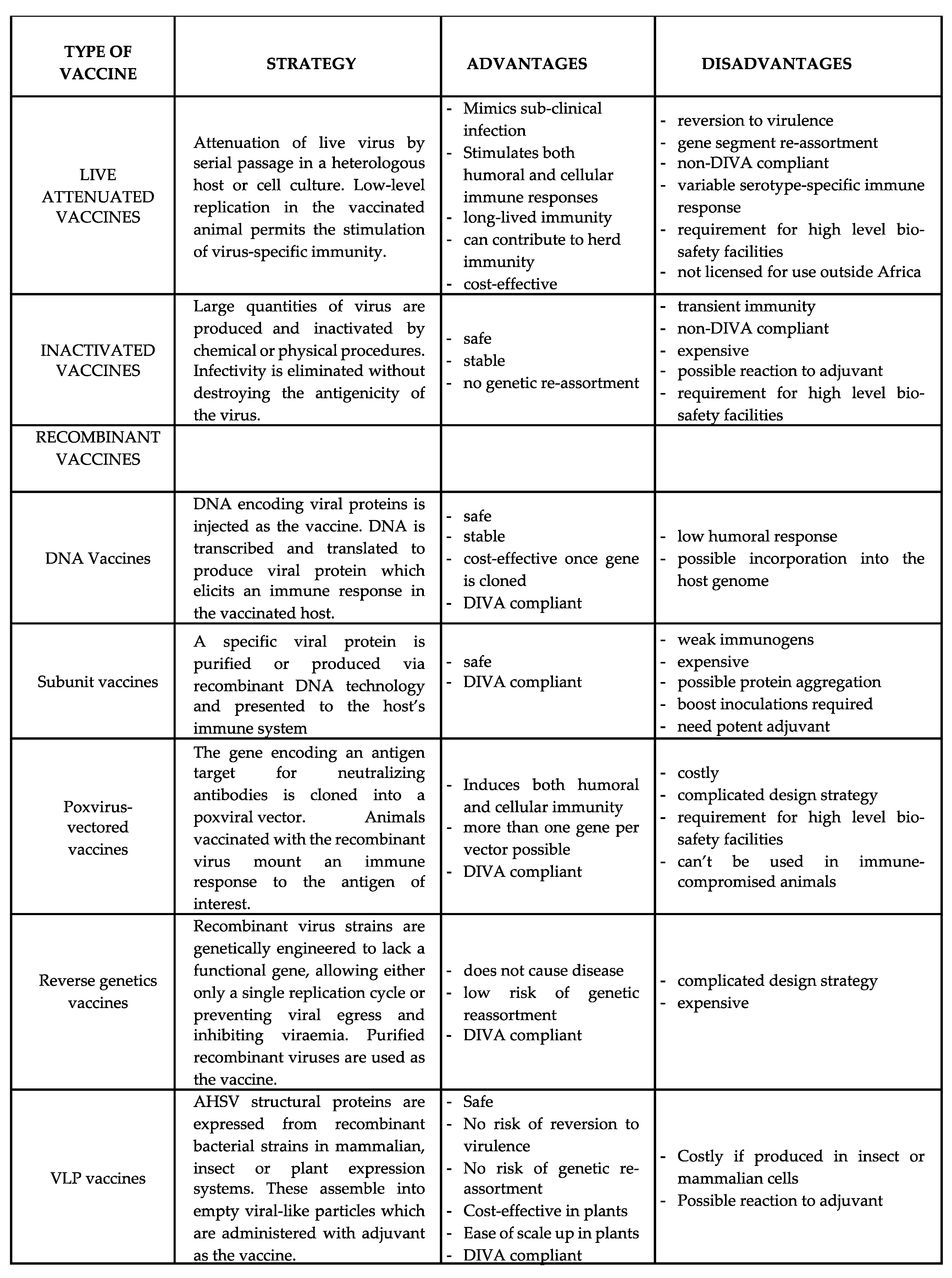 © 2019 by the authors. Licensee MDPI, Basel, Switzerland. This article is an open access article distributed under the terms and conditions of the Creative Commons Attribution (CC BY) license (http://creativecommons.org/licenses/by/4.0/).