Middle East Respiratory Syndrome Coronavirus (MERS-CoV) in Dromedary Camels in Africa and Middle East
1
Center of Scientific Excellence for Influenza Virus, Environmental Research Division, National Research Centre, Giza 12622, Egypt
2
Center of excellence in Bionanoscience Research, King Abdulaziz University, Jeddah 80203, Saudi Arabia
3
Biotechnology Research Group, Department of Biological Sciences, Faculty of Science, King Abdulaziz University, Jeddah 80203, Saudi Arabia
4
Nature Link, Sfax 3000, Tunisia
5
Department of Biology, Jordan University of Science and Technology, Irbid 22110, Jordan
6
Department of Life and Earth Sciences, Faculty of Sciences II, Lebanese University, Al Fanar 90656, Lebanon
7
Department of Epidemiology and Biostatistics, School of Medicine, Makerere University, Kampala 7062, Uganda
8
Department of Genebank and Genetic Sequence, Forensic DNA Research and Training Center, Al-Nahrain University, Baghdad 10072, Iraq
9
Department of Biological Sciences, King Abdulaziz University, Jeddah 80203, Saudi Arabia
10
Princess Doctor Najla Saud Al-Saud Distinguished Research Center for Biotechnology, Jeddah 22252, Saudi Arabia
11
Department of Genetics, Faculty of Agriculture, Ain Shams University, Cairo 11241, Egypt
12
King Fahad Medical Center, King Abdulaziz University, Jeddah 80203, Saudi Arabia
13
St. Jude Children's Research Hospital, 262 Danny Thomas Place, Memphis, TN 38105, USA
14
School of Public Health, The University of Hong Kong, 7 Sassoon Rd, Hong Kong, China
15
General Organizations of Veterinary Services, Ministry of Agriculture and Land Reclamation, Nadi Saed St. 1, Dokki, Giza 12618, Egypt
16
Food and Agriculture Organization of the United Nations, Emergency Center for Transboundary, Animal Diseases, Dokki, Giza 12611, Egypt
17
Animal Health Services (AGAH), Emergency Centre for Transboundary Animal Diseases (ECTAD), Dokki, Giza 12611, Egypt
18
Human Link, Hazmieh 1109, Lebanon
19
Department of Epidemiology, Human Genetics, and Environmental Sciences, University of Texas, Houston, TX 77030, USA
*
Authors to whom correspondence should be addressed.
Received: 9 July 2019 / Revised: 1 August 2019 / Accepted: 2 August 2019 / Published: 5 August 2019
Abstract
Dromedary camels are the natural reservoirs of the Middle East respiratory syndrome coronavirus (MERS-CoV). Camels are mostly bred in East African countries then exported into Africa and Middle East for consumption. To understand the distribution of MERS-CoV among camels in North Africa and the Middle East, we conducted surveillance in Egypt, Senegal, Tunisia, Uganda, Jordan, Saudi Arabia, and Iraq. We also performed longitudinal studies of three camel herds in Egypt and Jordan to elucidate MERS-CoV infection and transmission. Between 2016 and 2018, a total of 4027 nasal swabs and 3267 serum samples were collected from all countries. Real- time PCR revealed that MERS-CoV RNA was detected in nasal swab samples from Egypt, Senegal, Tunisia, and Saudi Arabia. Microneutralization assay showed that antibodies were detected in all countries. Positive PCR samples were partially sequenced, and a phylogenetic tree was built. The tree suggested that all sequences are of clade C and sequences from camels in Egypt formed a separate group from previously published sequences. Longitudinal studies showed high seroprevalence in adult camels. These results indicate the widespread distribution of the virus in camels. A systematic active surveillance and longitudinal studies for MERS-CoV are needed to understand the epidemiology of the disease and dynamics of viral infection.
View Full-Text
►

▼

Figures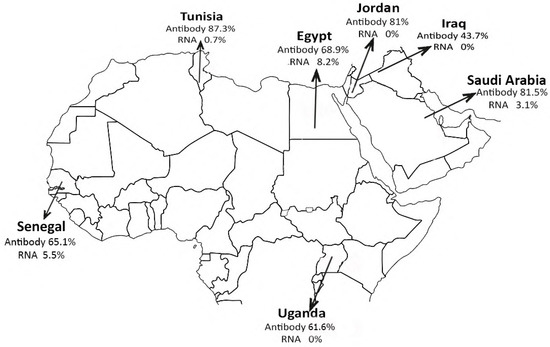 Figure 1
This is an open access article distributed under the
Creative Commons Attribution License
which permits unrestricted use, distribution, and reproduction in any medium, provided the original work is properly cited (CC BY 4.0).

Share & Cite This Article
MDPI and ACS Style
Kandeil, A.; Gomaa, M.; Nageh, A.; Shehata, M.M.; Kayed, A.E.; Sabir, J.S.M.; Abiadh, A.; Jrijer, J.; Amr, Z.; Abi Said, M.; Byarugaba, D.K.; Wabwire-Mangen, F.; Tugume, T.; Mohamed, N.S.; Attar, R.; Hassan, S.M.; Abdulaziz Linjawi, S.; Moatassim, Y.; Kutkat, O.; Mahmoud, S.; Bagato, O.; Abo Shama, N.M.; El-Shesheny, R.; Mostafa, A.; A. P. M. Perera, R.; K. W. Chu, D.; Hassan, N.; Elsokary, B.; Saad, A.; Sobhy, H.; El Masry, I.; P. McKenzie, P.; J. Webby, R.; Peiris, M.; J. Makonnen, Y.; A. Ali, M.; Kayali, G. Middle East Respiratory Syndrome Coronavirus (MERS-CoV) in Dromedary Camels in Africa and Middle East. Viruses 2019, 11, 717.
Note that from the first issue of 2016, MDPI journals use article numbers instead of page numbers. See further details here.
Related Articles
Comments
[Return to top]