A Nymphalid-Infecting Group I Alphabaculovirus Isolated from the Major Passion Fruit Caterpillar Pest
Dione juno juno

(Lepidoptera: Nymphalidae)

1

Laboratory of Baculovirus, Cell Biology Department, University of Brasilia, Brasilia, DF 70910-900, Brazil

2

Laboratory of Insect Virology, Department of Biochemistry and Molecular Biology, Federal University of Santa Maria, Santa Maria, RS 97105-900, Brazil

3

Escola Superior de Agricultura Luiz de Queiroz, University of São Paulo, Piracicaba, SP 13418900, Brazil

*

Author to whom correspondence should be addressed.

Received: 7 May 2019 / Revised: 14 June 2019 / Accepted: 15 June 2019 / Published: 3 July 2019
Abstract
Baculoviruses are capable of infecting a wide diversity of insect pests. In the 1990s, the Dione juno nucleopolyhedrovirus (DijuNPV) was isolated from larvae of the major passionfruit defoliator pest
Dione juno juno
(Nymphalidae) and described at ultrastructural and pathological levels. In this study, the complete genome sequence of DijuNPV was determined and analyzed. The circular genome presents 122,075 bp with a G + C content of 50.9%. DijuNPV is the first alphabaculovirus completely sequenced that was isolated from a nymphalid host and may represent a divergent species. It appeared closely related to Orgyia pseudotsugata multiple nucleopolyhedrovirus (OpMNPV) and other
Choristoneura
-isolated group I alphabaculoviruses. We annotated 153 open reading frames (ORFs), including a set of 38 core genes, 26 ORFs identified as present in lepidopteran baculoviruses, 17 ORFs unique in baculovirus, and several auxiliary genes (e.g.,
bro
,
cathepsin
,
chitinase, iap-1, iap-2,
and
thymidylate kinase
). The
thymidylate kinase
(
tmk
) gene was present fused to a
dUTPase
(
dut
) gene in other baculovirus genomes. DijuNPV likely lost the
dut
portion together with the
iap-3
homolog. Overall, the genome sequencing of novel alphabaculoviruses enables a wide understanding of baculovirus evolution.
View Full-Text
►

▼

Figures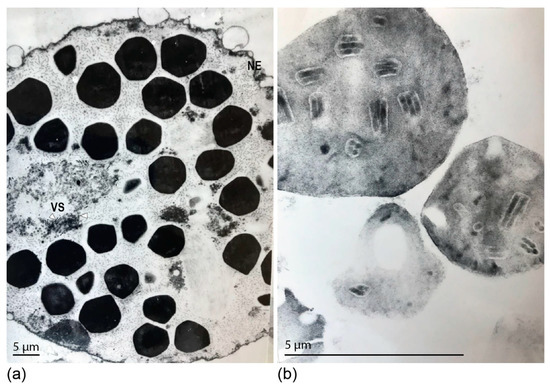 Figure 1
This is an open access article distributed under the
Creative Commons Attribution License
which permits unrestricted use, distribution, and reproduction in any medium, provided the original work is properly cited (CC BY 4.0).

Share & Cite This Article
MDPI and ACS Style
Ribeiro, B.M.; dos Santos, E.R.; Trentin, L.B.; da Silva, L.A.; de Melo, F.L.; Kitajima, E.W.; Ardisson-Araújo, D.M.P. A Nymphalid-Infecting Group I Alphabaculovirus Isolated from the Major Passion Fruit Caterpillar Pest Dione juno juno (Lepidoptera: Nymphalidae). Viruses 2019, 11, 602.
Note that from the first issue of 2016, MDPI journals use article numbers instead of page numbers. See further details here.
Related Articles
Comments
[Return to top]