Host Immune Response to ZIKV in an Immunocompetent Embryonic Mouse Model of Intravaginal Infection
1
Department of Microbiology and Immunology, University of Nevada, Reno, NV 89557, USA
2
Department of Biochemistry and Immunology, Institute of Biological Sciences (ICB), Universidade Federal de Minas Gerais, Belo Horizonte 31270-901, MG, Brazil
3
Department of Microbiology, Institute of Biological Sciences (ICB), Universidade Federal de Minas Gerais, Belo Horizonte 31270-901, MG, Brazil
4
Department of Morphology, Institute of Biological Sciences (ICB), Universidade Federal de Minas Gerais, Belo Horizonte 31270-901, MG, Brazil
*
Authors to whom correspondence should be addressed.
†
These authors contributed equally to this manuscript.
Received: 21 May 2019 / Revised: 11 June 2019 / Accepted: 14 June 2019 / Published: 17 June 2019
Abstract
Zika virus (ZIKV) only induces mild symptoms in adults; however, it can cause congenital Zika syndrome (CZS), including microcephaly. Most of the knowledge on ZIKV pathogenesis was gained using immunocompromised mouse models, which do not fully recapitulate human pathology. Moreover, the study of the host immune response to ZIKV becomes challenging in these animals. Thus, the main goal of this study was to develop an immunocompetent mouse model to study the ZIKV spread and teratogeny. FVB/NJ immune competent dams were infected intravaginally with ZIKV during the early stage of pregnancy. We found that the placentae of most fetuses were positive for ZIKV, while the virus was detected in the brain of only about 42% of the embryos. To investigate the host immune response, we measured the expression of several inflammatory factors. Embryos from ZIKV-infected dams had an increased level of inflammatory factors, as compared to Mock. Next, we compared the gene expression levels in embryos from ZIKV-infected dams that were either negative or positive for ZIKV in the brain. The mRNA levels of viral response genes and cytokines were increased in both ZIKV-positive and negative brains. Interestingly, the levels of chemokines associated with microcephaly in humans, including CCL2 and CXCL10, specifically increased in embryos harboring ZIKV in the embryo brains.
View Full-Text
►

▼

Figures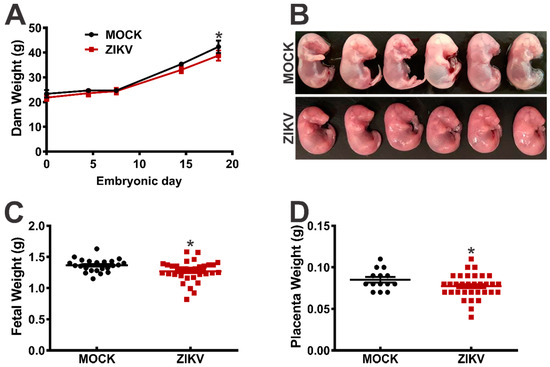 Figure 1
This is an open access article distributed under the
Creative Commons Attribution License
which permits unrestricted use, distribution, and reproduction in any medium, provided the original work is properly cited (CC BY 4.0).

Share & Cite This Article
MDPI and ACS Style
Khaiboullina, S.F.; Lopes, P.; de Carvalho, T.G.; Real, A.L.C.V.; Souza, D.G.; Costa, V.V.; Teixeira, M.M.; Bloise, E.; Verma, S.C.; Ribeiro, F.M. Host Immune Response to ZIKV in an Immunocompetent Embryonic Mouse Model of Intravaginal Infection. Viruses 2019, 11, 558.
Note that from the first issue of 2016, MDPI journals use article numbers instead of page numbers. See further details here.
Related Articles
Comments
[Return to top]