Open Access This article is
freely available
re-usable
Review
Transmissibility versus Pathogenicity of Self-Propagating Protein Aggregates
1
Laboratory of Persistent Viral Diseases, Rocky Mountain Laboratories, National Institute of Allergy and Infectious Diseases, National Institutes of Health, Hamilton, MT 59840, USA
2
Department of Pathology, Case Western Reserve University School of Medicine, Cleveland, OH 44106, USA
*
Authors to whom correspondence should be addressed.
Received: 26 September 2019 / Accepted: 6 November 2019 / Published: 9 November 2019
Abstract
:
The prion-like spreading and accumulation of specific protein aggregates appear to be central to the pathogenesis of many human diseases, including Alzheimer's and Parkinson's. Accumulating evidence indicates that inoculation of tissue extracts from diseased individuals into suitable experimental animals can in many cases induce the aggregation of the disease-associated protein, as well as related pathological lesions. These findings, together with the history of the prion field, have raised the questions about whether such disease-associated protein aggregates are transmissible between humans by casual or iatrogenic routes, and, if so, do they propagate enough in the new host to cause disease? These practical considerations are important because real, and perhaps even only imagined, risks of human-to-human transmission of diseases such as Alzheimer's and Parkinson's may force costly changes in clinical practice that, in turn, are likely to have unintended consequences. The prion field has taught us that a single protein, PrP, can aggregate into forms that can propagate exponentially in vitro, but range from being innocuous to deadly when injected into experimental animals in ways that depend strongly on factors such as conformational subtleties, routes of inoculation, and host responses. In assessing the hazards posed by various disease-associated, self-propagating protein aggregates, it is imperative to consider both their actual transmissibilities and the pathological consequences of their propagation, if any, in recipient hosts.
Keywords:
prion; amyloid; infectivity; pathogenesis; transmission; tau; synuclein; amyloid-β
Funding
This work was supported by the Intramural Research Program of the NIAID (BC) and the Britton Fund, Case Research Institute, and CWRU School of Medicine (AK).
Conflicts of Interest
The authors declare no conflict of interest. The funders had no role in the design of the study; in the collection, analyses, or interpretation of data; in the writing of the manuscript, or in the decision to publish the results.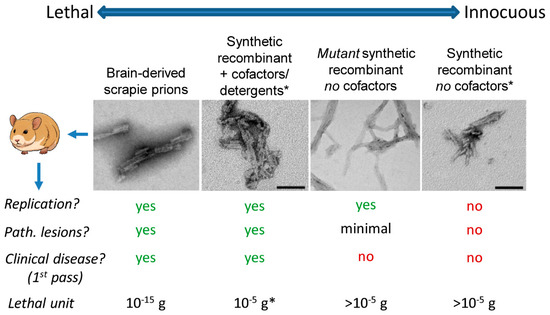 Figure 1.
Spectrum of transmissibilities and pathogenicities of hamster PrP amyloids. Each of the pictured amyloid fibrils can efficiently seed the continuous propagation of amyloid fibrils in vitro, but differ markedly in the consequences of their inoculation in vivo. The images are negatively stained transmission electron micrographs with the bar spanning 100 nm. * These panels adapted from [
31
]. Although the fibrils depicted in second panel from left was prepared with detergent [
31
] and only barely lethal [
32
], it is important to note that other synthetic recombinant prions prepared with cofactors can be orders of magnitude more lethal per unit protein (lethal unit of ~10
−10
g) [
33
]. "Path." stands for neuropathological. For further information on the "mutant synthetic recombinant no cofactors" fibrils, see [
34
].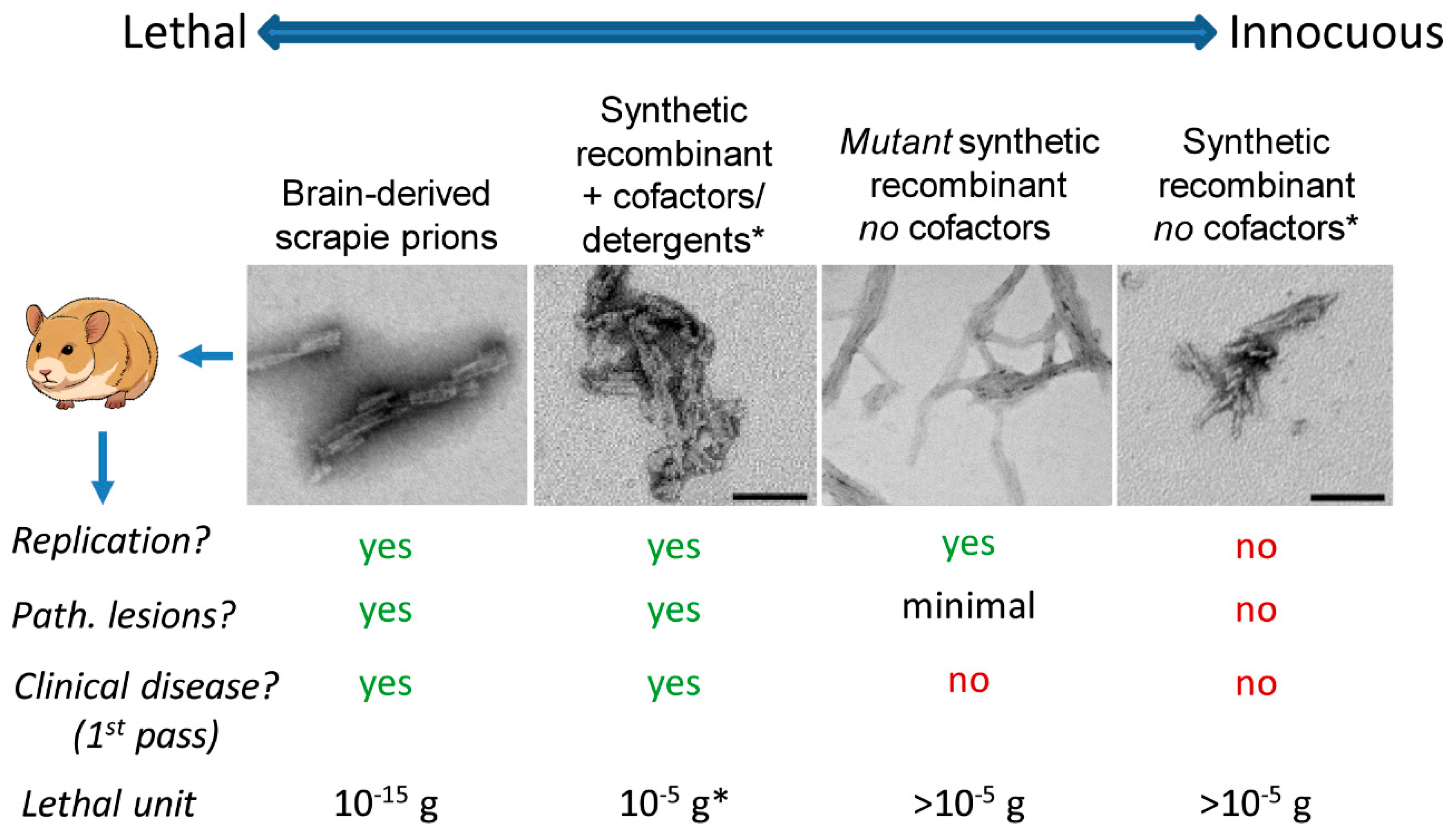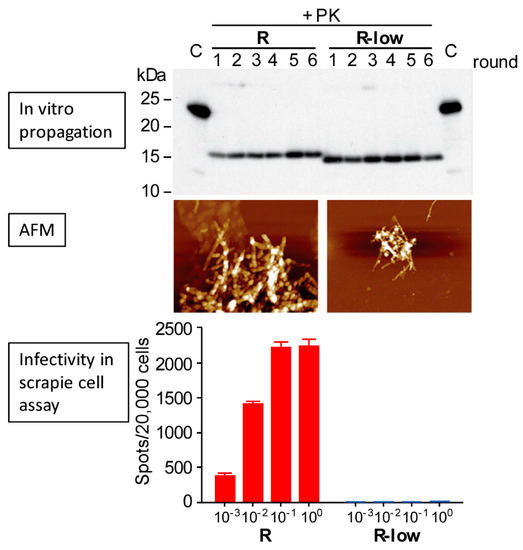 Figure 2.
Seemingly subtle conformational differences between two conformers (R and R-low) of murine PrP fibrils formed and propagated under similar conditions in vitro can have dramatic differences in infectivity [
24
]. Both the "R "and "R-low" fibrils were generated in serial protein folding cyclic amplification reactions containing recombinant PrP, total mouse liver RNA, and a synthetic phospholipid. Top: The "R" and "R-low" fibrils maintain a ~1 kDa difference in their proteinase K (PK)-resistant cores through 6 rounds of amplification. Middle: Atomic force microscopy (AFM) images of the respective "R" (left) and "R-low" (right) preparations indicate that both have fibrillar ultrastructures. Bottom: Relative levels of infectivity measured on a live-cell based assay across four 10-fold dilutions, indicating a difference in infectivity of at least 10
4
. Adapted with permission from [
24
].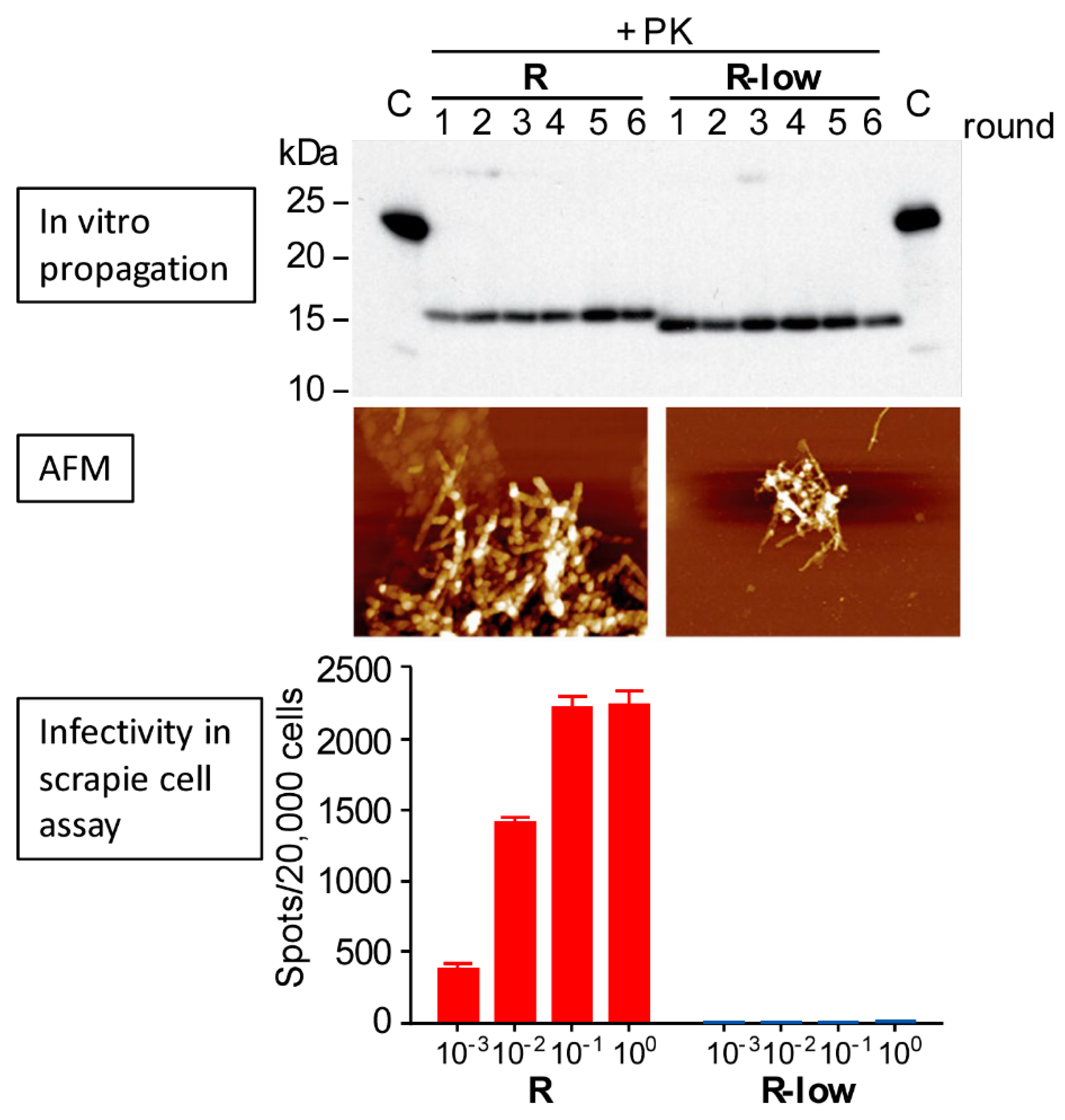 © 2019 by the authors. Licensee MDPI, Basel, Switzerland. This article is an open access article distributed under the terms and conditions of the Creative Commons Attribution (CC BY) license (http://creativecommons.org/licenses/by/4.0/).