Open Access This article is
freely available
re-usable
Article
Development of ZIF-Derived Nanoporous Carbon and Cobalt Sulfide-Based Electrode Material for Supercapacitor
1
US–Pakistan Center for Advanced Studies in Energy (USPCAS–E), National University of Sciences and Technology (NUST), Islamabad 44000, Pakistan
2
School of Chemical and Materials Engineering (SCME), National University of Sciences and Technology (NUST), Islamabad 44000, Pakistan
*
Author to whom correspondence should be addressed.
Received: 8 July 2019 / Accepted: 14 August 2019 / Published: 11 September 2019
Abstract
:
Zeolitic Imidazolate Framework (ZIF-67) was prepared in two different solvents—water and methanol. Nanoporous carbon was derived from ZIF-67 via pyrolysis in an inert atmosphere. Anion exchange step of sulfidation on the synthesized material has a great influence on the structure and properties. Structural morphology and thermal stability were characterized by X-ray diffraction (XRD), scanning electron microscopy (SEM)/energy dispersive x-ray spectroscopy (EDS), Brunauer-Emmett-Teller (BET), and thermogravimetric (TG) analysis. The electrochemical analysis was evaluated by cyclic voltammetry, chronopotentiometry, and impedance analysis. The as-prepared nanoporous carbon and cobalt sulfide (NPC/CS) electrode material (water) in 2M KOH electrolyte solution exhibit high specific capacitance of 677 F/g. The excellent electrochemical performance of the NPC/CS was attributed to its hierarchical structure. This functionalized ZIF driven strategy paves the way to the preparation of various metal oxide and metal sulfide-based nanoheterostructures by varying the type of metal.
Keywords:
ZIF-67; water; methanol; sulfidation; specific capacitance
1. Introduction
In the present work, we synthesized cobalt sulfide onto the nanoporous carbon to positively incorporate the synergistic effect towards the electrical conductivity and stability in two different solvents. Here we demonstrated, the 2D leaf-like morphology exhibits the superior capacity and the best electrochemical performance. Effect of solvent i.e., water and methanol, on the synthesis of ZIF-67-derived nanoporous carbon and cobalt sulfide-based electrode, and then measured specific capacitance, is also investigated for the application in supercapacitor.
2. Materials and Methods
2.1. Chemicals
Metal ion used is cobalt nitrate hexahydrate (Co(NO3)2·6H2O, 99%), and the linker is 2–Methylimidazole (99%) were used. All the chemicals were purchased from Sigma Aldrich/Merck, have analytical purity and used as received.
2.2. Synthesis of ZIF-67
For the synthesis of ZIF-67, the following scheme was used; 0.873 g of cobalt nitrate hexahydrate was dissolved in 30 mL of methanol to form a clear solution; 0.984 g of organic linker 2–Methylimidazole was dissolved in 10 mL of methanol to make another clear solution. The two solutions mixed with a vigorous shake of a few minutes. The mixed solution was kept overnight at room temperature. Thenceforth, centrifugation is used to collect the precipitates followed by multiple washes using methanol and dried up at 80 °C for 6 hours. The same experimental procedure was used to synthesis ZIF-67 using deionized water.
2.3. Preparation of Nanoporous Carbon (NPC) and Cobalt Oxide (CO)
The dried powder ZIF-67 particles were heated at 350 °C for 1.5 hours, raised to 700 °C at a ramp rate of 4 °C per minute, followed by pyrolysis for 3.5 hours under a flowing argon atmosphere. Next, the prepared black fluffy powder was cooled to room temperature naturally.
2.4. Preparation of Nanoporous Carbon (NPC) and Cobalt Sulfide (CS)
Aqueous suspension of nanoporous carbon-containing cobalt oxide was stirred in 0.015M sodium sulfide for 30 minutes, and then solution mixture transferred to a stainless steel autoclave of Teflon-lined and heated at 120 °C for 6 hours. As obtained precipitates washed and dried.
2.5. Material Characterization
The surface morphological analysis of the polyhedral structure was described by field emission scanning electron microscopy (VEGA3, 51–ADD0007) (Tescan, Brno, Czech Republic). The identification of a crystalline structure was elucidated by X-ray diffraction on a diffractometer (D8 Advance, CuKR, λ = 1.54Å) (Bruker, Karlsruhe, Germany). The thermogravimetric analysis was conducted on a DTG–60H (Shimadzu, Kyoto, Japan) instrument in the temperature range of room temperature to 800 °C. The surface areas and porous structure of synthesized NPC/CO and NPC/CS were measured by Brunauer–Emmett–Teller analysis using NovaWin 20e (Quantachrome, Virginia, USA) instrument at a relative pressure p/po = 0–1.0 and the samples were degassed at 160 °C under the vacuum.
2.6. Electrochemical Testing
The electrochemical measurements of the prepared samples were performed on an electrochemical workstation CHI 760E (CH Instrument, Texas, USA) with a setup of three electrodes. A reference electrode Ag/AgCl (SC) and a counter electrode of a platinum coil are used. To prepare the ink for the working electrode (GC), the following scheme was used; catalyst (2 mg) was dispersed ultrasonically for 1 to 2 hours in 0.08 mL of ethanol solution with 0.02 mL of Nafion solution (5 wt. %) to form a homogeneous ink. Then, the polished glassy carbon electrode (3 mm diameter) was coated by dropping the suspension (5 µL).
Electrochemical impedance spectroscopy (EIS) used a frequency field of 1 to 100 kHz in 2 M KOH solution. Cyclic voltammetry was performed within the potential window of 0.5 V in 2 M KOH solution with various sweep rates of 10, 20, 50, 80, and 100 mV s−1. The chronopotentiometry technique is used to measure the charge-discharge curve at 0.01 mA cathodic current to obtain the discharge time in the potential window of 0.35 V.
3. Results
3.1. Morphology/Structural Analysis
The enhanced surface area can be attributed to smaller diameters and larger quantities of the nanocrystals and nanopores. The total pore volume of NPC/CS showed an increment as compared to parent NPC/CO.
3.2. Electrochemical Testing
The measurement and investigation of electrochemical behavior were explored by galvanostatic charge-discharge (GCD), cyclic voltammetry (CV), and electrochemical impedance spectroscopy (EIS) in 2M KOH solution.
The reversible process was observed in all cases. The linear trend across the whole range of scan rates reveals that the process is reversible.
3.3. Cyclic Stability Study
One of the most essential and considerable parts in the achievement of a supercapacitor is cyclic stability.
Figure 7
shows the electrochemical performance of the nanoporous carbon; the cobalt sulfide-based electrode recorded over 1600 cycles with a scan rate of 100 mV/s. The cyclic stability study demonstrates the change in the specific capacitance of the NPC/CS electrode with the number of cycles. The specific capacitance decreases with 86% retention capacity over 1600 cycles for the case of NPC/CS (H
2
O) and noted as 74% over 1600 cycles for the NPC/CS (MeOH) systems. Zhu et al. [
36
] presented nearly 74% stability aimed at the nickel sulfide electrode material by recording 1000 cycles in a potassium hydroxide electrolyte; a nearly identical method to that of the cinnamon-like electrode. This decomposition was perceived in cycling stability. This might be expected because of the disintegration of the active electrode material in the electrolyte and the capacity imbalances between the electrochemical electrodes, which originates the instability of the electrode potential [
37
].
3.4. Electrochemical Impedance Spectroscopy Study
To evaluate the frequency performance and confrontation attitude of any material, electrochemical impedance spectroscopy is a robust engine [
38
]. The EIS spectra are recorded in a frequency ranging from 100 kHz to 1 Hz and shown in
Figure 8
. The perfect supercapacitor has a greater slop in a low-frequency region, which signifies electro–capacitive behavior [
39
,
40
].
It can be seen from
Figure 8
that the smaller arc diameter in the EIS spectrum of nanoporous carbon and cobalt sulfide-based materials showed lower charge transfer resistance and more idealistic properties as compared to nanoporous carbon and metal oxide electrodes [
41
]. The slop of NPC/CS (water) approach has ideally straight line, inferring the superior accessibility of ions.
4. Conclusions
In summary, we have successfully fabricated ZIF-67-derived nanoporous carbon and metal sulfide-based electrode material in a simple and economical method. SEM and XRD confirmed the synthesis of nanoporous material with increased surface area and 2D morphology. The enhanced electrochemical performance, due to sulfidation of cobalt oxide, was investigated by CV GCD and EIS. The specific capacitance value has increased to 677 F/g in the case of NPC/CS (H2O). A novel and facile route for the synthesis of nanoporous and binder-free electrode material is proposed with increased specific capacitance for the energy storage application.
Author Contributions
Conceptualization, R.A. and N.I.; data curation, methodology, and investigation, R.A.; Supervision N.I. and T.N., original draft preparation R.A.; writing-reviews and editing all authors.
Funding
Funding for this project was provided by USAID and U.S.-Pakistan Centers for Advanced Studies in Energy (USPCAS-E), NUST, Pakistan.
Acknowledgments
The authors are very grateful to USAID and U.S.-Pakistan Centers for Advanced Studies in Energy, NUST, Pakistan.
Conflicts of Interest
The authors declare no conflict of interest.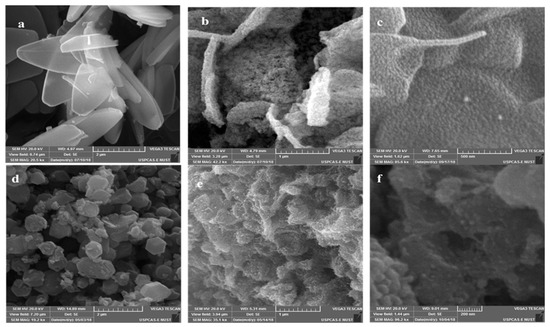 Figure 1. SEM images of ZIF-67 prepared in different solvents: (a) ZIF-67 prepared in H2O, before pyrolysis, after pyrolysis; (b) NPC/CO (H2O) at 700 °C; (c) NPC/CS (H2O); (d) ZIF-67 prepared in MeOH; (e) NPC/CO (MeOH) at 700 °C; and (f) NPC/CS (MeOH).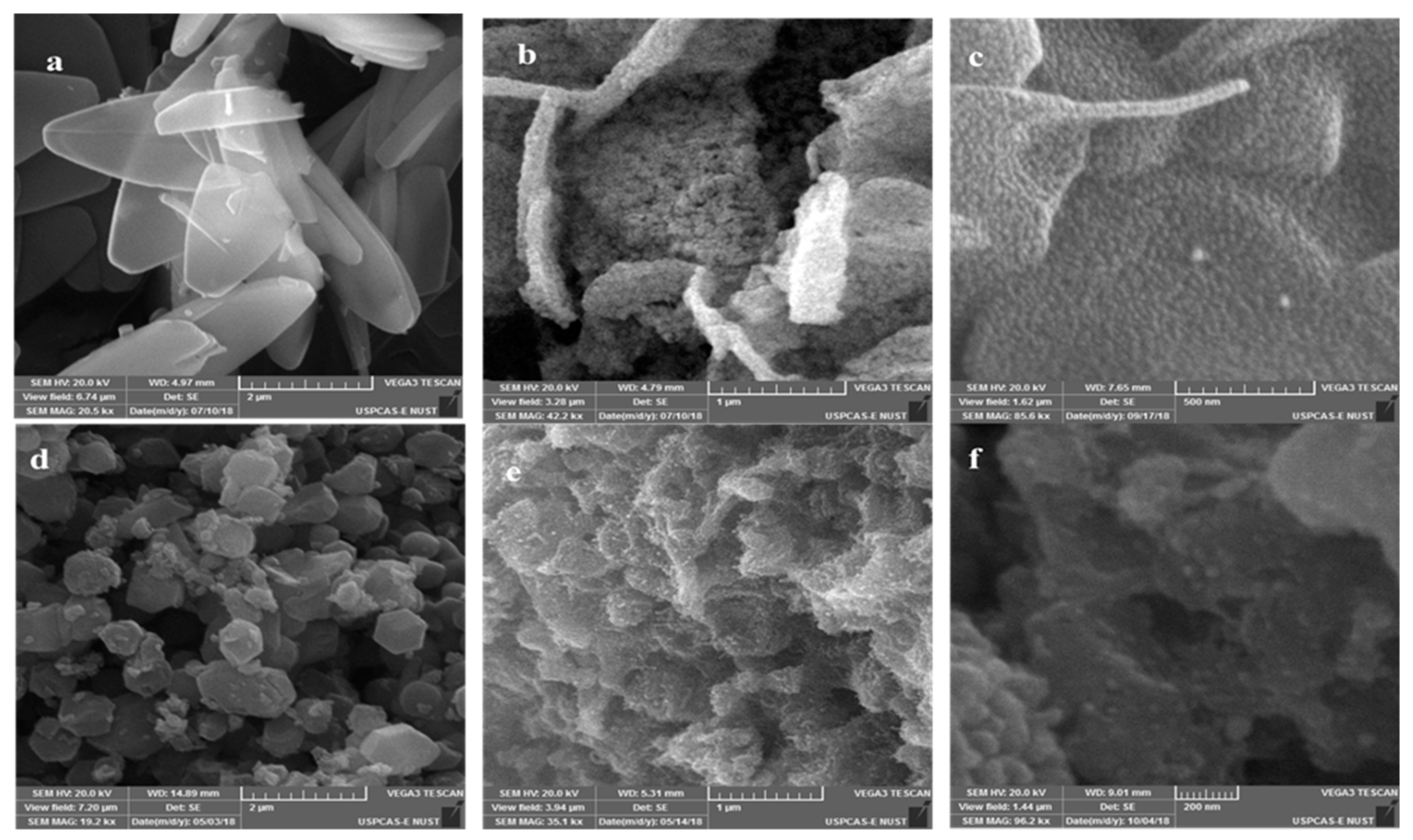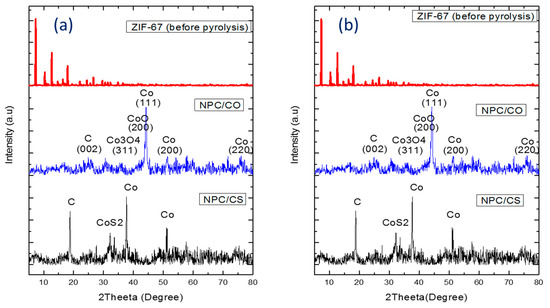 Figure 2. XRD patterns of (a) ZIF-67, NPC/CO and NPC/CS prepared in H2O and (b) ZIF-67, NPC/CO, and NPC/CS prepared in MeOH.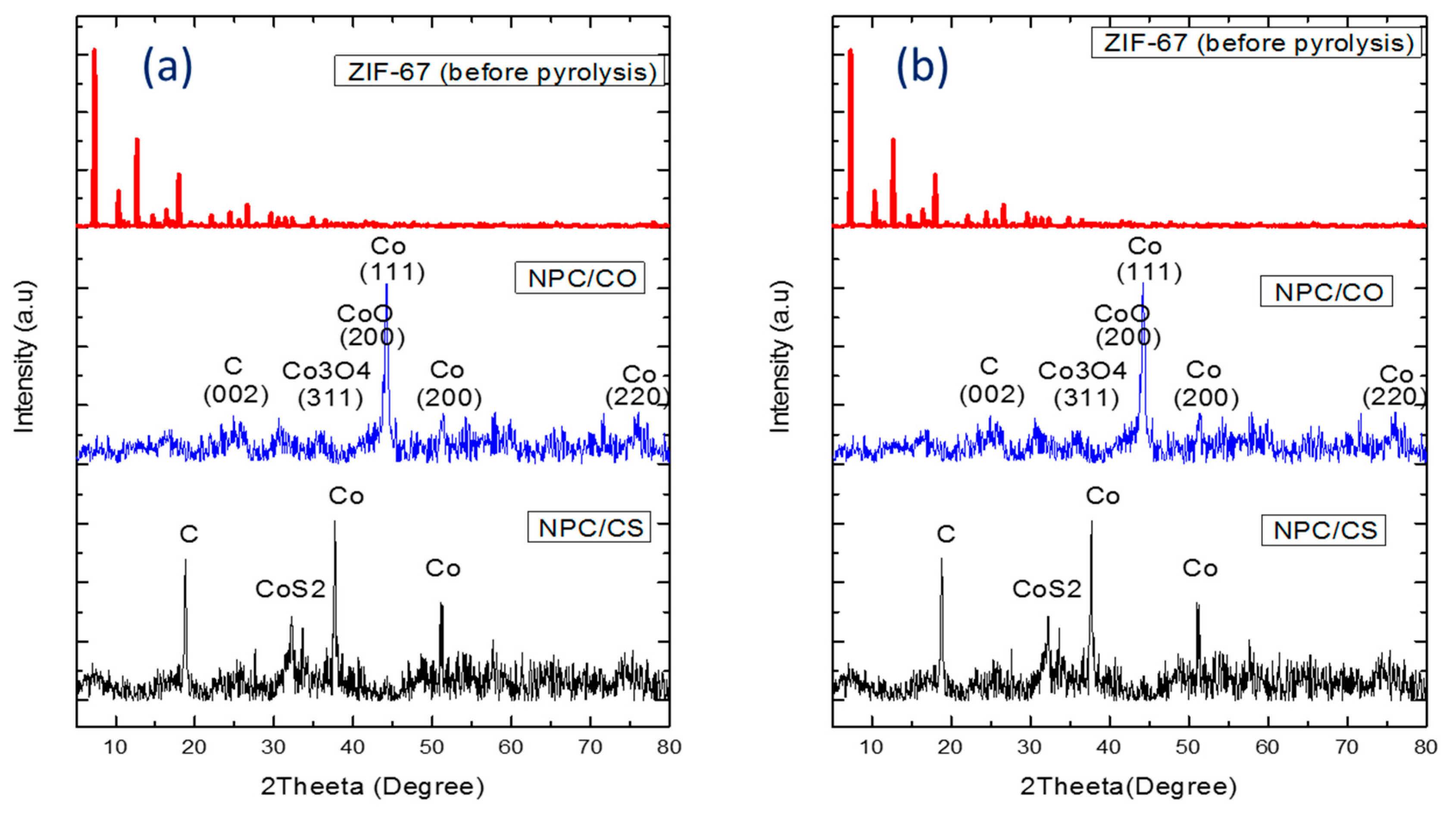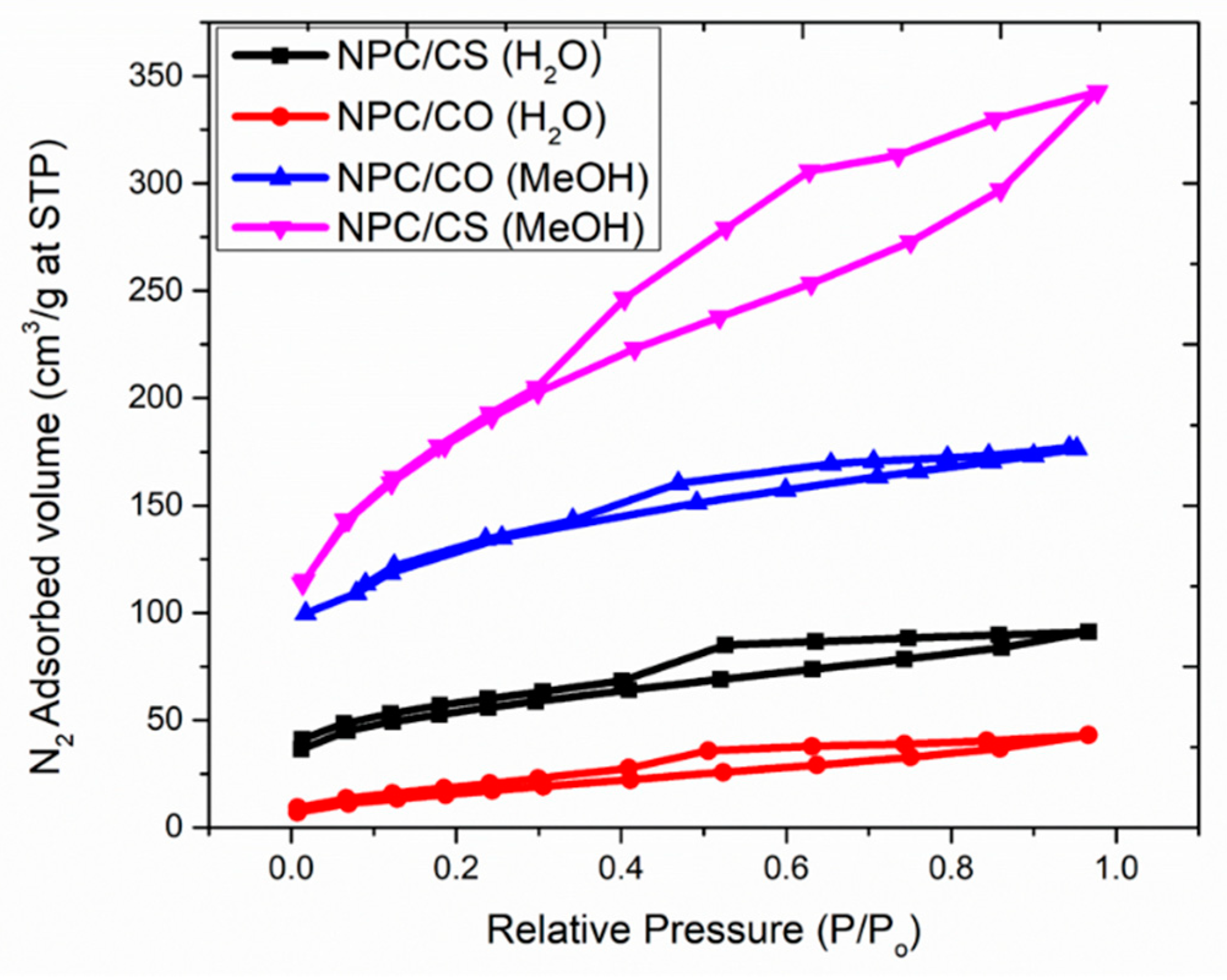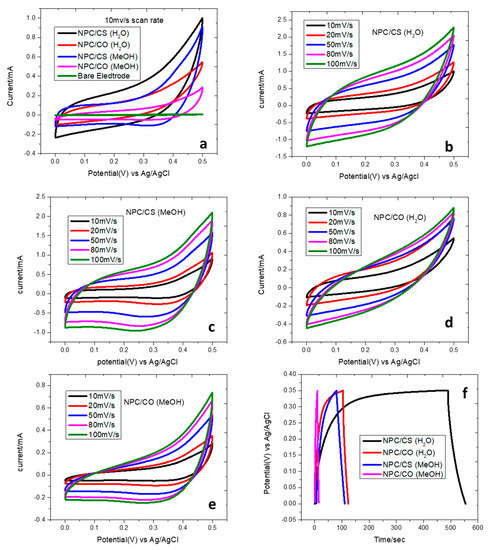 Figure 6. Electrochemical properties of the NPC/CO and NPC/CS in 2M KOH: (a) cyclic voltammetry at 10 mv/s scan rate (b–e) at different scan rates and (f) charge-discharge profiles at 0.01 mA/g.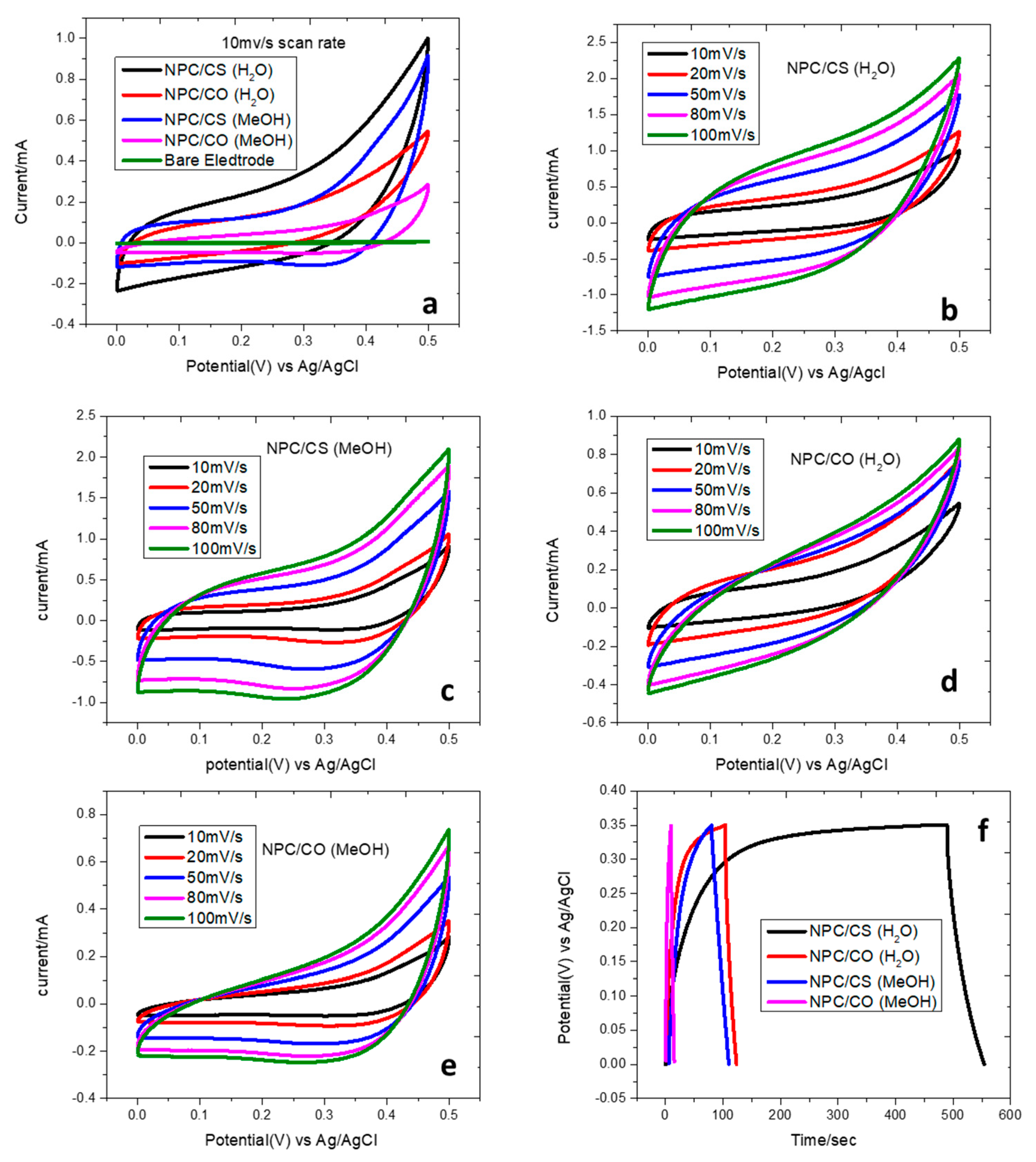 Figure 7. Numbers of cycles versus capacitive retention for the electrode NPC/CS electrode materials recorded over 1600 cycles at a scan rate of 100 mV/s.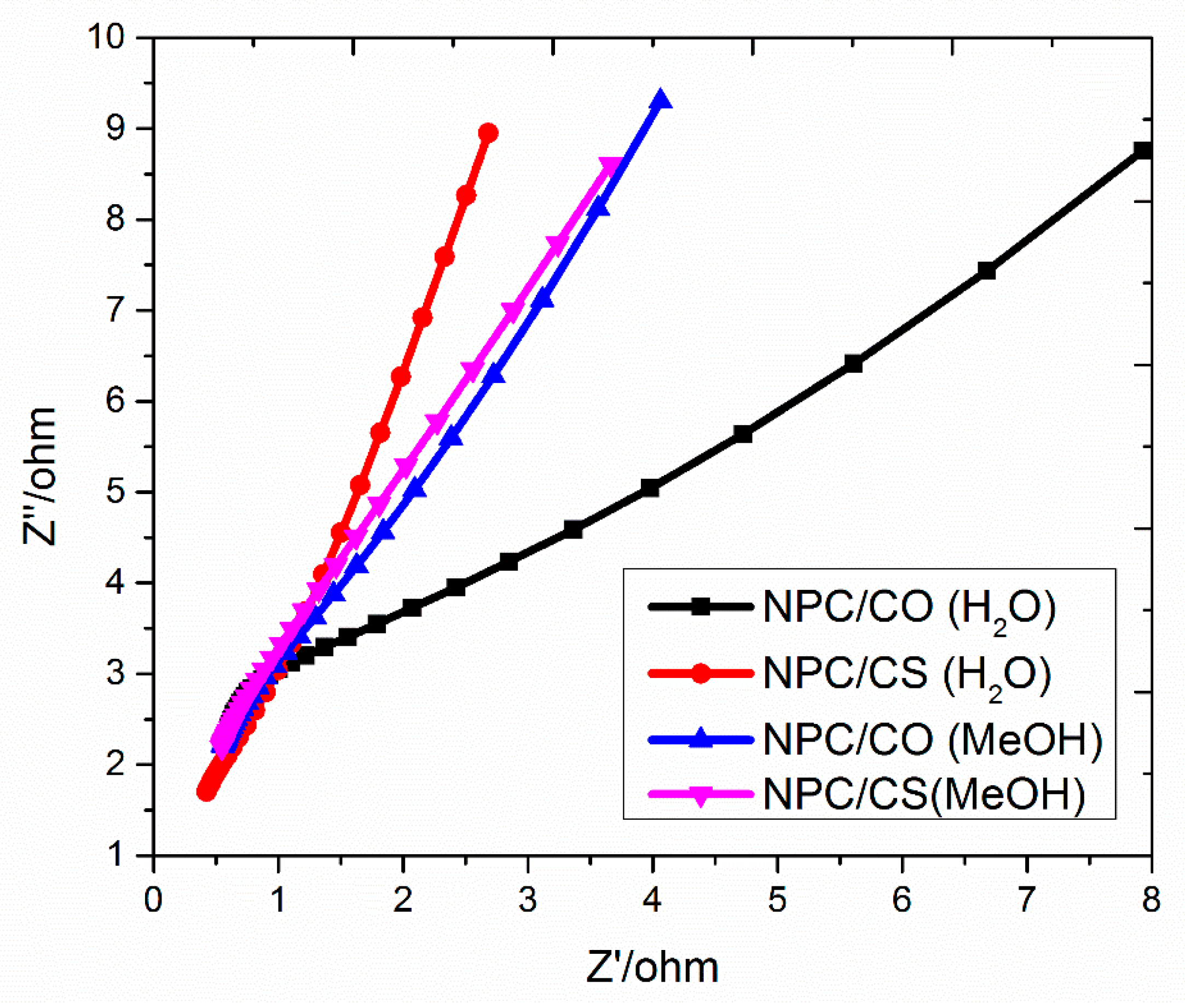 Table 1. TGA thermal analysis of ZIF-derived nanoporous carbon and cobalt oxide/sulfide-based materials.
Compound
Temp. Range (°C)
Mass Loss or Residue (%)
ZIF-67 (MeOH) before pyrolysis
ZIF-67 (H2O) before pyrolysis
336–458
302–373
57
48
NPC/CO (MeOH)
NPC/CO (H2O)
314–492
297–414
28
40
NPC/CS (MeOH)
NPC/CS (H2O)
300–544
311–535
34
56
| Electrode Material | Surface Area (m2/g) | Pore Volume (cm3/g) | Average Pore Size (nm) |
| --- | --- | --- | --- |
| NPC/CO (MeOH) | 726.3 | 0.273 | 1.277 |
| NPC/CS (MeOH) | 934.5 | 0.532 | 1.677 |
| NPC/CO (H2O) | 264.6 | 0.063 | 1.544 |
| NPC/CS (H2O) | 521.4 | 0.141 | 2.25 |
| Electrode Material | Specific Capacitance (F/g) | Energy Density (Wh/kg) |
| --- | --- | --- |
| NPC/CO (MeOH) | 159 | 5.520 |
| NPC/CS (MeOH) | 480 | 16.666 |
| NPC/CS (H2O) | 373 | 12.951 |
| NPC/CS (H2O) | 677 | 23.506 |

© 2019 by the authors. Licensee MDPI, Basel, Switzerland. This article is an open access article distributed under the terms and conditions of the Creative Commons Attribution (CC BY) license (http://creativecommons.org/licenses/by/4.0/).