Open Access This article is
freely available
re-usable
Article
Electrical Properties of Low-Temperature Processed Sn-Doped In2O3 Thin Films: The Role of Microstructure and Oxygen Content and the Potential of Defect Modulation Doping
1
Electronic Structure of Materials, Department of Materials and Earth Sciences, Technische Universität Darmstadt, Otto-Berndt-Straße 3, 64287 Darmstadt, Germany
2
Univ. Grenoble Alpes, CNRS, Grenoble INP, LMGP, 38 000 Grenoble, France
3
Structural Research, Department of Materials and Earth Sciences, Technische Universität Darmstadt, Otto-Berndt-Straße 3, 64287 Darmstadt, Germany
*
Author to whom correspondence should be addressed.
Received: 22 April 2019 / Accepted: 8 July 2019 / Published: 11 July 2019
Abstract
:
Low-temperature-processed ITO thin films offer the potential of overcoming the doping limit by suppressing the equilibrium of compensating oxygen interstitial defects. To elucidate this potential, electrical properties of Sn-doped InO (ITO) thin films are studied in dependence on film thickness. In-operando conductivity and Hall effect measurements during annealing of room-temperature-deposited films, together with different film thickness in different environments, allow to discriminate between the effects of crystallization, grain growth, donor activation and oxygen diffusion on carrier concentrations and mobilities. At , a control of carrier concentration by oxygen incorporation or extraction is only dominant for very thin films. The electrical properties of thicker films deposited at room temperature are mostly affected by the grain size. The remaining diffusivity of compensating oxygen defects at is sufficient to screen the high Fermi level induced by deposition of AlO using atomic layer deposition (ALD), which disables the use of defect modulation doping at this temperature. The results indicate that achieving higher carrier concentrations in ITO thin films requires a control of the oxygen pressure during deposition in combination with seed layers to enhance crystallinity or the use of near room temperature ALD.
Keywords:
ITO; electrical properties; doping limits; modulation doping; thickness dependence; low-temperature-deposition
Author Contributions
Thin film deposition, electrical and XPS analysis was performed by G.K.D., X-ray diffraction by H.R. and J.B. and additional conductivity measurements by J.H. Discussion and interpretation of results was conducted by G.K.D., D.B. and A.K. The Manuscript was written by and G.K.D. and A.K. and revised by all authors; Funding has been acquired by D.B. and A.K.
Funding
This work was carried out in the framework of EJD-FunMat (European Joint Doctorate for Multifunctional Materials) and has received funding from the European Union's Horizon 2020 research and innovation programme under the Marie Sklodowska-Curie grant agreement No 641640.
Acknowledgments
The authors acknowledge the Consortium des Moyens Technologiques Communs (CMTC)—Grenoble INP platform for diffraction characterization equipment.
Conflicts of Interest
The authors declare no conflict of interest. The founding sponsors had no role in the design of the study; in the collection, analyses, or interpretation of data; in the writing of the manuscript, and in the decision to publish the results.
Abbreviations
The following abbreviations are used in this manuscript:
| | |
| --- | --- |
| ITO | Sn-doped InO |
| FTO | Fluorine-doped SnO |
| AZO | Al-doped ZnO |
| ALD | atomic-layer-deposition |
| TMA | trimethylaluminium |
| XPS | X-ray photoelectron spectroscopy |
| XRD | X-ray diffraction |
| GIXRD | grazing incidence X-ray diffraction |
| RF | radio frequency |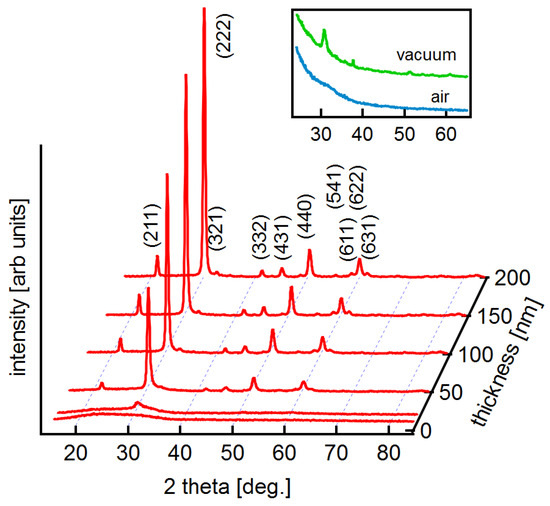 Figure 1.
Grazing Incidence XRD patterns of ITO films with different film thickness deposited at room temperature. The indexed lattice planes correspond to those of cubic InO (International Centre for Diffraction Data (ICDD) card 00-006-0416-High-bcc). The insert shows grazing incidence diffraction patterns of two 10 nm-thick films annealed at in air or vacuum, respectively (see
Section 3.2
).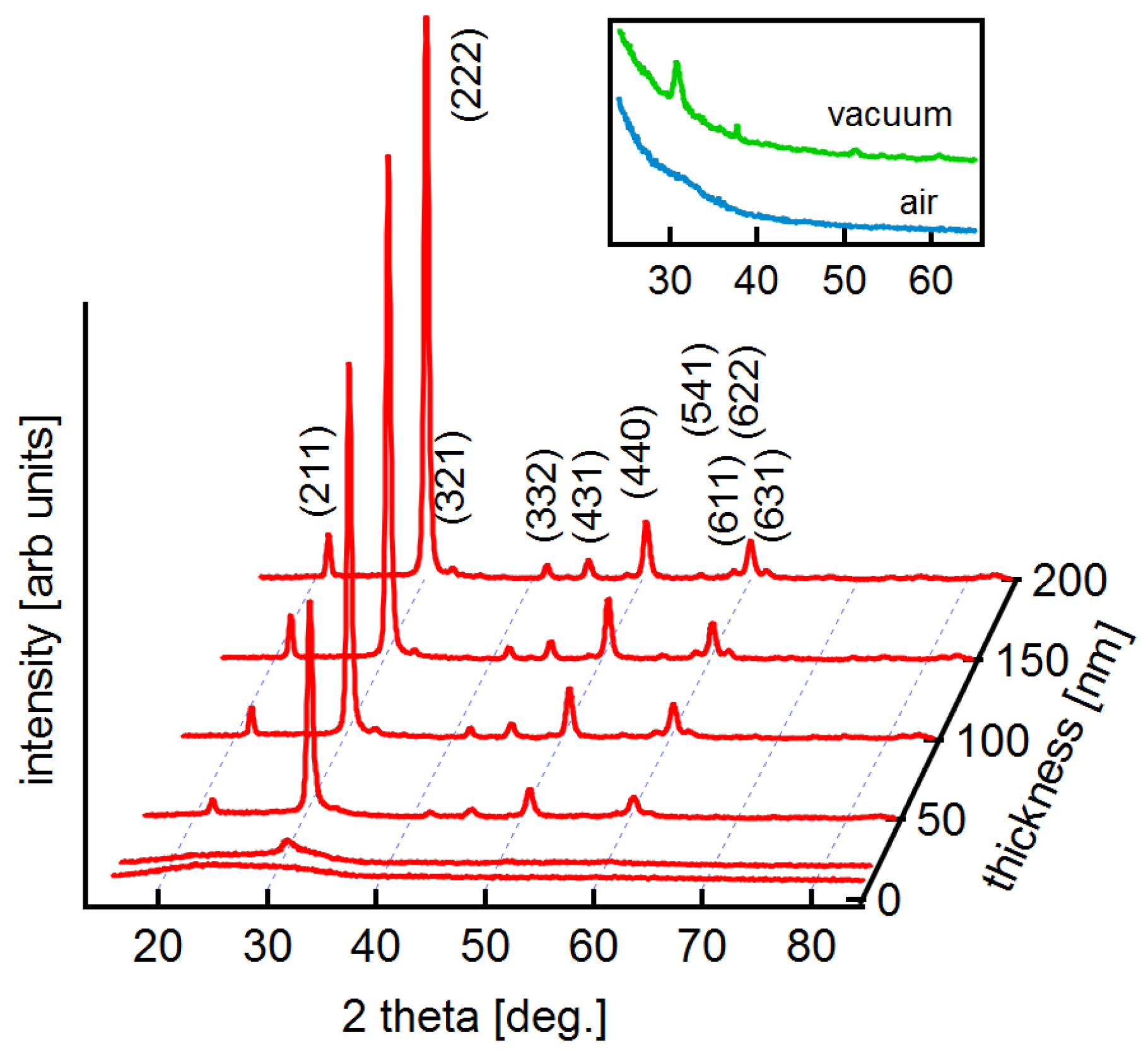 Figure 2. Electrical properties of ITO thin films deposited at different temperatures. Conductivity (a), carrier concentration (b) and carrier mobility (c) of ITO films deposited at room temperature, and , as a function of film thickness.


Figure 3.
Energy band diagrams of n-type polycrystalline semiconductors with depleted electron concentrations in the space charge layers at grain boundaries. Positions of grain boundaries are indicated by dashed vertical lines. For small grains (
a
), when the width of the space region
W
exceeds half of the distance between neighboring grain boundaries (), the potential profiles of neighboring grain boundaries overlap as indicated by the red arrows. The width of the space charge region is ∼5 nm for a doping concentration of . The potential barrier at the grain boundary, , which corresponds to the band bending, increases with grain size (
b
) or doping concentration (
c
). Smaller grains can therefore, exhibit lower effective carrier concentrations and higher carrier mobility.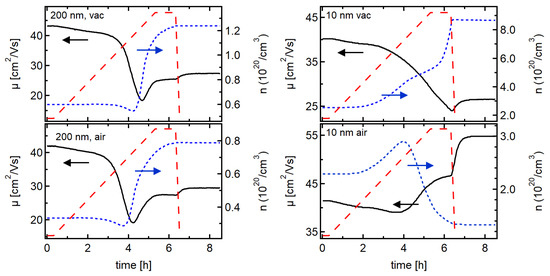 Figure 4. Hall effect measurements during annealing of 10 (right)and 200 (left) nm-thick ITO films deposited at room temperature in vacuum (top) or in air (bottom). The red dashed lines show the programmed temperature with a controlled heating ramp from 25–200 and a holding time of 1 h at 200 .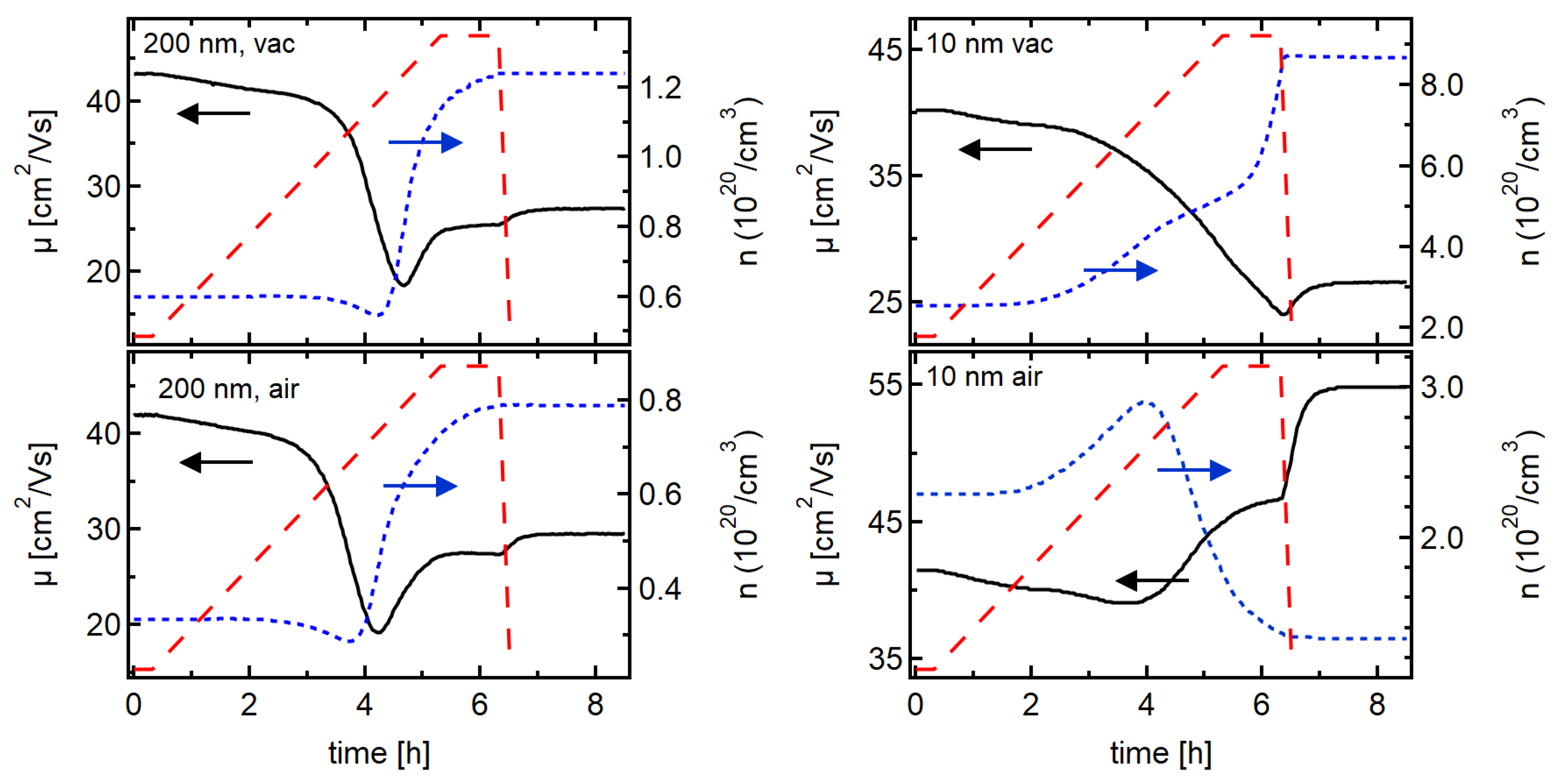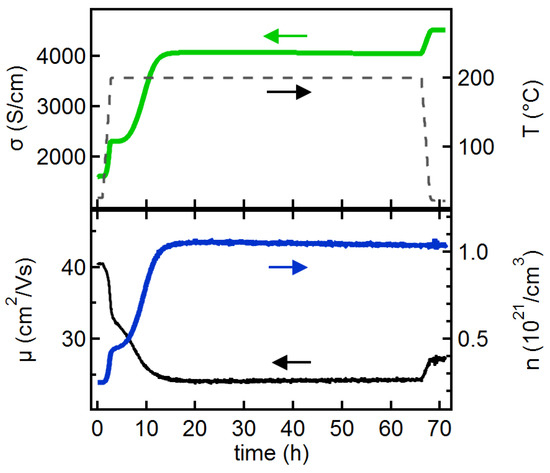 Figure 5. Conductivity and Hall effect measurements during extended annealing of a 10 nm-thick ITO film deposited at room temperature in vacuum.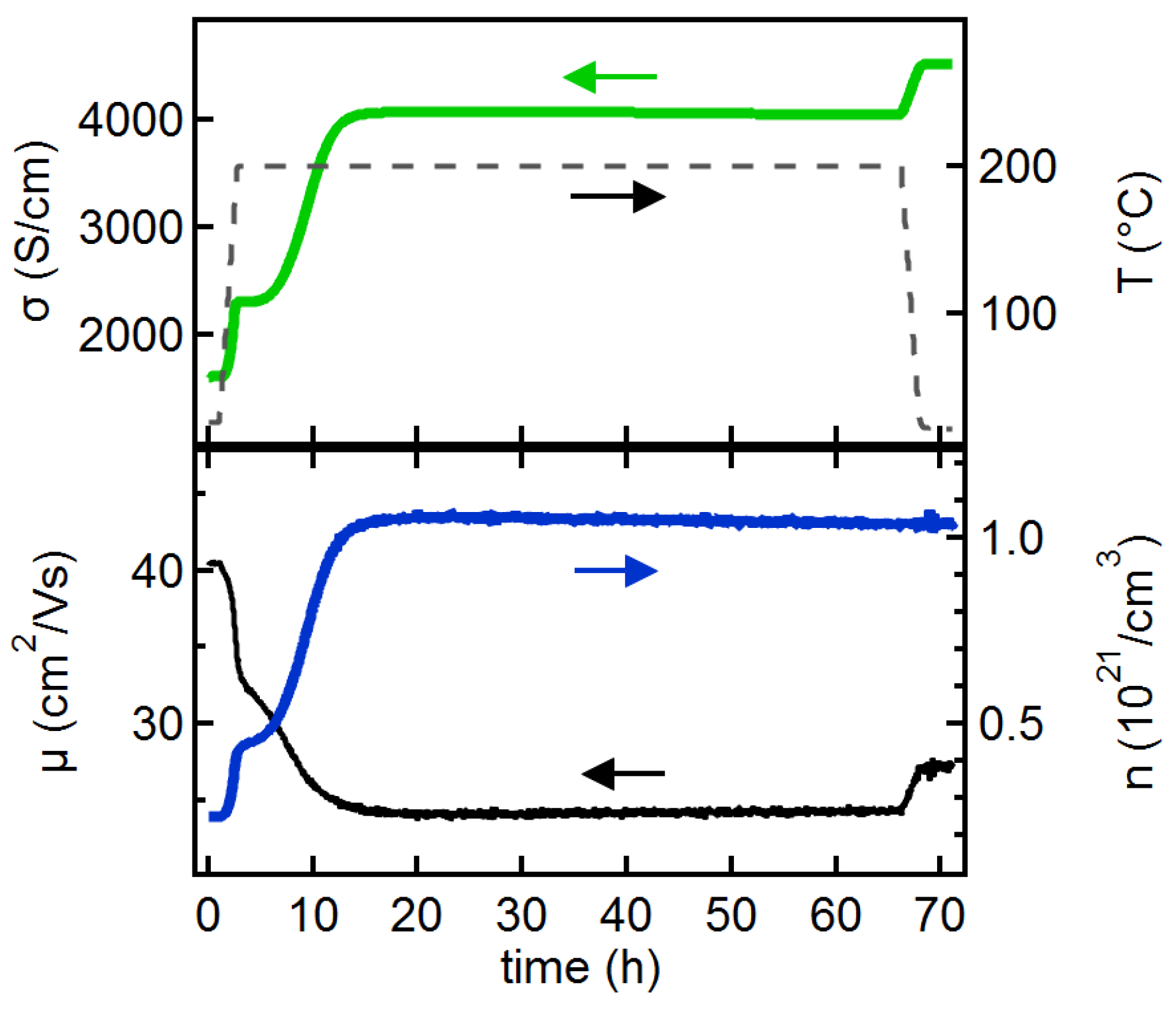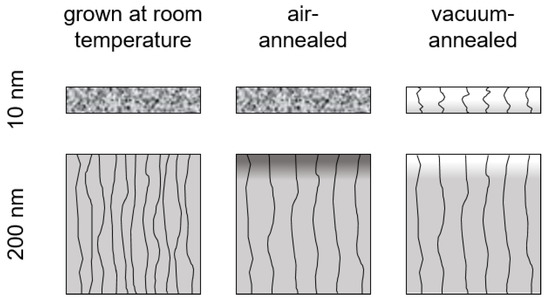 Figure 6. Effect of annealing of 10 and 200 nm-thick ITO films deposited at room temperature. The annealing was performed with a heating rate of up to and a holding time of 1 h either in vacuum or in air. Curved lines indicate grain boundaries and filling color the oxygen concentration. The filling style of the as-grown and the air-annealed 10 nm-thick sample indicates their amorphous structure.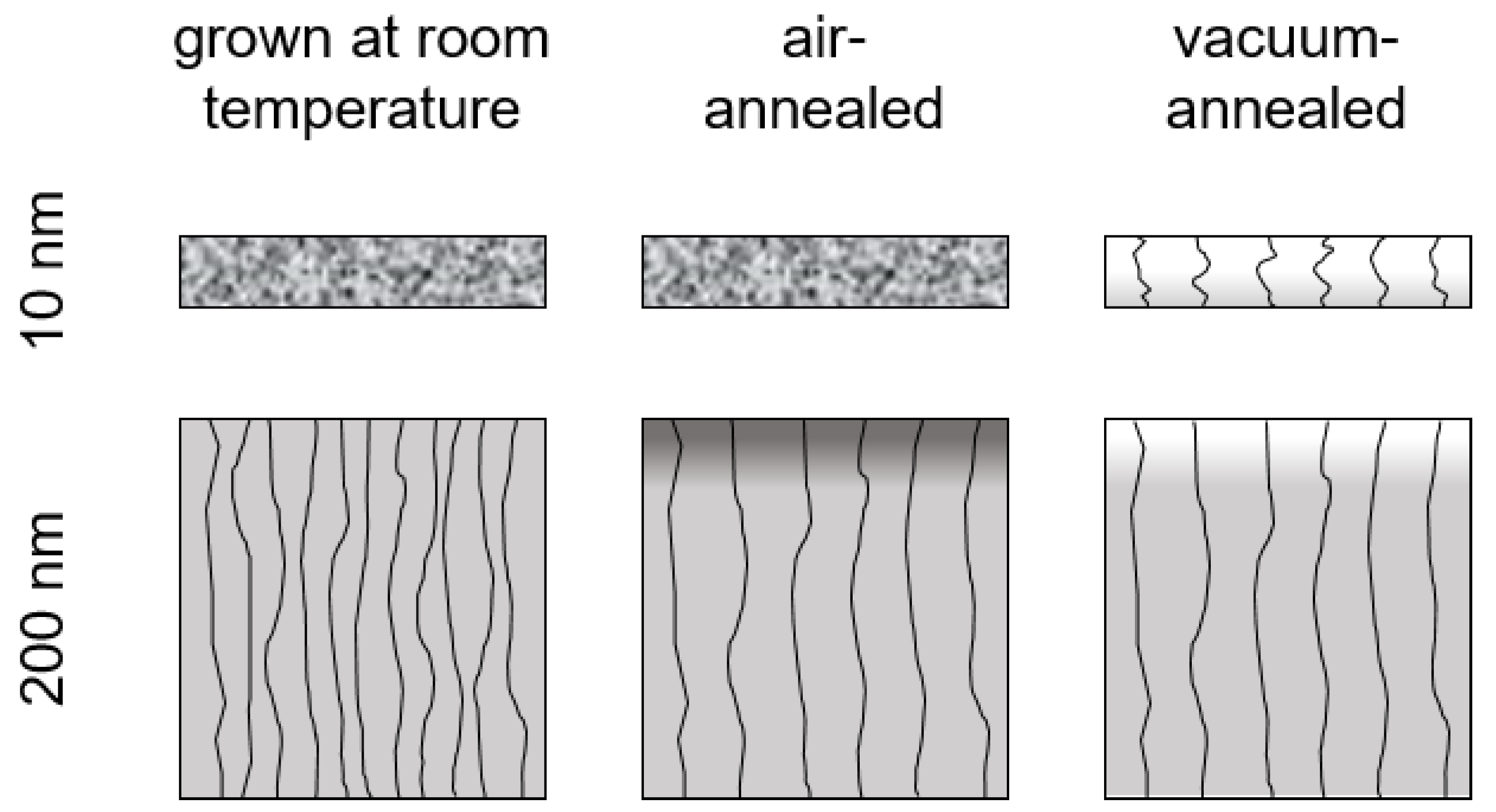 Figure 7. In 3d (a), O 1s (b) and valence band (c) X-ray photoelectron spectra of 20 nm (solid black lines) and 200 nm (dashed red lines) thick ITO films before (bottom) and after (top) deposition of AlO using 5 ALD cycles. The asterisk indicates a shoulder in the In 3d spectrum, which corresponds to a partial reduction of In.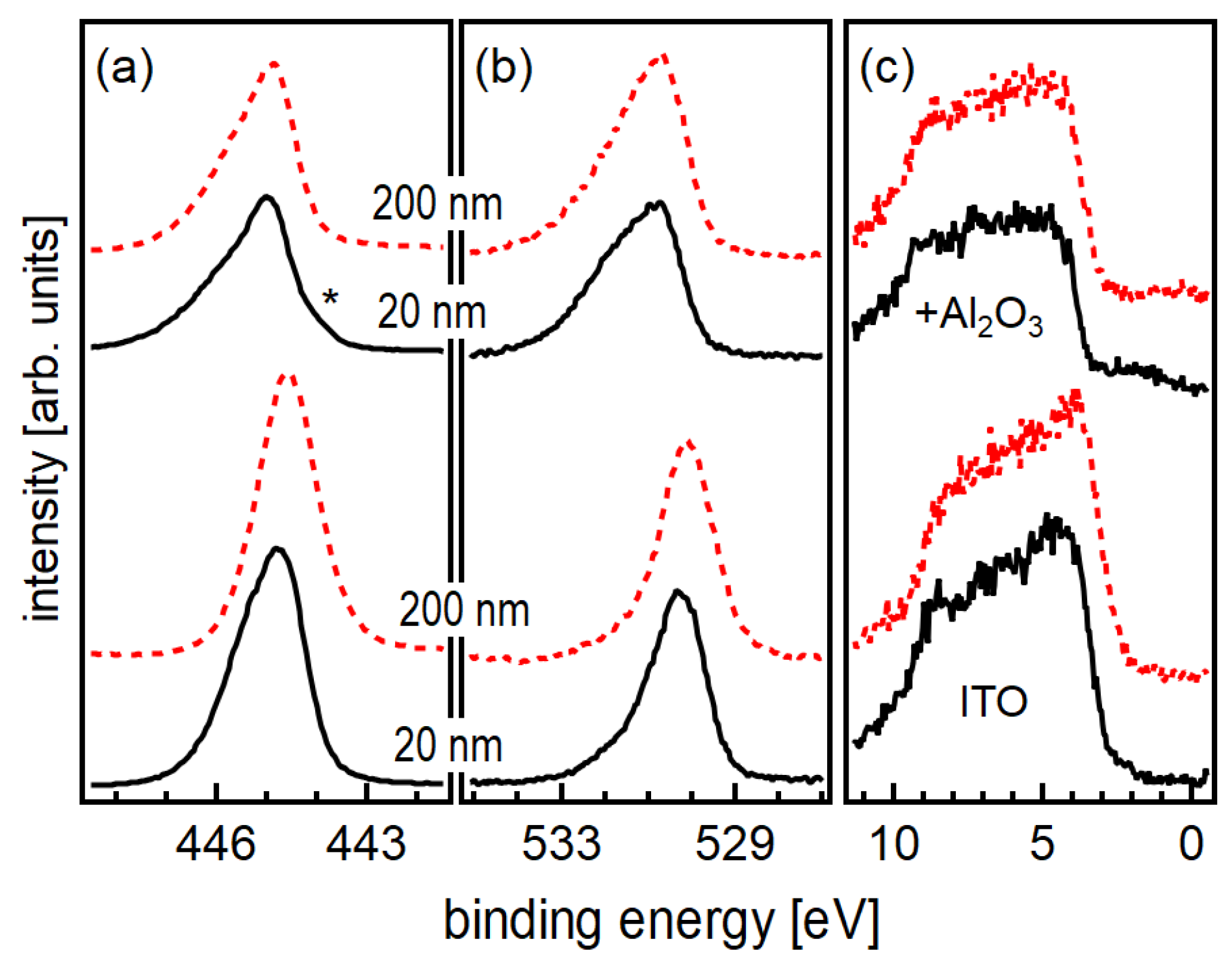 Figure 8.
Hall effect measurements as a function of film thickness of ITO films deposited at room temperature (black circles), ITO films deposited at room temperature after AlO deposition, and ITO films deposited at room temperature after annealing in the ALD chamber (ALD-anneal) in vacuum at 200 . Conductivity (
a
), carrier concentration (
b
) and carrier mobility (
c
). The data of the as-deposited films are the same as those in
Figure 2
. Dashed lines are a guide for the eye.


© 2019 by the authors. Licensee MDPI, Basel, Switzerland. This article is an open access article distributed under the terms and conditions of the Creative Commons Attribution (CC BY) license (http://creativecommons.org/licenses/by/4.0/).