Open Access This article is
freely available
re-usable
Article
Almond Shell as a Microporous Carbon Source for Sustainable Cathodes in Lithium–Sulfur Batteries
Dpto. Química Inorgánica e Ingeniería Química, Instituto de Química Fina y Nanoquímica, Universidad de Córdoba, 14071 Córdoba, Spain
*
Author to whom correspondence should be addressed.
Received: 29 June 2018 / Accepted: 8 August 2018 / Published: 14 August 2018
Abstract
:
A microporous carbon derived from biomass (almond shells) and activated with phosphoric acid was analysed as a cathodic matrix in Li–S batteries. By studying the parameters of the carbonization process of this biomass residue, certain conditions were determined to obtain a high surface area of carbon (967 m2 g−1) and high porosity (0.49 cm3 g−1). This carbon was capable of accommodating up to 60% by weight of sulfur, infiltrated by the disulphide method. The C–S composite released an initial specific capacity of 915 mAh g−1 in the Li–S cell at a current density of 100 mA g−1 with a high retention capacity of 760 mAh g−1 after 100 cycles and a coulombic efficiency close to 100%. The good performance of the composite was also observed under higher current rates (up to 1000 mA g−1). The overall electrochemical behaviour of this microporous carbon acting as a sulfur host reinforces the possibility of using biomass residues as sustainable sources of materials for energy storage.
Keywords:
almond; agricultural waste; biomass-derived carbon; sulfur composite; lithium–sulfur batteries
2. Materials and Methods
2.1. Synthesis of Activated Carbon (ASC) and Sulfur Composite (ASC/S)
Activated carbon (ASC) was synthesized from almond shells that had previously been milled using a ball mill (Restch PM100, Retsch GmbH, Haan, Germany) and sieved after grinding to obtain a fine powder. Phosphoric acid (85%, Sigma-Aldrich, San Luis, CA, USA) was used as the activating agent in an H3PO4/ASC mass ratio of 1:1; this agent was contacted with the ASC for 3 h at 85 °C. After this process, the obtained product was dried for 24 h at 120 °C and then ground in a mortar. The conditions of the carbonization process were analysed in this study by varying the heating ramp, the target temperature, and the maintenance time at temperature. The calcination process was carried out under a nitrogen atmosphere (flow: 50 mL min−1). Afterwards, carbonized ASC was washed with distilled water until the reaction had been neutralized. ASC was finally obtained by drying at 120 °C in an oven (Buchi, Flawil, Switzerland) for 12 h, and it was ground in an agate mortar.
The activated carbon/sulfur composite (ASC/S) was obtained by a process known as the "disulphide method", based on the dissolution of elemental sulfur in an organic solvent, carbon disulphide and its subsequent mixing with activated carbon. The conditions were as follows: Elemental sulfur (700 mg) was dissolved in carbon disulphide (5 mL) under magnetic stirring for one hour. Then, the ASC (300 mg) was added, and the stirring was maintained for a further 15 min. The resulting suspension was subjected to ultrasound to promote homogeneity until the solvent evaporated. Finally, the obtained ASC/S composite was dried overnight at 80 °C (
Scheme 1
).
2.2. Carbon and Composite Characterization
The sulfur content and the thermal properties of the samples were determined by thermogravimetric analysis (TGA) with a Mettler Toledo TGA/DSC (Mettler-Toledo, Columbus, OH, USA) under a nitrogen or oxygen atmosphere, heating the samples from 25 to 800 °C at 5 °C min−1. Specific surface areas were examined with a Autosorb iQ/ASiQwin (Quantachrome Instruments, Boynton Beach, FL, USA), using nitrogen as the adsorbent. The pore size distributions of the carbon in the micropore and narrow mesopore ranges were obtained by applying the density functional theory (DFT) method. The structural properties of carbon and composite were examined with a Bruker D8 Discover X-ray diffractometer (XRD, Bruker, Billerica, MA, USA). The patterns were acquired between 10° and 80° (2θ), with a step size of 0.04° and a time of 1.05 s per step. Raman measurements were carried out with a Renishaw inVida microscope equipped with a detector Renishaw charge-coupled device CCD Camera (578 × 400) (Renishaw, Wotton-under-Edge, UK) and a laser of 532 nm edge in line focus mode. Sample morphology was examined with a Jeol JSM 6300 scanning electron microscope (SEM, Jeol, Tokyo, Japan). The SEM was coupled to a microanalysis system (LECO CHNS-932) and measured by energy dispersive X-ray spectroscopy (EDS, Jeol, Tokyo, Japan).
2.3. Cathode Preparation and Electrochemical Measurements
The cathode was prepared by mixing the activated carbon/sulfur composite (ASC/S) with a Super P carbon black (conducting agent, Timcal, Paris, France) and polyvinylidenedifluoride (PVDF, binder, Sigma-Aldrich, San Luis, CA, USA) in a mass ratio of 80:10:10, in a
N
-methyl-2-pyrrolidone (NMP, Sigma-Aldrich, San Luis, CA, USA) solution. The slurry was deposited on Al foil by doctor blade deposition. The electrodes were cut in 13 mm diameter disks with a sulfur loading of 2.0 mg cm
−2
and then were dried at 45 °C under vacuum for 3 h.
CR2032 coin-cells assembled inside a glove box (Ar-filled, M-Braun 150, M-Braun, Garching, Germany) were used for electrochemical measurements. Li metal foil served as the counter and reference electrodes. The electrolyte was LiTFSI 1.0 M (Sigma-Aldrich) and LiNO
3
0.4 M in 1,3-dioxolane (DOL, Sigma-Aldrich) and 1,2 dimethoxyethane (DME, Sigma-Aldrich) (1:1
v
/
v
) soaked in a polyethylene membrane (Celgard, Charlotte, NC, USA) as a separator. A 0.4 M concentration of the LiNO
3
additive was used in the electrolyte to prevent lithium dendrite growth and to avoid parasitic reactions [
42
,
43
]. The cyclic voltammetry (CV) curves were recorded with an Autolab PGSTAT–204 (Metrohm, Herisau, Switzerland) at a scan rate of 0.05 mV s
−1
within the 1.7–2.7 V range. Cycling tests were performed on an Arbin BT2143 (Arbin Instruments, College Station, USA) potentiostat–galvanostat system within the potential window of 1.7–2.7 V at various current rates. Both the specific capacity and current rate referred to the sulfur mass in the positive electrode (48 wt %).
3. Results and Discussion
3.1. Structural and Textural Properties
3.2. Electrochemical Properties
According to the anodic scan, the oxidation process of the ASC/S composite in the Li–S cell also occurred in two stages. This profile can be defined as a wide peak centered at ca. 2.35 V. The asymmetric signal is ascribed to the reverse reactions described in the cathodic scan. The asymmetry of the peak is caused by the slow kinetics of these reactions, leading to polarization and overlapping of the signals of both reactions. In subsequent cycles, the shapes of the curves were not modified, demonstrating that the described electrochemical processes are highly reversible.
4. Conclusions
Biomass-derived carbons have been widely studied as potential candidates to solve two of the main problems of lithium–sulfur battery technology: the poor electronic conductivity of elemental sulfur and the shuttle effect induced by the solubility of the polysulfides in the electrolyte. In particular, the search should focus on carbons derived from inedible biomass. In addition to the sustainable nature of this resource, the synthesis procedures required are less complex than those for carbonaceous materials prepared from carbon-based chemicals. Carbon derived from almond shells and activated with phosphoric acid possess the required textural properties for this application, namely, a high surface area for sulfur hosting and a microporous system that traps polysulfides and hinders their solubility in the electrolyte during the charge–discharge processes. The electrochemical performance of the ASC/S composite acting as the cathode of the Li–S battery fully confirmed this expectation. High specific capacity values were delivered by the batteries when were cycled under both low and high current rates. The good stability in the extended cycling together with the excellent coulombic efficiency allows us to conclude that this biomass-derived carbon could be a sustainable source of electrodes for Li–S batteries. The low cost and easy scaling of the processing for this activated carbon are clear advantages over other sophisticated electrode preparation methods for Li–S batteries.
Author Contributions
A.B. and M.T.-G. designed and performed the experiments and analyzed the results. The manuscript was written by all four authors. Á.C. and J.M. supervised at A.B. and M.T.-G., and edited the paper.
Acknowledgments
This work was performed with the financial support of the Ministerio de Economía y Competitividad (Project MAT2014–59907-R and MAT2017–87541–R) and Junta de Andalucía (Group FQM–175).
Conflicts of Interest
The authors declare no conflict of interest.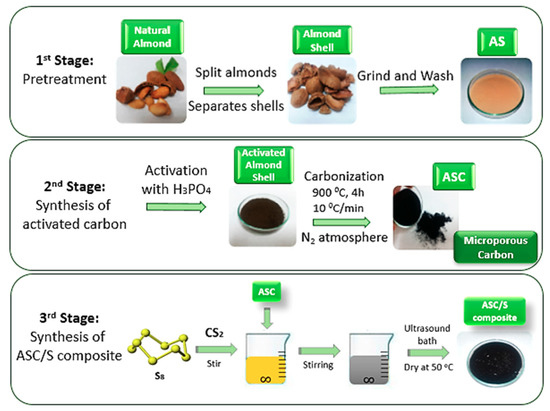 Scheme 1. Different steps followed for the preparation of the activated carbon (ASC) and activated carbon/sulfur (ASC/S) composite.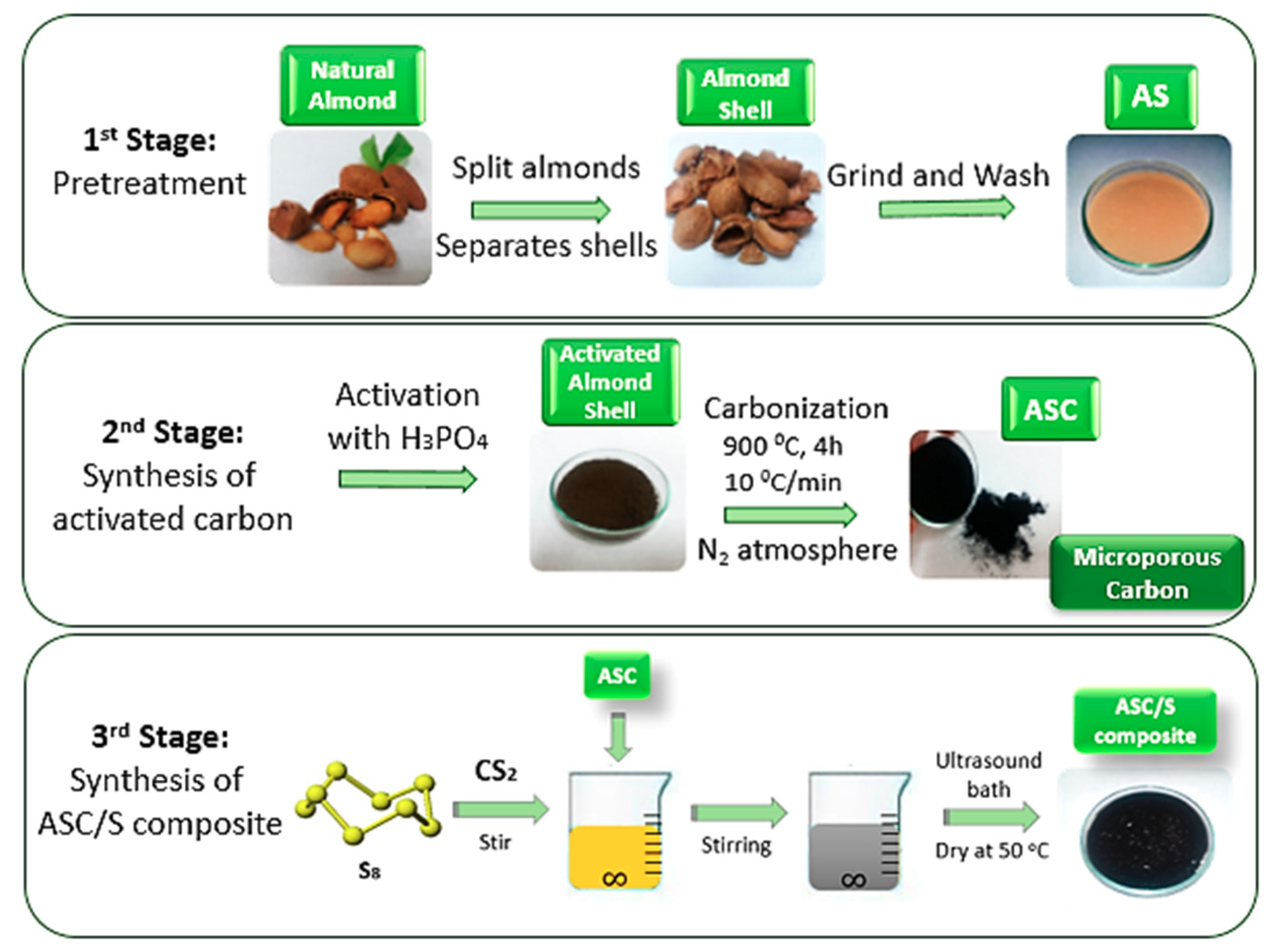 Figure 1. Thermogravimetric (TG) analysis of (a) AS [N2], (b) ASC [O2] and (c) ASC/S composite [N2].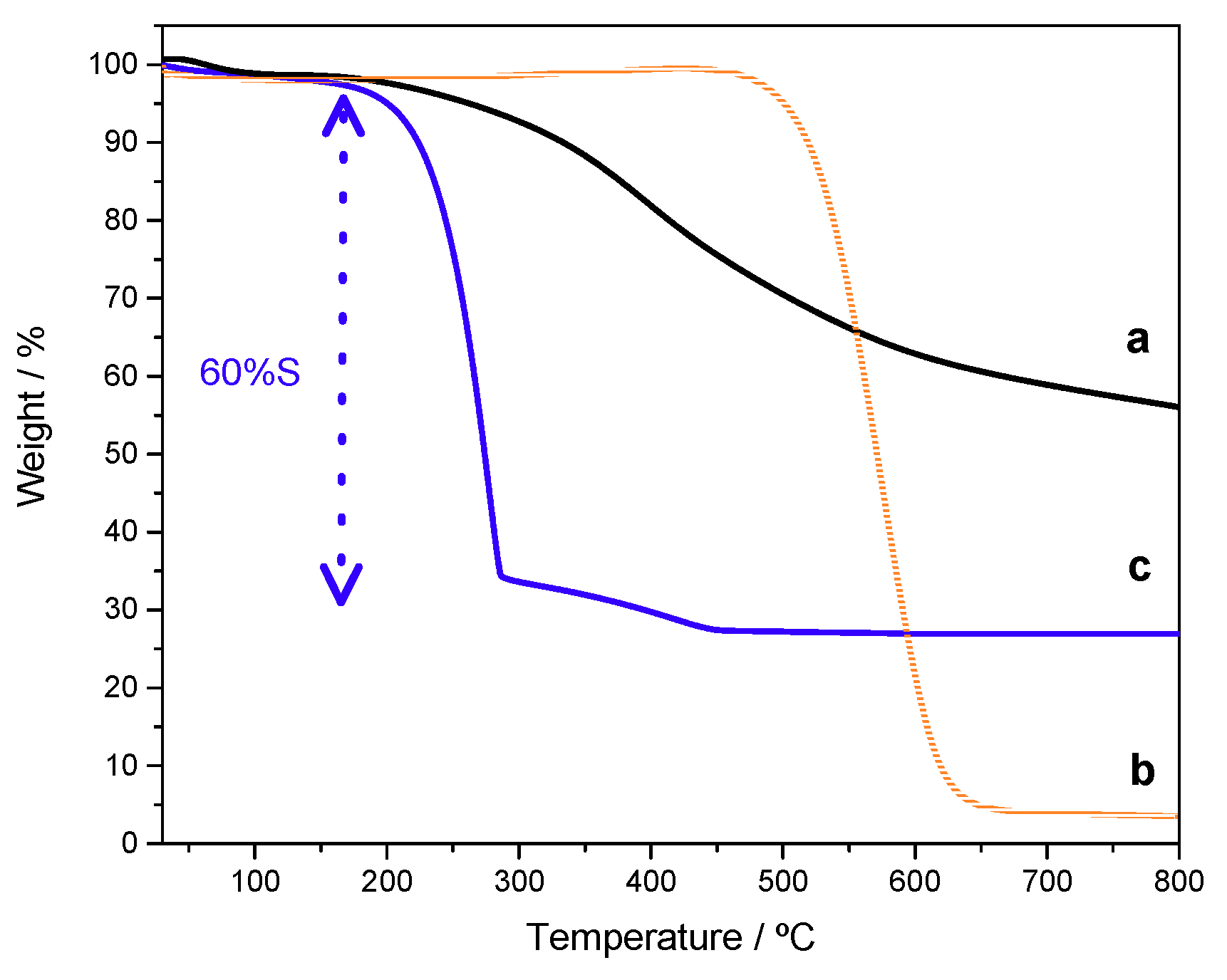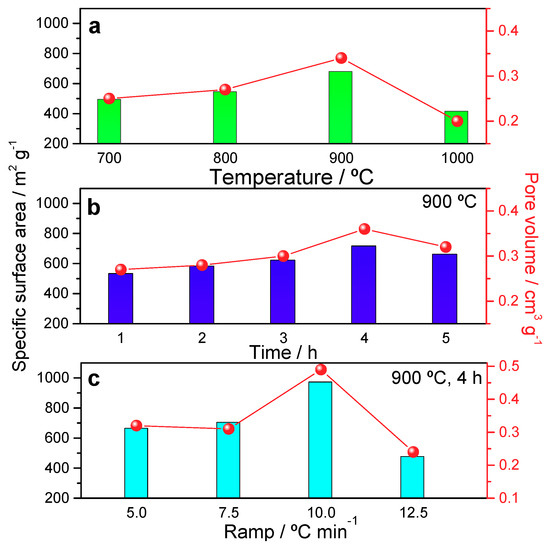 Figure 2. Effects of carbonization parameters on the textural properties of the almond shell-derived carbons: (a) temperature, (b) time, and (c) temperature ramp.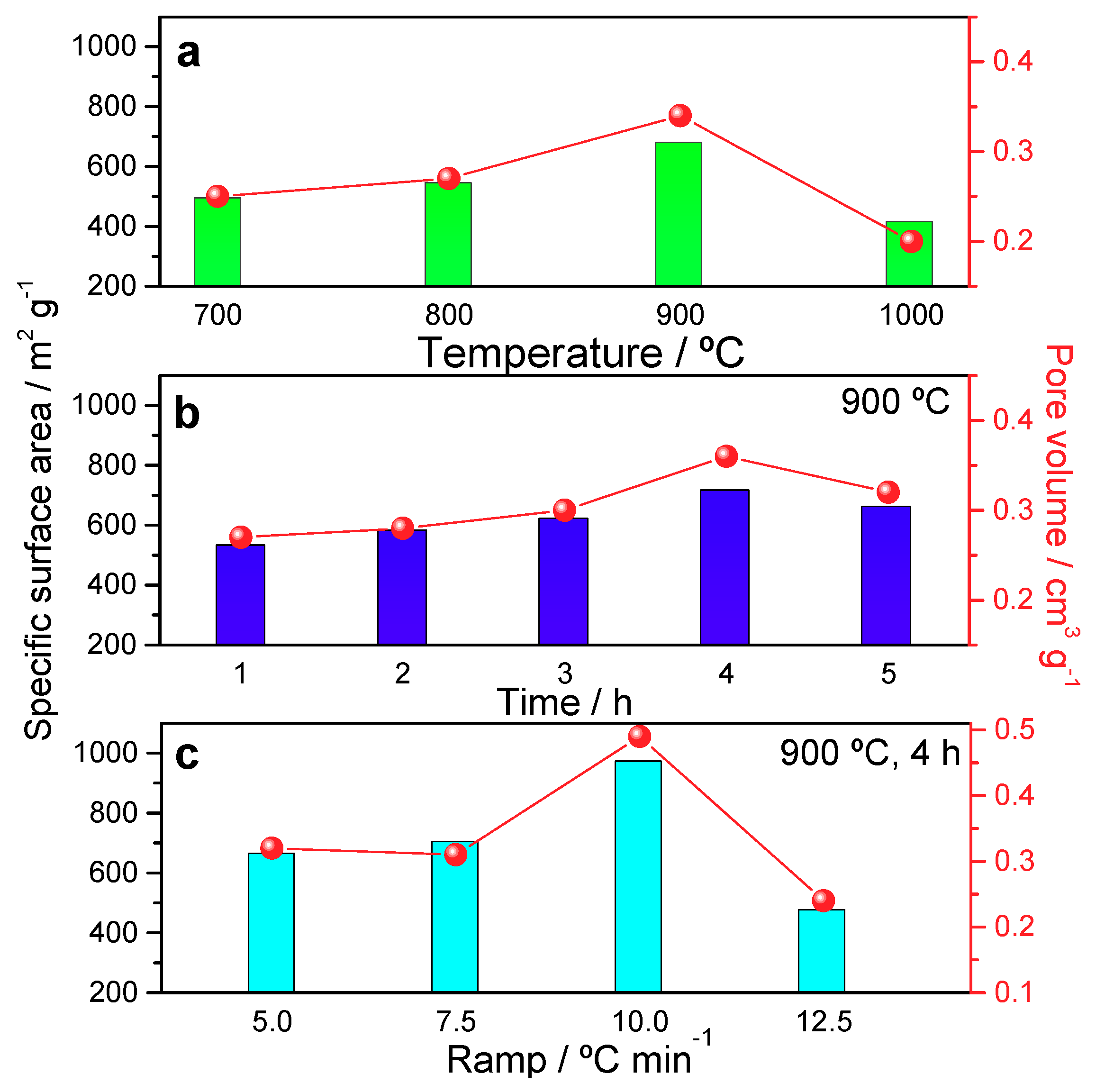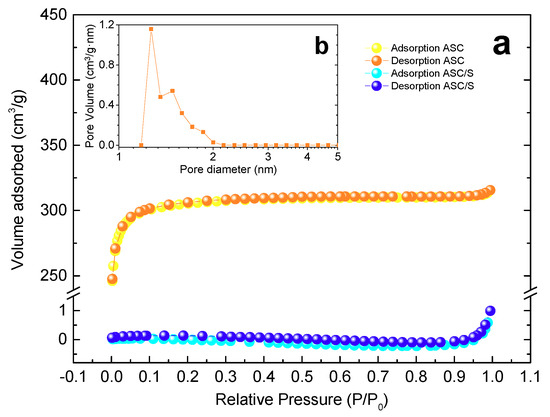 Figure 3. (a) Adsorption isotherm of nitrogen at 77 K for ASC and ASC/S composite; (b) density functional theory (DFT) plot for ASC is shown in the inset.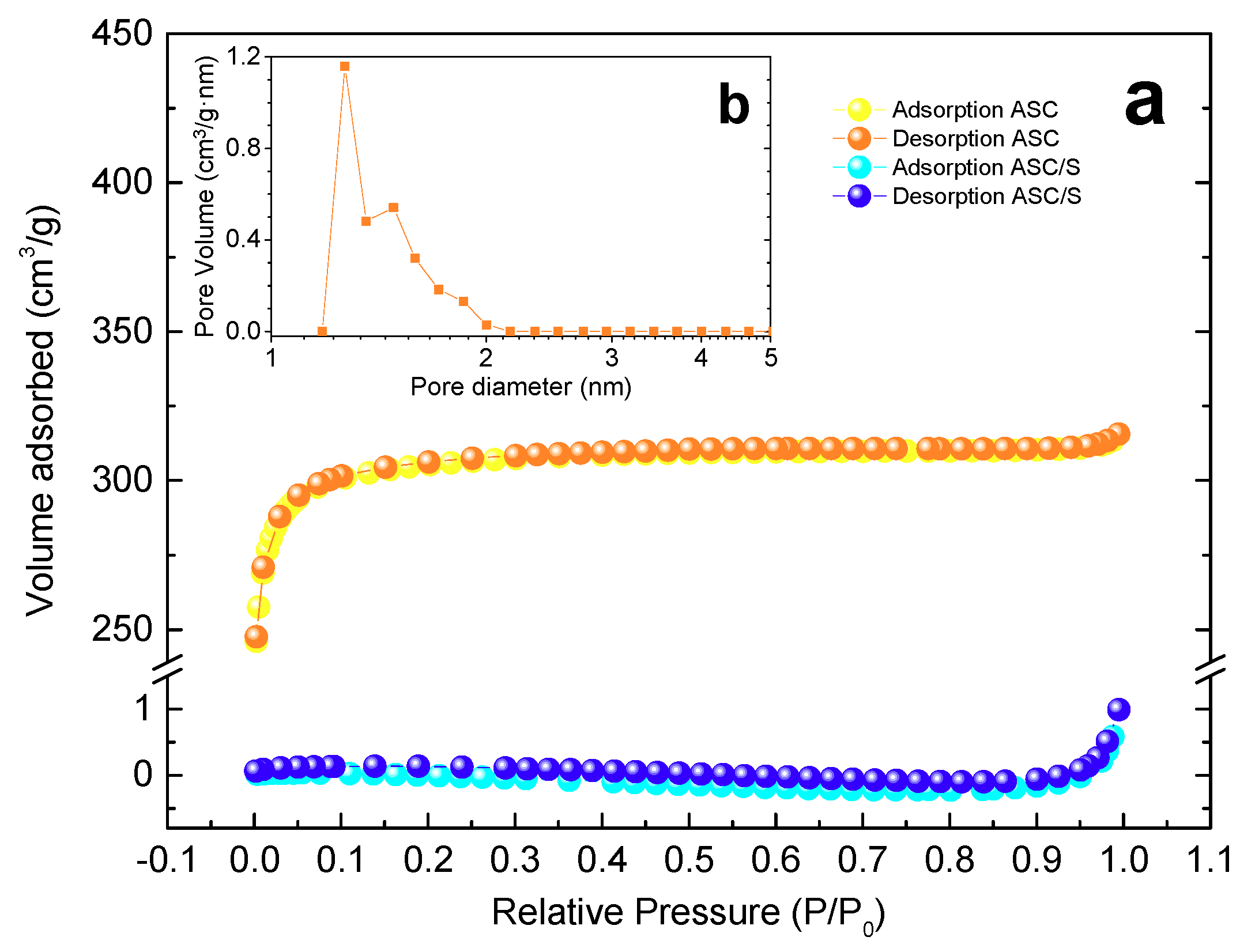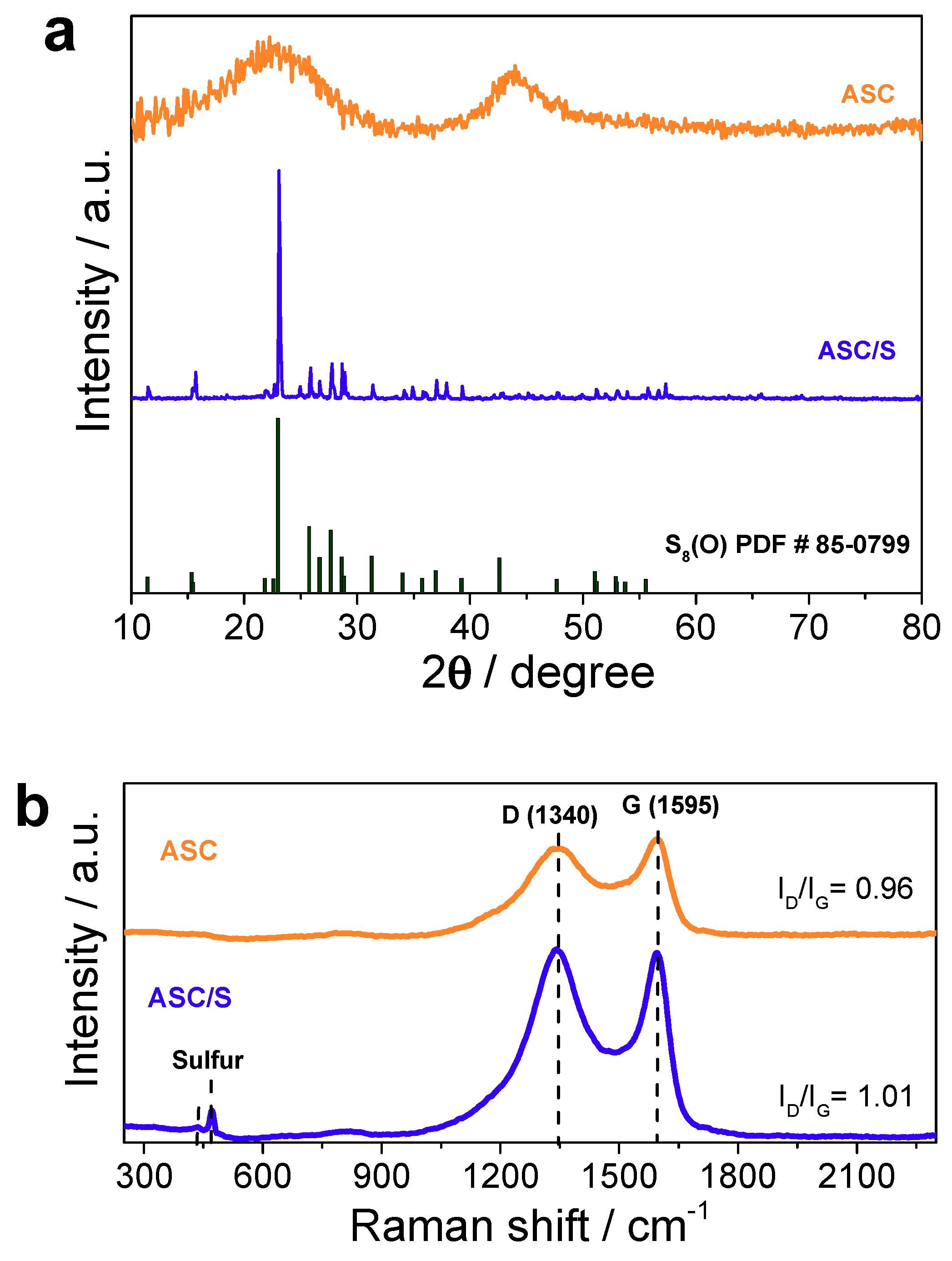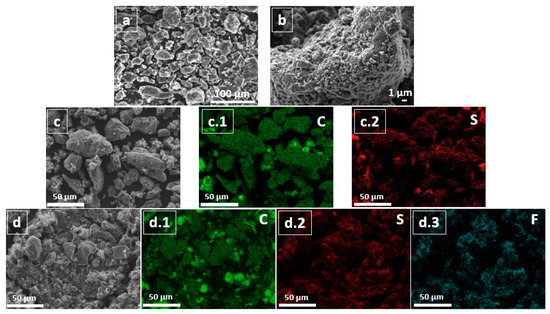 Figure 5. SEM images of (a,b) ASC, (c) ASC/S composite with C (c.1) and S (c.2) elemental mapping, and (d) ASC/S electrode with C (d.1), S (d.2), and F (d.3) elemental mapping.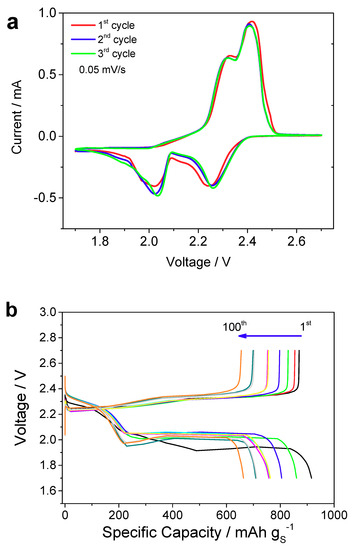 Figure 6. (a) Cyclic voltammetry (CV) curves of ASC/S composite measured in the potential window of 1.7–2.7 V at a scan rate of 0.05 mV s−1. (b) Discharge/charge curves of ASC/S composite recorded at a current of 100 mA g−1.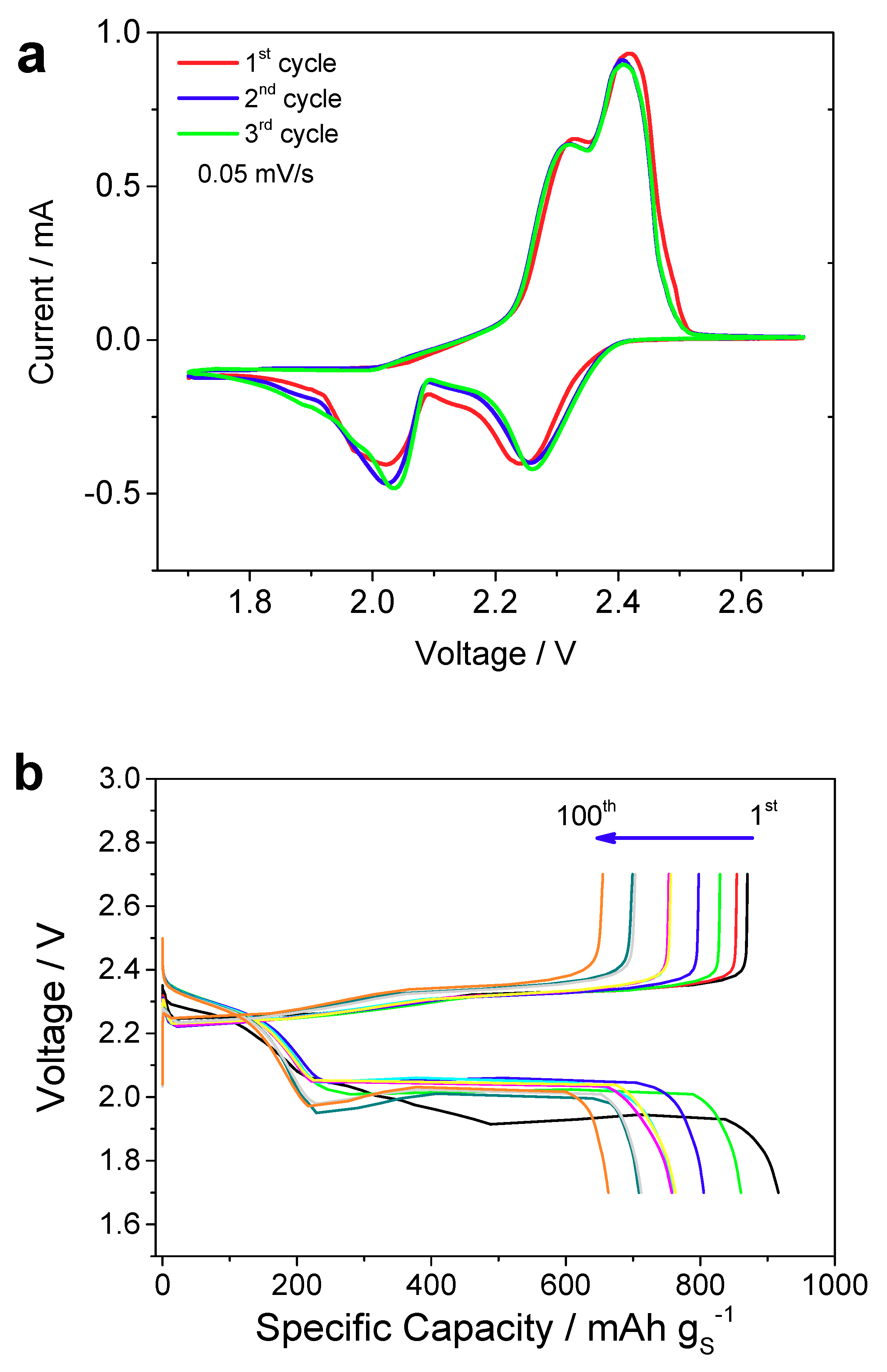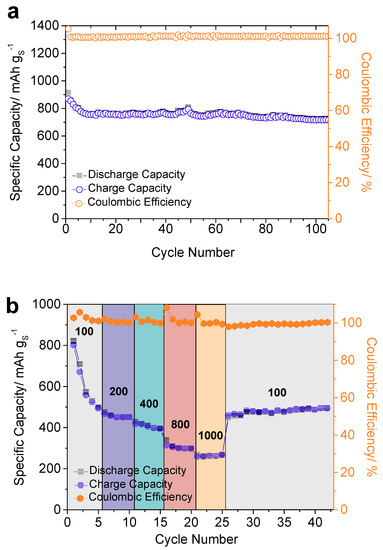 Figure 7. (a) Cycling performance of the ASC/S composite at a current of 100 mA g−1 and (b) rate capability test at various current densities.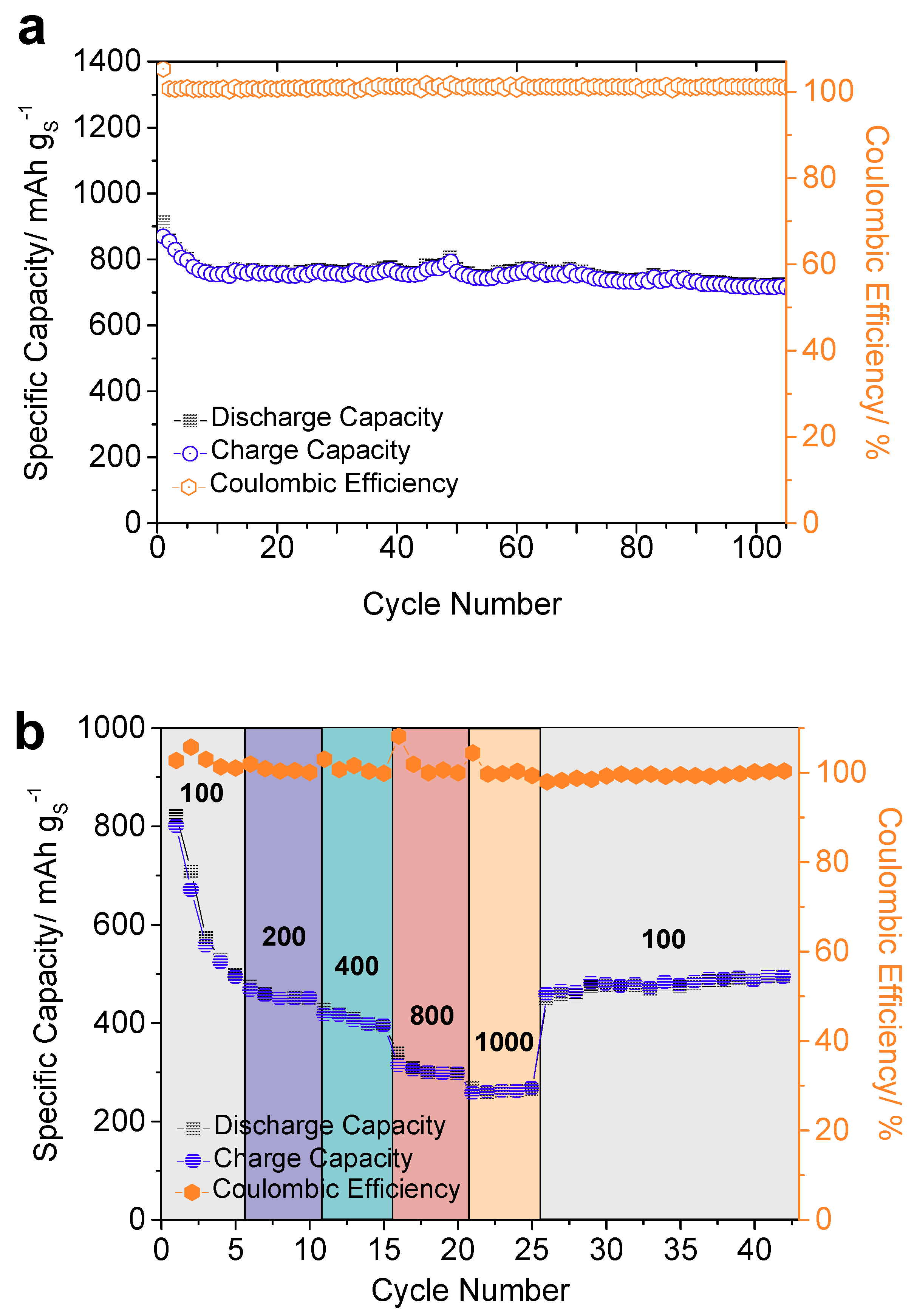 Carbon Source
SBET
(m2 g−1)
Vpore
(cm3 g−1)
Specific Capacity [a]/Rate [b]
Ref.
Cherry pits
1662
0.97
915/100
[15]
700/837
Olive stone
587
0.33
670/100
[16]
Pomelo peels
1533
0.83
760/335
[17]
Wheat straw
1066
0.62
920/167
[18]
440/1675
Corncob
1198
0.67
600/167
[19]
2724
1.49
720/558
[20]
Corn stalks
140
0.26
750/335
[21]
Coir pith
1952
0.86
600/167
[22]
470/837
Soybean residues
2690
1.34
750/334
[23]
400/1675
1232
0.54
450/837
[24]
Pinecone
2065
1.50
1260/167
[25]
Coconut shell
2160
0.68
1030/837
[26]
1030/1675
Walnut shell
2318
1.13
910/167
[27]
Banana peel
220
0.76
700/334
[28]
2741
1.23
750/1675
[29]
Rice husk
1098
-
200/167
[30]
350/334
665
0.31
690/837
[31]
580/1675
Mandarin peels
1077
0.57
790/83
[32]
Almond shell
967
0.49
760/100
This work
400/400
300/800

© 2018 by the authors. Licensee MDPI, Basel, Switzerland. This article is an open access article distributed under the terms and conditions of the Creative Commons Attribution (CC BY) license (http://creativecommons.org/licenses/by/4.0/).