Environmentally Sustainable and Ecosafe Polysaccharide-Based Materials for Water
Nano

-Treatment: An Eco-Design Study

1

Department of Physical, Earth and Environmental Sciences, University of Siena, Via Mattioli 4, 53100 Siena, Italy

2

Department of Chemistry, Materials, and Chemical Engineering "G. Natta" Politecnico di Milano, Via Mancinelli 7, 20131 Milano, Italy

3

Sant'Anna School of Advanced Studies, Institute of Management, Piazza Martiri della Libertà 33, 56127 Pisa, Italy

4

Ergo S.r.l., c/o Technology Centre, Via Giuntini 25/29–int. 29, 56023 Pisa, Italy

*

Authors to whom correspondence should be addressed.

Received: 28 May 2018 / Revised: 29 June 2018 / Accepted: 12 July 2018 / Published: 17 July 2018
Nanoremediation, which is the use of nanoparticles and nanomaterials for environmental remediation, is widely explored and proposed for preservation of ecosystems that suffer from the increase in human population, pollution, and urbanization. We herein report a critical analysis of nanotechnologies for water remediation by assessing their sustainability in terms of efficient removal of pollutants, appropriate methods for monitoring their effectiveness, and protocols for the evaluation of any potential environmental risks. Our purpose is to furnish fruitful guidelines for sustainable water management, able to promote nanoremediation also at European level. In this context, we describe new nanostructured polysaccharide-based materials obtained from renewable resources as alternative efficient and ecosafe solutions for water nano-treatment. We also provide eco-design indications to improve the sustainability of the production of these materials, based on life-cycle assessment methodology.
1. Introduction
The increasing and rapid deterioration and degradation of the water quality is one of the most challenging issues facing the 21st century. It can be ascribed to a variety of factors such as population growth, the effects of climate change on the hydrologic cycle and increasing pollution. Globally, extensive research has been performed to address such urgent environmental issues and new technologies have been developed to remediate water pollution by both organic and inorganic contaminants. However, the cost and challenge associated with the treatment of both groundwater and wastewater and the increasing awareness of environmental risks calls for continued improvement and innovation. Nanotechnology has significantly contributed to remarkable industrial and societal changes over recent decades. Among the wide variety of fields of application of nanotechnology, considerable efforts have been devoted to exploiting the potential of engineered nanomaterials (ENMs) for environmental remediation, commonly referred to as "nanoremediation" [
1
]. Compared to conventional in situ remediation techniques, such as thermal treatment, air sparging, chemical oxidation and bioremediation, often coupled with on-site pump-and-treat processes [
2
], which are known to be expensive, partially effective and time-consuming, nanoremediation has emerged as a new clean-up method that is less costly, more effective as well as environmentally, socially, and economically sustainable [
3
,
4
]. Indeed, nanotechnologies allow treatment of contaminated media in situ and minimize the addition of further chemicals in the clean-up process [
5
]. The unique properties of ENMs are particularly advantageous for large-scale in situ remediation of contaminated waters and have certainly boosted the efficiency of nanotechnology-based decontamination strategies, compared to "conventional" approaches [
6
,
7
]. ENMs, due to their nanometric size, present a very high and reactive surface area, compared to the same volume of bulk material. They can also be tuned with desired properties by tailoring the synthetic processes to meet case-specific needs and overcome applicative limitations stemming from the complexity of environmental matrices to be treated. Additionally, the far-reaching mobility of ENMs in aquatic media maximizes their potential for treating large volumes of contaminated environmental matrices [
8
]. According to the Project of Environmental Nanotechnology web site and United States Environmental Protection Agency (USEPA), in the last ten years, almost 70 sites have been successfully treated worldwide at field scale, by using nanoremediation techniques. These approaches have significantly reduced time frame (days vs. months) and operational costs (up to 80%) in comparison with conventional methods [
4
,
9
]. It has been estimated that there are more than 2.5 million potentially polluted sites in Europe which need to be remediated, and that 350,000 contaminated sites could represent a potential risk to humans or the environment [
10
]. Moreover, a remediation technology must attend to cost-benefit approaches considering practical immediate issues and long-term expectancies.
Despite such promising expectations, environmental and human risk assessment associated with the use of ENMs is still a matter of debate and nanoremediation is seen still as an emerging technology [
6
]. It has been slowly applied in Europe [
11
] probably because of the emerging societal worries on nanotechnology and the current lack of regulatory and proper legislative supports [
12
,
13
,
14
].
We herein report a critical analysis on the use of the ENMs for water remediation, with the aim of sharing the strategy developed within the NanoBonD project (Nanomaterials for Remediation of Environmental Matrices associated to Dewatering), funded in the framework POR CReO FESR Tuscany 2014–2020, whose objective is the development of innovative, ecofriendly and ecosafe polysaccharide-based nanotechnologies for the remediation of contaminated sediments and waters.
2. Eco-Design of ENMs for Environmental Remediation
3. Life-Cycle Assessment of ENMs
The progressive diffusion of ENMs in many fields, including nanoremediation, and the global consensus that their release into the environment will increase, has led not only to the urge of a sound evaluation of their toxicity effects on human health and on the environment, but also to the need for the evaluation of their environmental sustainability.
The method consists in the compilation and evaluation of the inputs, outputs, and the potential environmental impacts of a product system throughout its entire life cycle, "from cradle to grave". LCA is considered a holistic method since it provides the assessment of the potential environmental impacts on several environmental categories, mainly on global and regional scale, such as global warming potential, ozone depletion potential, acidification potential, resource depletion etc. Moreover, LCA permits to define the environmental hotspots of a product system, to analyze alternative solutions that provide performance improvement and to make comparison of different scenarios, therefore proving to be a powerful tool for supporting eco-design and decision-making.
4. Cellulose- and Starch-Based Nanostructured Materials
5. The NanoBonD Action
In accordance with the requirements above mentioned for a sustainable nanotechnology, both from the environmental and the economic point of view, we considered the TEMPO-mediated oxidation of cellulose as the most promising technique for the first step in the design of a scalable and ecosafe material for water treatment. Moreover, the introduction of carboxylic units on CNFs backbone also provides linking hooks for further grafting and/or reticulation, without requiring intermediate chemical reactions. The cross-linking of CNFs becomes a crucial step for the design of nanostructured units, overcoming the derived limits by the use of nanosized particles in the environment.
Following this route, in 2015 we reported a thermal protocol for the one-pot cross-linking of TEMPO-oxidized and ultra-sonicated (TOUS) CNFs, putting the bases for a new composite material further developed within the NanoBonD project (
Figure 3
) [
145
]. The synthesis was inspired by the freeze-drying process previously reported for the formulation of CNF-based cellular solids [
146
], which we also used as templates for the design of ceramic [
147
] and eumelanin-coated organic xerogels [
148
]. Briefly, a hydrogel of TOUS-CNFs is mixed with water solutions of branched polyethyleneimine (bPEI). The resulting gels are put in molds, frozen, and dried by sublimation, affording the corresponding aerogels, whose porosity derives from the ice-templating action of water. The new materials disaggregate in water. However, a simple thermal treatment at about 100 °C promotes the formation of amide bonds between the carboxylic groups of TOUS-CNFs and the primary amines of the polycationic polymer. The result is a nanostructured aerogel (cellulose nanosponge (CNS)) exploiting superb efficiency in the removal, by adsorption, of a wide range of contaminants from Milli-Q water.
Figure 3
G shows the adsorption performance of CNS (1.2 G L
−1
) from a 150 ppm Milli-Q water solution of a wide range of heavy metals. The capture efficiency results to be good for Cu(II) (84 mg/g) and Cd(II) (77 mg/g), and even better for Zn(II) (101 mg/g) and Pb(II) (160 mg/g), while adsorption of Cr(III) is less effective (18 mg/g) (unpublished results). Moreover, CNS have a bifunctional adsorbent behavior, as we demonstrated their capture efficiency also toward representative phenols, used as precursors in the synthesis of several drugs and fungicides, and emerging contaminants such as amoxicillin [
145
].
Since our first report, several approaches have been reported for promoting the cross-linking between NC and bPEI, with the aim of synthesizing efficient composite adsorbents for heavy metal ions, all of them requiring chemical co-cross-linkers and/or activators. In 2016, Ge et al. [
149
] suggested the use of a "one-step" method to synthesize composite cellulose/PEI hydrogels in LiOH/urea water solution, by using EPI as cross-linker. The obtained material resulted particularly efficient for the adsorption of Cu(II) and other metal ions [
149
]. In the same year, Zhang and co-workers reported a TOUS-CNFs/bPEI reticulation protocol, promoted by GLA. This process required the pre-hydrolysis of cellulose fibers with HCl solution at 80 °C before the oxidation step, and the use of methanol solvent in the cross-linking phase [
150
]. However, as previously discussed, EPI and GLA do not represent the best choice in terms ecotoxicity and human safety. More recently, a material very similar to that developed by our group was described by Zhao et al. [
151
] to be an efficient system for rare earth elements recovery, such as La(III), Eu (III), and Er (III). However, in this case the formation of the amide bonds was promoted by the activation of carboxylic acids and amines using
N
-(3-dimethylamino)propyl)-
N′
-ethylcarbodiimide hydrochloride (EDC) and
N
-hydroxysuccinimide (NHS), with TOUS-CNCs: EDC and TOUS-CNCs: NHS 1:1 ratios (
w
/
w
). Moreover, according to this procedure, oxidation was conducted onto pre-formed and commercially available CNCs, while the purification step required cycles of dialysis. Compared to these procedures, in our protocol cellulose pulp oxidation represents the unique chemical step of the entire process, rendering this approach commercially appealing and easily scalable. Moreover, we have demonstrated that this synthetic approach could be conducted using pre-functionalized bPEI, without affecting the sponge-like morphology and the chemical stability of the composite but introducing additional properties to the adsorbent. As proof of concept we reported the cross-linking of TOUS-CNFs with bPEI grafted with
p
NO
2
-phenyl urea, achieving an aerogel which was successfully used for the heterogeneous sensing of fluoride anions in DMSO solution [
152
]. More recently, we have also suggested a smart strategy to increase the content of carboxylic moieties in the hydrogel formulation, without excessively stress the oxidation of pristine cellulose. In fact, it has been verified how the oxidation conversion is limited, even when NaClO is used in large excess. Nevertheless, a higher number of carboxylic groups would allow increase of cross-linking, maximizing the yield of the synthetic process. For this reason, we suggested the introduction of citric acid as co-crosslinker in the formulation to be freeze-dried. This simple, till sustainable modification allowed increase of both the mechanical and the chemical stability of the new adsorbents, without affecting its characteristic of eco-sustainability [
153
].
Although the choice of a renewable starting material, the selection of a cheap and scalable synthetic process, and the high efficiency in the removal of contaminants and pollutants from water are crucial criteria toward the full-scale implementation, all these aspects are not sufficient by themselves the for validation of this new nanotechnology which, due to its final application, also requires high standards of ecosafety. To reach this goal, within the NanoBonD project both the formulation and the synthetic process have been further modified and optimized, following an eco-design approach and the guideline of a detailed life-cycle assessment analysis.
Moreover, in a long-term perspective, since most water and soil remediation applications are likely to require large quantities of ENMs, the cost, feasibility, and life-cycle considerations of manufacturing these materials on a large scale must be considered, as also evidenced by Carpenter et al. [
100
].
LCA was applied since the early stage of the development of the synthetic process of the CNFs nanosponges, analyzing the inputs and outputs of each process step, regarding energy and material flows, emissions, and waste (
Figure 4
).
The specific purpose was to identify the environmental hotspots and provide basis for environmental improvement actions. Starting from the lab scale process, the main hotspots were found in the energy and water consuming steps, the raw materials and the solvents used in the washing steps, which impact not only in the resource consumption but also in the waste disposal stage. Therefore, actions to decrease the impacts of these categories were undertaken and an optimized synthetic strategy was proposed regarding mostly (i) the change of formulation ratio among cellulose, bPEI and citric acid, favoring higher yields in CNS; (ii) the change of washing solvents from organic (methanol) to aqueous; and (iii) the conduction of the purification step under milder conditions, lowering energy consumption. The optimized process was again evaluated with LCA and the analysis showed interesting improvements on most of the environmental impact categories assessed (e.g., climate change, acidification, etc.). However, the results confirmed that major improvements will be achieved with the optimization of the energy consuming steps, likely to be achieved in a scale-up configuration.
This approach made the overall synthetic protocol suitable for further scale-up. Indeed, the TEMPO/KBr/NaClO system is widely used for different industrial processes and, within the NanoBonD project, it has been possible to apply this oxidative approach in the conversion of different sources of cellulose at pilot scale, managing production of final CNS material in the order of kilograms for in-field demonstrative treatments on real matrices. However, implementation of the synthetic protocol is still under way to reduce the energy costs mainly associated to the lyophilization step.
A critical comparison of the proposed approach with the most consolidated technologies for wastewater treatment allows the outlining of advantages and limits in the use of CNS for water remediation, over the choice of a renewable and recyclable starting material. Among these we mention chemical precipitation (namely hydroxide, sulfide or chelating precipitation), the use of ion exchange resins or activated carbon, membrane filtration and electrochemical treatments [
154
,
155
,
156
]. As a general concept, it should be remarked that the selection of an optimal treatment technique would depend on the initial metal concentration. Processes such as chemical precipitation and electrochemical treatments are quite effective in the case of wastewater streams with high concentration of heavy metals but tend to fail at low concentrations of contaminants. On the other hand, adsorption, ion exchange and membrane filtration are effective at much lower concentrations but tend to be particularly expensive for treating large volumes [
155
].
In this context, the heavy metal removal efficiency of CNS is comparable to that obtained with different approaches for some analytes, while for other ones it must be still considered insufficient. However, the amount of adsorbent used per unit volume of water (1.2 g L−1) is at least an order of magnitude lower than that usually required by using standard adsorbents (i.e., ion exchange resins, zeolites and activated carbons) or membranes, and an increment in the adsorbent concentration might lead to further improvements in decontamination efficiency.
Moreover, most of standard technologies (e.g., precipitation and, in some cases, ultrafiltration and ion exchange resins) require a careful pH control and/or a specific pH to work at their optimum. On the contrary, CNS have been purposely designed to exploit their adsorption efficiency at pH = 7.6, also acting as buffer in different water matrices, so that pH adjustment is not required in field application.
Similar to activated carbons and ion exchange resins, CNS can be regenerated several times by counter-current washing with acidic solutions, maintaining good to excellent adsorption performances. However, being constituted by a bio-organic matrix, in this case the adsorbent material can eventually be disposed by combustion, while other technologies generate waste.
Finally, further strengths of the use of CNS as adsorbent units for wastewater treatment are (i) their bifunctional action toward both organic and inorganic contaminants, while with standard approaches the coupling of different technologies is usually required; and (ii) their versatility for application in different water matrices, including marine water.
6. Conclusions and Outlook
Nanoremediation can provide enormous benefits and with appropriate strategies and (nano)solutions allowing reduction of uncertainties and environmental and human risks, they will satisfy regulatory requirements, boost circular economy, and support a fully effective deployment of the sector. Main recommendations are that ecosafety obtained by an eco-design approach should be recognized as a priority feature. Ecotoxicity testing should be more ecologically grounded and include more realistic environmental scenarios. Research and innovation should focus on greener, sustainable, and smart (nano)solutions with the aim of providing a more ecofriendly nanoremediation.
Regarding the environmental sustainability assessment of ENMs, it is acknowledged that LCA is a valuable tool to implement the LCT strategy. However, the full implementation is far from being feasible due to many unsolved methodological issues, which will very likely progress in parallel with the ecotoxicological characterization.
Nevertheless, at present, LCA can provide sound support for the eco-design of emerging ENMs, which is very important already at the early stage of their development, at the lab scale, and can guide usefully the transition to the scale-up phase. The experience carried out in the NanoBonD project confirms the validity of this approach.
Author Contributions
Conceptualization, I.C., I.B. and C.P.; Methodology, A.F., C.P. and L.M. (material synthesis), I.C. and G.G. (ecotoxicology), I.B and T.D. (LCA).; Validation, G.G., A.F. and I.B.; Investigation, I.C., I.B. and C.P.; Data Curation, I.C., I.B. and C.P..; Writing-Original Draft Preparation, I.C., C.P. and I.B.; Writing-Review & Editing, I.C., I.B. and C.P.; Supervision, I.C., C.P. and T.D.; Project Administration, I.C.; Funding Acquisition, I.C., C.P. and T.D.
Funding
This research was funded by Regione Toscana, NanoBonD (Nanomaterials for Remediation of Environmental Matrices associated to Dewatering, Nanomateriali per la Bonifica associata a Dewatering di matrici ambientali) POR CReO FESR Toscana 2014–2020-30/07/2014- LA 1.1.5 CUP 3389.30072014.067000007.
Conflicts of Interest
The authors declare no conflict of interest.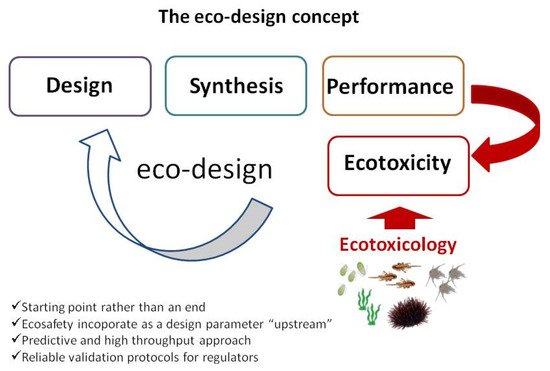 Figure 1. Schematic description of role of ecotoxicology in defining eco-design along ENM synthesis and development.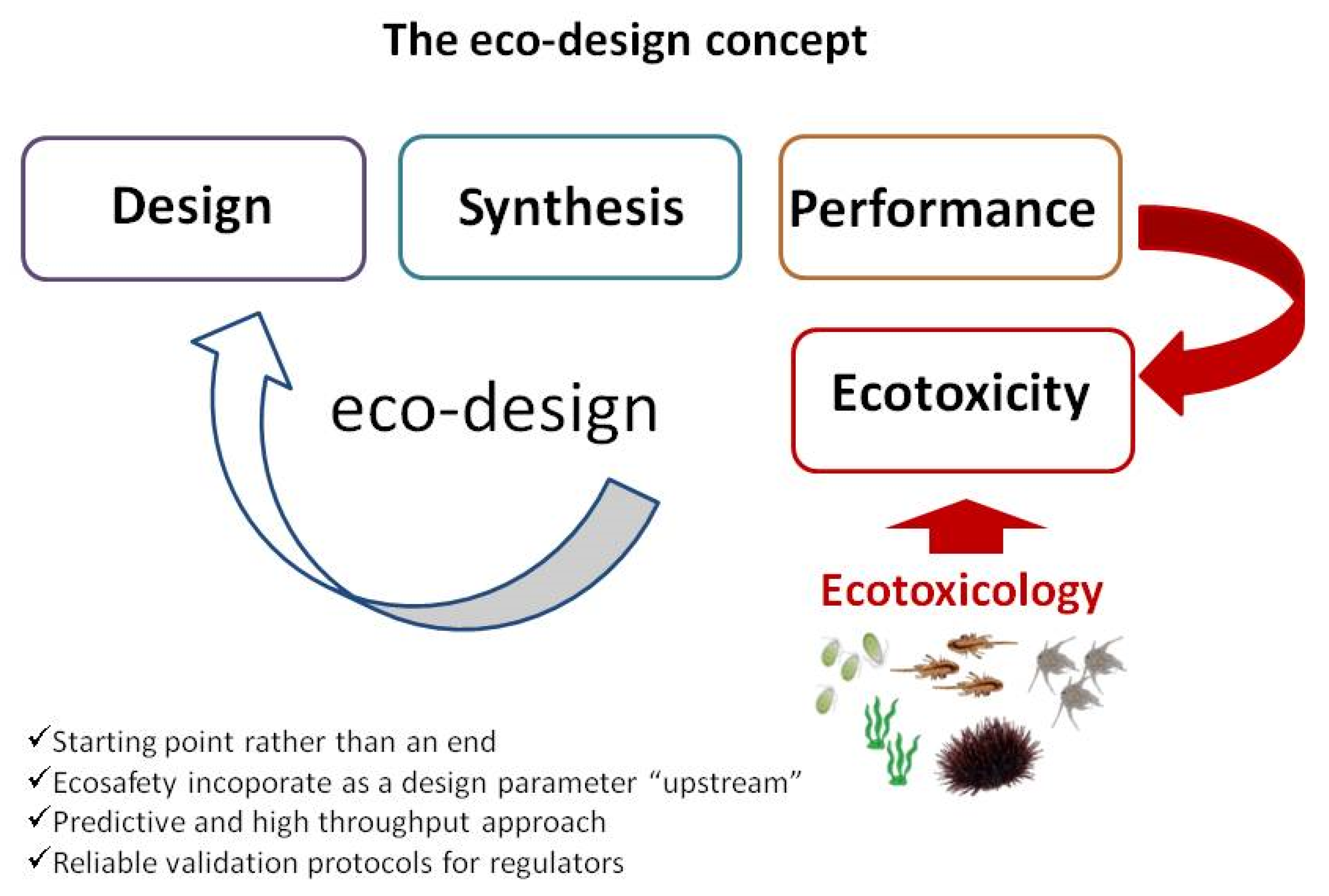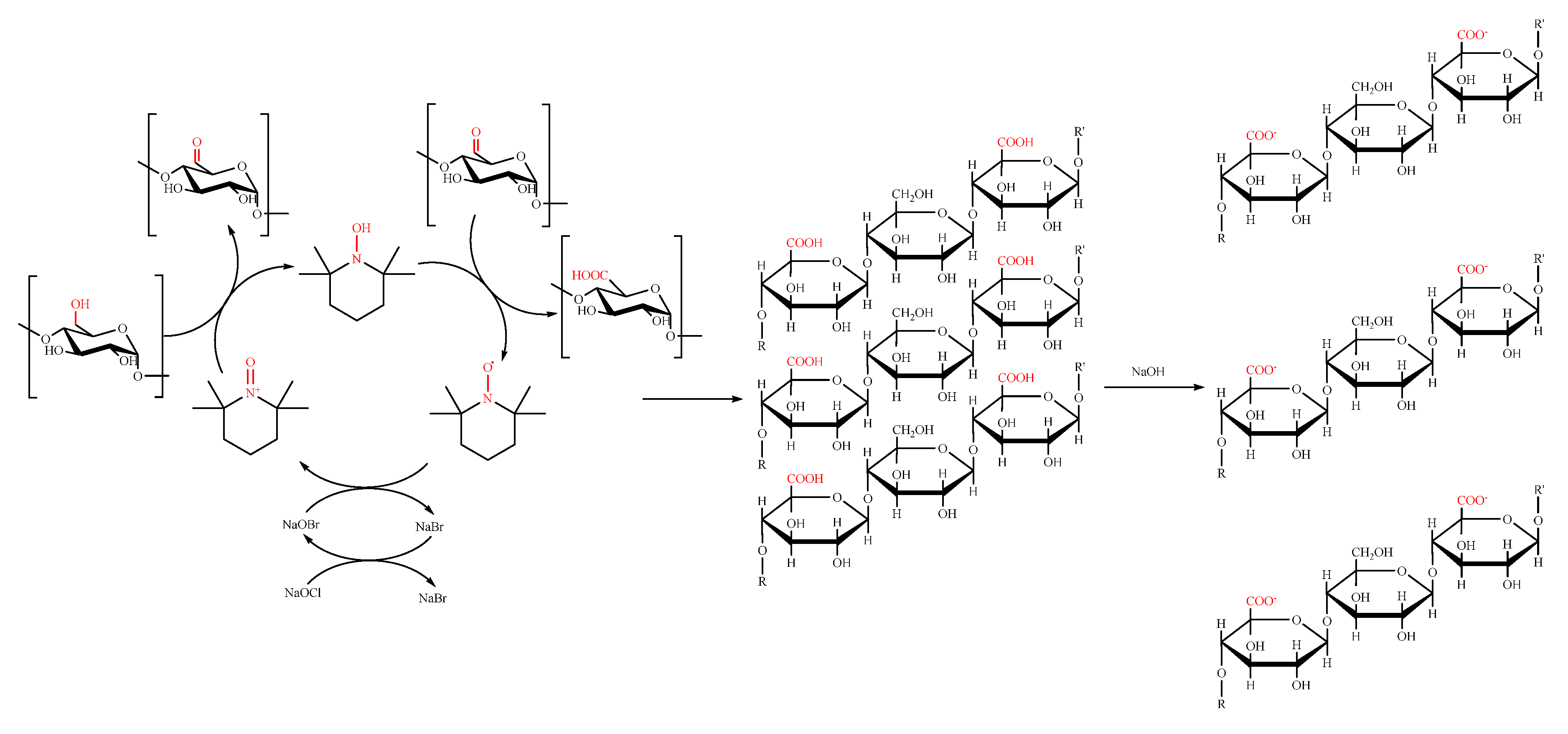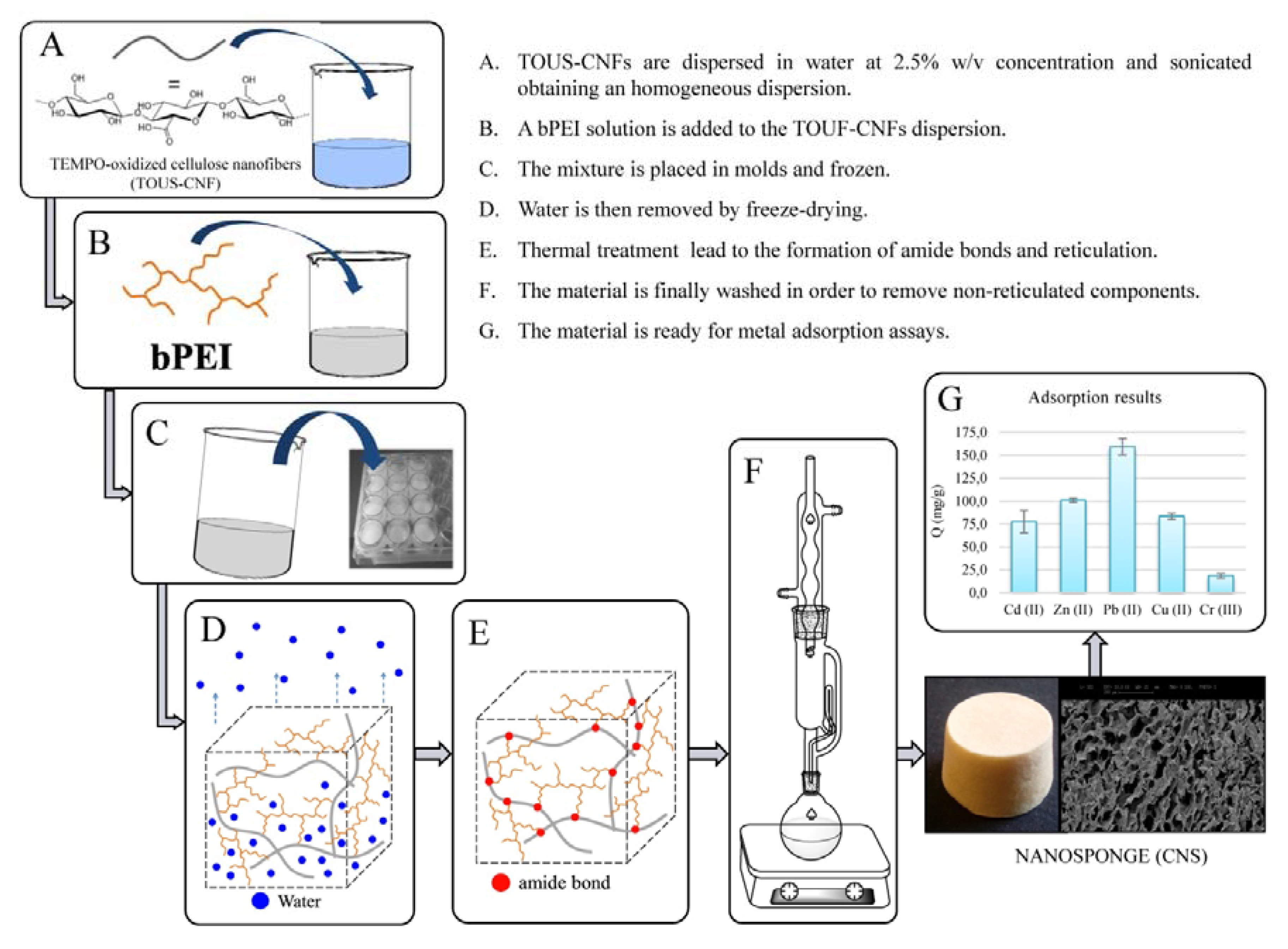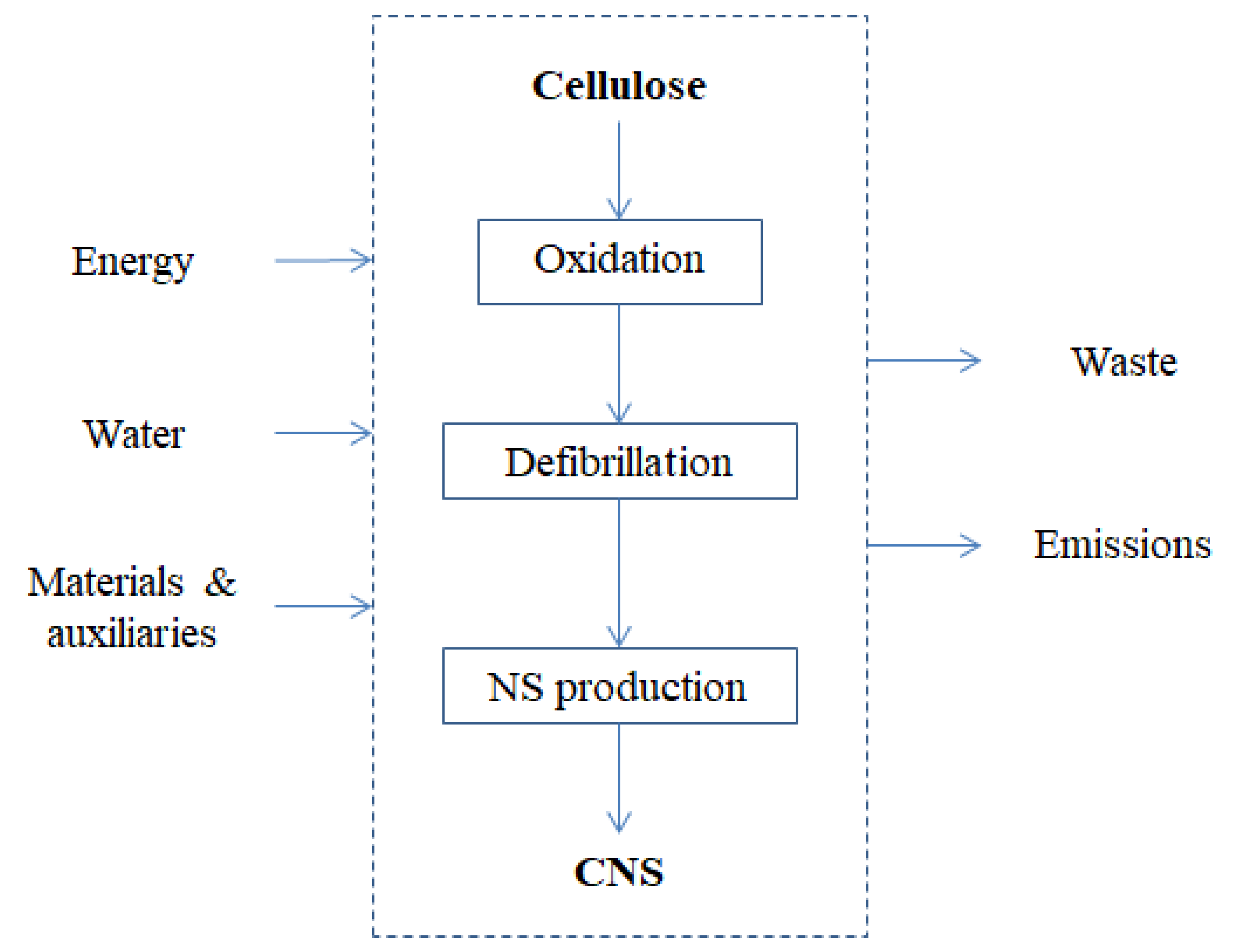 | Nanoparticles Type | Remediation Mechanism | Remediated Contaminants | Potential Toxicity | Test Organisms | Reference |
| --- | --- | --- | --- | --- | --- |
| nZVI | Adsorption; oxidation; reduction | metals; chlorinated pollutants | Algal growth inhibition; ROS generation; oxidative stress; disruption of membrane integrity; genotoxicity; morphological alterations of roots; oxygen consumption | bacteria; freshwater microalga; freshwater crustaceans; earthworm; plant | [48,49,74,75] |
| Iron-based ENMs | Adsorption; oxidation; reduction | metals; microbiological contaminants | Algal growth inhibition; ROS generation; oxidative stress; disruption of membrane integrity; genotoxicity; mutagenicity; reproduction impairment | bacteria; freshwater microalga; freshwater crustaceans; earthworm; plant; fish | [48,49,72] |
| TiO2 | Photodegradation | organic contaminants | ROS generation; oxidative stress; membrane damage; cell viability reduction; reproduction impairment; tissues alterations and gill histopathology; neurotoxicity | bacteria; crustacean; plant; fish | [57,58,60,76] |
| ZnO | Photocatalysis; photodegradation; adsorption | organic contaminants; heavy metals | Algal growth inhibition; ROS generation; gill damage; embryotoxicity; metal stress via dissolution and ion release; membrane damages | bacteria; freshwater microalga; crustacean; fish | [58,60,61,77] |
| CNT-based ENMs | Catalytic facilitation; adsorption | organic contaminants; heavy metals | toxicity enhancement of contaminants; carrying of pollutants; ROS generation; growth rate inhibition; membrane damage | bacteria; microalga; crustaceans; mollusks | [58,69,70,78] |

© 2018 by the authors. Licensee MDPI, Basel, Switzerland. This article is an open access article distributed under the terms and conditions of the Creative Commons Attribution (CC BY) license (http://creativecommons.org/licenses/by/4.0/).