Tuning of Schottky Barrier Height at NiSi/Si Contact by Combining Dual Implantation of Boron and Aluminum and Microwave Annealing
1
State Key Laboratory of ASIC and System, Fudan University, Shanghai 200433, China
2
Key Laboratory of Microelectronic Devices and Integrated Technology, Institute of Microelectronics, Chinese Academy of Science, Beijing 100029, China
3
Process Application, Applied Materials, Inc., Gloucester, MA 01930, USA
*
Authors to whom correspondence should be addressed.
Received: 4 March 2018 / Revised: 17 March 2018 / Accepted: 21 March 2018 / Published: 22 March 2018
Dopant-segregated source/drain contacts in a p-channel Schottky-barrier metal-oxide semiconductor field-effect transistor (SB-MOSFET) require further hole Schottky barrier height (SBH) regulation toward sub-0.1 eV levels to improve their competitiveness with conventional field-effect transistors. Because of the solubility limits of dopants in silicon, the requirements for effective hole SBH reduction with dopant segregation cannot be satisfied using mono-implantation. In this study, we demonstrate a potential solution for further SBH tuning by implementing the dual implantation of boron (B) and aluminum (Al) in combination with microwave annealing (MWA). By using such a method, not only has the lowest hole SBH ever with 0.07 eV in NiSi/n-Si contacts been realized, but also the annealing duration of MWA was sharply reduced to 60 s. Moreover, we investigated the SBH tuning mechanisms of the dual-implanted diodes with microwave annealing, including the dopant segregation, activation effect, and dual-barrier tuning effect of Al. With the selection of appropriate implantation conditions, the dual implantation of B and Al combined with the MWA technique shows promise for the fabrication of future p-channel SB-MOSFETs with a lower thermal budget.
2. Materials and Methods
Four-inch n-type silicon wafers (100) with resistivity of 1–10 Ω·cm were used for the device fabrication. Following the RCA clean to remove any contaminants, a 200-nm-thick SiO
2
isolation layer was grown on each substrate using low-pressure chemical vapor deposition. The active regions were defined using 75-μm-radius circular patterns. B with an energy of 1 keV and Al with an energy ranging from 2 to 10 keV were sequentially implanted into the substrates at equal doses of 1 × 10
15
cm
−2
with a Varian High Current Implanter (Applied Materials, Inc., Gloucester, MA, USA). The detailed implantation conditions are listed in
Table 1
. Next, an HF dip was used to remove the native oxide layer, and a 40-nm-thick Ni layer was sputter-deposited onto the surface. The wafers were then sliced into square samples with dimensions of 22 mm × 22 mm and divided into four groups named N1, N2, N3, and N4 according to their implantation conditions. MWA was performed in an AXOM-200 (DSG Technologies, Inc., Santa Clara, CA, USA) octagonal MWA chamber at 5.8 GHz. Each sample was separately heated in an N
2
atmosphere for 60 s at various MWA power conditions (1120, 1750, 2590, 2800, and 3500 W). The susceptor-assisted method [
22
,
25
,
26
] was employed to aid the heating of the substrate during the MWA process. After the annealing process, residual Ni was removed by immersing the samples in a 2:1 H
2
SO
4
:H
2
O
2
solution at a constant temperature of 120 °C for 600 s.
3. Results and Discussion
4. Conclusions
By implementing B and Al dual implantation, we demonstrate a potential solution for further effective φbp reduction to sub-0.1 eV levels and MWA absorption enhancement in NiSi/n-Si contacts. We report the lowest φbp achieved thus far of 0.07 eV at 500 °C (3500 W) in a NiSi/n-Si contact and a φbp of 0.2 eV at sub-350 °C (1120 W). Compared with 600-s MWA using mono-implantation, a compressed microwave annealing duration of 60 s was also achieved via the dual-implantation scheme. The SBH tuning schemes of the dual-implanted diodes were investigated, and higher energy of Al appears to induce microwave absorption, thereby resulting in high dopant activation and segregation. In addition, we explored the trade-off between the implantation energy of Al and MWA power in dual-implanted diodes. The contradiction of the reduction of the SBH of Al in NiSi and its elevation at NiSi/Si interfaces could potentially be solved by applying thinner silicides or a lower dose of Al. Benefiting from the unique properties arising from MWA, various combinations of dopants and triple-, quad-, or multi-implantation schemes accompanied by a lower thermal budget could be developed to achieve further SBH regulation.
Acknowledgments
This work was supported by the National Natural Science Foundation of China (Nos. 61474028, 61774042), Shanghai Municipal Natural Science Foundation (No. 17ZR1446500), National S and T Project 02 (No. 2013ZX02303-004), and the "First-Class Construction" project of Fudan University.
Author Contributions
Feng Sun and Dongping Wu conceived and designed the experiments; Feng Sun, Chen Li, Chaochao Fu, Xiangbiao Zhou, Jun Luo, and Wei Zou performed the experiments; Jun Luo and Wei Zou contributed sputtering and ion implantation equipment, respectively; Feng Sun and Zhi-Jun Qiu analyzed the data; all the authors wrote the paper.
Conflicts of Interest
The authors declare no conflict of interest.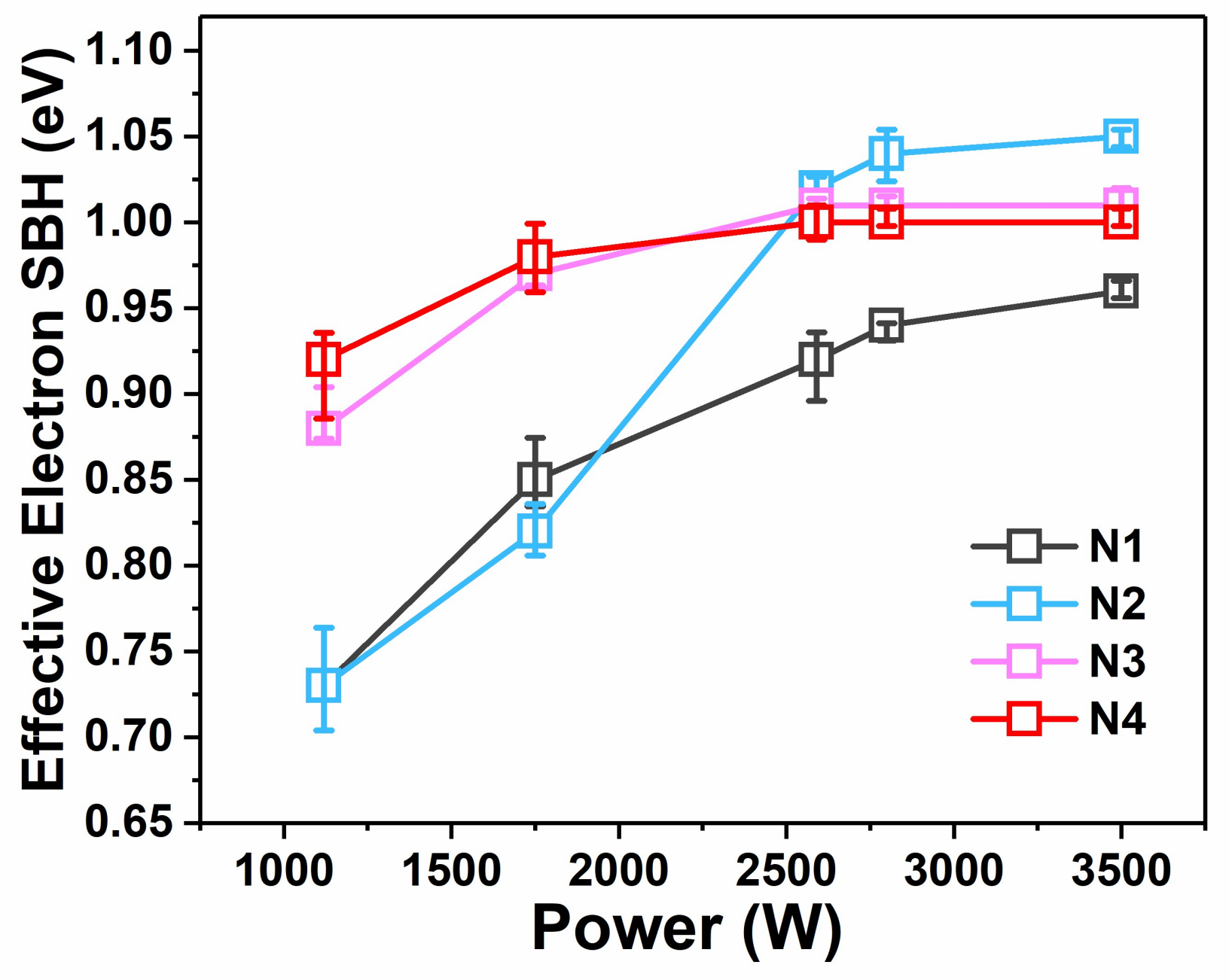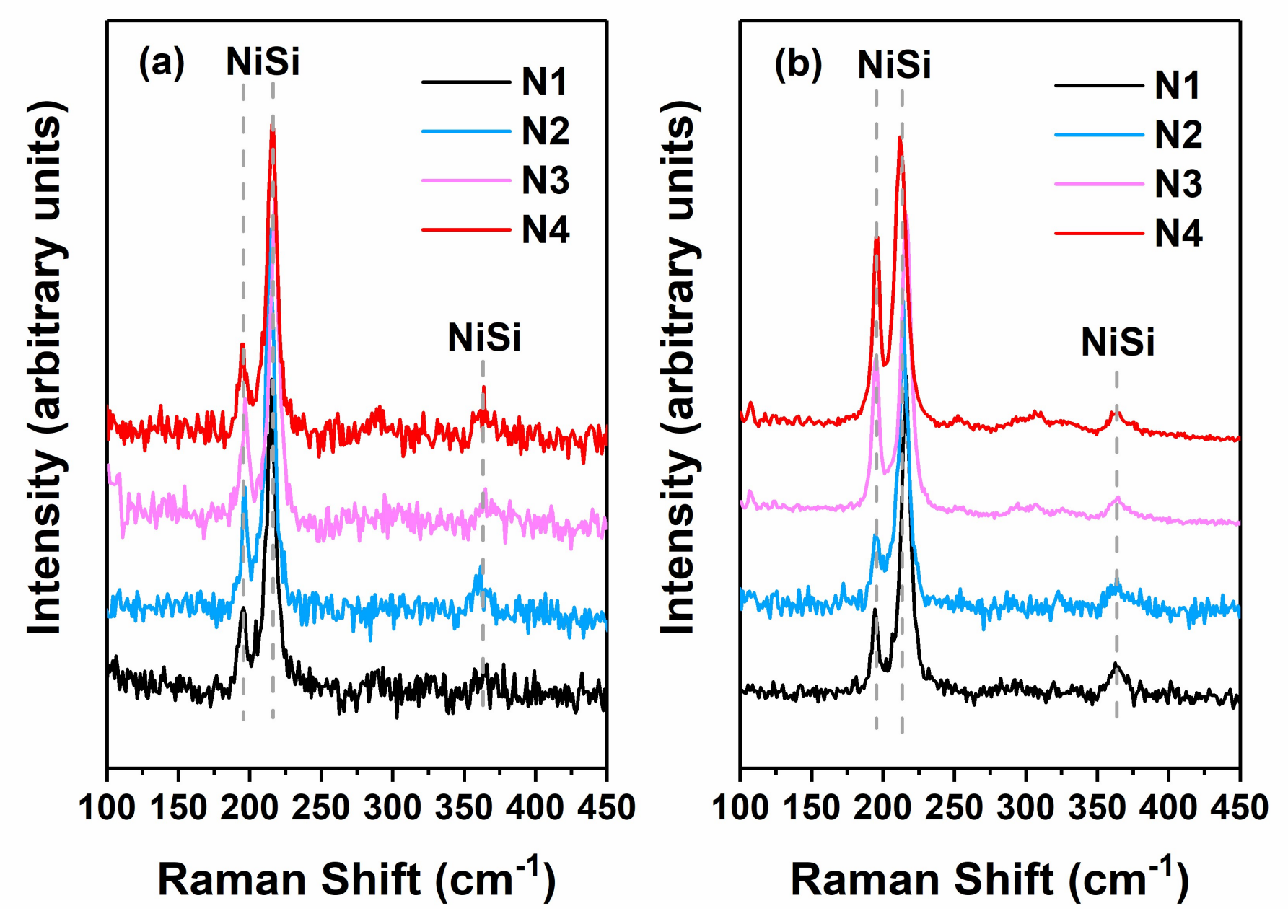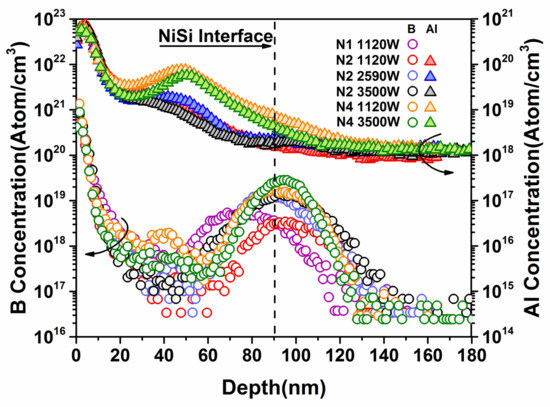 Figure 4. Separated SIMS (secondary-ion mass spectroscopy) depth profiles of Al and B in selected samples.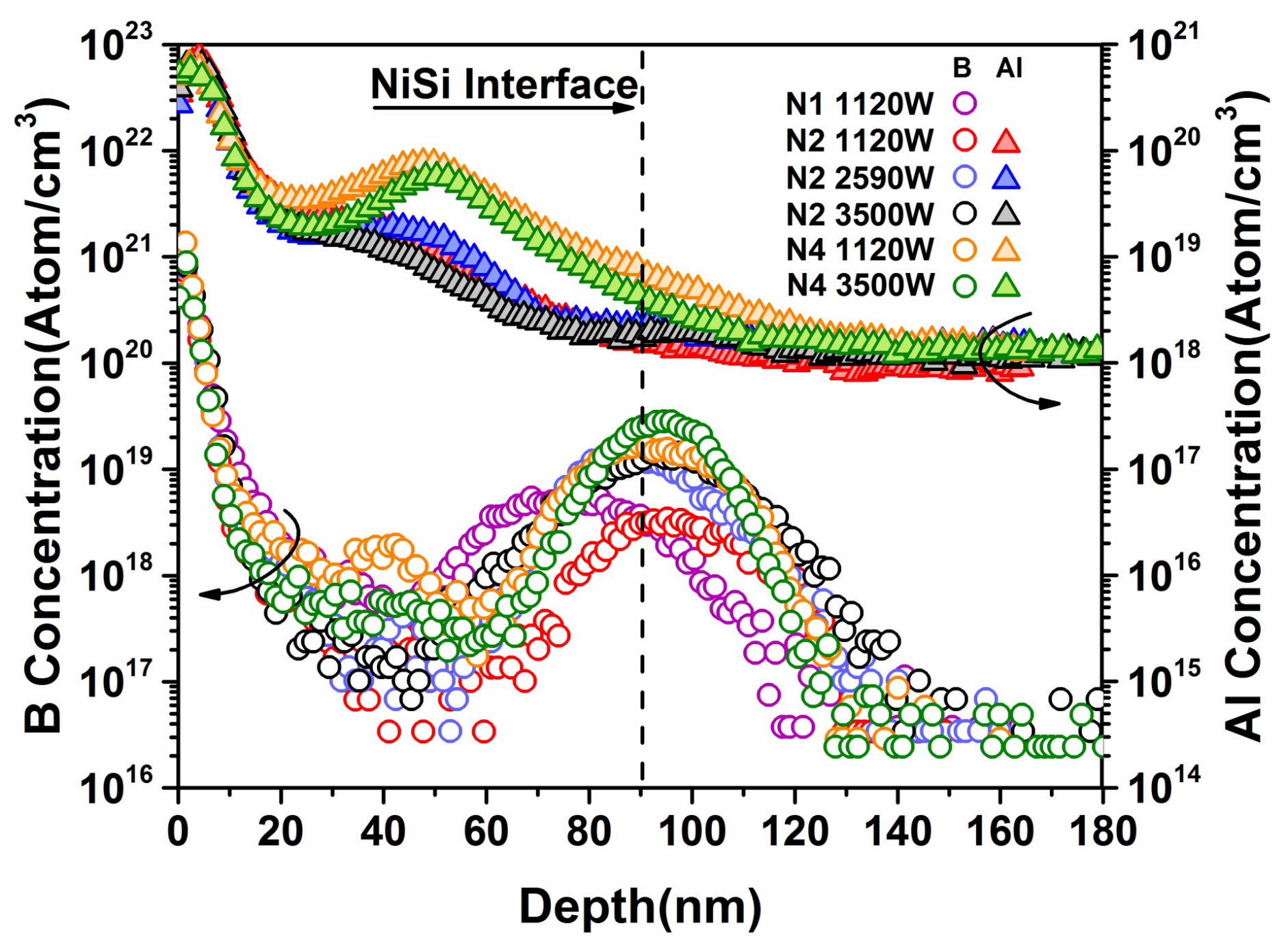 Figure 5. φbn tuning schemes of dual implantation associated with Al implantation energy. The points encircled by the dashed line represent samples implanted with B only. The squares represent the first stage, and the triangles represent the second stage.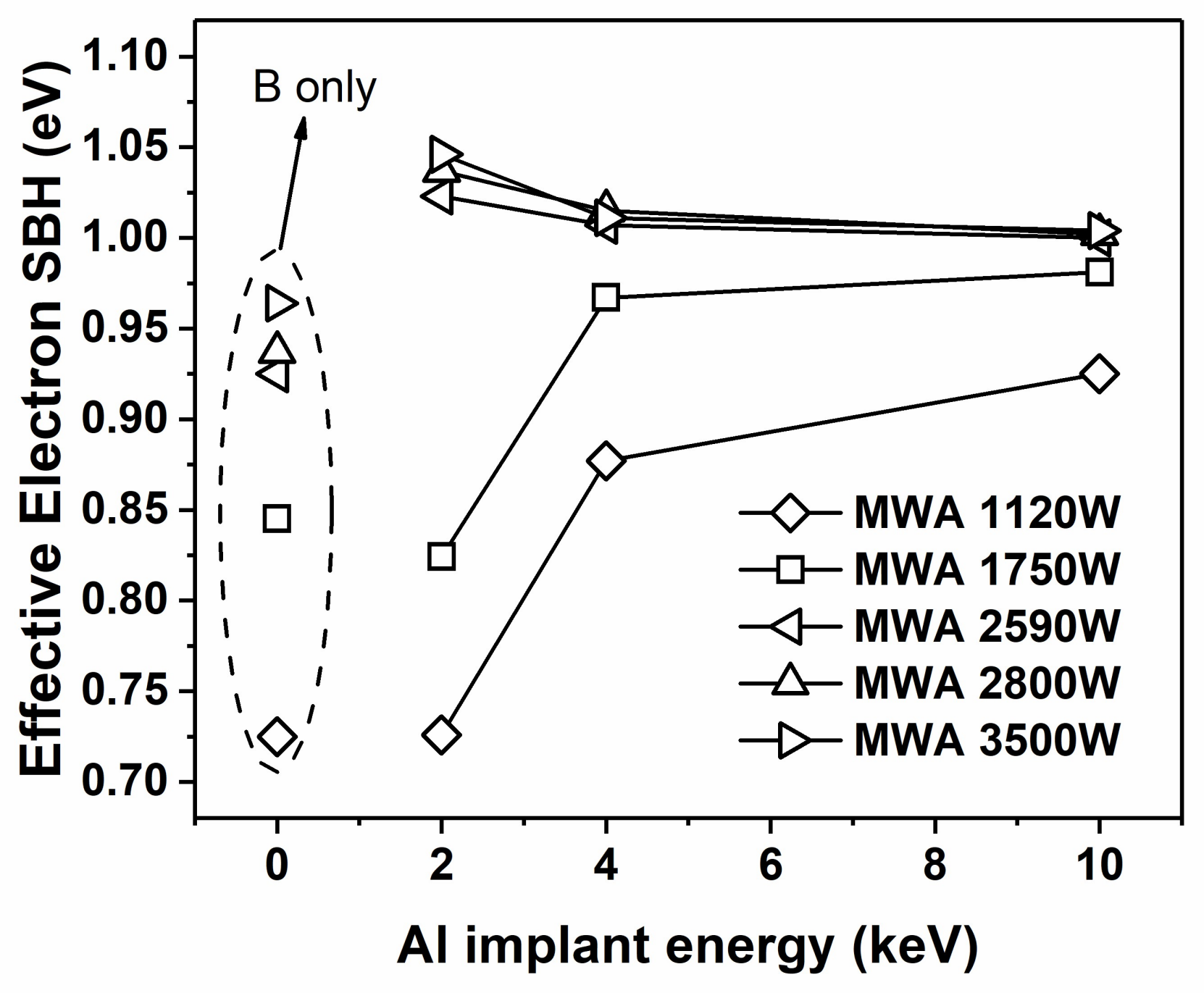 Sample No.
Implant Species
MWA Power
B
Al
1120 W
1750 W
2590 W
2800 W
3500 W
Implant Energy (keV)
φbn (eV)
N1
1
-
0.73
0.85
0.92
0.94
0.96
N2
1
2
0.73
0.82
1.02
1.04
1.05
N3
1
4
0.88
0.97
1.01
1.01
1.01
N4
1
10
0.92
0.98
1.00
1.00
1.00

© 2018 by the authors. Licensee MDPI, Basel, Switzerland. This article is an open access article distributed under the terms and conditions of the Creative Commons Attribution (CC BY) license (http://creativecommons.org/licenses/by/4.0/).