Hydrophilicity, Viscoelastic, and Physicochemical Properties Variations in Dental Bone Grafting Substitutes
1
Wound Healing and Oral Diagnostic Research Group, College of Dental Medicine, University of Sharjah, Sharjah 27272, UAE
2
Botiss Biomaterials GmbH, Hauptstr. 28, 15806 Zossen, Germany
3
Bundesanstalt für Materialforschung und-Prüfung (BAM), Unter den Eichen 44-46, 12203 Berlin, Germany
4
Charité Centrum Zahn-, Mund-und Kieferheilkunde, Charité-Universitätsmedizin Berlin, Aßmannshauser Straße 4-6, 14197 Berlin, Germany
5
Preventive and Restorative Dentistry Department, College of Dental Medicine, University of Sharjah, Sharjah 27272, UAE
*
Author to whom correspondence should be addressed.
Received: 9 January 2018 / Revised: 19 January 2018 / Accepted: 24 January 2018 / Published: 30 January 2018
Abstract
The indication-oriented Dental Bone Graft Substitutes (DBGS) selection, the correct bone defects classification, and appropriate treatment planning are very crucial for obtaining successful clinical results. However, hydrophilic, viscoelastic, and physicochemical properties' influence on the DBGS regenerative potential has poorly been studied. For that reason, we investigated the dimensional changes and molecular mobility by Dynamic Mechanical Analysis (DMA) of xenograft (cerabone
®
), synthetic (maxresorb
®
), and allograft (maxgraft
®
, Puros
®
) blocks in a wet and dry state. While no significant differences could be seen in dry state, cerabone
®
and maxresorb
®
blocks showed a slight height decrease in wet state, whereas both maxgraft
®
and Puros
®
had an almost identical height increase. In addition, cerabone
®
and maxresorb
®
blocks remained highly rigid and their damping behaviour was not influenced by the water. On the other hand, both maxgraft
®
and Puros
®
had a strong increase in their molecular mobility with different damping behaviour profiles during the wet state. A high-speed microscopical imaging system was used to analyze the hydrophilicity in several naturally derived (cerabone
®
, Bio-Oss
®
, NuOss
®
, SIC
®
nature graft) and synthetic DBGS granules (maxresorb
®
, BoneCeramic
®
, NanoBone
®
, Ceros
®
). The highest level of hydrophilicity was detected in cerabone
®
and maxresorb
®
, while Bio-Oss
®
and BoneCeramic
®
had the lowest level of hydrophilicity among both naturally derived and synthetic DBGS groups. Deviations among the DBGS were also addressed via physicochemical differences recorded by Micro Computed Tomography, Scanning Electron Microscopy, Fourier Transform Infrared Spectroscopy, X-ray powder Diffractometry, and Thermogravimetric Analysis. Such DBGS variations could influence the volume stability at the grafting site, handling as well as the speed of vascularization and bone regeneration. Therefore, this study initiates a new insight into the DBGS differences and their importance for successful clinical results.
View Full-Text
►

▼

Figures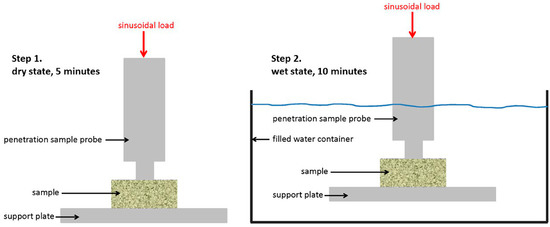 Figure 1
This is an open access article distributed under the
Creative Commons Attribution License
which permits unrestricted use, distribution, and reproduction in any medium, provided the original work is properly cited (CC BY 4.0).

Share & Cite This Article
MDPI and ACS Style
Trajkovski, B.; Jaunich, M.; Müller, W.-D.; Beuer, F.; Zafiropoulos, G.-G.; Houshmand, A. Hydrophilicity, Viscoelastic, and Physicochemical Properties Variations in Dental Bone Grafting Substitutes. Materials 2018, 11, 215.
Note that from the first issue of 2016, MDPI journals use article numbers instead of page numbers. See further details here.
Related Articles
Comments
[Return to top]