Torrefied Biomass Pellets—Comparing Grindability in Different Laboratory Mills
1
Deutsches Biomasseforschungszentrum gemeinnützige GmbH, Leipzig 04347, Germany
2
School of Chemical and Process Engineering, University of Leeds, Leeds LS2 9JT, UK
*
Author to whom correspondence should be addressed.
Received: 17 August 2016 / Accepted: 26 September 2016 / Published: 4 October 2016
Abstract
The firing and co-firing of biomass in pulverized coal fired power plants around the world is expected to increase in the coming years. Torrefaction may prove to be a suitable way of upgrading biomass for such an application. For transport and storage purposes, the torrefied biomass will tend to be in pellet form. Whilst standard methods for the assessment of the milling characteristics of coal exist, this is not the case for torrefied materials—whether in pellet form or not. The grindability of the fuel directly impacts the overall efficiency of the combustion process and as such it is an important parameter. In the present study, the grindability of different torrefied biomass pellets was tested in three different laboratory mill types; cutting mill (CM), hammer mill (HM) and impact mill (IM). The specific grinding energy (SGE) required for a defined mass throughput of pellets in each mill was measured and results were compared to other pellet characterization methods (e.g., durability, and hardness) as well as the modified Hardgrove Index. Seven different torrefied biomass pellets including willow, pine, beech, poplar, spruce, forest residue and straw were used as feedstock. On average, the particle-size distribution width (across all feedstock) was narrowest for the IM (0.41 mm), followed by the HM (0.51 mm) and widest for the CM (0.62 mm). Regarding the SGE, the IM consumed on average 8.23 Wh/kg while CM and HM consumed 5.15 and 5.24 Wh/kg, respectively. From the three mills compared in this study, the IM seems better fit for being used in a standardized method that could be developed in the future, e.g., as an ISO standard.
View Full-Text
►

▼

Figures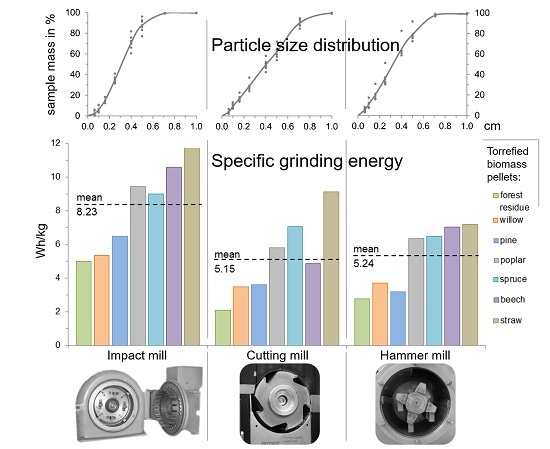 Graphical abstract
This is an open access article distributed under the
Creative Commons Attribution License
which permits unrestricted use, distribution, and reproduction in any medium, provided the original work is properly cited (CC BY 4.0).

Share & Cite This Article
MDPI and ACS Style
Khalsa, J.H.A.; Leistner, D.; Weller, N.; Darvell, L.I.; Dooley, B. Torrefied Biomass Pellets—Comparing Grindability in Different Laboratory Mills. Energies 2016, 9, 794.
Note that from the first issue of 2016, MDPI journals use article numbers instead of page numbers. See further details here.
Related Articles
Comments
[Return to top]