Preparation and Characterization of Gelatin and Antioxidant Peptides from Gelatin Hydrolysate of Skipjack Tuna (
Katsuwonus pelamis

) Bone Stimulated by in vitro Gastrointestinal Digestion

1

Zhejiang Provincial Engineering Technology Research Center of Marine Biomedical Products, School of Food and Pharmacy, Zhejiang Ocean University, 1st Haidanan Road, Zhoushan 316022, China

2

National and Provincial Joint Laboratory of Exploration and Utilization of Marine Aquatic Genetic Resources, National Engineering Research Center of Marine Facilities Aquaculture, School of Marine Science and Technology, Zhejiang Ocean University, 1st Haidanan Road, Zhoushan 316022, China

*

Authors to whom correspondence should be addressed.

Received: 31 December 2018 / Revised: 20 January 2019 / Accepted: 21 January 2019 / Published: 24 January 2019
Abstract
In China, a large amount of fish bones are produced during the processing of tuna cans production. For full use of those by-products, gelatin (STB-G) with a yield of 6.37 ± 0.64% was extracted from skipjack tuna (
Katsuwonus pelamis
) bone using water at 60 °C for 8 h. Amino acid analysis showed that STB-G contained Gly (340.3 residues/1000 residues) as the major amino acid and its imino acid content was 177.3 residues/1000 residues. Amino acid composition, SDS-PAGE, and Fourier transform infrared (FTIR) spectrum investigations confirmed that the physicochemical properties of STB-G were similar to those of type I collagen from skipjack tuna bone (STB-C), but partial high molecular weight components of STB-G were degraded during the extraction process, which induced that the gelatin was easier to be hydrolyzed by protease than mammalian gelatins and was suitable for preparation of hydrolysate. Therefore, STB-G was hydrolyzed under in vitro gastrointestinal digestion (pepsin-trypsin system) and five antioxidant peptides were purified from the resulted hydrolysate (STB-GH) and identified as GPDGR, GADIVA, GAPGPQMV, AGPK, and GAEGFIF, respectively. Among the gelatin hydrolysate, fractions, and isolated peptides, GADIVA and GAEGFIF exhibited the strongest scavenging activities on 2,2-diphenyl-1-picrylhydrazyl (DPPH) radical (EC
50
0.57 and 0.30 mg/mL), hydroxyl radical (EC
50
0.25 and 0.32 mg/mL), superoxide anion radical (EC
50
0.52 and 0.48 mg/mL), and 2,2′-azino-bis-3-ethylbenzothiazoline-6-sulfonic acid (ABTS) radical (EC
50
0.41 and 0.21 mg/mL). Moreover, GADIVA and GAEGFIF showed a high inhibiting ability on lipid peroxidation in a linoleic acid model system. The strong activities of five isolated peptides profited by their small molecular sizes and the antioxidant amino acid residues in their sequences. These results suggested that five isolated peptides (STP1–STP5), especially GADIVA and GAEGFIF, might serve as potential antioxidants applied in health food industries.
View Full-Text
►

▼

Figures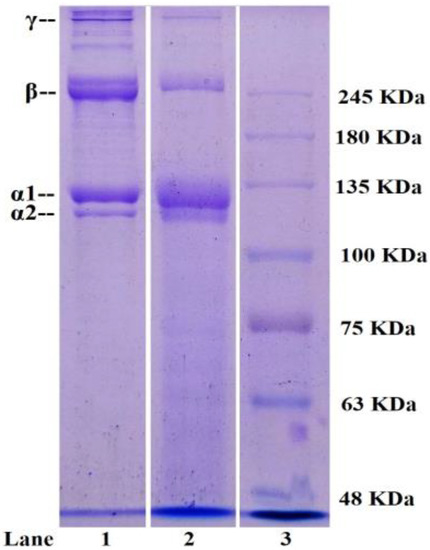 Figure 1
This is an open access article distributed under the
Creative Commons Attribution License
which permits unrestricted use, distribution, and reproduction in any medium, provided the original work is properly cited (CC BY 4.0).

Share & Cite This Article
MDPI and ACS Style
Yang, X.-R.; Zhao, Y.-Q.; Qiu, Y.-T.; Chi, C.-F.; Wang, B. Preparation and Characterization of Gelatin and Antioxidant Peptides from Gelatin Hydrolysate of Skipjack Tuna (Katsuwonus pelamis) Bone Stimulated by in vitro Gastrointestinal Digestion. Mar. Drugs 2019, 17, 78.
Note that from the first issue of 2016, MDPI journals use article numbers instead of page numbers. See further details here.
Related Articles
Comments
[Return to top]