Open Access This article is
freely available
re-usable
Article
Folate-Targeted mRNA Delivery Using Chitosan-Functionalized Selenium Nanoparticles: Potential in Cancer Immunotherapy
Nano-Gene and Drug Delivery Group, Discipline of Biochemistry, University of KwaZulu-Natal, Private Bag X54001, Durban 4000, South Africa
*
Author to whom correspondence should be addressed.
Received: 3 October 2019 / Accepted: 24 October 2019 / Published: 4 November 2019
Abstract
:
Systemic messenger RNA (mRNA) delivery, although still in its infancy, holds immense potential for application in cancer vaccination and immunotherapy. Its advantages over DNA transfection make it attractive in applications where transient expression is desired. However, this has proved challenging due to mRNA's instability and susceptibility to degradation. Selenium is important for immune function and modulation, with selenium nanoparticles (SeNPs) finding a niche in biomedicine as drug delivery vehicles, owing to their biocompatibility, low toxicity, and biodegradability. In this investigation, we synthesized chitosan-coated SeNPs with a folic acid targeting moiety for F
luc
mRNA delivery to cancer cells in vitro. Synthesized SeNPs were stable and well dispersed, and ranged from 59 to 102 nm in size. Nanoparticles bound and protected mRNA from RNase degradation, while exhibiting low cytotoxicity in the human embryonic kidney (HEK293), breast adenocarcinoma (MCF-7), and nasopharyngeal (KB) cells in culture. Moderate cytotoxicity evidenced in the colorectal carcinoma (Caco-2) and colon carcinoma (HT-29) cells was attributed to apoptosis induction by selenium, as confirmed by acridine orange/ethidium bromide staining. Selenium uptake studies corroborated the transfection results, where significant transgene expression was evident for the overexpressed folate receptor-positive KB cells when compared to the other cells with less or no folate receptors.
Keywords:
selenium nanoparticles; cancer; immunotherapy; cytotoxicity; F
luc
mRNA; transfection
2. Results and Discussion
3. Materials and Methods
3.1. Materials
Sodium selenite, ascorbic acid, chitosan (>75% deacetylated; MW 218 kDa), MTT (3-(4,5-dimethyldiazol-2-yl)-2,5-diphenyltetrazolium bromide), folic acid, N, N'-dicyclohexyl-carbodiimide (DCCI), RNase, and bicinchoninic acid (BCA) solution were all purchased from Sigma–Aldrich (St. Louis, MO, USA). Agarose, 2-[4-(2-Hydroxyethyl)-1-piperazinyl] ethane sulphonic acid (HEPES), tris(hydroxymethyl)-aminomethane hydrochloride (Tris-HCL), EDTA, SDS (sodium dodecyl sulphate) ethidium bromide, and acridine orange were purchased from Merck (Darmstadt, Germany). Luciferase assay reagent kit and reporter lysis buffer were supplied by Promega (Madison, USA). Eagle's Minimum Essential Medium (EMEM) with Glutamax
TM
, penicillin/streptomycin (10,000 U mL
−1
penicillin, 10,000 U mL
−1
streptomycin) and trypsin-versene were supplied by Lonza Biowhittaker (Walkersville, USA). All sterile plasticware were obtained from Corning Inc. (NY, USA). Cell lines were purchased originally from the American Type Culture Collection (Manassas, VA, USA). Fetal bovine serum (FBS) was obtained from Hyclone, GE Healthcare (Utah, USA). Lyophilised F
luc
mRNA modified with 5-methylcitidine and pseudouridine was purchased from TriLink BioTechnologies Inc (San Diego, CA, USA). This was dissolved in nuclease-free water to a concentration of 0.05 µg mL
−1
. All other chemicals used in this study were of analytical grade, and Milli-Q water (18 MΩ) was used throughout.
3.2. Preparation and Modification of Selenium Nanoparticles (SeNPs)
SeNPs were prepared as previously described [
31
], with slight modifications. Briefly, 5 mM sodium selenite (8.7 mg, 10 mL) was added dropwise to 20 mM ascorbic acid (35.2 mg, 10 mL) and adjusted to a final concentration of 1 mM. The mixture was stirred at room temperature for 24 h and stored at 4 °C. Selenium chitosan nanoparticles (SeCh NPs) were synthesized with modifications [
29
]. Approximately 10 mL of 0.5% chitosan (in 1% acetic acid) was added to 7.5 mL of 0.23 M ascorbic acid and 5 mL of 18 Mohm water. The mixture was stirred under low heat for 30 min, followed by addition of 0.25 mL of 0.51 M sodium selenite, causing a colour change from colourless to red. After stirring for 2 h at room temperature, the nanoparticles (NPs) were dialysed (MWCO 12 kDa) against 18 MΩ water over 24 h.
Folic acid (FA)-targeted SeCh NPs (SeChFA NPs) were prepared as per literature [
32
], but modified using carbodiimide chemistry for FA conjugation. Approximately 40 mg of FA and 100 mg of DCCI were dissolved in 15 mL of anhydrous DMSO and stirred for 1 h at room temperature. Thereafter, 20 mL of chitosan was added dropwise to the activated FA with stirring for 24 h. The pH was adjusted to 9.0, and the coagulated mixture centrifuged at 2500 rpm for 10 min. The supernatant of the ChFA conjugate was dialysed (MWCO 12 kDa) against 18 MΩ water over 48 h. SeChFA NPs were prepared by the addition of ChFA dropwise to the prepared SeNPs with stirring for 12 h. The content of FA in the ChFA conjugate was analysed using UV-Vis spectroscopy at 359 nm, and the coupling ratio was calculated using the formula: Coupling Ratio = W(FA)/W(FA-Ch)—W(FA)
3.3. mRNA/NP Binding
The mRNA nanocomplexes were prepared by adding varying amounts of functionalized SeNPs to 0.2 µg of F
luc
mRNA, followed by a 30 min incubation at room temperature to allow for the formation of the nanocomplexes through electrostatic interactions. Nanocomplexes were then subjected to 2% agarose gel electrophoresis (50 V, 30 min) containing ethidium bromide (1 µg/mL) to determine optimal binding ratios, as assessed by the electrophoretic mobility shift of the mRNA bands. The fluorescent bands were viewed, and images captured using a Vacutec Syngene G: Box Imaging system (Syngene, Cambridge, UK). The optimal binding ratio, one ratio above (supraoptimal) and one ration below (suboptimal), was used in further studies.
3.4. Ethidium Bromide Intercalation Assay
Ethidium bromide (EB) dye displacement was used to study the degree of compactness of the nanocomplexes based on the quenching of fluorescence upon the addition of the functionalized SeNPs to an EB/mRNA mixture. Approximately 2 µL of EB (100 µg/µL) was added to 100 µL HBS in a black multi-well plate and fluorescence measured in a Glomax® Multidetection system (Promega Biosystems, Sunnyvale, USA) at an excitation and emission wavelength of 520 nm and 600 nm, respectively. This was set as the baseline fluorescence reading. Approximately 4.8 µL mRNA was then added to the mixture, and the reading set as 100% fluorescence. Thereafter, 1 µL aliquots of the respective NPs were added and mixed, and individual readings obtained, until a plateau in fluorescence was achieved.
3.5. RNase A Protection Assay
To investigate the stability of nanocomplexes and the protection afforded to the mRNA by the functionalized SeNPs if exposed to serum nucleases, an RNase A protection assay was carried out. Nanocomplexes at optimal, sub-, and supraoptimal ratios obtained from
Section 2.3
were incubated with 1 µL of RNase A at 37 °C for 2 h. Thereafter, EDTA (10 mM) and SDS (0.5% w/v) for nanocomplex dissociation were added, and mixtures were incubated at 55 °C for 20 minutes. Nanocomplexes were subjected to agarose gel electrophoresis as previously described (
Section 2.3
). Naked mRNA and mRNA treated with RNase A were used as positive and negative controls, respectively.
3.6. Nanoparticle and Nanocomplex Characterization
UV-Vis spectroscopy was conducted using a JASCO-V-730 BIO spectrophotometer in the range of 190–500 nm. FTIR was carried out to further characterize the nanoparticles. The IR spectra for functional group identification were obtained on a Perkin–Elmer Spectrum 100 FTIR spectrometer with a universal ATR sampling accessory scanning from 4,000 to 380 cm−1. The shape, size, and distribution of NPs and nanocomplexes were analysed by TEM (JEOL JEM 1010), operating at 100 kV. The NP/nanocomplex suspension (10 µL) was placed on copper grids and allowed to dry at room temperature. Images were analysed using iTEM Soft Imaging Systems (Tokyo, Japan). Particle size, distribution, and zeta potential measurements were obtained from nanoparticle tracking analysis (NTA) (NanoSight NS500; Malvern Instruments, UK) operating at 25 °C and 24 V, using NTA version 3.2 software. Samples (1 mL in 18 MΩ water) were prepared at approximate concentrations of 108 particles/mL.
3.7. Cell Viability Assays
Cells (HEK293, MCF-7, KB, Caco-2, and HT-29) were seeded at a density of 1.8 × 105 cells per well in 48-well plates, containing 200 µL of medium (EMEM + Glutmax supplemented with 10% FBS and antibiotics (100 U/mL penicillin, 100 µg/mL streptomycin)), and allowed to attach overnight at 37 °C. Thereafter, medium was replenished with 200 µL fresh medium, and complexes at the three ratios were added in triplicate. Cells were incubated for 48 h at 37 °C. The medium was then replaced with 200 µL medium containing 20% MTT (5 mg/mL in PBS), and cells were incubated for 4 h at 37 °C. Thereafter, the medium/MTT mixture was removed, and 200 µL of DMSO was added to each well to dissolve the resulting formazan product. Absorbance was read in a Mindray 96A microplate reader (Vacutec, Hamburg, Germany) at 570 nm. All tests were conducted in triplicate.
3.8. Gene Expression
The F
luc
mRNA reporter gene encoding the firefly luciferase gene was used to investigate the transfection efficiencies in the five cell lines. Cells were seeded at a density of 4.5 × 10
4
per well in a 48-well plate, containing complete medium, and incubated overnight for attachment. Thereafter, fresh medium was added to the cells, and nanocomplexes (as previously described) were added to the cells in triplicate. Untreated cells and cells treated with naked F
luc
mRNA (0.2 µg) served as controls. The cells containing nanocomplexes were incubated for 48 h at 37 °C. Thereafter, the medium was discarded, and cells were washed twice with PBS. Approximately 80 µL of cell lysis buffer was then added to the cells, and the plate gently shaken for 15 minutes. The cells were then scraped from the surface of the plate, and the cell lysates centrifuged at 12,000 g for 5 s to pellet the cell debris. Approximately 20 µL of the respective cell-free lysates were transferred to a white multiwell plate, followed by the addition of 100 µL of luciferase assay reagent. Luminescence was read on a Glomax® Multidetection system (Promega BioSystems, Sunnyvale, USA). Total protein was determined using a standard BCA assay (562 nm), and results were presented as relative light units (RLUs) per mg protein.
For the receptor competition assay, cells were seeded as above. However, 30 minutes prior to addition of the nanocomplexes, 50 mM of free FA was added to cells. Following a 48 h incubation, the luciferase assay was conducted as described.
3.9. Selenium Uptake
Detection and quantification of the levels of selenium post transfection were measured using ICP-OES, performed on a Perkin Elmer Optima 5300 DV Optical Emission Spectrometer. Transfection was done as described earlier, and after 48 h, the cells were washed with PBS and lysed with cell lysis buffer. Cell lysates were transferred into ICP vials for analysis. A standard calibration curve was set up between 0.2 ppm and 25 ppm using a standard stock solution.
3.10. Acridine Orange/Ethidium Bromide Dual Staining
AO/EB staining was performed to study cell apoptosis post transfection as described previously [
40
,
41
]. Cells at a density of 1.2 × 10
5
cells/well were plated into a 24-well plate and incubated overnight for attachment. Thereafter, complexes were added to the cells at their various binding ratios and incubated for 24 h. The cells were then washed twice with PBS, and 10 μL of AO/EB dye (100 μg/mL AO and 100 μg/mL EB in PBS) was added. Cells were stained at room temperature for 5 min. Thereafter, the dye was removed, and the cells were viewed under an Olympus inverted fluorescence microscope fitted with a CC12 fluorescent camera (excitation filter of 450–490 nm and a barrier filter of 520 nm) (Wirsam Scientific and Precision Eq. LTD., Johannesburg, South Africa) at X200 magnification. Cells were examined for morphological changes due to apoptosis. Apoptosis was represented as an index, calculated as shown below:
Apoptotic index = number of apoptotic cells/number of total cells counted
3.11. Statistical Analysis
Experiments were carried out in triplicate, and data were presented as means ± SD. Statistical analyses were done using two-way ANOVA on GraphPad Prism Version 5.04 (GraphPad Software Inc. USA), followed by Bonferroni post hoc tests, which analysed the differences between the means.
P
-value < 0.05 was considered significant.
4. Conclusions
A chitosan-coated selenium vector in mRNA delivery has the potential for use in tumour vaccination and immunotherapy to achieve an amplified immune response. Our goal was to develop a functionalised Se carrier capable of mRNA delivery to tumour cells as a proof of concept study for use in cancer immunotherapy, and is the first report of its use in mRNA delivery. Functionalized SeNPS were able to safely and stably deliver the mRNA cargo in vitro, with the inclusion of the FA-targeting moiety further increasing uptake in folate receptor-positive cells. The use of chitosan-coated selenium NPs in mRNA delivery has the potential for application in tumour vaccination and immunotherapy. This study has shown that there may exist a future synergy between RNA vaccines and SeNPs, which bodes well for immunotherapy. Compelling evidence from this research makes further studies necessary to fully understand mRNA interaction with selenium for gene therapy applications.
Supplementary Materials
The following are available online at
https://www.mdpi.com/1424-8247/12/4/164/s1
, Figure S1: NTA profiles of (A)SeNPs, (B) SeCh NFPs and (C) SeChFA NPs. Figure S2: NTA profiles of (A) SeCh and (B) SeChFA: F
Luc
-mRNA nanocomplexes. Figure S3: NTA profiles of (A) Ch, (B) ChFA, (C) Ch: F
Luc
-mRNA and (D) ChFA: F
Luc
-mRNA. Figure S4: FTIR of (A) Chitosan, (B) Folic acid and (C) Chitosan-Folic acid. Figure S5: FTIR of (A) SeCh NPs and (B) SeChFA NPs.
Author Contributions
Conceptualization, Supervision, Project Administration, Resources, and Funding Acquisition, M.S.; Methodology and Investigation, Software, Formal Analysis, Data Curation, F.M. and M.S.; Writing—Original Draft Preparation, F.M. and M.S.; and Writing—Review and Editing, M.S.
Funding
This research was partly funded by The National Research Foundation, South Africa, grant number 88195/81289.
Acknowledgments
The authors acknowledge members of the Nano-Gene and Drug Delivery Group for technical support.
Conflicts of Interest
The authors declare no conflict of interest. The funders had no role in the design of the study; in the collection, analyses, or interpretation of data; in the writing of the manuscript, or in the decision to publish the results.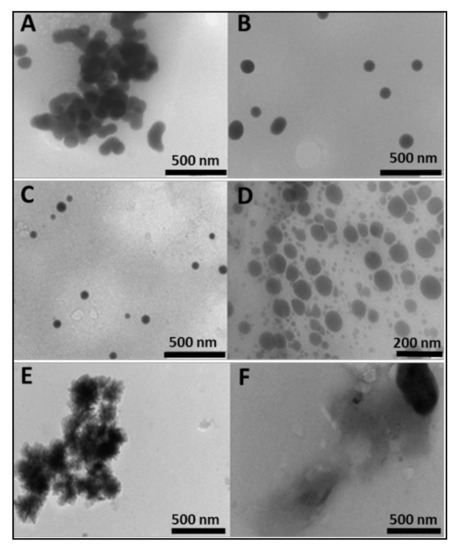 Figure 1. Transmission electron microscopy (TEM) images of (A) and (B) SeNPs, (C) SeCh, (D) SeChFA, (E) Ch, and (F) ChFA.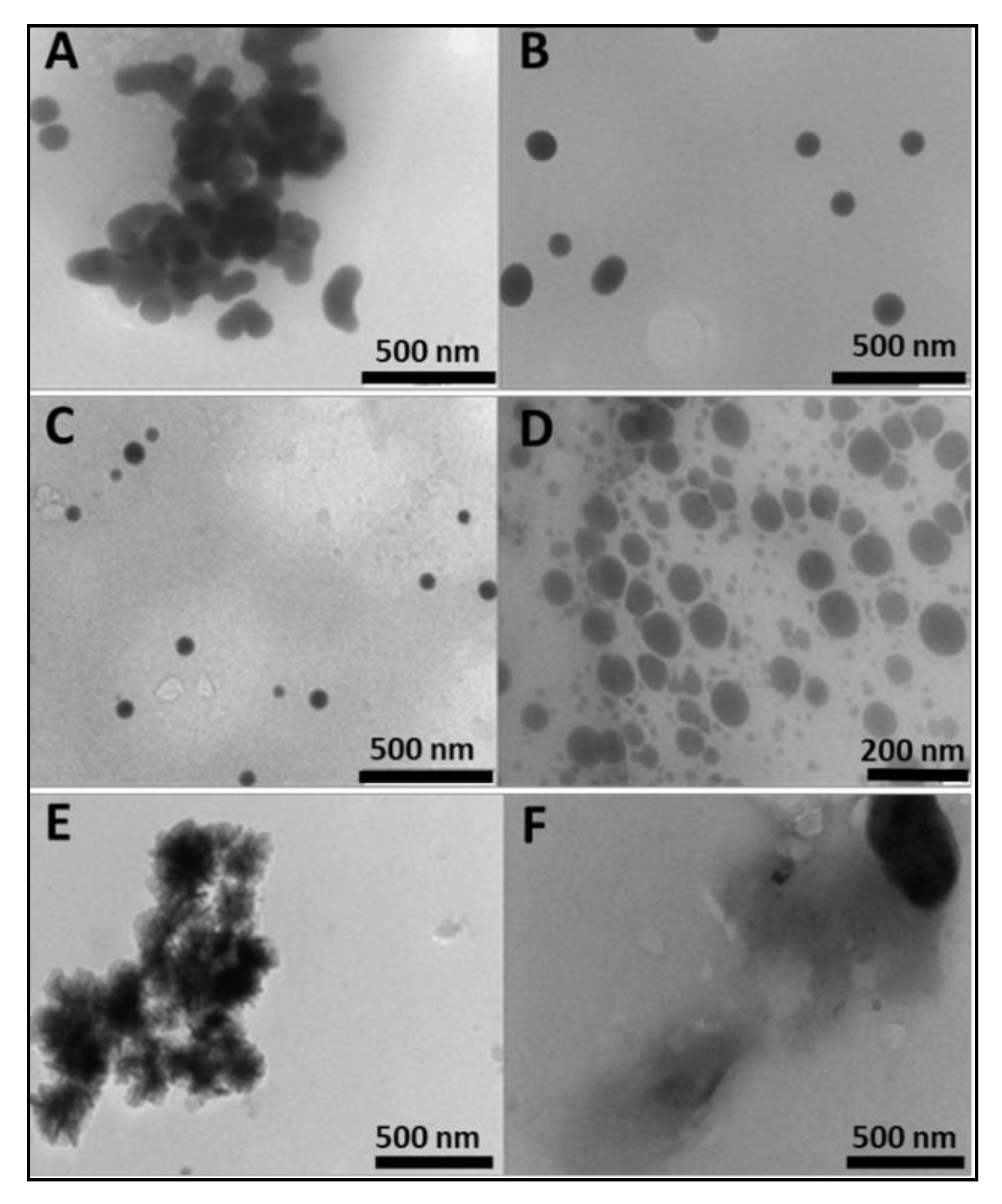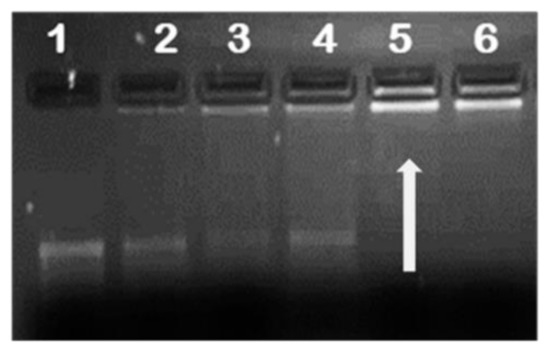 Figure 3.
Representative image of mRNA/nanoparticle (NP) binding. Binding studies of SeCh to F
luc
mRNA. Lane 1 contained naked mRNA and served as control. Lanes 2–6 contained nanocomplexes of mRNA (0.2 µg) and NPs at different w/w ratios. Arrow indicates end-point ratios of mRNA/NP (w/w).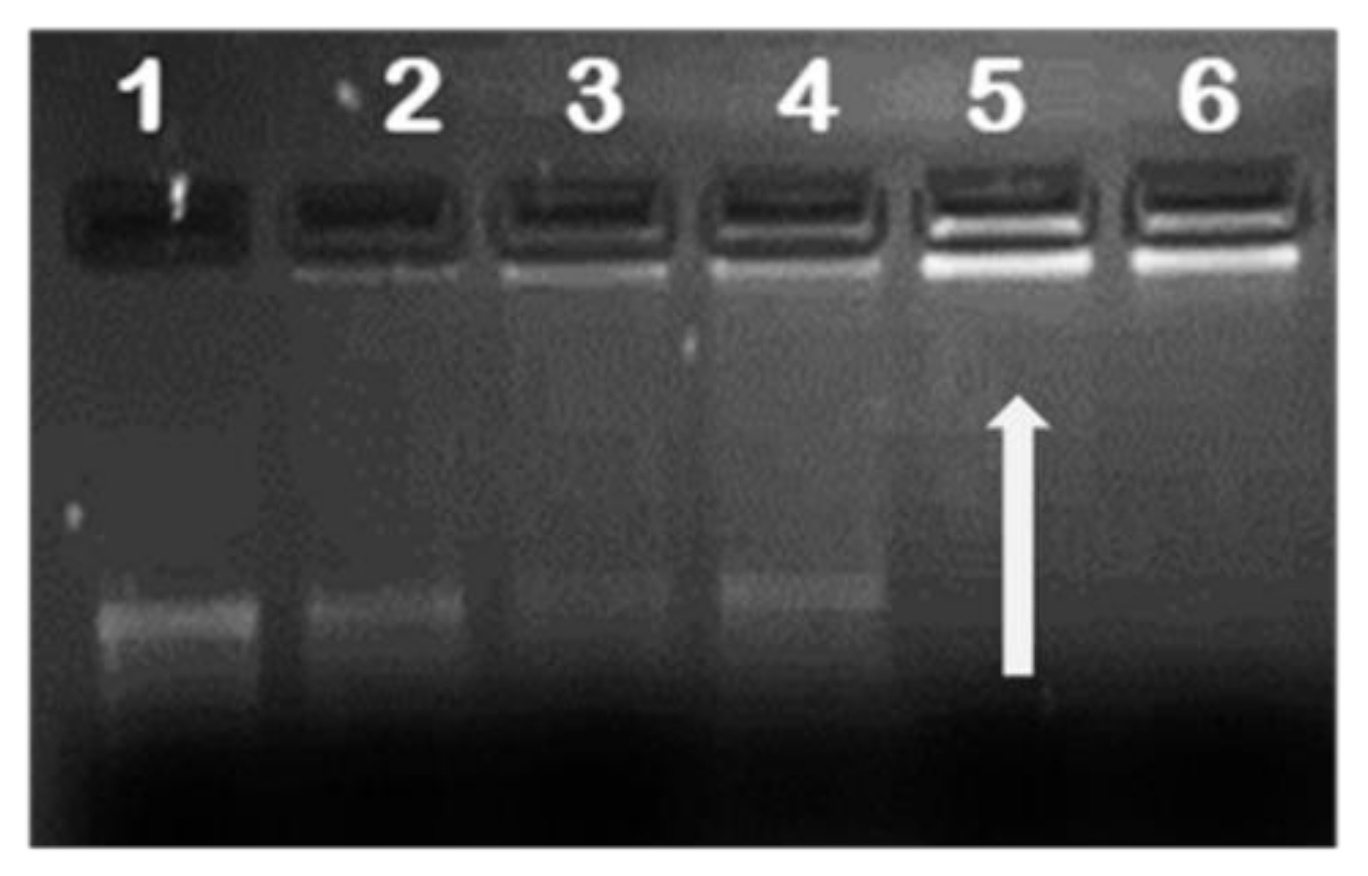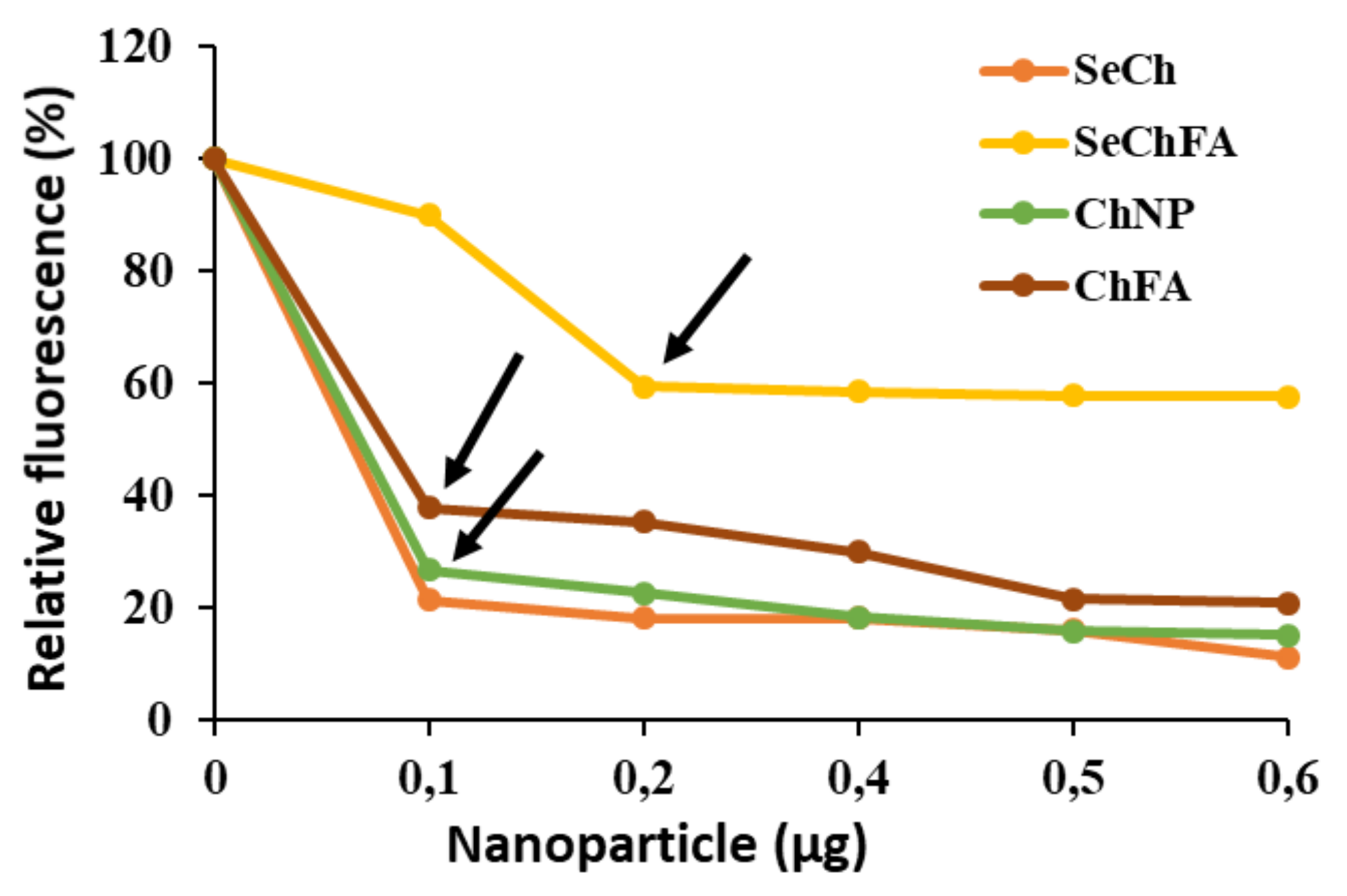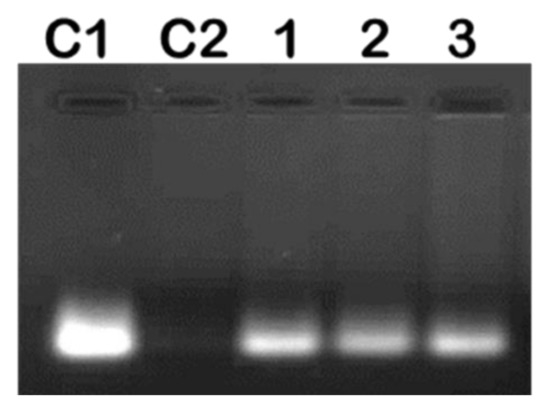 Figure 5.
Representative image showing RNase A digestion of mRNA/SeChFA nanocomplexes. C1 = F
luc
mRNA (0.2 µg) only and C2 F
luc
mRNA exposed to RNase A. Lanes 1–3 represent nanocomplexes at suboptimum, optimum, and supraoptimum binding ratios.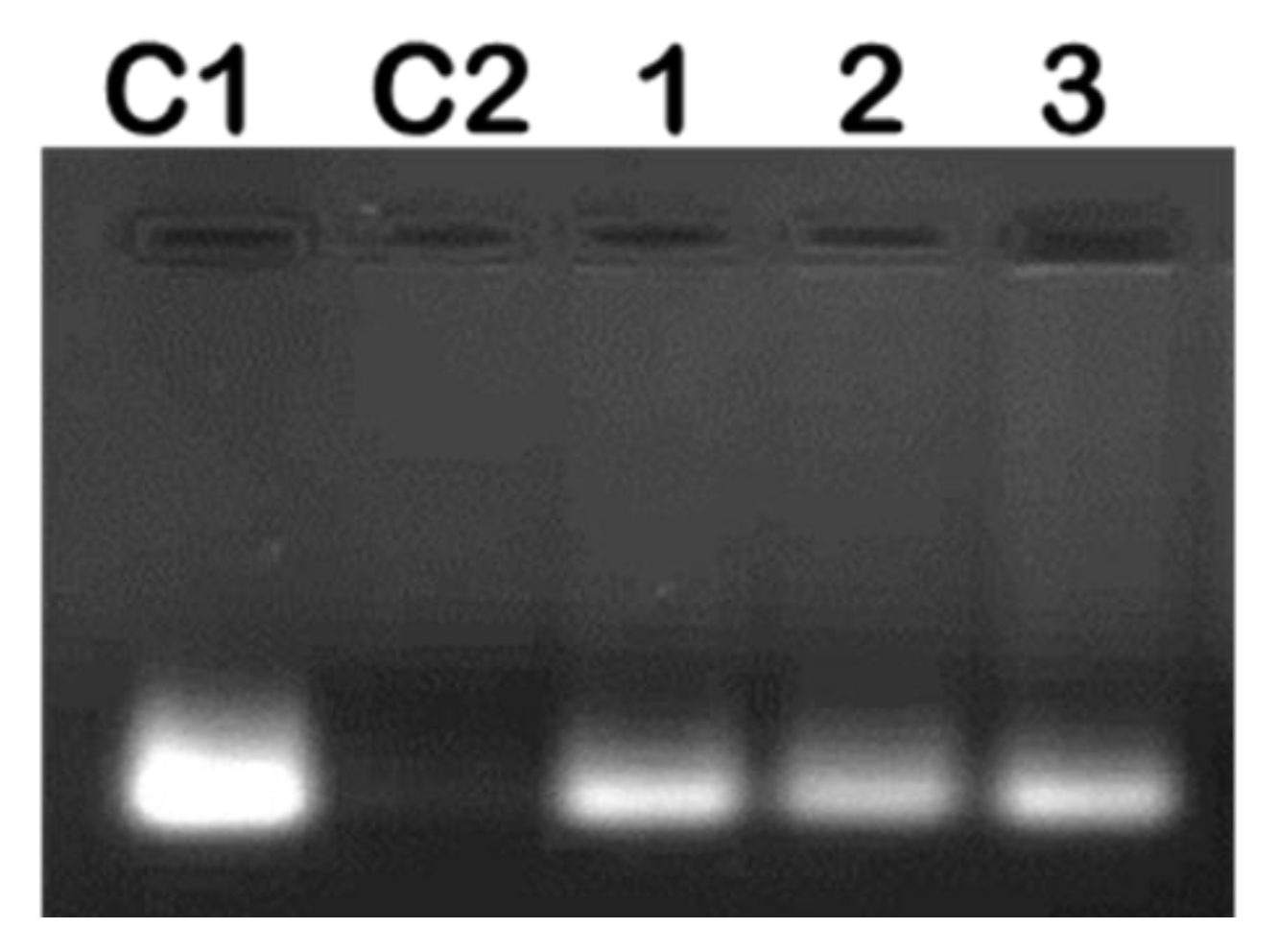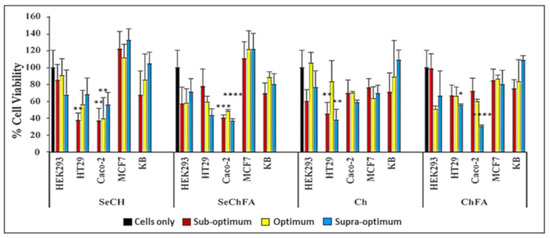 Figure 6.
Cell viability studies of nanocomplexes at suboptimum, optimum, and supraoptimum ratios in selected cell lines. Data are presented as mean ± SD (n = 3).
****
p
< 0.0001;
***
p
< 0.001;
**
p
< 0.01;
*
p
< 0.05 vs. control.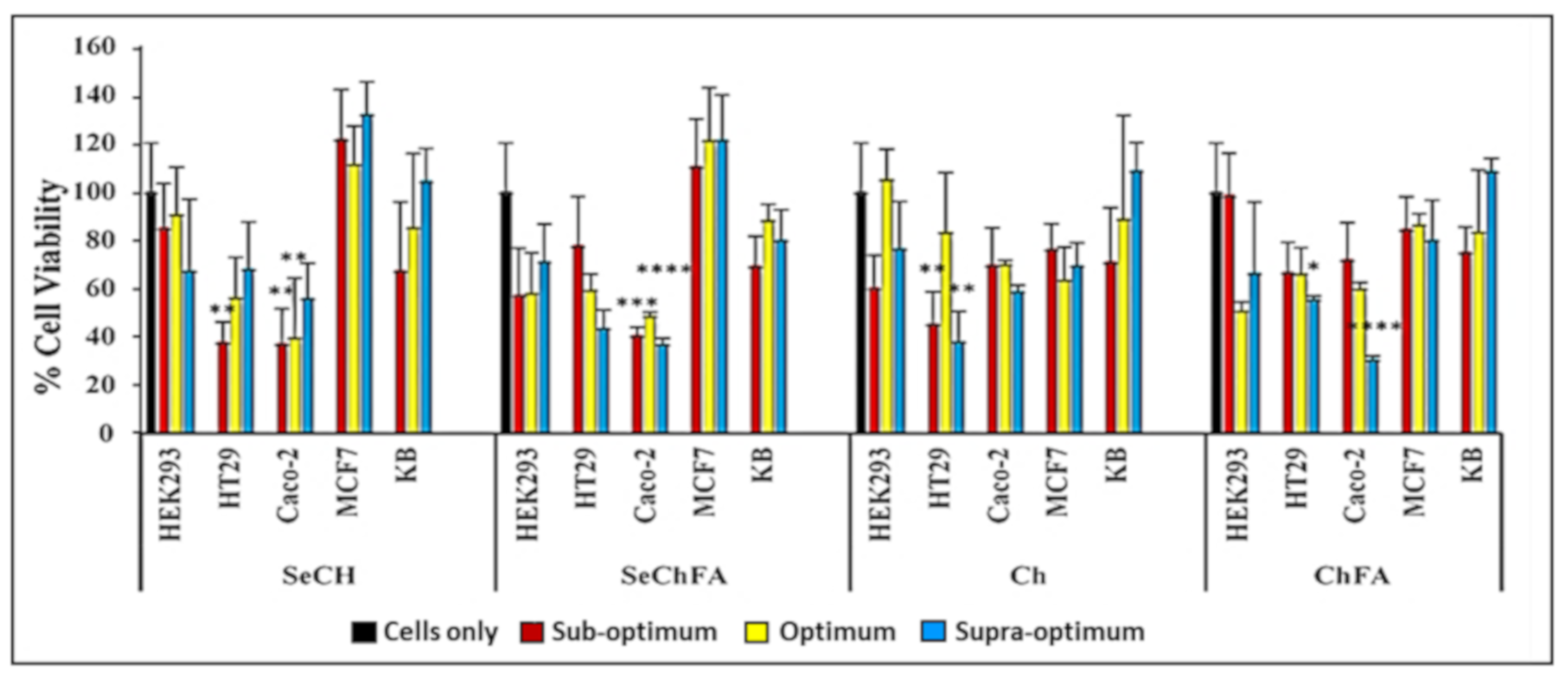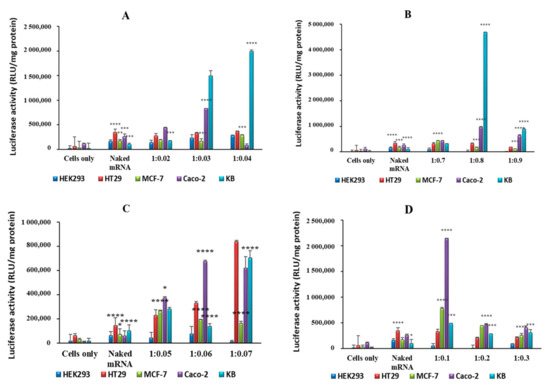 Figure 7.
Luciferase activity in selected cell lines using (
A
) SeCh, (
B
) SeChFA, (
C
) CH, and (
D
) ChFA nanocomplexes at different NP/mRNA w/w ratios. Data are presented as means ± SD (n = 3).
****
p
< 0.0001;
***
p
< 0.001;
**
p
< 0.01;
*
p
< 0.05; vs. control.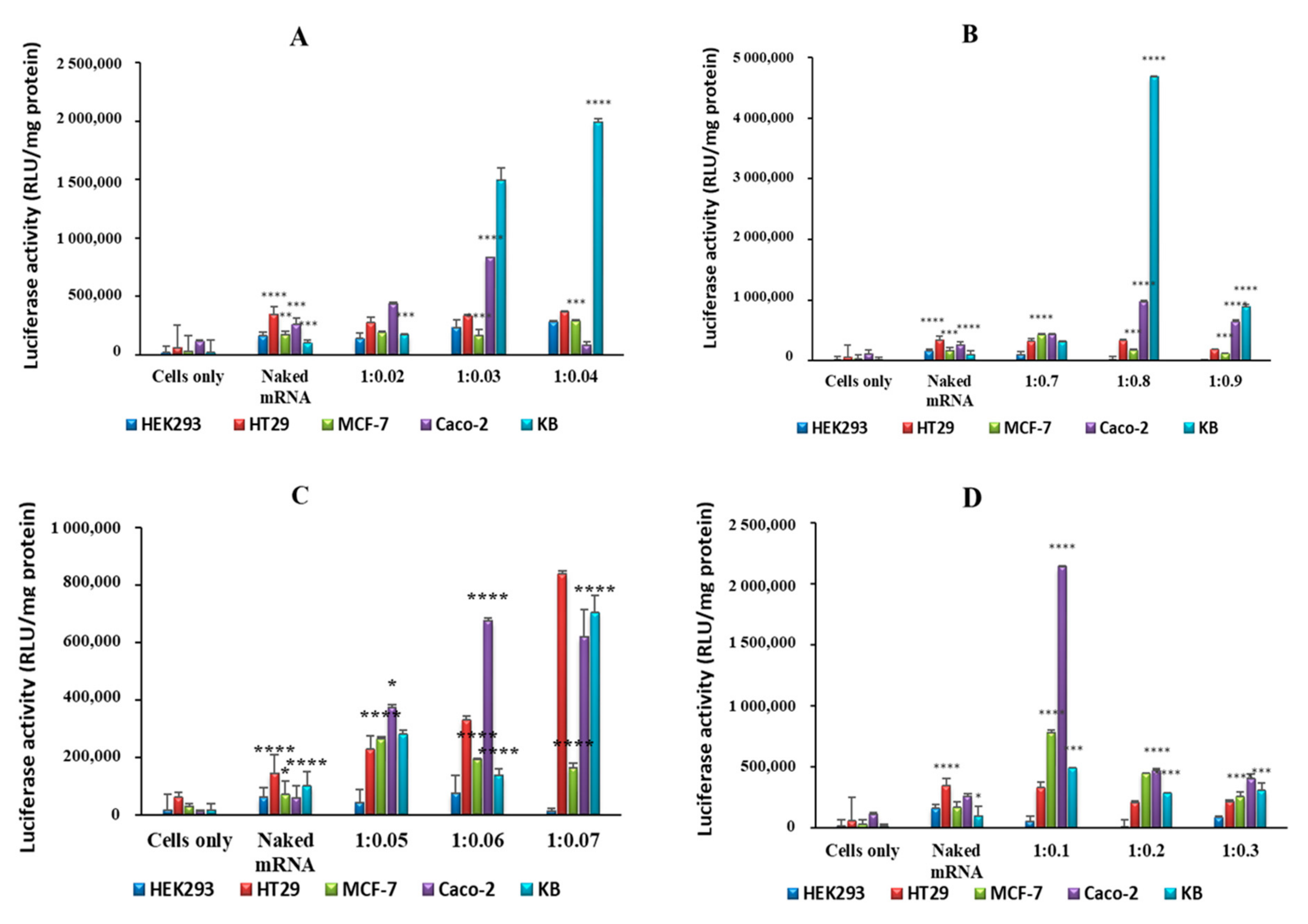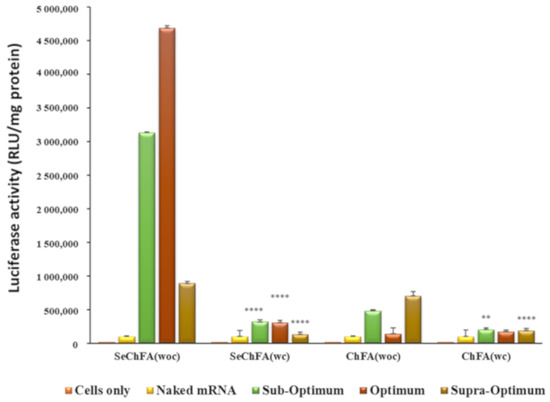 Figure 8.
Competition assay of targeted nanocomplexes in nasopharyngeal (KB) cells showing luciferase expression with FA competitor (wc) and without the FA competitor (woc). Data are presented as means ± SD (n = 3).
****
p
< 0.0001;
***
p
< 0.001;
**
p
< 0.01;
*
p
< 0.05; vs. luciferase activity without competitor.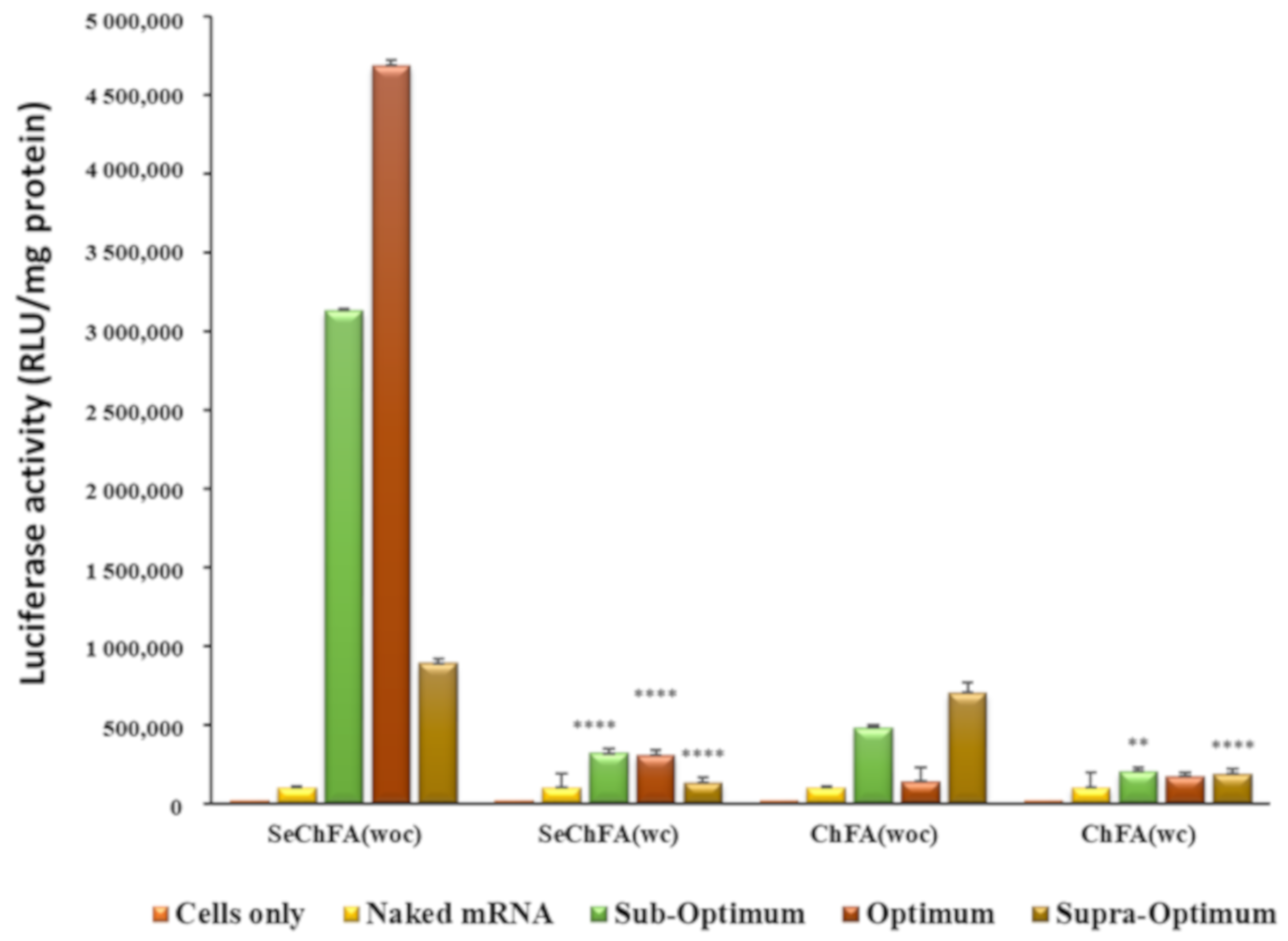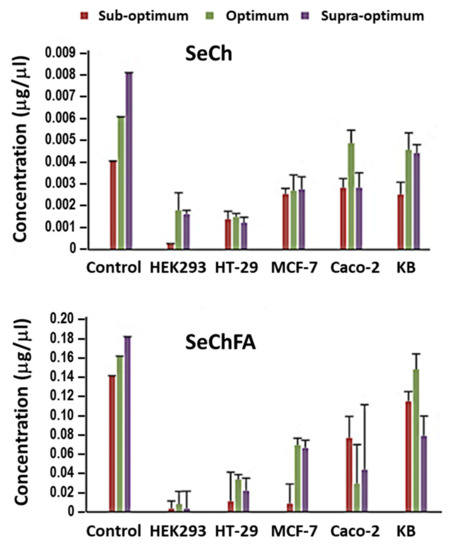 Figure 9. Selenium concentration in the cells before (control) and after transfection with SeCh and SeChFA.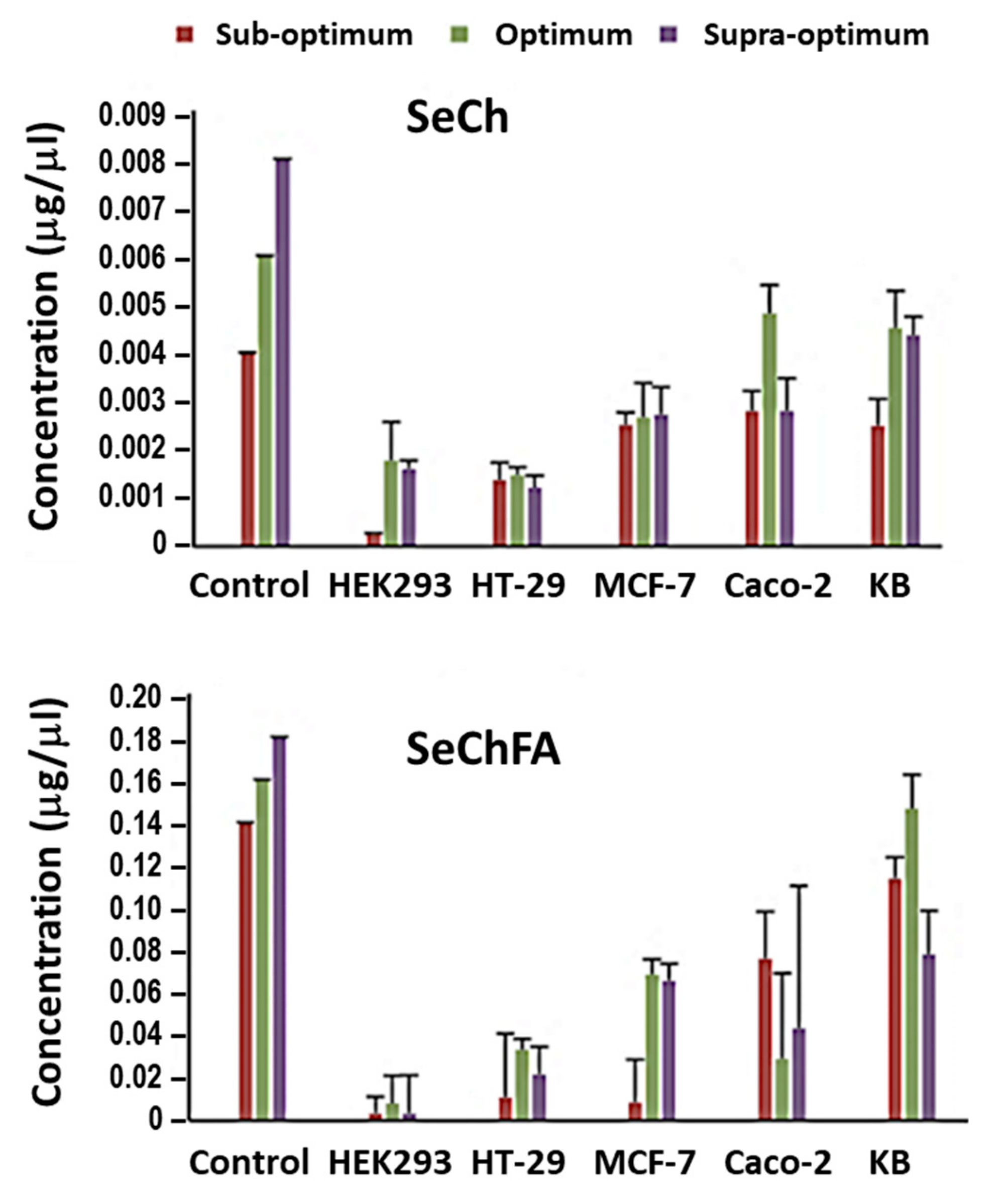 Figure 10. Apoptosis studies of nanocomplexes at optimum binding ratios on HEK293, HT-29, MCF-7, Caco-2, and KB cell lines. L = live cells, EA = early apoptotic, LA = late apoptotic, N = necrotic.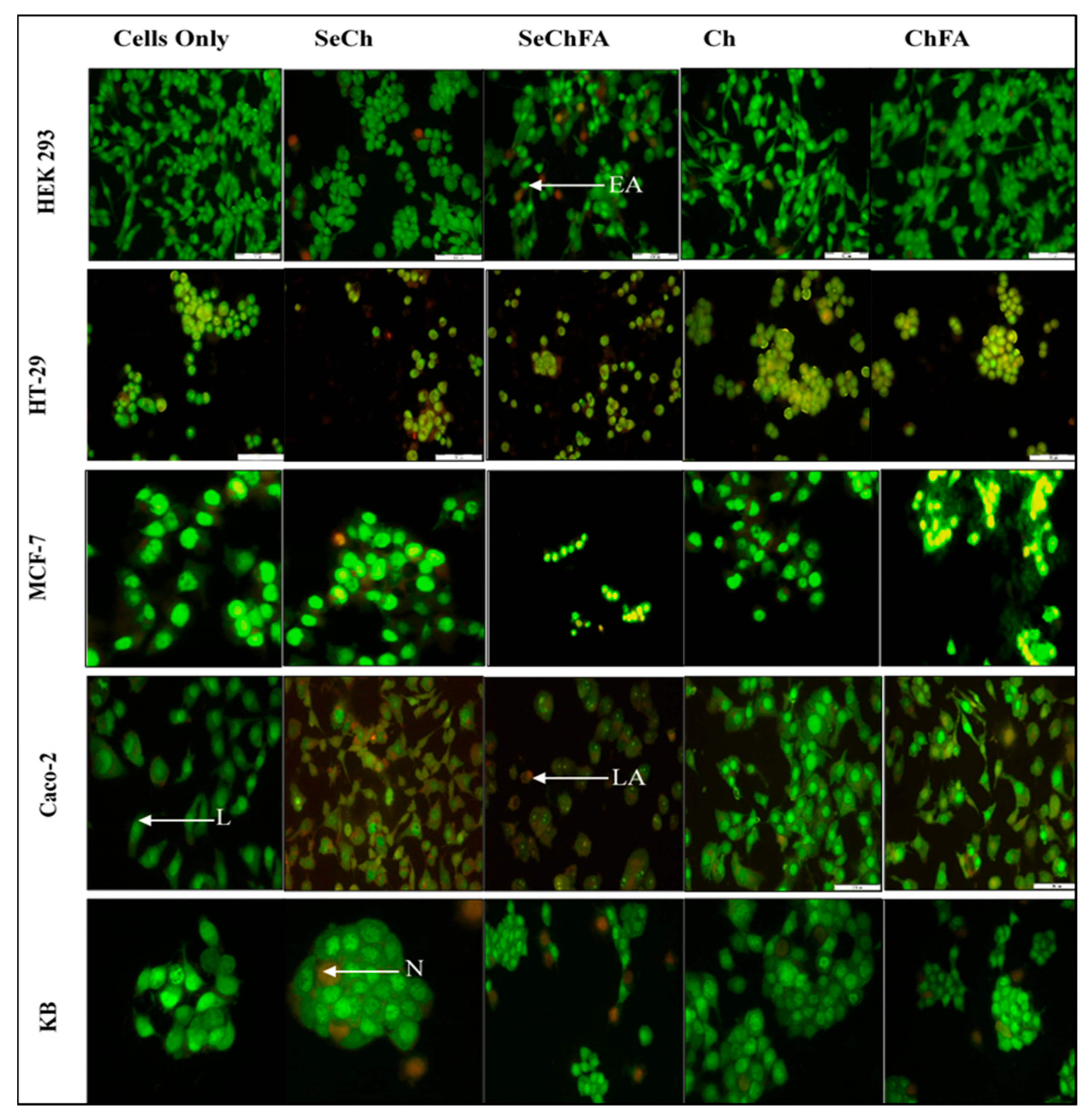 Table 1. Size, zeta potential, and polydispersity (PDI) of all nanoparticles and nanocomplexes at optimum binding w/w ratios.
NP
Size (nm)
ζ Potential (mV)
PDI
Nanocomplexes at end-Point Ratios (Optimum Binding Ratio)
w/w
Size
ζ Potential
PDI
Se
85.3 ± 8
−14.8 ± −3.6
0.00450
-
-
-
SeCH
59.6 ± 0.1
21.0 ± 0.2
0
1:0.03
66.9 ± 0.9
14.4 ± 1.7
0.0025
SeChFA
75.6 ± 1.4
9.0 ± 0.3
0.00475
1:0.8
102.7 ± 15.2
9.8 ± 0.3
0.0006
CH
124.4 ± 19
38.5 ± 2.7
0.00064
1:0.06
162.9 ± 5.9
40.7 ± 1.3
0.0012
ChFA
139.5 ± 3.5
21.9 ± 0.7
0.00370
1:0.2
136.1 ± 18.5
32.9 ± 1.5
0.0009
Cell Lines
Apoptotic Index
Control
SeCh
SeChFA
Chitosan
ChFA
HEK293
0
0
0.11
0
0
HT29
0
0.15
0.09
0.11
0.23
MCF7
0
0.07
0.28
0
0
Caco-2
0
0.71
1
0.02
0.83
KB
0
0.04
0
0
0.02

© 2019 by the authors. Licensee MDPI, Basel, Switzerland. This article is an open access article distributed under the terms and conditions of the Creative Commons Attribution (CC BY) license (http://creativecommons.org/licenses/by/4.0/).