Open Access This article is
freely available
re-usable
Review
The Dark Side: Photosensitizer Prodrugs
School of Pharmaceutical Sciences, University of Geneve, 1206 Geneva, Switzerland
*
Author to whom correspondence should be addressed.
Received: 14 August 2019 / Accepted: 30 September 2019 / Published: 4 October 2019
Abstract
:
Photodynamic therapy (PDT) and photodiagnosis (PD) are essential approaches in the field of biophotonics. Ideally, both modalities require the selective sensitization of the targeted disease in order to avoid undesired phenomena such as the destruction of healthy tissue, skin photosensitization, or mistaken diagnosis. To a large extent, the occurrence of these incidents can be attributed to "background" accumulation in non-target tissue. Therefore, an ideal photoactive compound should be optically silent in the absence of disease, but bright in its presence. Such requirements can be fulfilled using innovative prodrug strategies targeting disease-associated alterations. Here we will summarize the elaboration, characterization, and evaluation of approaches using polymeric photosensitizer prodrugs, nanoparticles, micelles, and porphysomes. Finally, we will discuss the use of 5-aminolevulinc acid and its derivatives that are selectively transformed in neoplastic cells into photoactive protoporphyrin IX.
Keywords:
quenching; prodrugs; photodynamic therapy; 5-aminolevulinic acid
1. Introduction
Nowadays, personalized medicine is receiving attention from many research groups worldwide. Different approaches have been developed, leading to more specific and efficient treatments. One method in this context is photodynamic therapy (PDT). This therapeutic approach has high versatility and chemical possibilities, low adverse effects, repeatability, and the possibility to be combined with other treatments. These properties, among other advantages, provide interesting properties for cancer treatments.
PDT is based on three different non-toxic factors: a light-activated drug (photosensitizer, PS), local irradiation, and molecular oxygen. The process is carried out following these steps (
Figure 1
): PS application, internalization and accumulation in the target tissue, and irradiation.
Only cells that have internalized the PS are located in the irradiation area and contain enough molecular oxygen will be affected by the cytotoxic reactive oxygen species (ROS).
One of the main advantages of PDT is the possibility to combine this treatment with other complementary techniques [
1
]. For instance, combinations with photothermal therapy (PTT), chemotherapy, or immunotherapy have been reported [
2
,
3
,
4
,
5
,
6
,
7
,
8
].
Historically, the first PDT compounds employed were hematoporphyrin (HP) and hematoporphyrin derivatives (HpD) [
9
,
10
,
11
,
12
]. Second-generation PSs were aimed at increasing the therapy's selectivity and improving their pharmacokinetic and chemical properties. Furthermore, targeting strategies such as encapsulation into nanoparticles or micelles, or chemical coupling to antibodies were tested in order to increase the selectivity to target tumor cells [
13
,
14
]. However, the main current issue with the suggested targeting strategies is the intrinsic PS photoactivity. Due to this limitation, the most promising strategy to improve PS selectivity is to develop compounds that are optically silent until reaching their respective target. Only when they reach and interact with the target do they become activated, thereby improving the signal-to-background ratio (SBR) (see
Figure 2
).
The PS silencing can be achieved with quenched photosensitizers or using pro-drugs with small molecular weights, such as 5-aminolevulinic acid (5-ALA) or its derivatives. These optically silent PS prodrugs are photodynamically inactive until they encounter the proper chemical or biological trigger, inducing a conformation change and becoming photodynamically active. Such chemical or physiological triggers include (1) pH, (2) redox potential, (3) enzymatic activities, (4) DNA, or (5) temperature. This review is dedicated to the development and testing of such photosensitizer prodrugs.
2. Quenched Photosensitizers
3. Nanoparticles
Nanoparticles are sub-microscopic particles with sizes between 1 and 500 nm. The interest in these particles is based on their versatility and the possibilities of improving some PS characteristics such as their selectivity, bioavailability, pharmacokinetics, and cell uptake. Furthermore, they enable control of PS aggregation, protection of the PS from deactivation, specificity for the target, decreased toxicity, and provide a multifunctional delivery platform.
3.1. Nanoparticles Used for Silenced PS
3.1.1. Metal Nanoparticles
Metal nanoparticles, mainly composed of gold, silver, and platinum, have been extensively studied. Their common characteristic is an important quenching effect, produced by the localized surface plasmon resonance effect. When PSs are loaded inside the metal surface, their electrons interact with the nanoparticle plasmon field. Due to this interaction, PSs are initially quenched during the drug delivery, and only after being released into the target tissue the drug will become active.
Gold nanoparticles have been widely used for PS delivery due to their appropriate biological compatibility, multiple functions, easy chemical modification, simple preparation, and their inherent strong surface plasmon resonance absorption band located in the near infrared region. Furthermore, these nanoparticles can be used in combination with photothermal therapy (PTT) [
61
,
62
]. Additionally, they can be designed to bind specific ligands such as proteins, DNA, peptides, or sugars [
63
]. However, they are not biodegradable and their elimination mechanism are still unknown [
61
].
An interesting study led by the laboratory of El-Hussein compared the efficacy of gold and silver nanoparticles in A549 and MCF-7 cell lines. In this article they observed how silver nanoparticles elicit a greater photodynamic effect than gold nanoparticles alone [
64
].
Other groups such as Qiu et al. developed gold nanoparticles conjugated to quenched PSs. In addition, they improved the nanoparticle cell-internalization, conjugating them with activatable cell-penetrating peptides. This structure was studied
in vitro
and
in vivo
, showing a reduced systemic toxicity and tumor growth inhibition [
62
].
3.1.2. Polymeric Nanoparticles
3.1.3. Carriers Based on Lipids
There are different components that can be employed to produce a lipid-based carriers, including liposomes, polymersomes, micelles, and porphysomes.
(1) Liposomes
(2) Polymersomes
(3) Micelles
(4) Porphysomes
Porphysomes are nanovesicles derived from porphyrin-lipid bilayers. They show a high static quenching effect induced by their composition. Porphysomes have a structure and loading capacity similar to liposomes. Interestingly they have a high porphyrin payload, advantageous for a good PDT and fluorescent imaging agent. They are also biocompatible, non-toxic and biodegradable. In addition, it is possible to attach different molecules to the porphysomes structure in order to increase their specificity for the target tissue.
4. 5-ALA and Derivatives
5-Aminolevulinic acid (5-ALA) is a natural metabolite present in every cell and is the main precursor of porphyrines. 5-ALA is a zwitterionic molecule at physiological pH, exhibiting hydrophilic properties that drastically reducing its ability to move through biological tissues barriers [
83
]. It has been shown that following exogenous administration of 5-ALA, high concentrations of the PS protoporphyrin IX (PPIX) in neoplastic tissue can be observed.
Treatments with 5-ALA usually follows the oral, parenteral, or topical administration. After the oral application, 5-ALA's bioavailability is lower compared with to the intravenous administration, and for that reason a higher oral doses are is required to achieve the same final PPIX concentration [
84
]. However, high 5-ALA doses are related to some side effects such as nausea, vomiting, liver function problems, and decreased systolic and diastolic blood pulmonary pressure [
85
,
86
].
4.1. Synthesis of 5-ALA
The 5-ALA biological synthesis is divided in two possible pathways. The first pathway is known as the C4 or Shemin pathway, located inside the mitochondria. This pathway ends with the glycine and succinyl-CoA condensation, catalyzed by the
ALA synthase
(ALAS). The second pathway, known as C5, is present in plants, algae, and several bacterial species. It consists of three reactions: the conversion of glutamate to glutamyl-tRNA by
Glutamyl-tRNA synthetase,
the transformation to glutamate-1-semialdehyde by
glutamyl-tRNA reductase HemA,
and the conversion into 5-ALA by
glutamate-1-semialdehyde amino transferase HemL
[
87
,
88
,
89
].
In mammalian cells, 5-ALA is principally be transformed into heme, from which the production of 5-ALA (by
ALAS
) is feedback-regulated (see
Figure 4
). However, when 5-ALA is exogenously administered there is enzyme saturation in the route and the cell is unable to convert all the PPIX to heme, causing an overproduction and accumulation of this route intermediary, which is at the same time a natural PS (PPIX) [
90
].
4.2. Specific PPIX Accumulation in Cancer Cells
The explained PPIX accumulation after 5-ALA supply occurs in healthy and cancer cells; nevertheless, some factors have been suggested to induce the differential PPIX accumulation observed between cancer and healthy cells [
90
]: (1) Availability of iron, (2) lower activity of
ferrochelatase,
(3) transferrin receptor expression, (4) altered expression of enzymes in heme biosynthesis, and (5) mitochondrial content. The principal hypothesis for the selective accumulation of PPIX after administration of 5-ALA have been discussed in detail recently [
91
]. Furthermore, it has been mentioned that modern tools in microbiology have not been used to determine the reasons for this phenomenon. However, in the context of this review, it has to be mentioned that 5-ALA induced PPIX is an ideal silenced PS, since none of the intermediates or products in heme biosynthesis is photoactive.
4.3. 5-ALA Derivatives
Another way to modify 5-ALA's structure is to create pseudo peptides by addressing the amino-function. The peptide derivation opens the door to the active transport through the membrane using dipeptide transporters. In addition, they are also relevant to target some tumor enzymes (aminopeptidases), which remove the peptide only when the derivative is internalized by the target cells, activating 5-ALA. Moreover, peptide derivatives are more stable at physiologic pH than their precursor.
In the last years, 5-ALA and its derivatives have been studied and employed to treat multiple diseases, showing their therapeutic potential.
5. Conclusions and Perspectives
In times where modern molecular biology constantly elucidates new mechanisms of cancer occurrence and progression, diseases will be detected at earlier stages in the future. Therefore, minimally invasive methods are needed to fight tumors at localized stages. In this context, PDT and PD might have an important role in treating or assisting surgery in the future. However, current photosensitizers lack selectivity for the diseased tissues and may potentially harm neighboring healthy tissues. Photosensitizer prodrugs provide the possibility to obtain high tumor-to-normal tissue ratios at early stages of the distribution phase of the pharmacokinetic profile of the prodrug. At the moment, only 5-ALA induced PpIX has obtained marketing authorization for the treatment or detection of different kinds of cancer. However, also other kinds of enzymatic alterations in cancer cell metabolisms could potentially be targeted in the future. This review aimed to illustrate different potential routes that can be followed. Furthermore, with expected advances in tumor biology, other mechanisms can be targeted to design different photosensitizer prodrugs.
Author Contributions
Writing—original draft preparation, S.S.-P., J.B. and N.L.
Funding
This work has been supported by the Grant 205321_173027 kindly provided by the Swiss National Science Foundation.
Conflicts of Interest
The authors declare no conflict of interest.

Figure 1. Photodynamic therapy (PDT) diagram. The therapy starts with photosensitizer (PS) administration. The drug is accumulated in the target tissue, and only when irradiated with light does leads to cell death.

Figure 2. Improving the signal-to-background ratio (SBR): Upper row: Intrinsically active targeted photosensitizers (PSs) have a low SBR during administration and distribution within the body. Only during the elimination phase does the SBR become higher. Lower row: Optically silent PSs already have a high SBR during the distribution phase. Red spheres represent photoactive photosensitizers; Grey spheres represent non-active photosensitizers.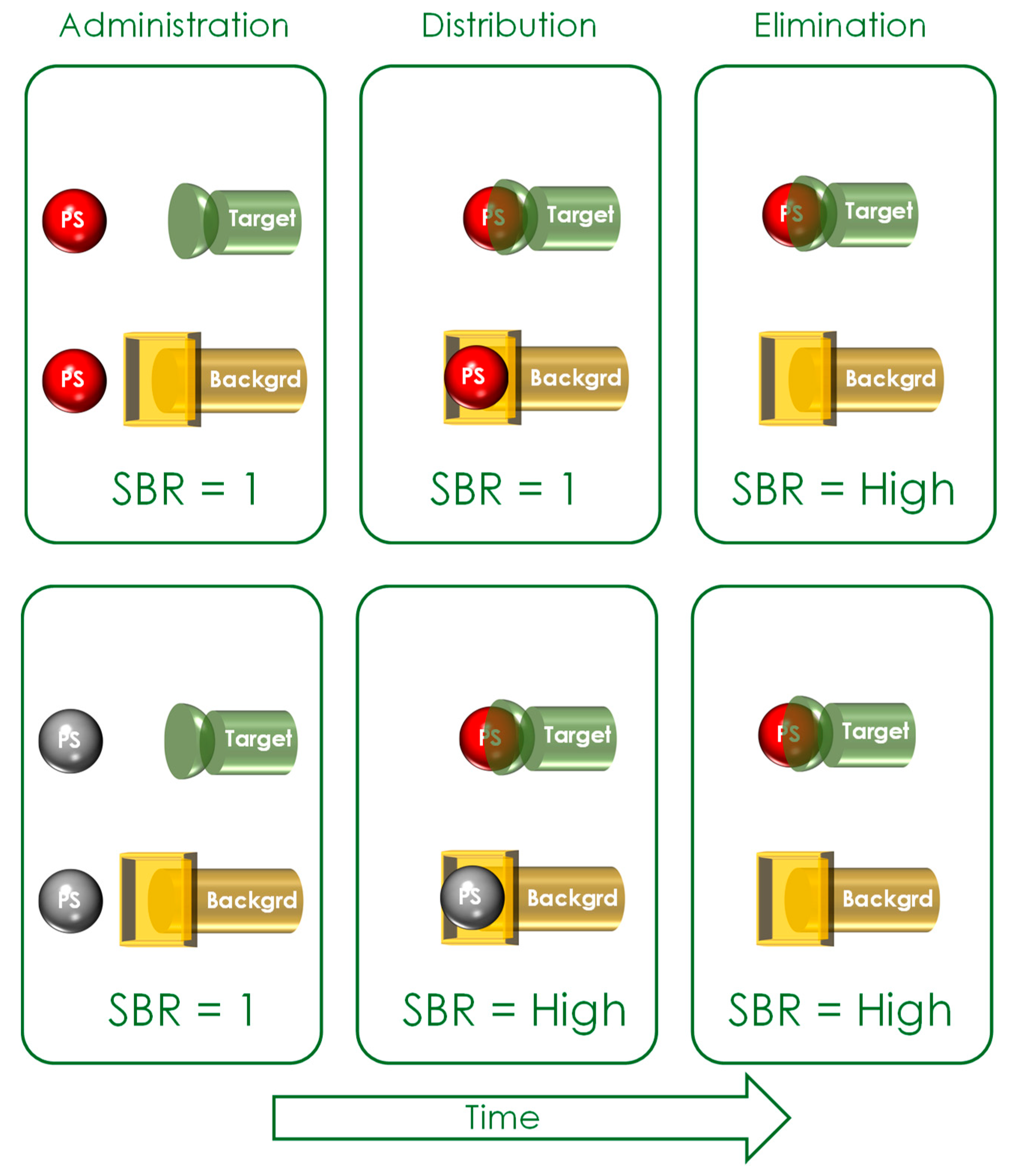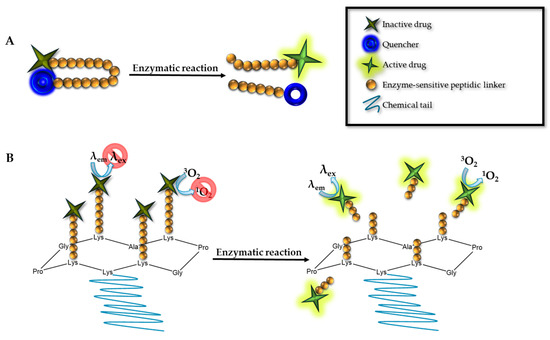 Figure 3. (A) Molecular beacon. In its initial conformation, the PS is quenched thanks to the proximity between the PS and quencher linked to a synthetic chain, which could be a peptide, DNA, or RNA. After the proper digestion or complement sequence hybridization, the PS is activated by the physical separation between the two components. (B) Regioselectively-Addressable Functionalized Templates (RAFTs). The molecular structure is based in a cyclopeptidic scaffold. We can differentiate two main domains, one functionalized with different PSs, and the second domain containing a chemical chain to increase the solubility. In its initial conformation, the molecule is quenched, until the linker encounters a specific digestion, becoming active.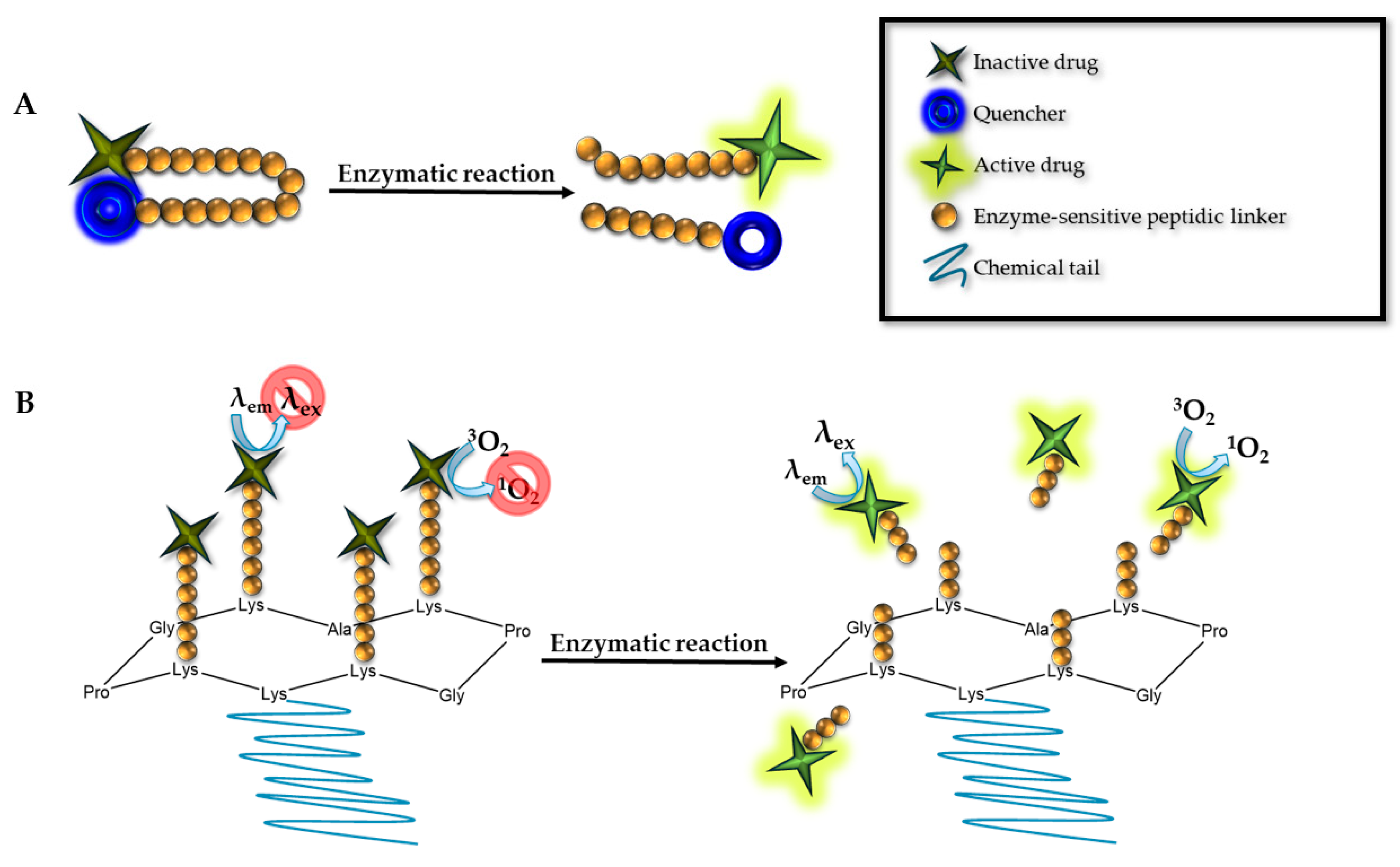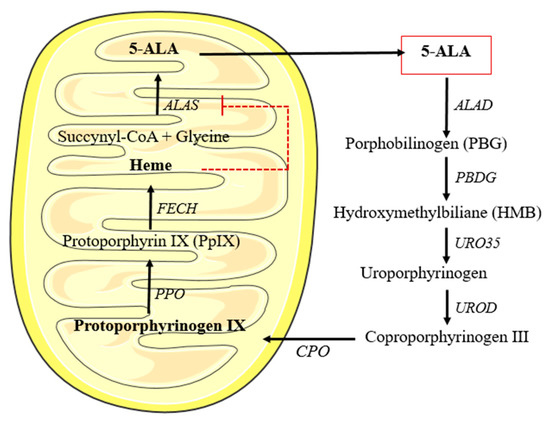 Figure 4. Heme biosynthesis. 5-aminolevulinic acid (5-ALA) resulting from the condensation of succynil-CoA and glycine. It can pass through the mitochondrial membrane. Once inside the cytosol after different enzymatic reactions it is converted into coproporphyrinogen III, which in turn re-enters the inner mitochondrial membrane. Then, after two consecutive reactions it is transformed into heme. This heme group works functions as a negative feedback for the 5-ALA synthesis.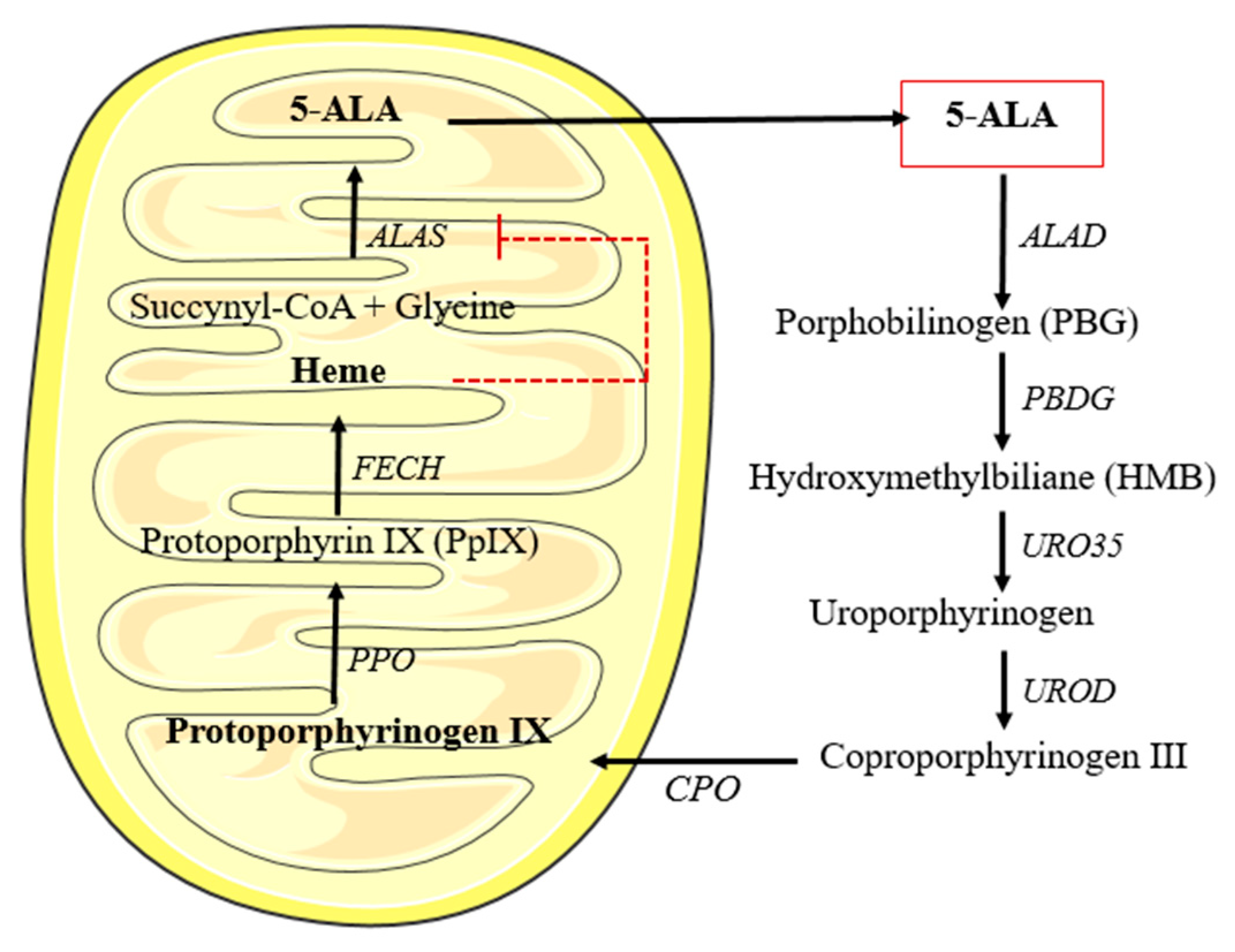 Table 1. PSs responsive to different stimuli. POEGMA: poly(oligoethylene glycol) methyl ether methacrylate.
Stimulus
PS
Phototoxicity
Imaging
Reference
pH
phthalocyanine
No
Yes
[42]
BODIPY
-
-
[43]
ɣ-Glutamyltranspeptidase
hydroxymethyl selenorhodamine
Yes
Yes
[37]
Temperature
POEGMA
No
No
[44]
Glutathione
BODIPY
No
No
[19]
BODIPY
Yes (High dark/photocytotoxicity ratio)
Yes
[45]
Dendritic phthalocyanines
No
No
[46]
BODIPY
No
No
[47]
pH and thiol-responsive
BODIPY
No
No
[20]
Product Name
Photosensitizer
Administration
Treatment of
Skin Photosensitivity
Levulan ®
Kerastick ®
5-ALA
Topical, oral, intravenous/powder for solution, cream
Actinic keratoses
1–2 days
Effala ®/Alacare ®
5-ALA
Medicated plaster
Actinic keratosis
Gliolan ®
5-ALA
Powder for oral solution
Detection malignant glioma
Metvix ®
5-ALA methyl ester
Cream, topical
Actinic keratosis
Basal cell carcinoma
Bowen's disease
uncommon
Hexvic ®
5-ALA hexyl ester
Topical/powder for solution, gel
Detection of recurrent bladder cancer
uncommon
Cysview ®
5-ALA hexyl ester
Powder for solution
Detection of recurrent bladder cancer
Ameluz ®
5-ALA
Cream, topical
Actinic keratosis
uncommon

© 2019 by the authors. Licensee MDPI, Basel, Switzerland. This article is an open access article distributed under the terms and conditions of the Creative Commons Attribution (CC BY) license (http://creativecommons.org/licenses/by/4.0/).