CK2 Pro-Survival Role in Prostate Cancer Is Mediated via Maintenance and Promotion of Androgen Receptor and NFκB p65 Expression
1
Research Service, Minneapolis VA Health Care System, Minneapolis, MN 55417, USA
2
Department of Laboratory Medicine and Pathology, University of Minnesota, Minneapolis, MN 55455, USA
3
Masonic Cancer Center, University of Minnesota, Minneapolis, MN 55455, USA
4
Department of Urology, University of Minnesota, Minneapolis, MN 55455, USA
*
Authors to whom correspondence should be addressed.
Received: 4 May 2019 / Revised: 5 June 2019 / Accepted: 13 June 2019 / Published: 14 June 2019
Abstract
The prosurvival protein kinase CK2, androgen receptor (AR), and nuclear factor kappa B (NFκB) interact in the function of prostate cells, and there is evidence of crosstalk between these signals in the pathobiology of prostate cancer (PCa). As CK2 is elevated in PCa, and AR and NFκB are involved in the development and progression of prostate cancer, we investigated their interaction in benign and malignant prostate cells in the presence of altered CK2 expression. Our results show that elevation of CK2 levels caused increased levels of AR and NFκB p65 in prostate cells of different phenotypes. Analysis of TCGA PCa data indicated that AR and CK2α RNA expression are strongly correlated. Small molecule inhibition or molecular down-regulation of CK2 caused reduction in AR mRNA expression and protein levels in PCa cells and in orthotopic xenograft tumors by various pathways. Among these, regulation of AR protein stability plays a unifying role in CK2 maintenance of AR protein levels. Our results show induction of various endoplasmic reticulum stress signals after CK2 inhibition, which may play a role in the PCa cell death response. Of note, CK2 inhibition caused loss of cell viability in both parental and enzalutamide-resistant castrate-resistant PCa cells. The present work elucidates the specific link of CK2 to the pathogenesis of PCa in association with AR and NFκB expression; further, the observation that inhibition of CK2 can exert a growth inhibitory effect on therapy-resistant PCa cells emphasizes the potential utility of CK2 inhibition in patients who are on enzalutamide treatment for advanced cancer.
View Full-Text
►

▼

Figures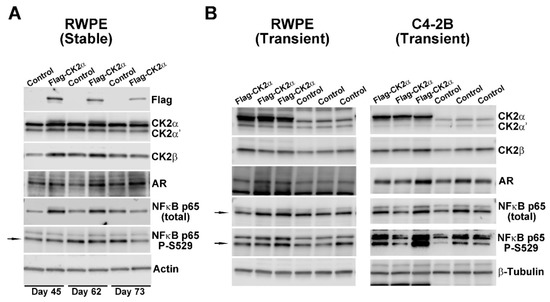 Figure 1
This is an open access article distributed under the
Creative Commons Attribution License
which permits unrestricted use, distribution, and reproduction in any medium, provided the original work is properly cited (CC BY 4.0).

Share & Cite This Article
MDPI and ACS Style
Trembley, J.H.; Kren, B.T.; Abedin, M.J.; Shaughnessy, D.P.; Li, Y.; Dehm, S.M.; Ahmed, K. CK2 Pro-Survival Role in Prostate Cancer Is Mediated via Maintenance and Promotion of Androgen Receptor and NFκB p65 Expression. Pharmaceuticals 2019, 12, 89.
Note that from the first issue of 2016, MDPI journals use article numbers instead of page numbers. See further details here.
Related Articles
Comments
[Return to top]