TRPA1 Antagonists for Pain Relief
1
Research and Development, Orion Corporation Orion Pharma, POB 425 (Tengströminkatu 8), 20101 Turku, Finland
2
Research and Development, Orion Corporation, Orion Pharma, POB 6792, Nottingham NG1 1AH, UK
3
Department of Physiology, Faculty of Medicine, (Haartmaninkatu 8) POB 63, University of Helsinki, 00014 Helsinki, Finland
*
Author to whom correspondence should be addressed.
Received: 1 October 2018 / Revised: 23 October 2018 / Accepted: 23 October 2018 / Published: 1 November 2018
Abstract
Here, we review the literature assessing the role of transient receptor potential ankyrin 1 (TRPA1), a calcium-permeable non-selective cation channel, in various types of pain conditions. In the nervous system, TRPA1 is expressed in a subpopulation of nociceptive primary sensory neurons, astroglia, oligodendrocytes and Schwann cells. In peripheral terminals of nociceptive primary sensory neurons, it is involved in the transduction of potentially harmful stimuli and in their central terminals it is involved in amplification of nociceptive transmission. TRPA1 is a final common pathway for a large number of chemically diverse pronociceptive agonists generated in various pathophysiological pain conditions. Thereby, pain therapy using TRPA1 antagonists can be expected to be a superior approach when compared with many other drugs targeting single nociceptive signaling pathways. In experimental animal studies, pharmacological or genetic blocking of TRPA1 has effectively attenuated mechanical and cold pain hypersensitivity in various experimental models of pathophysiological pain, with only minor side effects, if any. TRPA1 antagonists acting peripherally are likely to be optimal for attenuating primary hyperalgesia (such as inflammation-induced sensitization of peripheral nerve terminals), while centrally acting TRPA1 antagonists are expected to be optimal for attenuating pain conditions in which central amplification of transmission plays a role (such as secondary hyperalgesia and tactile allodynia caused by various types of peripheral injuries). In an experimental model of peripheral diabetic neuropathy, prolonged blocking of TRPA1 has delayed the loss of nociceptive nerve endings and their function, thereby promising to provide a disease-modifying treatment.
View Full-Text
►

▼

Figures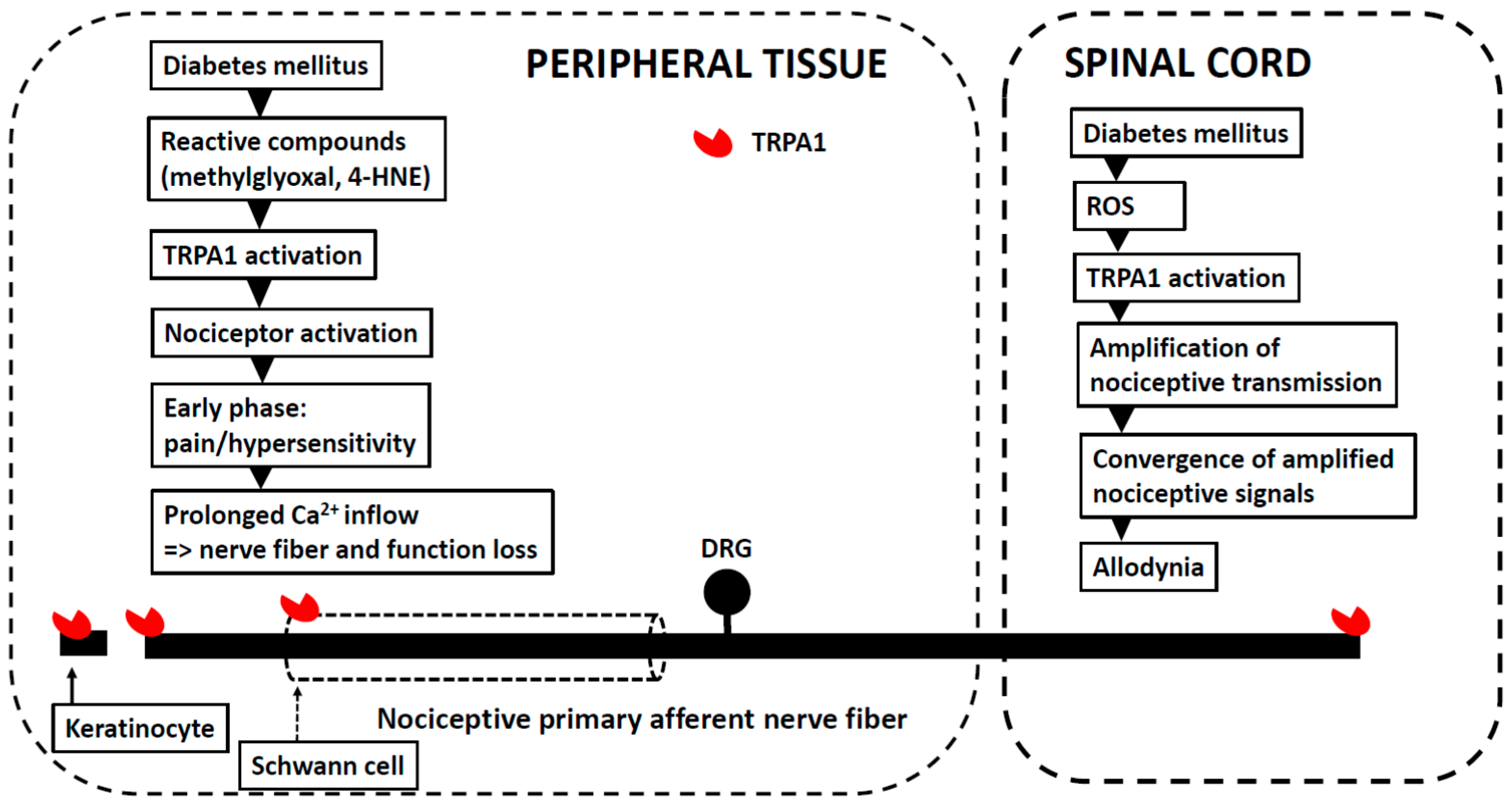 Figure 1
This is an open access article distributed under the
Creative Commons Attribution License
which permits unrestricted use, distribution, and reproduction in any medium, provided the original work is properly cited (CC BY 4.0).

Share & Cite This Article
MDPI and ACS Style
Koivisto, A.; Jalava, N.; Bratty, R.; Pertovaara, A. TRPA1 Antagonists for Pain Relief. Pharmaceuticals 2018, 11, 117.
Note that from the first issue of 2016, MDPI journals use article numbers instead of page numbers. See further details here.
Related Articles
Comments
[Return to top]