DNA Barcoding and Taxonomic Challenges in Describing New Putative Species: Examples from Sootywing and Cloudywing Butterflies (Lepidoptera: Hesperiidae)
Centro de Investigación en Alimentación y Desarrollo, A.C., Unidad Guaymas, Apartado Postal 284, Guaymas, Sonora C.P. 85480, Mexico
Received: 29 August 2018 / Revised: 10 October 2018 / Accepted: 10 October 2018 / Published: 15 October 2018
Abstract
DNA barcoding has resulted in the 'discovery' of a vast number of new species and subspecies. Assigning formal scientific names to these taxa remains a major challenge. Names sometimes are newly designated. Alternatively, available valid names can be resurrected from synonymy, based on barcode analyses together with classical taxonomic characters. For the most part, however, new putative species revealed by barcoding studies go undescribed. This situation is most often attributed to insufficient taxonomic expertise with the authors conducting the study, together with a critical lack of formally trained taxonomists. However, even with formal training, and additional supportive data from morphological, ecological or life history characters, other factors can arise that impede new species descriptions. In the present paper, several specific taxonomic challenges that have arisen from barcode analyses in two groups of skipper butterflies (Lepidoptera: Hesperiidae), the Sootywings (
Pholisora catullus
and
P. mejicanus
) and the Coyote Cloudywing (
Achalarus toxeus
) are highlighted and discussed. Both
P. catullus
and
A. toxeus
show relatively large intraspecific genetic divergences of barcodes (2–3%) which suggests the possibility of previously unrecognized cryptic speciation within each group. Some of the challenges to providing formal names and clarifying taxonomic status of these cryptic taxa could be largely overcome by (1) barcoding type specimens, (2) clarifying imprecise and often vague or suspect type localities, and (3) by conducting in-depth comparative studies on genitalic morphology.
View Full-Text
►

▼

Figures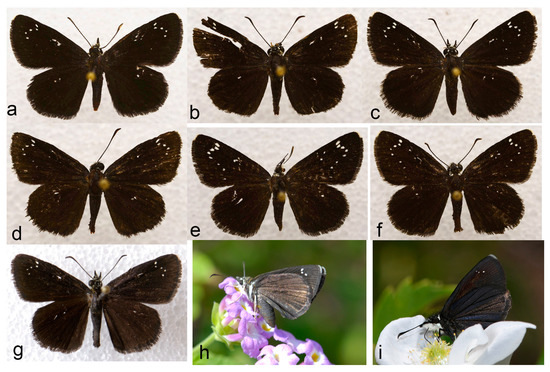 Figure 1
This is an open access article distributed under the
Creative Commons Attribution License
which permits unrestricted use, distribution, and reproduction in any medium, provided the original work is properly cited (CC BY 4.0).

Share & Cite This Article
MDPI and ACS Style
Pfeiler, E. DNA Barcoding and Taxonomic Challenges in Describing New Putative Species: Examples from Sootywing and Cloudywing Butterflies (Lepidoptera: Hesperiidae). Diversity 2018, 10, 111.
Note that from the first issue of 2016, MDPI journals use article numbers instead of page numbers. See further details here.
Related Articles
Comments
[Return to top]