Open Access This article is
freely available
re-usable
Article
Stereoselective Synthesis of Carbon-Sulfur-Bridged Glycomimetics by Photoinitiated Thiol-Ene Coupling Reactions
1
Department of Pharmaceutical Chemistry University of Debrecen, Egyetem tér 1, H-4032 Debrecen, Hungary
2
Department of Organic Chemistry, University of Debrecen, Egyetem tér 1, H-4032 Debrecen, Hungary
3
Doctoral School of Chemistry, University of Debrecen, Egyetem tér 1, H-4032 Debrecen, Hungary
*
Author to whom correspondence should be addressed.
Received: 20 December 2019 / Accepted: 15 January 2020 / Published: 16 January 2020
Abstract
:
Oligosaccharides and glycoconjugates are abundant in all living organisms, taking part in a multitude of biological processes. The application of natural
O
-glycosides in biological studies and drug development is limited by their sensitivity to enzymatic hydrolysis. This issue made it necessary to design hydrolytically stable carbohydrate mimetics, where sulfur, carbon, or longer interglycosidic connections comprising two or three atoms replace the glycosidic oxygen. However, the formation of the interglycosidic linkages between the sugar residues in high diastereoslectivity poses a major challenge. Here, we report on stereoselective synthesis of carbon-sulfur-bridged disaccharide mimetics by the free radical addition of carbohydrate thiols onto the exo-cyclic double bond of unsaturated sugars. A systematic study on UV-light initiated radical mediated hydrothiolation reactions of enoses bearing an exocyclic double bond at C1, C2, C3, C4, C5, and C6 positions of the pyranosyl ring with various sugar thiols was performed. The effect of temperature and structural variations of the alkenes and thiols on the efficacy and stereoselectivity of the reactions was systematically studied and optimized. The reactions proceeded with high efficacy and, in most cases, with complete diastereoselectivity producing a broad array of disaccharide mimetics coupling through an equatorially oriented methylensulfide bridge.
Keywords:
carbohydrate; disaccharide; glycomimetic; thioglycoside;
C
-glycoside; photochemical addition; thiyl radical; diastereoselective synthesis
Author Contributions
Conceptualization, A.B. and Y.Y.; methodology, A.B., L.L. and M.C.; investigation, M.C., D.E, E.M., L.L., N.D., M.T.; writing—original draft preparation, A.B.; writing—review and editing, A.B.; funding acquisition, A.B., M.C., L.S, M.T. All authors have read and agreed to the published version of the manuscript.
Funding
This research was funded by the National Research, Development and Innovation Office of Hungary under the projects K119509 (M.C.), K132870 (A.B.) and FK 128766 (M.T.). The project was also supported by the EU and co-financed by the European Regional Development Fund under the projects GINOP-2.3.2-15-2016-00008, GINOP-2.3.3-15-2016-00004 and GINOP-2.3.3-15-2016-00021. "Developing Pharmaceutical Technology R&D Infrastructure on the University of Debrecen" project. The publication was supported by the János Bolyai Fellowship (M.C. and L.L.) of the Hungarian Academy of Sciences and the ÚNKP-19-4 New National Excellence Program of the Ministry for Innovation and Technology (M.C.). The author acknowledges the support from EFOP-3.6.1-16-2016-00022 "Debrecen Venture Catapult Program" (N.D.).
Acknowledgments
The authors acknowledge the excellent technical assistance of Márta Bodza and Dóra Fekete.
Conflicts of Interest
The authors declare no conflict of interest.
Abbreviations
DPAP
2,2-dimethoxy-2-phenylacetophenone
BDA
butane-2,3-diacetal
DIPEA

N

,

N

-diisopropylethylamine
TBDMS

tert

-butyldimethylsilyl
TBDPS

tert

-butyldiphenylsilyl
TFA
trifluoroacetic acid
TBAF
tetrabutylammonium fluoride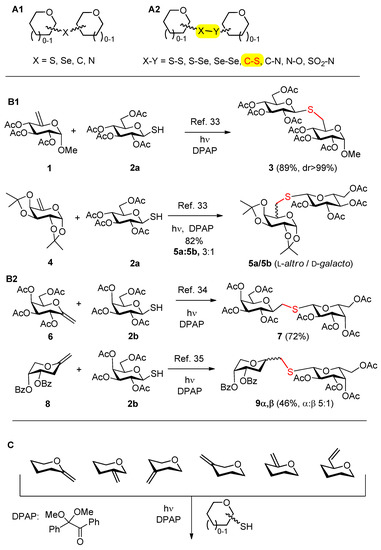 Scheme 1.
(
A
) Disaccharide mimetics with two-bond and three-bond linkages. Yellow background indicates the three-bond connection, and the
C
-
S
bond discussed in this study is highlighted in red. (
B
) Literature results on the synthesis of
C
-
S
-bridged disaccharide mimetics. The newly formed C-S bonds are highlighted in red. (
C
) This work: systematic study on UV-light induced hydrothiolation reactions of enopyranoses bearing an exocyclic double bond at C1, C2, C3, C4, C5, and C6 positions.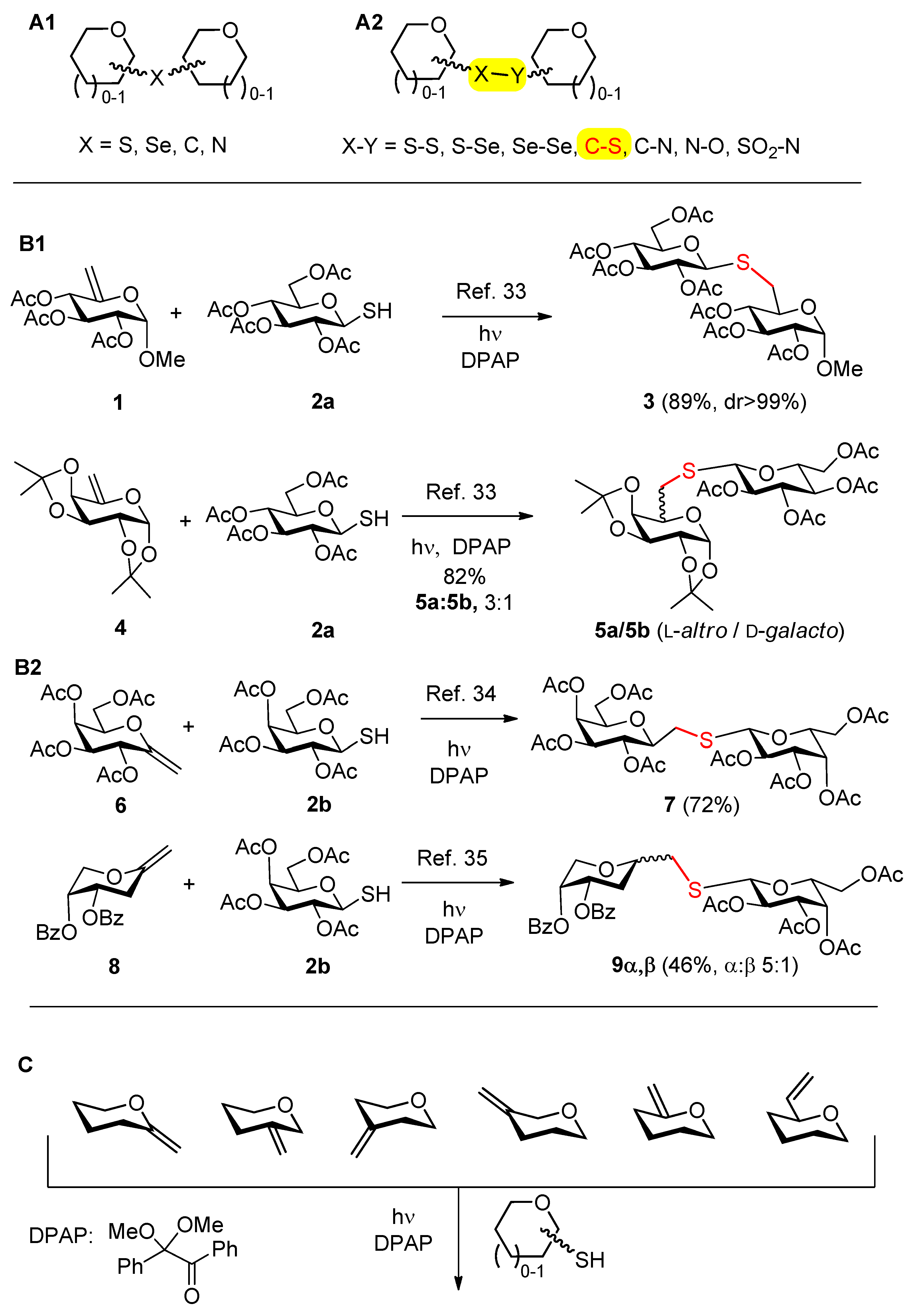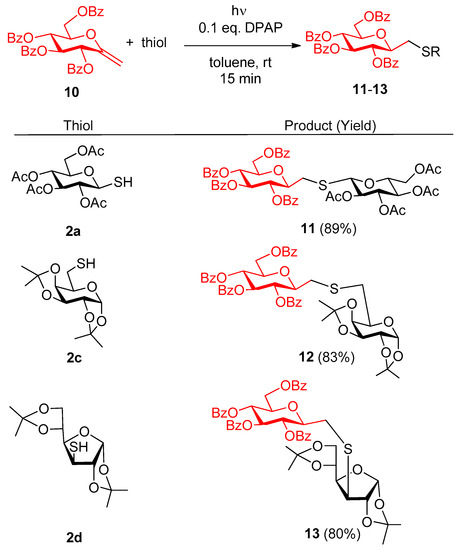 Figure 1.
Stereoselective synthesis of glycosylmethyl sulfide type glycomimetics by thiol-ene reactions of
exo
-glucal
10
.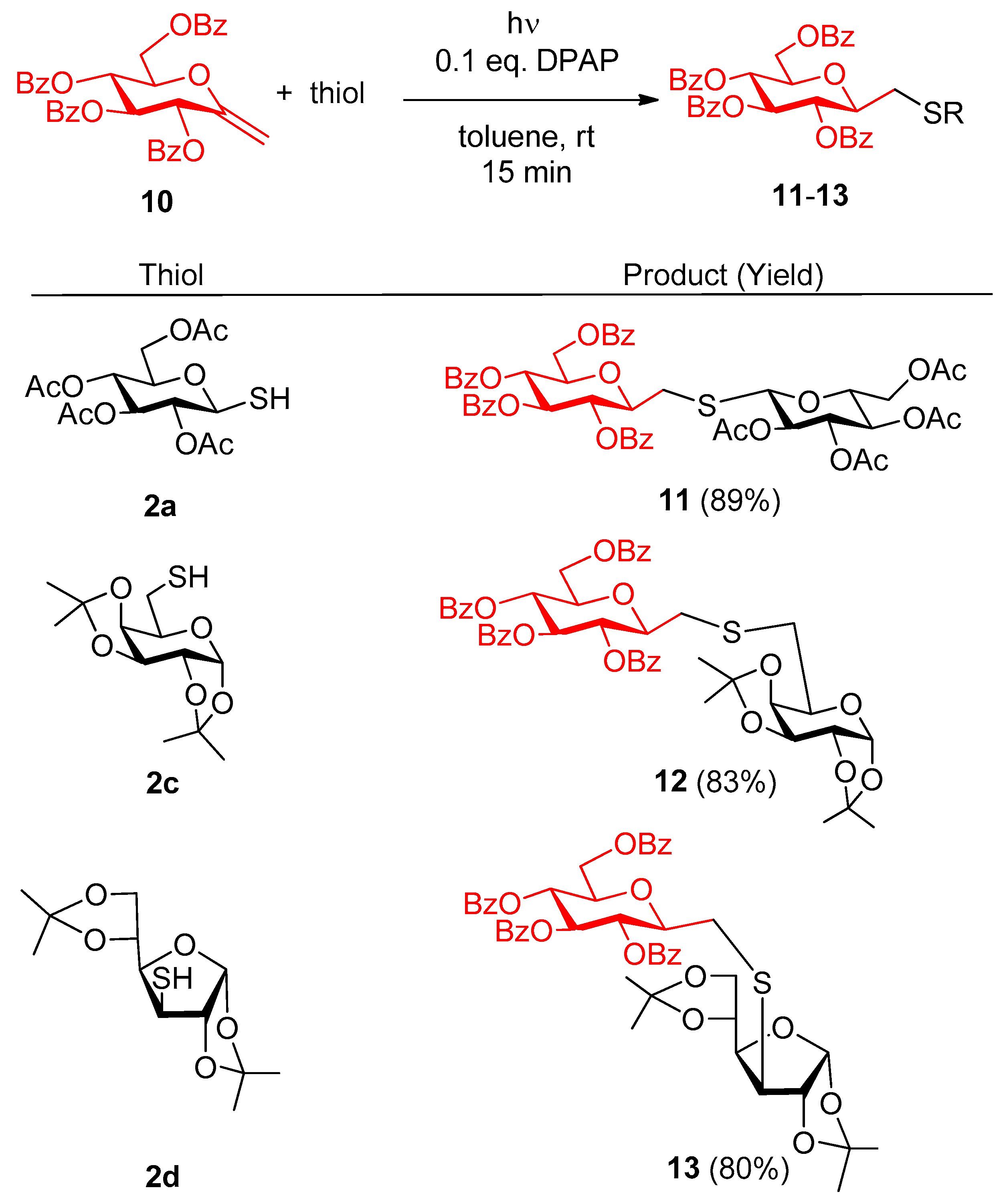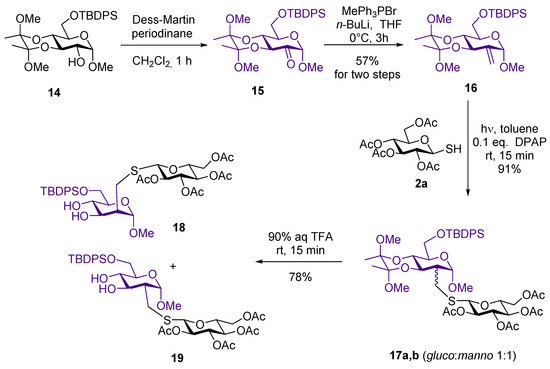 Scheme 2. Hydrothiolation reaction of the glucose-derived enoside 16 bearing a C2-exomethylene group.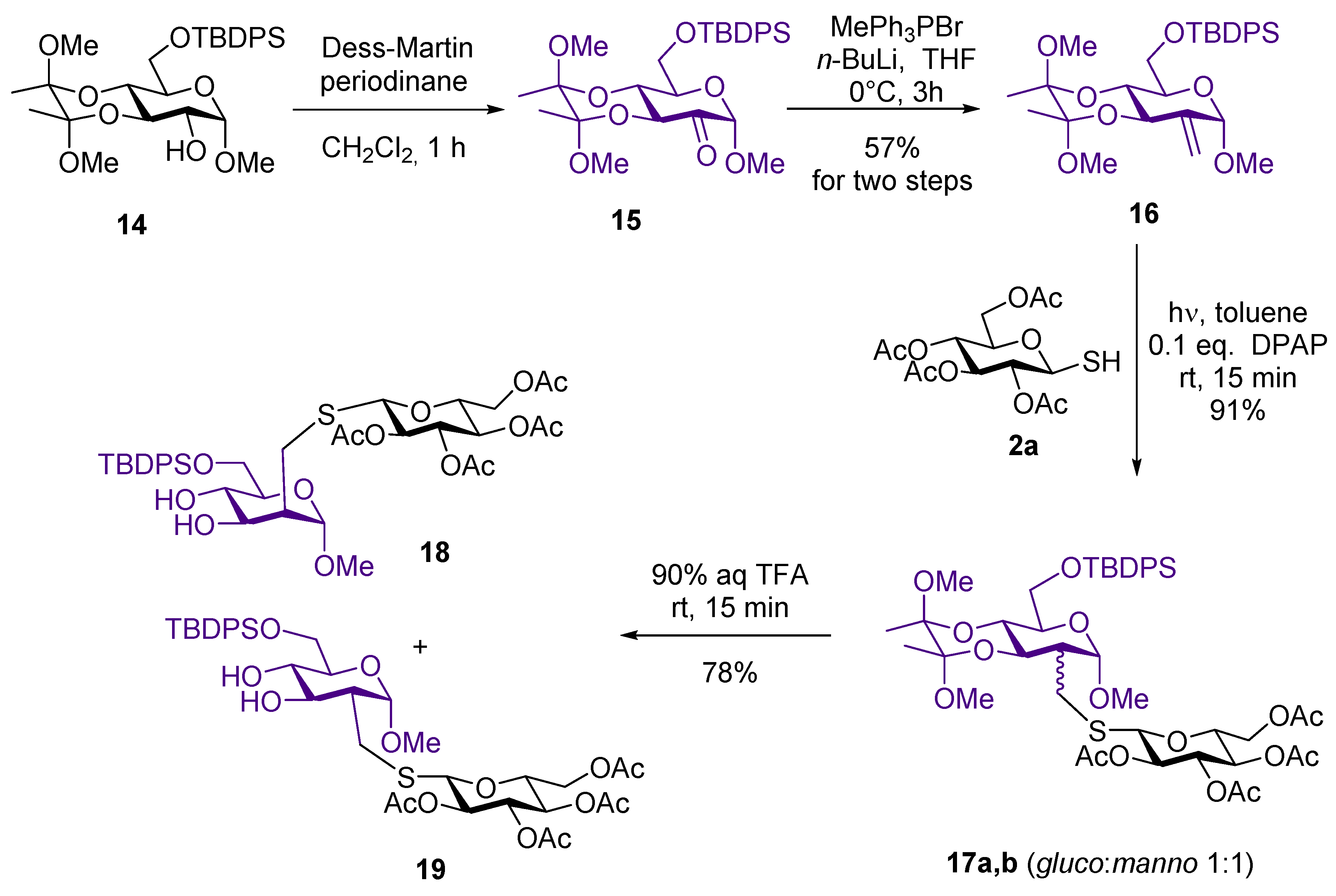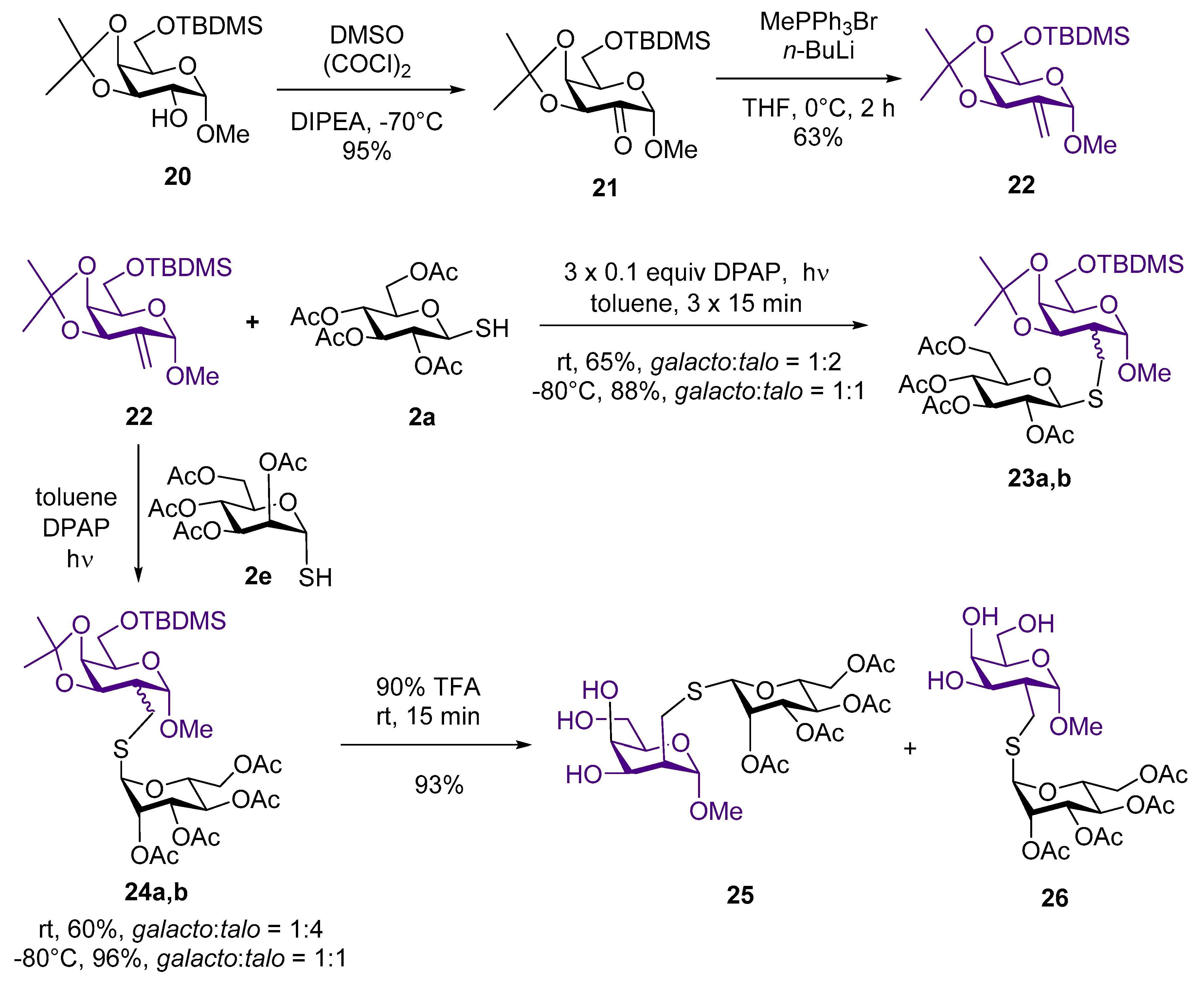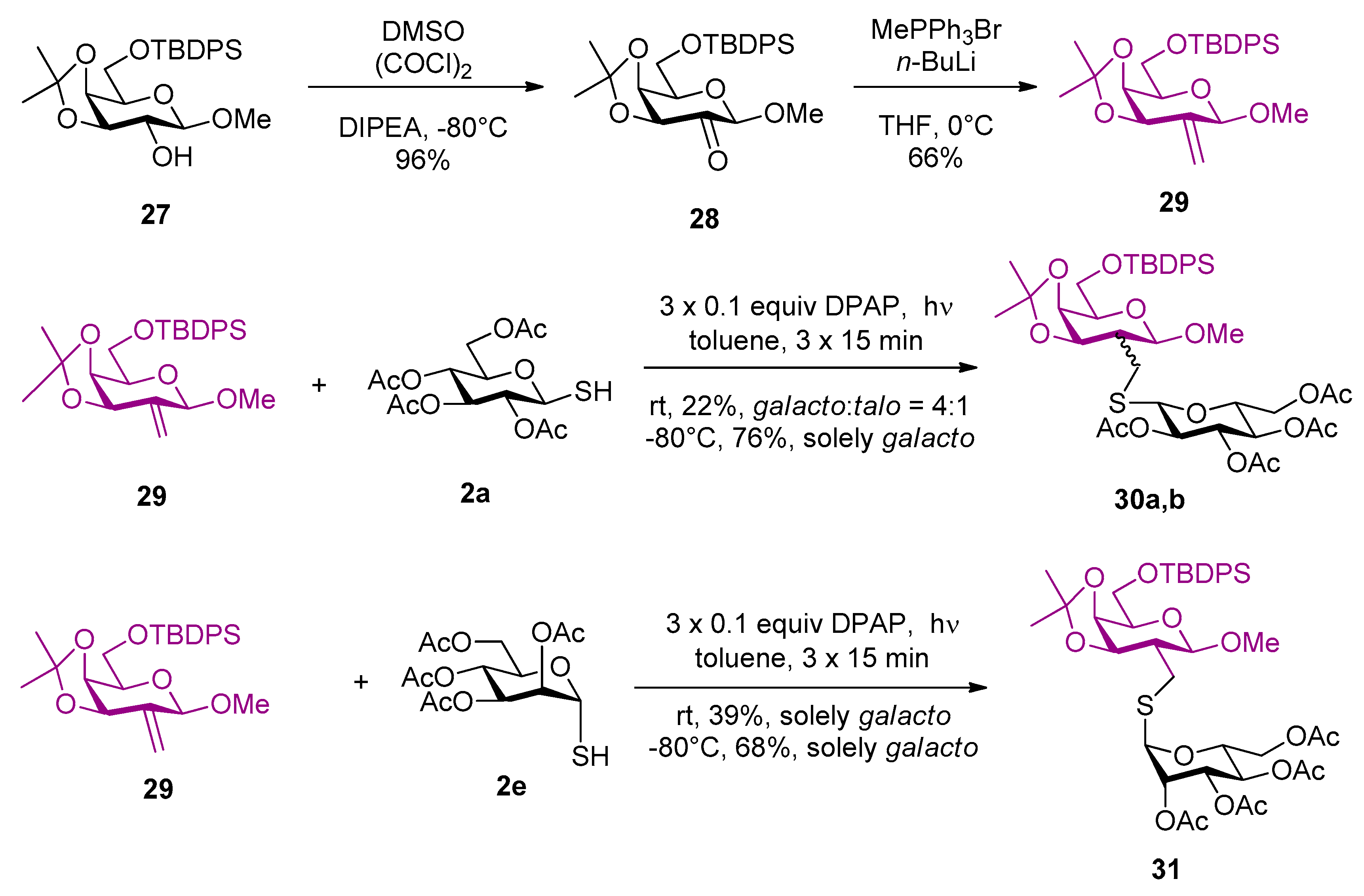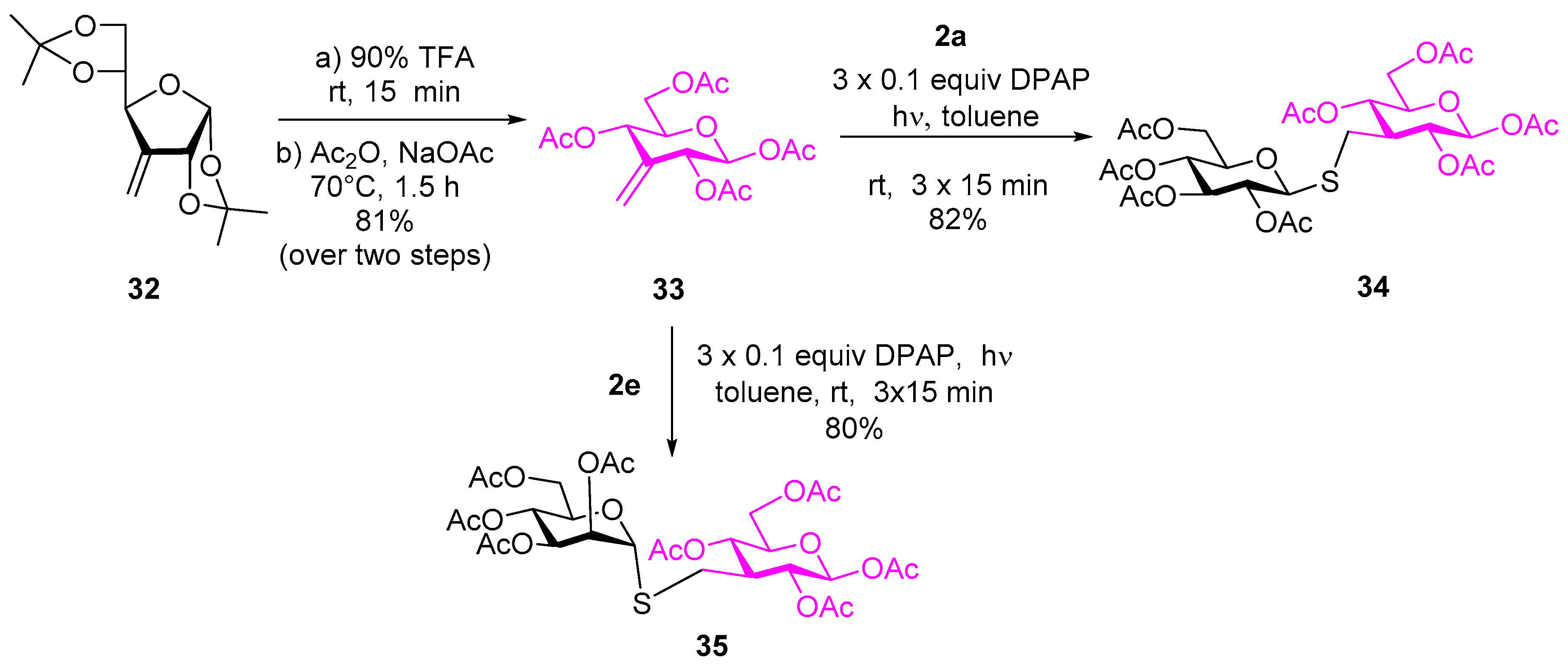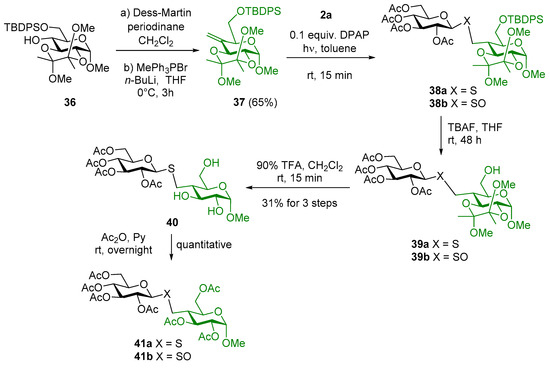 Scheme 6. Addition of 1-thioglucose 2a onto the C4-positioned exocyclic double bond of enopyranoside 37.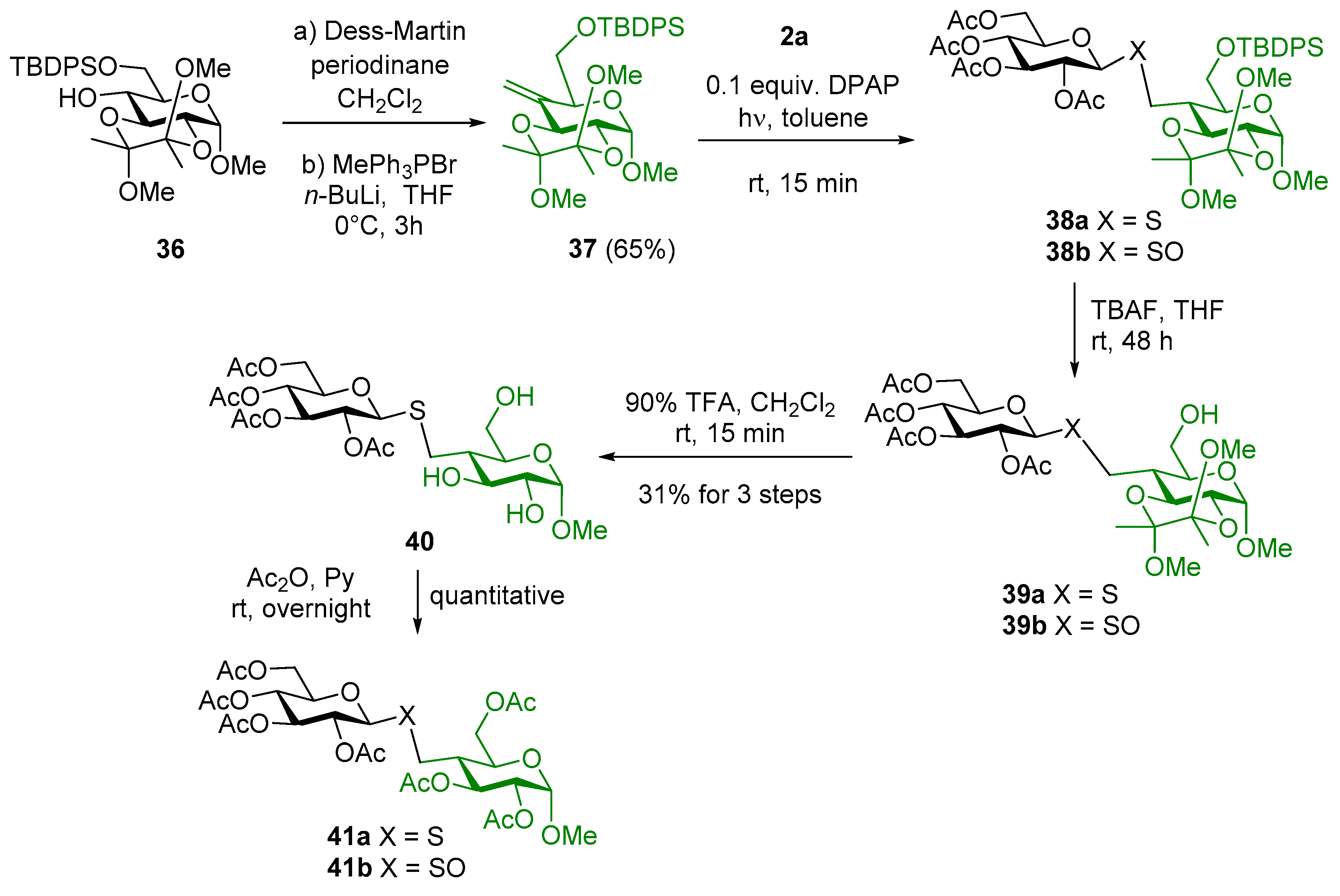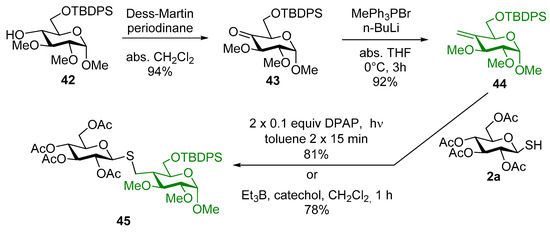 Scheme 7. The addition of 1-thioglucose 2a onto the C4-exomethylene derivative 44 using different initiation methods.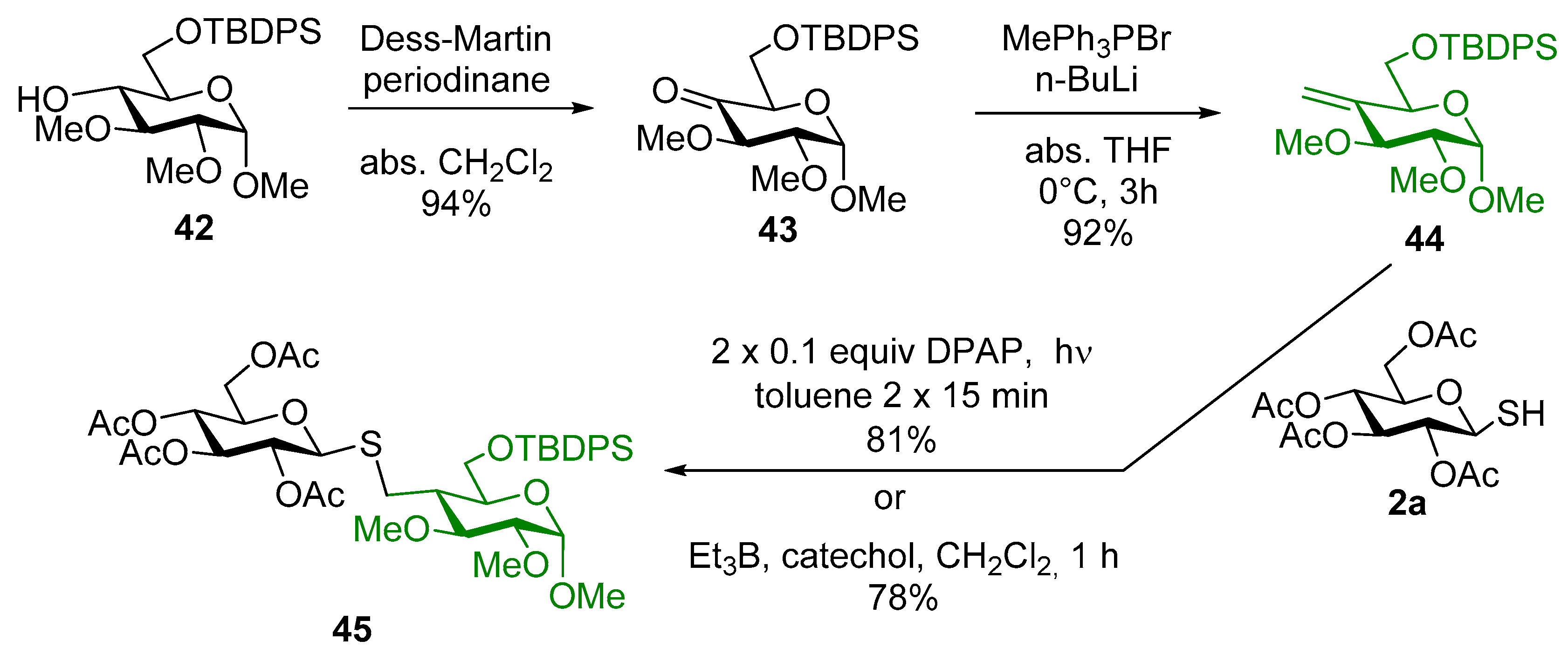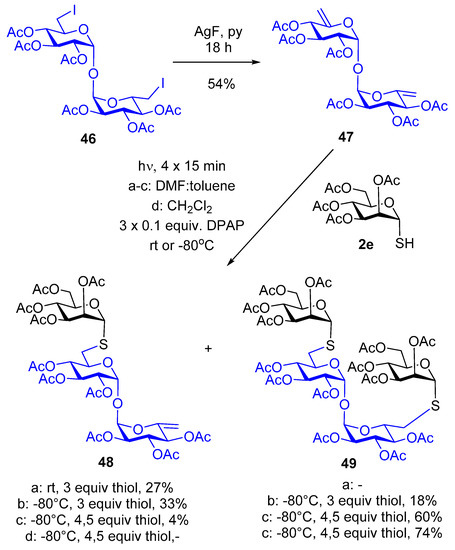 Scheme 8. Synthesis of higher oligosaccharides by photoinitiated hydrothiolation of disaccharide dienoside 47 with different thiol-ene ratios and different temperatures.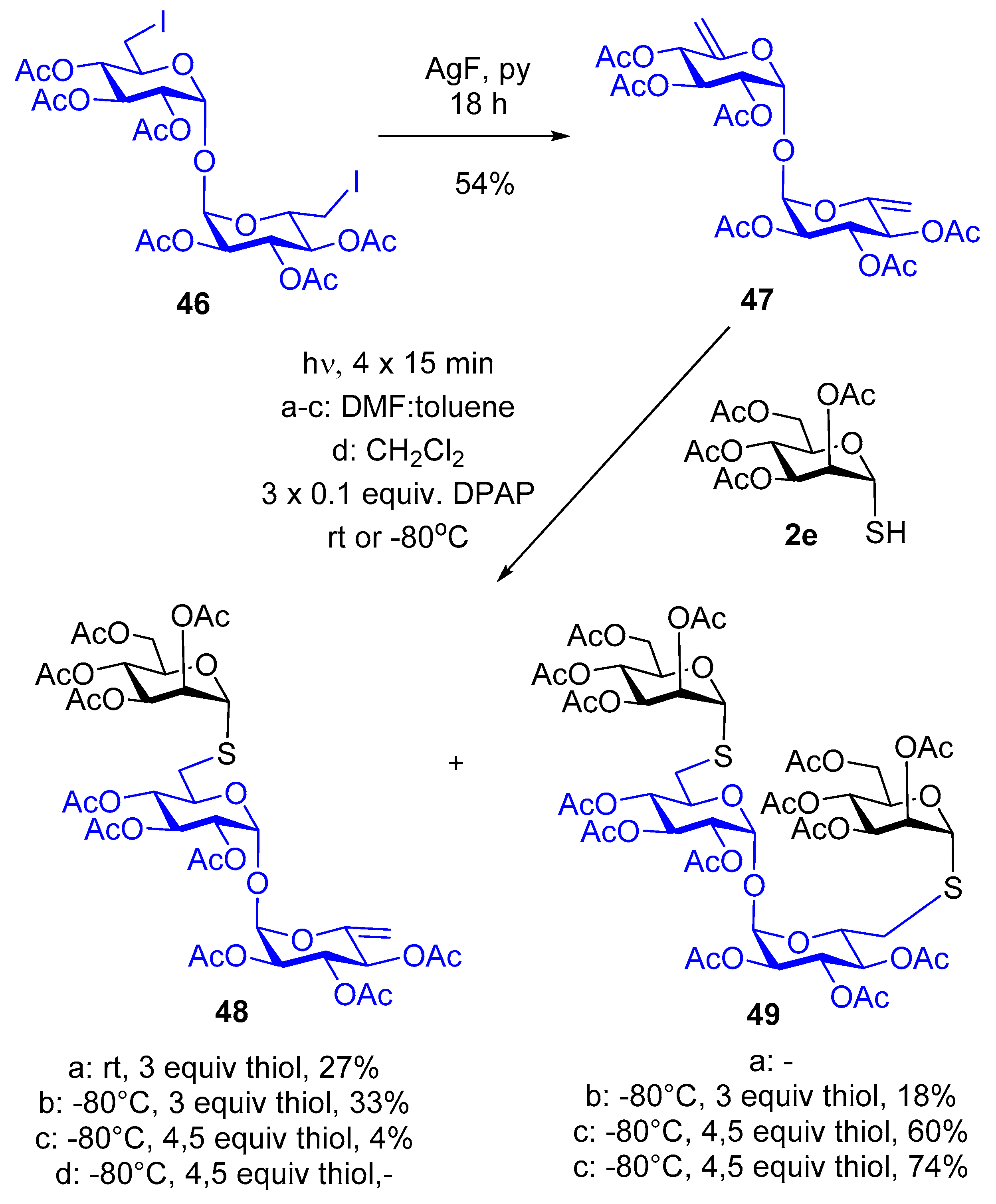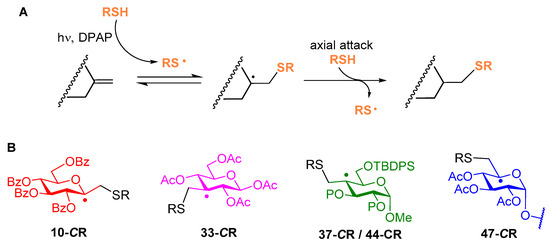 Scheme 10. (A) Reversible thiyl addition (propagation) step and irreversible hydrogen abstraction (chain transfer) step upon addition of thiols onto exocyclic double bonds. (B) Carbon-centered radical intermediates with an equatorial methylenesulfide moiety formed by addition of a thiyl radical to C1-, C3-, C4-, or C5-positioned exomethylene group.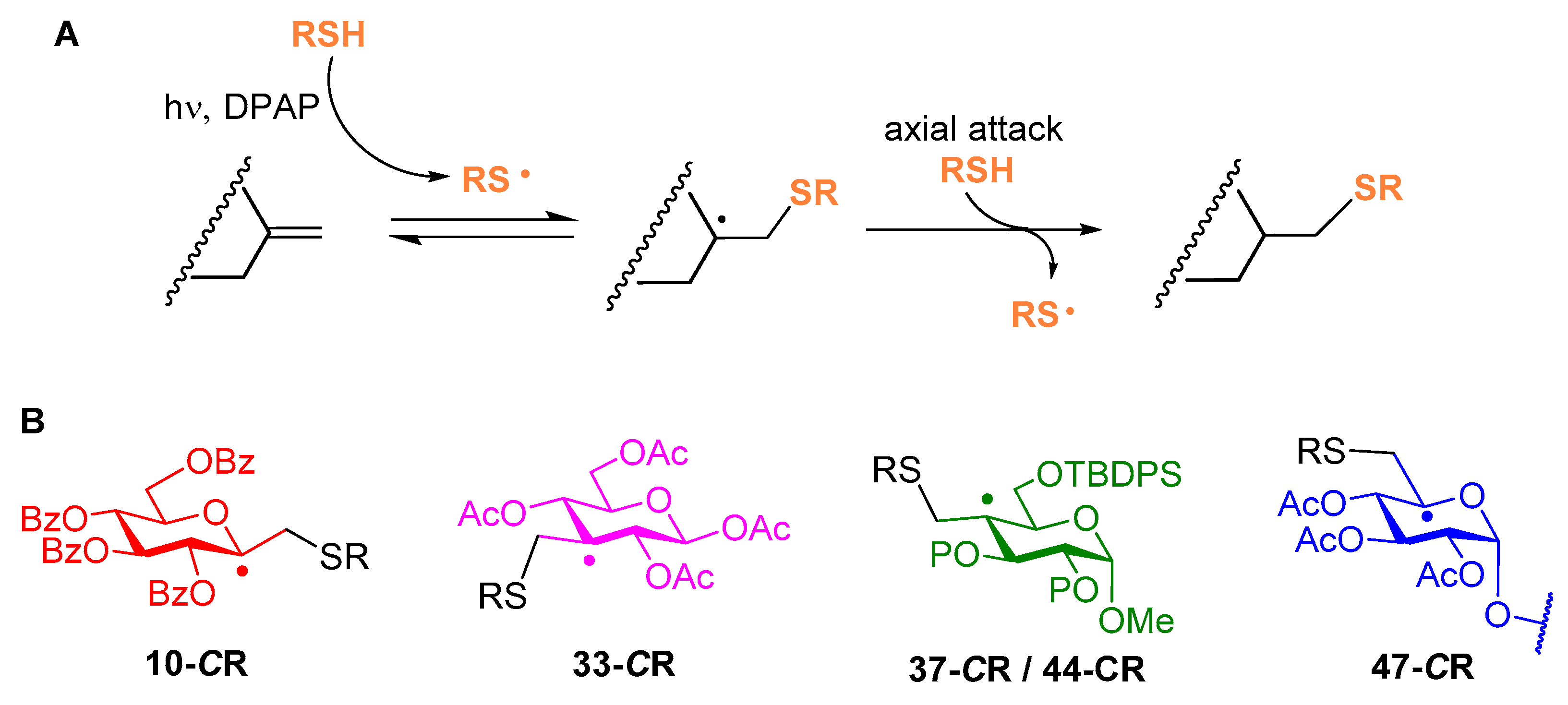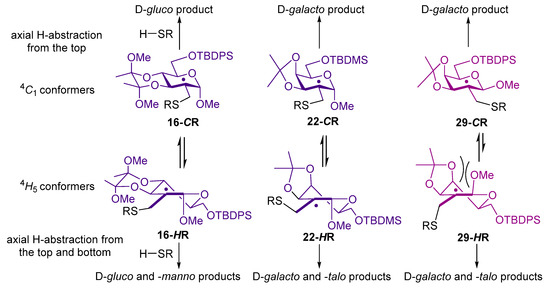 Scheme 11. Assumed conformations of the C2-centered radicals and the configuration of the possible products formed from these radicals upon axial H-abstraction.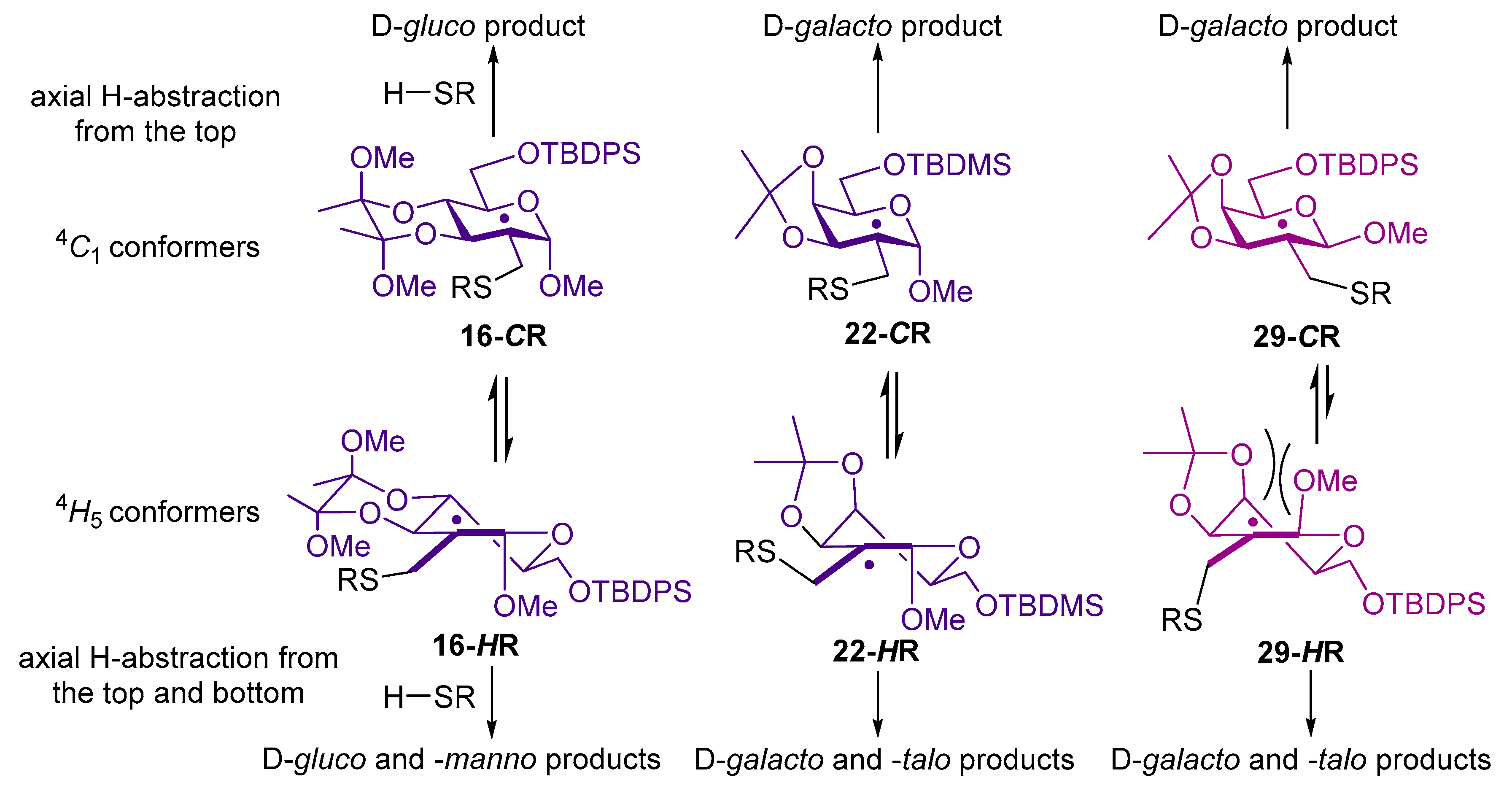 © 2020 by the authors. Licensee MDPI, Basel, Switzerland. This article is an open access article distributed under the terms and conditions of the Creative Commons Attribution (CC BY) license (http://creativecommons.org/licenses/by/4.0/).