The Use of Proton Pump Inhibitors May Increase Symptoms of Muscle Function Loss in Patients with Chronic Illnesses
1
Nutritional Biology, Division of Human Nutrition and Health, Wageningen University, Stippeneng 4, 6708 WE Wageningen, The Netherlands
2
Heart Center Leipzig at University of Leipzig, Department of Internal Medicine/Cardiology, Strümpellstraße 39, 04289 Leipzig, Germany
3
Nutrition and Disease, Division of Human Nutrition and Health, Wageningen University, Stippeneng 4, 6708 WE Wageningen, The Netherlands
4
Department of Geriatric Medicine, Gelderse Vallei Hospital, Willy Brandtlaan 10, 6716RP Ede, The Netherlands
*
Author to whom correspondence should be addressed.
Received: 15 November 2019 / Revised: 23 December 2019 / Accepted: 28 December 2019 / Published: 3 January 2020
Long-term use of proton pump inhibitors (PPIs) is common in patients with muscle wasting-related chronic diseases. We explored the hypothesis that the use of PPIs may contribute to a reduction in muscle mass and function in these patients. Literature indicates that a PPI-induced reduction in acidity of the gastrointestinal tract can decrease the absorption of, amongst others, magnesium. Low levels of magnesium are associated with impaired muscle function. This unwanted side-effect of PPIs on muscle function has been described in different disease backgrounds. Furthermore, magnesium is necessary for activation of vitamin D. Low vitamin D and magnesium levels together can lead to increased inflammation involved in muscle wasting. In addition, PPI use has been described to alter the microbiota's composition in the gut, which might lead to increased inflammation. However, PPIs are often provided together with nonsteroidal anti-inflammatory drugs (NSAIDs), which are anti-inflammatory. In the presence of obesity, additional mechanisms could further contribute to muscle alterations. In conclusion, use of PPIs has been reported to contribute to muscle function loss. Whether this will add to the risk factor for development of muscle function loss in patients with chronic disease needs further investigation.
2. Relation between PPI Use, Micronutrient Status and Muscle Function
2.1. PPI Use Is Associated with Low Magnesium Status
Magnesium functions as a second messenger molecule in many inflammatory processes [
47
] and is essential in a few hundred enzymatic reactions [
47
,
48
]. A normal range of serum magnesium levels is 0.7–1.07 mmol/L (or 1.7–2.6 mg/dL). Magnesium is mostly stored in the bone, muscles, and organs, but lower quantities can be found in the extracellular fluid [
47
,
48
]. Average magnesium ingestion from most diets is about 300 mg/day of which 100 mg/day is actually absorbed by the intestine [
47
,
48
]. Absorption occurs by a paracellular passive pathway and by active transcellular pathways via the receptors transient receptors potential melastatin 6 and 7 (TRPM6 and TRPM7) [
47
]. Epidemiological studies have shown that low levels of magnesium are associated with several chronic illnesses, such as diabetes and cardiovascular disease [
47
,
48
].
Hypomagnesemia (serum magnesium below 0.7 mmol/L) is a known side-effect of PPI use [
29
,
35
,
36
,
37
,
38
]. PPIs may decrease intestinal magnesium absorption by interfering with passive transport in the ileum and with active transport in the large intestine [
48
,
49
,
50
,
51
]. The activity of TRMP6 is regulated by intracellular magnesium along with pH, where a lower pH increases TRMP6 activity. It is hypothesized that PPI use could potentially decrease TRPM6 activity, resulting in decreased magnesium absorption [
48
,
49
]. The prevalence of hypomagnesemia in patients using PPI has been reported to range of 11–55% [
52
,
53
]. In two recent meta-analyses of nine observational studies with a total of 115,455 and 109,798 patients, pooled relative risks of hypomagnesemia in patients with PPI use were 1.78 (95% CI 1.08–2.92) [
52
] and 1.43 (95% CI 1.08–1.88) [
54
], respectively. It should be noted that data of six out of a total of 12 original studies were used in both meta-analyses [
52
,
54
]. In a study in hospitalized elderly using PPI, a hazard risk of 1.80 (95% CI 1.20–2.72) was observed [
53
]. Although results of observational studies showed an increased risk of hypomagnesemia in PPI users, the mechanisms by which PPIs induce hypomagnesemia are still being investigated.
2.2. Low Magnesium Levels Are Related to Decreased Muscle Function
Epidemiological data show that serum magnesium levels are independently correlated with muscle performance in older individuals [
55
]. In a cross-sectional study with adult women (18–79 years), a higher magnesium intake was associated with better indices of skeletal muscle mass and some but not all measures of muscle strength. The association was higher for younger age groups than for older age groups [
56
]. Recently, it was also shown that magnesium intake is associated with the prevalence of sarcopenia [
57
,
58
].
That magnesium supplementation can improve physical performance in elderly women in a weekly exercise program, was shown in a randomised controlled trial [
59
]. Magnesium is thought to help with muscle relaxation and so improve muscle function [
60
]. Magnesium plays a role in the muscle as a physiological antagonist of calcium, which is also responsible for muscle contraction. Muscle cramps and muscle weakness are indeed often seen in individuals with hypomagnesemia [
48
]. Systematic reviews have not shown any reduction in muscle cramps after magnesium supplementation in the general public [
61
], although it might be beneficial during pregnancy [
62
]. Because the studies were limited by a small patient population, more research is needed to study the effect of magnesium supplementation on muscle cramps in specific populations.
Next to the effects on muscle function, low magnesium status can also stimulate muscle breakdown. In observational studies, magnesium intake was found to be inversely related to cachexia-associated inflammatory cytokines [
63
] such as CRP, TNFα, and IL-6, in a dose-dependent manner [
64
]. At present, more evidence is accumulating that low magnesium levels can contribute to a state of chronic low-grade inflammation in the body [
47
,
64
,
65
,
66
]. Because magnesium acts as a natural calcium antagonist in a number of processes, the inflammatory response is probably a result of changes in intracellular calcium concentrations by opening of calcium channels and activation of the
N
-methyl-
d
-aspartate (NMDA) receptor. Other possible mechanisms behind its effects on inflammation include activation of phagocytic cells; release of neurotransmitters, such as substance P; ROS production; and activation of NF-κB. Magnesium deficiency can also induce a systemic stress response through neuroendocrinological pathways [
47
,
65
].
2.3. Magnesium and Vitamin D Deficiency, Together, Can Lead to Increased Inflammation Affecting the Muscle
Next to direct effects of magnesium on inflammation, low magnesium levels may also indirectly increase levels of inflammatory cytokines by inhibition of the production of the active form of vitamin D, 1,25(OH)
2
D
3
, since magnesium plays a key role in vitamin D metabolism [
67
]. Vitamin D is derived from the production of vitamin D3 in the skin, via a non-enzymatic two-step process induced by UVB radiation and heat, or otherwise obtained from the diet [
68
]. In the blood, pre-vitamin D is transported by vitamin D binding protein (VDBP). The production of VDBP is magnesium-dependent; therefore, low magnesium levels may lead to lower levels of circulating VDBP, resulting in less transportation of vitamin D to the liver and kidney [
68
]. In the liver, vitamin D is converted by 25-hydroxylase to 25-hydroxy vitamin D3 (25(OH)D
3
). Finally, 25(OH)D
3
is converted to its active form 1,25(OH)
2
D
3
by 1-α hydroxylase in the kidney [
68
]. Both enzymes are magnesium-dependent [
69
]. So lower magnesium levels may lead to hampered production of the active form of vitamin D.
Vitamin D plays a crucial role in many physiological functions, including bone and muscle metabolism [
70
]. Associations between low vitamin D levels and muscle metabolism disorders have been reported during aging and disease, leading to loss of muscle mass and function [
44
]. This effect is potentially mediated by the role of vitamin D in inflammation. The active form of vitamin D, 1,25(OH)
2
D
3
, also has anti-inflammatory effects [
71
,
72
]. Two main mechanisms by which 1,25(OH)D
3
exerts anti-inflammatory responses have been suggested. First, 1,25(OH)
2
D
3
may inhibit nuclear factor kappa B (NFκB) signalling [
73
]. NFκB is an important transcription factor involved in the regulation of inflammation. Activation results in the production of pro-inflammatory cytokines [
74
]. Second, 1,25(OH)
2
D
3
may suppress p38 stress kinase signalling through the upregulation of mitogen-activated protein kinase phosphate 5, resulting in an inhibition of pro-inflammatory cytokine production, such as interleukin 6 (IL-6) [
73
]. Inflammatory cytokines, especially IL-6, are an important driver of muscle wasting in chronic disease that leads to cachexia.
3. PPI Use and the Gut Microbiota in Relation with Cachexia
3.1. The Gut Microbiota Is Altered by PPI Use
Proton pump inhibitors elevate the pH of the stomach and upper gut, which enables more bacteria, including those with pathogenic properties, to survive gastric passage and enter the gut. A study confirmed this by showing that bacteria from the oral cavity are more abundant in the gut microbiomes of PPI users [
34
]. The authors also found that PPI use is associated with a decrease in bacterial richness and considerable changes in the gut microbiome, including significantly increased levels of the class Gammaproteobacteria, the family
Enterobacteriaceae
and the genus
Enterococcus
. Increased levels of these bacteria are associated with
Clostridium difficile
infections in both humans and animal models [
34
]. Several other studies also show that PPI use is associated with increased risk of enteric infections [
75
,
76
,
77
,
78
]. These shifts in composition of the microbiota may have immunological consequences, including an elevated pro-inflammatory status.
Interestingly, mice on a magnesium-deficient diet were found to develop a microbiota composition that is considered less favorable for health and an attenuated gut barrier function compared to mice on a magnesium sufficient diet [
79
]. This supports a link between low magnesium levels and a less healthy gut microbiota that affect inflammation and metabolic disorders [
79
].
Moreover, a small human study suggests that consumption of inulin can improve blood magnesium concentrations in proton pump inhibitor-induced hypomagnesaemia. The explanation of the effect may lie in a combination of changed pH levels of the colon and a change in microbiota [
80
]. Interestingly, the study of Winther and colleagues showed [
81
] that a magnesium-deficient diet altered the gut microbiota of mice, and this led to depression-like behavior. The altered gut microbiota also correlated positively with IL-6 levels in the hippocampus, suggesting that inflammatory processes in the brain played a role [
81
]. As discussed before, similar inflammatory mediators have been shown to affect appetite-regulating hormones in the hypothalamus, leading to lower food intake [
15
,
16
]. What has to be taken into account, however, is that PPIs are often taken together with NSAIDs that will counteract this effect. In view of these findings, crosstalk between the PPI-induced processes leading to inflammation might occur when PPIs are provided in the absence of NSAIDs (
Figure 1
), while the effect on muscle function is more likely to occur both in the presence and absence of NSAIDs. This might be the reason why for PPIs side-effects on muscle function are described while effects on muscle wasting are not. There is, however, a knowledge gap for situations in which PPIs are provided in the absence of NSAIDs and for the situation in which the combination treatment of PPIs with NSAIDs is stopped and gut microbiota might be altered, as described in the next paragraph.
3.2. Alterations in Gut Microbiota Can Contribute to Both Muscle Wasting and Obesity
An increase in
Enterobacteriaceae
can be seen in both cachectic patients and in PPI-users, which results in increased LPS production and activation of TLR4, increasing inflammatory status [
9
]. Moreover, animal data indicate that the PPI omeprazole reduces microbiota diversity. In [
9
], microbiota-derived formate levels were increased. Microbiota-derived formate levels have been associated with increased intestinal inflammation. Next to that, the authors showed an association between a low dietary magnesium bioavailability and formate levels. These data indicate that changes in microbiota might occur due to PPI use [
82
]. Next to that, increased TLR4 stimulation by LPS has been reported to increase hypothalamic inflammation, inducing disease-induced anorexia and loss of muscle mass and function [
83
,
84
]. Bacteria in the gut also produce metabolites and contain structural components that act as signaling molecules to enteroendocrine cells in the mucosa. These cells in turn produce regulatory hormones (e.g., CCK, PYY, GLP-1, and serotonin) in key metabolic processes such as appetite regulation, glucose tolerance, and fat storage in the body [
85
,
86
]. Alterations in the gut microbiota can, therefore, impact metabolic disorders such as cachexia, either directly, via metabolic deregulation, or indirectly, by contributing to the underlying inflammatory processes of chronic illness. The impact of gut health on cachexia has recently been shown in animal models for cancer cachexia [
20
]. In COPD patients, there are indications of decreased splanchnic perfusion and an impaired barrier function, leading to a reduction in the uptake of nutrients from the gut and contributing to inflammation [
87
]. Moreover, alterations in microbiota also play a key role in the development of obesity. There are many mechanisms involved, such as increased energy uptake from the food due to fermentation of the gut microbiota and influencing appetite regulation and metabolism via signaling molecules [
88
,
89
].
4. PPI Use and Muscle Wasting in the Presence of Obesity
Obesity is associated with magnesium and vitamin D deficiencies; metabolic disturbances, such as insulin resistance; and chronic low-grade inflammation. Given the key role for inflammation in the development of muscle wasting, PPI use might further worsen the condition of an obese patient by increasing muscle wasting via an increase in inflammatory responses.
5. Discussion
In this paper, we hypothesized that long term use of proton pump inhibitors contributes to an increase in symptoms of cachexia and sarcopenic obesity in patients with chronic illness. This effect might be mediated by negatively influencing the status of magnesium and by alterations in the gut microbiota. Magnesium deficiency in turn, might negatively impact the level of active vitamin D. A low magnesium status, lower levels of active vitamin D, and a less healthy gut microbiota might all contribute to the state of chronic low-grade inflammation in chronic illness that is a key symptom in the development of muscle wasting in the presence or absence of obesity. Next to that, a less healthy microbiota might also directly contribute to the metabolic deregulation in cachexia and sarcopenic obesity.
The relationship between PPI use and muscle protein breakdown has not been described in the literature. In practice, PPIs are (most of the time) provided together with NSAIDs, which means that the possible inflammatory effect of PPIs might be superseded by the anti-inflammatory effect of the NSAIDs. There is, however, some data supporting a PPI-induced change in microflora. This indicates that after termination of the combined PPI and NSAID treatment, inflammation might be induced by the still-altered gut microbiota. It is, however, purely hypothetical because it is not possible to establish a direct cause and effect relationship based on the data available.
6. Conclusions
The mechanisms and relationships described in this review underline that use of proton pump inhibitors might add to the symptoms of muscle function loss in patients with chronic illness. There is a need for prospective studies among these patients to investigate whether PPI use increases muscle function loss and inflammation, during and after use of PPIs, with special attention for gut microbiota, and vitamin D and magnesium status.
Author Contributions
P.V., E.W., K.v.N., and W.v.O.-L. performed literature research; P.V., E.W., and K.v.N. wrote the manuscript; P.V., E.W., K.v.N., and W.v.O.-L. read and critically revised the manuscript; P.V. prepared the illustrations. All authors have read and agreed to the published version of the manuscript.
Funding
This research received no external funding.
Acknowledgments
We would like to thank Sabien van Exter and Thirsa Brommer for contributing to the literature research of this paper.
Conflicts of Interest
The authors declare no conflict of interest.
Abbreviations
BMI
body mass index
CCK
Cholecystokinin
COPD
chronic obstructive pulmonary disease
FFAs
free fatty acids
GLP-1
Glucagon-like peptide 1
HF
heart failure
IFN-γ
interferon-γ
IL-1
interleukin-1
IL-6
interleukin-6
IR
insulin resistance
MHOB
Metabolically Healthy Obesity
MONW
Metabolically Obese Normal Weight
MUO
Metabolically Unhealthy Obesity
NFκB
Nuclear Factor kappa B
NMDA

N

-methyl-

d

-aspartate
NSAIDs
nonsteroidal anti-inflammatory drugs
PGE2
prostaglandin E2
PPIs
proton pump inhibitors
PYY
Peptide YY
T2DM
type II diabetes mellitus
TNF-α
tumor necrosis factor- α
TRPM6
transient receptor potential melastatin 6
TRPM7
transient receptor potential melastatin 7
VDBP
vitamin D binding protein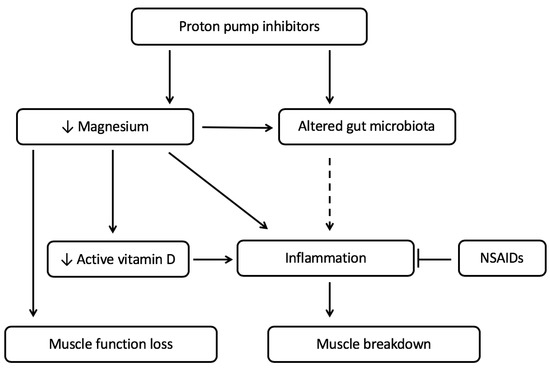 Figure 1. The proposed mechanism by which the use of proton pump inhibitors can lead to increased muscle function loss and increased muscle breakdown in cachexia-related chronic diseases. The use of proton pump inhibitors leads to an increase in chronic low-grade inflammation by altering the gut microbiota and decreasing magnesium and vitamin D levels. Lower magnesium levels lead to muscle function loss and increase inflammation directly and indirectly via vitamin D. The increase in inflammation leads to muscle breakdown. When PPIs are given together with NSAIDs, it is likely that the effect on inflammation is abandoned. The impact of PPI use on muscle function is likely not affected by the use of NSAIDs.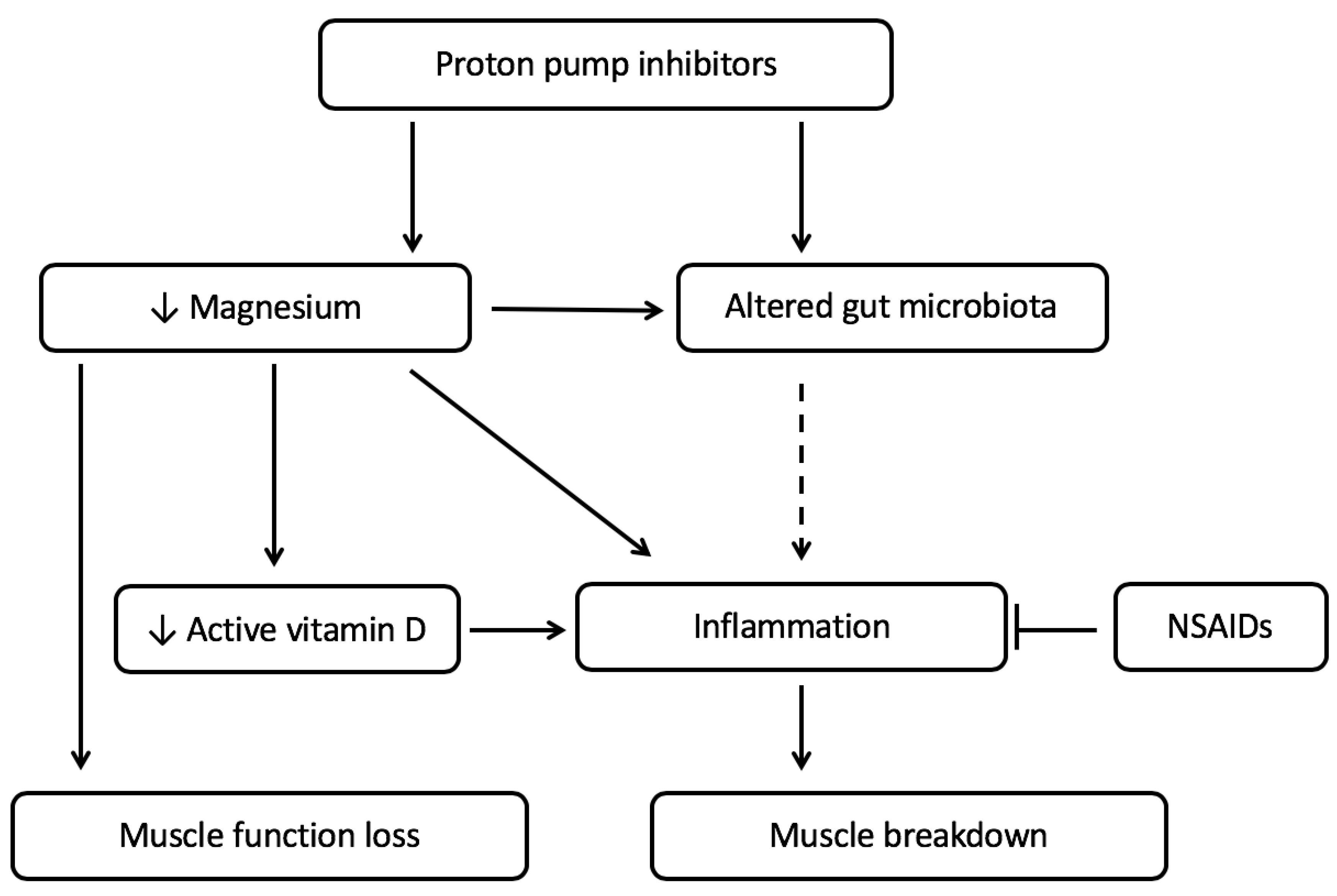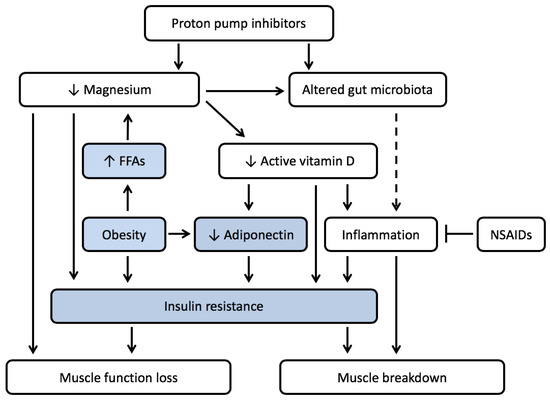 Figure 2. The proposed mechanism by which the use of proton pump inhibitors can lead to increased muscle breakdown in the presence of obesity. The use of proton pump inhibitors may lead to an increase in chronic low-grade inflammation by altering the gut microbiota and by lowering magnesium and vitamin D levels. Obesity contributes to the presence of low magnesium levels via increased free fatty acids (FFAs) and insulin resistance (directly and via lower adiponectin levels). The increase in inflammation also contributes to insulin resistance. Low magnesium levels and insulin resistance both lead to muscle function loss. The increased inflammation, together with insulin resistance, lead to muscle breakdown. This leads to the development of sarcopenic obesity. When PPIs are given together with nonsteroidal anti-inflammatory drugs (NSAIDs), the (increase in) inflammation is likely diminished, leading to no additional PPI-induced muscle breakdown. The impact of PPI use on muscle function is likely not strongly affected by NSAIDs, and might, therefore, occur both in the presence and absence of PPIs. The obesity-related mechanisms that contribute to muscle function loss and muscle breakdown are highlighted in blue.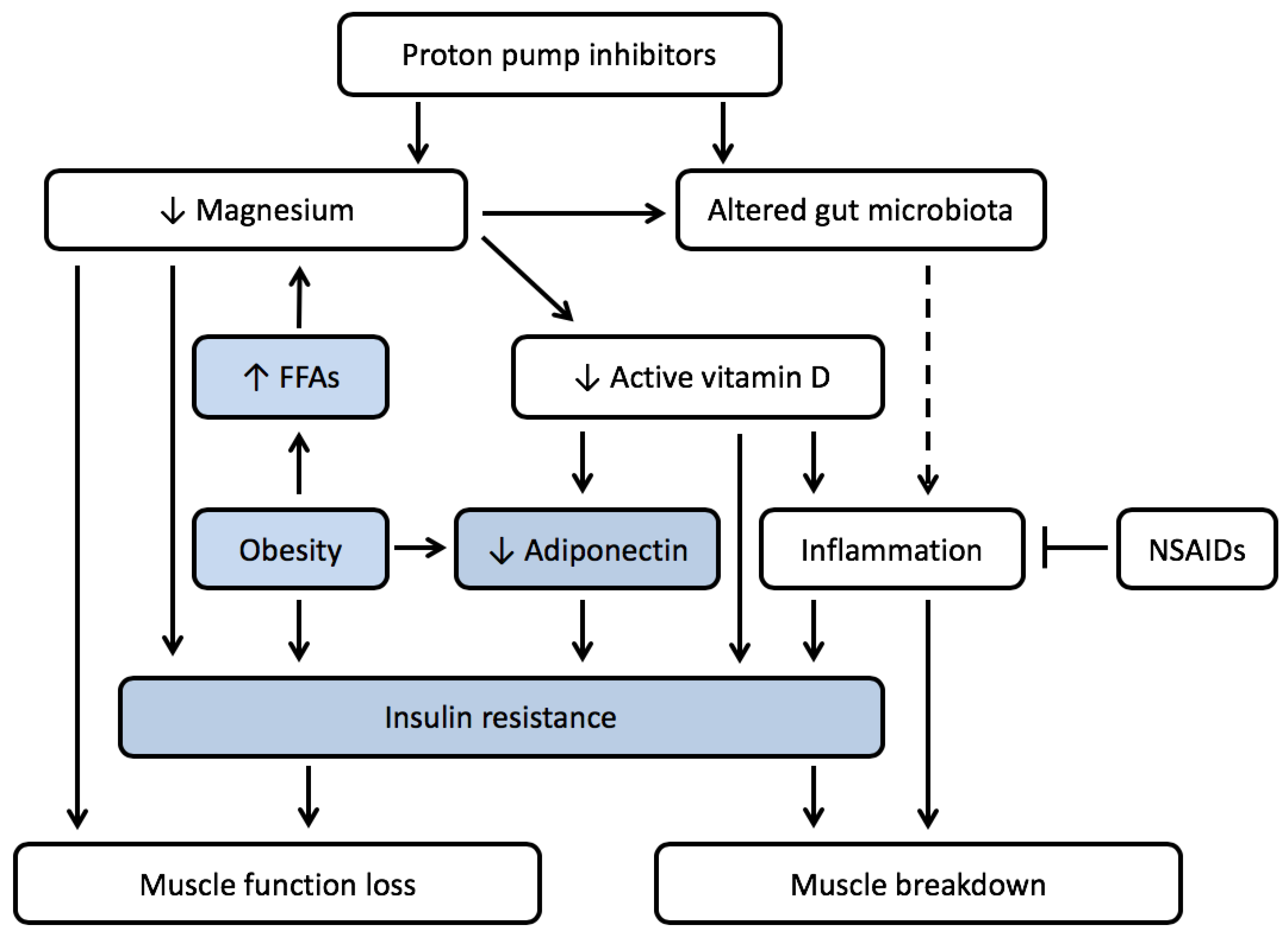 © 2020 by the authors. Licensee MDPI, Basel, Switzerland. This article is an open access article distributed under the terms and conditions of the Creative Commons Attribution (CC BY) license (http://creativecommons.org/licenses/by/4.0/).