Open Access This article is
freely available
re-usable
Review
The Crosstalk Between Cell Adhesion and Cancer Metabolism
1
Ipatimup-Institute of Molecular Pathology and Immunology of the University of Porto, 4200-135 Porto, Portugal
2
i3S, Institute of Investigation and Innovation in Health, 4200-135 Porto, Portugal
3
Medical Faculty of the University of Porto, 4200-135 Porto, Portugal
*
Author to whom correspondence should be addressed.
Received: 27 March 2019 / Accepted: 17 April 2019 / Published: 19 April 2019
Abstract
:
Cancer cells preferentially use aerobic glycolysis over mitochondria oxidative phosphorylation for energy production, and this metabolic reprogramming is currently recognized as a hallmark of cancer. Oncogenic signaling frequently converges with this metabolic shift, increasing cancer cells' ability to produce building blocks and energy, as well as to maintain redox homeostasis. Alterations in cell–cell and cell–extracellular matrix (ECM) adhesion promote cancer cell invasion, intravasation, anchorage-independent survival in circulation, and extravasation, as well as homing in a distant organ. Importantly, during this multi-step metastatic process, cells need to induce metabolic rewiring, in order to produce the energy needed, as well as to impair oxidative stress. Although the individual implications of adhesion molecules and metabolic reprogramming in cancer have been widely explored over the years, the crosstalk between cell adhesion molecular machinery and metabolic pathways is far from being clearly understood, in both normal and cancer contexts. This review summarizes our understanding about the influence of cell–cell and cell–matrix adhesion in the metabolic behavior of cancer cells, with a special focus concerning the role of classical cadherins, such as Epithelial (E)-cadherin and Placental (P)-cadherin.
Keywords:
metabolism; cancer; adhesion; cadherin; ECM; cancer stem cells
1. Introduction
Alterations in both cell–cell and cell–matrix adhesion occur along the multi-step cascade of cancer progression, allowing cancer cells to become more motile, to degrade the extracellular matrix (ECM), to survive in circulation, and to colonize distant metastatic sites. Importantly, physical alterations occurring in the ECM and in cancer cell mechanics require metabolic rewiring along this process to satisfy cancer cell's energetic needs. In fact, the ability to modulate the cellular cytoskeleton and to reprogram cell metabolism are hallmarks of epithelial cancers.
Cell–cell adhesion is mainly mediated by cadherins, while the contact with the ECM is mostly performed by integrins. These molecules largely contribute to cell signaling, growth, differentiation, inflammation, and survival. Although there are in silico, in vitro, and in vivo studies disclosing the link between cell adhesion molecules and the metabolic behavior in different types of cancer, it is far from being clearly understood. This review summarizes our understanding about the influence of cell–cell and cell–matrix interactions in cancer metabolism, with a special focus on classical cadherins, namely Epithelial (E)- and Placental (P)-cadherin, as well as Fat (ft)-cadherin.
2. Metabolic Rewiring During Cancer Progression
3. EMT, Cancer Stemness, and Metabolic Plasticity
Currently, there is an increased recognition that EMT and cancer stemness are driven by metabolic alterations. Breast cancer stem cells (BCSCs) change their phenotype and molecular signature to survive in all different environments along the metastatic process. Thus, these cells need high levels of plasticity, driven by EMT/Mesenchymal Epithelial Transition (MET) dynamics, where EMT promotes invasion and dissemination, and MET stimulates proliferation and metastatic colonization [
27
,
28
,
29
,
30
]. In this way, BCSCs transit between two main states: a quiescent and invasive CD44
+
/CD24
−/low
population, with an EMT signature, named EMT-BCSC; and a proliferative and epithelial-like ALDH
+
population, the MET-BCSC [
27
]. Importantly, metabolism and oxidative stress were recently implicated in the transition between both BCSC phenotypes, mainly through the activation of the AMPK/HIF1α axis (AMP-activated protein kinase/Hipoxia Inducible Factor-1α). Luo
et al.
showed that EMT- and MET-BCSC populations rely on distinct metabolic pathways, having different sensitivities to glycolytic and redox inhibitors [
31
]. They demonstrated that glycolysis enhancement, oxidative stress and hypoxia promote the transition from a ROS-low EMT-BCSC to a ROS-high MET-BCSC state, which can be reversed by antioxidants, such as NAC (N-acetyl Cysteine). Moreover, MET-BCSCs have an increased oxidative metabolism, as well as an increased NRF2-mediated antioxidant response. Finally, it has been also demonstrated that co-targeting these two cell populations against both metabolic properties would be of powerful therapeutic value to suppress tumor growth, tumor-initiating potential, and metastasis in breast cancer [
31
].
Thus, metabolic activity dictates the EMT/MET plasticity that BCSC need for successful cancer progression and metastasis. Moreover, exploiting these metabolic vulnerabilities of distinct BCSC states provides a novel therapeutic approach to target these critical cancer cell populations.
4. Biomechanics, Tissue Stiffness, and Energetic Needs Regulate Cancer Cell Metabolism
5. Alterations in Cell-Matrix Adhesion Modulates Metabolic Pathways
Integrins play a role in metabolic alterations in cancer. Winograd-Katz's in silico work revealed that integrin adhesome genes are associated with several diseases, such as cancer, cardiovascular and immunological diseases, and neurological conditions, as well as with metabolic diseases [
53
].
Detachment of normal and cancer cells from ECM strongly influences cell metabolism, namely by reducing glycolytic flux and PPP, as well as mitochondrial metabolism, and consequently decreasing ATP and NADPH production, FAO and increasing ROS levels. One of the mechanisms described to be responsible for this effect is mediated by AMPK [
64
]. Jeon
et al
. showed that cell–ECM detachment induces glucose uptake decrease, activates LKB1, which increases AMPK activity, inhibiting acetyl-CoA carboxylases 1 and 2 (ACC1 and ACC2, respectively) that, by one side, lowers NADPH consumption in FAS (fatty acid synthesis), but by the other side, increases NADPH generation through FAO fueling [
64
]. Thus, in an energetic crisis induced by ECM detachment, AMPK is responsible for NADPH maintenance and for the survival of cancer cells.
Additionally, metabolic modulation induced by PDK4 (Pyruvate Dehydrogenase kinase 4) was also demonstrated to induce anoikis resistance upon ECM detachment of human mammary cells [
65
]. Kamarajugadda
et al.
showed an increase of PDK4 expression after ECM detachment, leading to a reduction of mitochondrial respiration, ATP production, and a stimulation of the glycolytic flux [
65
]. Still, Schaffer
et al.
also demonstrated this effect in epithelial cells showing a metabolic response involving antioxidant repair of the oxidative stress as being responsible for cell survival after the disconnection to cancer ECM [
18
]. In this work, the authors showed that ECM detachment induces loss of glucose transport and ATP deficiency, which can be rescued through overexpression of HER2, repairing glucose uptake through stabilization of EGFR and PI3K activation, via antioxidant-generating PPP.
6. Modifications in Cell–Cell Adhesion Affects Cancer Metabolism
Cadherins are the major contributors to cell–cell adhesion in epithelial tissues. During embryo development, these molecules are important morphogenic and differentiation players while, in adult tissues, they are responsible for the maintenance of cell polarity, tissue integrity and homeostasis [
66
]. In cancer, cadherins dysfunction is usually involved in initiation, progression, as well as in metastatic processes in a wide variety of carcinomas. Alterations in their expression, resulting from genetic and epigenetic events, lead to tissue disorder, cell de-differentiation, increased cell invasion capacity, and, ultimately, to metastasis.
Interestingly, genome-wide analysis for proteins and pathways targeting Ca
2+
-dependent cell–cell adhesion identified a set of genes allocated to regulatory protein hubs according to their functions, which included metabolic processes [
67
]. However, knowledge about cell–cell adhesion signaling and cell metabolism is still limited and restricted mainly to few metabolic pathways.
Figure 1
summarizes the associations described in the literature of the link between E-, P-, and Fat cadherins with metabolic alterations.
6.1. Epithelial-Cadherin (E-Cadherin)
6.2. Placental Cadherin (P-Cadherin)
Thus, considering that P-cadherin aberrant expression induces a phenotype to breast cancer cells that promotes the initial stages of cancer progression, mainly through energy-costing processes, this would be probably assisted by the enhancement of energy producing metabolic pathways, such as oxidative phosphorylation and/or enhanced glycolysis.
6.3. Fat (ft)-like Cadherin
Thus, based on what is reported in the literature, it is reasonable to speculate that the loss of ft cadherins will promote a mitochondrial dysfunction and a metabolic shift in cancer cells. However, further studies are still needed to understand the metabolic impact of ft cadherins alterations in cancer cells.
7. Concluding Remarks
During cancer progression, cells need to adapt in order to successfully accomplish each barrier, from the primary tumor until the formation of metastasis. Alterations in cell–cell adhesion, as well as on cell-ECM interactions, that further stimulate cytoskeleton remodeling, are stimuli that induce the mechanotransduction of cancer cells to active signaling pathways, allowing them to transduce their morphological and survival needs. Alterations on cancer cells' mechanotransduction require energy, which is sensored by AMPK. This important molecular player activates different metabolic processes, in order to meet the specific energetic demands that cancer cells need in the different steps of cancer progression, sustaining proliferation and survival of cancer cells, and thus promoting cancer progression (
Figure 2
).
Author Contributions
B.S. was involved in the draft of the manuscript, writing and final editing. J.P. (Joana Pereira) helped in the writing, and J.P. (Joana Paredes) in the draft preparation, writing and final editing.
Acknowledgments
Acknowledgements should be given to FEDER—Fundo Europeu de Desenvolvimento Regional, through COMPETE 2020—Operational Programme for Competitiveness and Internationalisation (POCI), Portugal 2020, and by FCT—Fundação para a Ciência e a Tecnologia, under the project POCI-01-0145-FEDER-016390. IPATIMUP integrates the i3S Research Unit, which is partially supported by FCT in the framework of the project "Institute for Research and Innovation in Health Sciences" (POCI-01-0145-FEDER-007274).
Conflicts of Interest
The authors declare no conflict of interest.
Abbreviations
ACC1/ACC2
acetyl-CoA carboxylase 1/2
ADP
Adenosine diphosphate
AKT
Protein kinase B (PKB)
ALDH
Aldehyde Dehydrogenase
AMPK
AMP-activated protein kinase
ATP
Adenosine triphosphate
Bad
BCL2 Associated Agonist of Cell Death
BCSC
Breast Cancer Stem Cells
BNIP3
BCL2 Interacting Protein 3
CAIX
Carbonic Anhydrase IX
CD147
Cluster of Differentiation 147
E-cadherin
Epithelial cadherin
ECM
Extracellular Matrix
EGF
Epidermal Growth Factor
EGFR
Epidermal Growth Factor Receptor
EMT
Epithelial Mesenchymal Transition
ERK
Extracellular-signal-Regulated Kinase
ETC
Electron Transport Chain
FAK
Focal Adhesion Kinase
FAO
Fatty Acid Oxidation
FAS
Fatty Acid Synthesis
FBP1
Fructose-1,6-bisphosphatase 1
Ft
Fat
Ftmito
Mitochondrial Fat Soluble fragment
GLUT1/4
Glucose Transporter ¼
GTP
Guanosine-5′-triphosphate
HER2
Human Epidermal Growth Factor Receptor 2
HIF-1α
Hipoxia Inducible Factor-1α
HK2
Hexokinase 2
LKB1
Large Kinase B1
MAPK
Mitogen-Activated Protein Kinase
MCT
Monocarboxylate Transporters
MET
Mesenchymal Epithelial Transition
MMP
Matrix Metalloproteinase
mTOR
mammalian target of rapamycin
MYC

Myelocytomatosis

oncogene
NAC
N-acetyl Cysteine
NADPH
Nicotinamide Adenine Dinucleotide Phosphate
Ndufv2
NADH dehydrogenase ubiquinone flavo-protein 2
NF-κB
Nuclear Factor Kappa B
OXPHOS
Oxidative Phosphorylation
P-cadherin
Placental-cadherin
PDK4
Pyruvate Dehydrogenase kinase 4
PFK
Phosphofructokinase
PGC-1α
PPARg co-activator 1α
PGK1
Phosphoglycerate kinase 1
PI(3)K
Phosphoinositide 3-kinase
PKM2
Pyruvate Kinase isozyme Muscle 1
PPARγ
Peroxisome proliferator-activated receptor gamma
PPP
Pentose Phosphate Pathway
Rac
Ras-related C3 botulinum toxin substrate 1
REDD1
Regulated in Development and DNA Damage Response 1
ROS
Reactive Oxygen Species
SFK
Src family Kinase
SMC
smooth muscle cell
sP-cad
soluble P-cadherin fragment
STRAD
STe20 Related ADapter
TSG
Tumor Suppressor Gene
VEGF
Vascular Endothelial Growth Factor
YAP
Yes-associated protein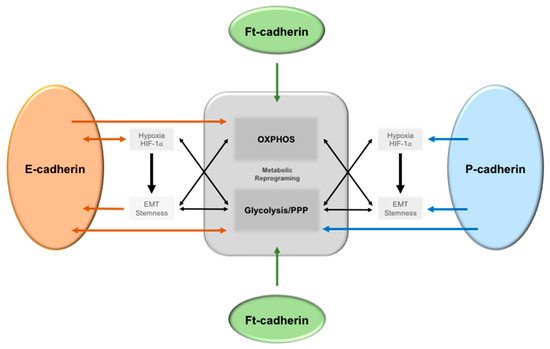 Figure 1. The crosstalk between E-, P-, and Ft-cadherin signaling and metabolic reprogramming in cancer cells. Tumor microenvironmental alterations, such as hypoxia, induce Epithelial–Mesenchymal Transition (EMT) and stem-like features in cancer cells via HIF-1α activation, leading to an increase in glycolysis. Additionally, increased glycolysis also induces a stem and EMT phenotype, as well as a decreased E-cadherin expression. On the other hand, E-cadherin expression can also promote oxidative phosphorylation (OXPHOS) in different cancer cell models. In relation to P-cadherin expression, it is a putative EMT marker, induces stem-like properties in cancer cells, and is associated with a hypoxic, glycolytic, and acid resistance phenotype in breast cancer. Moreover, HIF-1α induces its membrane expression, which is enriched in glycolytic BCSC. Finally, ft-cadherin is known to both enhance and inhibit OXPHOS in different models.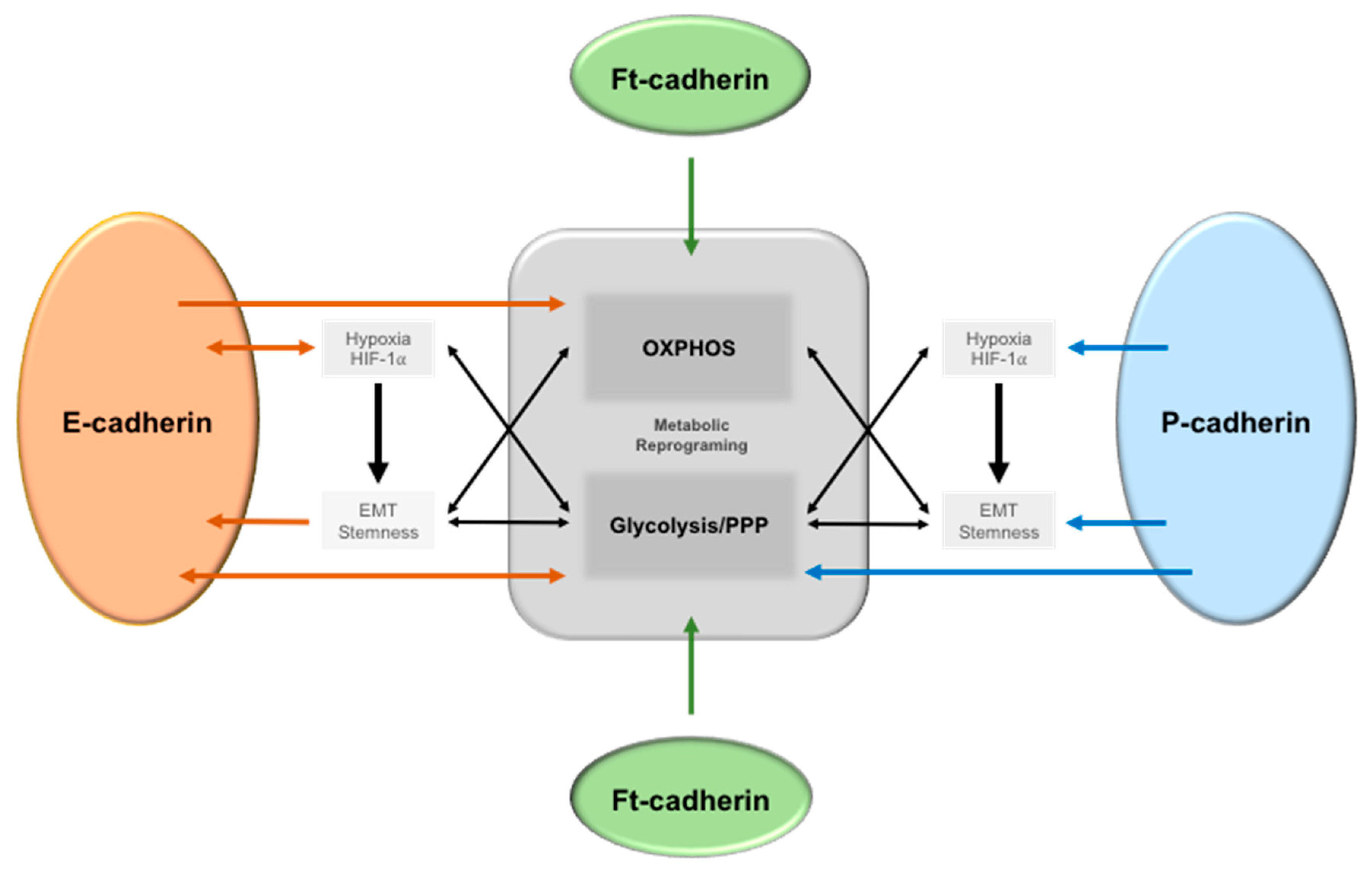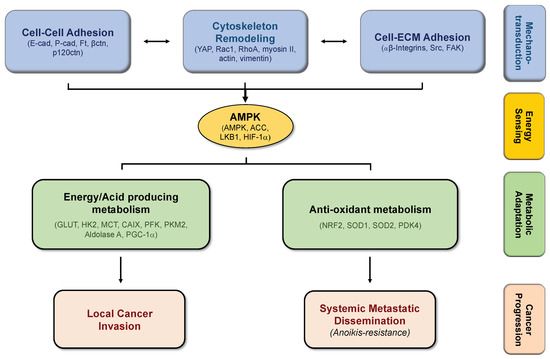 Figure 2. The molecular link between mechanotransduction and metabolic adaptations promotes cancer cell progression. Alterations in cell–cell and cell–ECM adhesion, leading to cytoskeleton remodeling, requires AMPK-induced ATP production through specific metabolic programs, supporting cancer progression.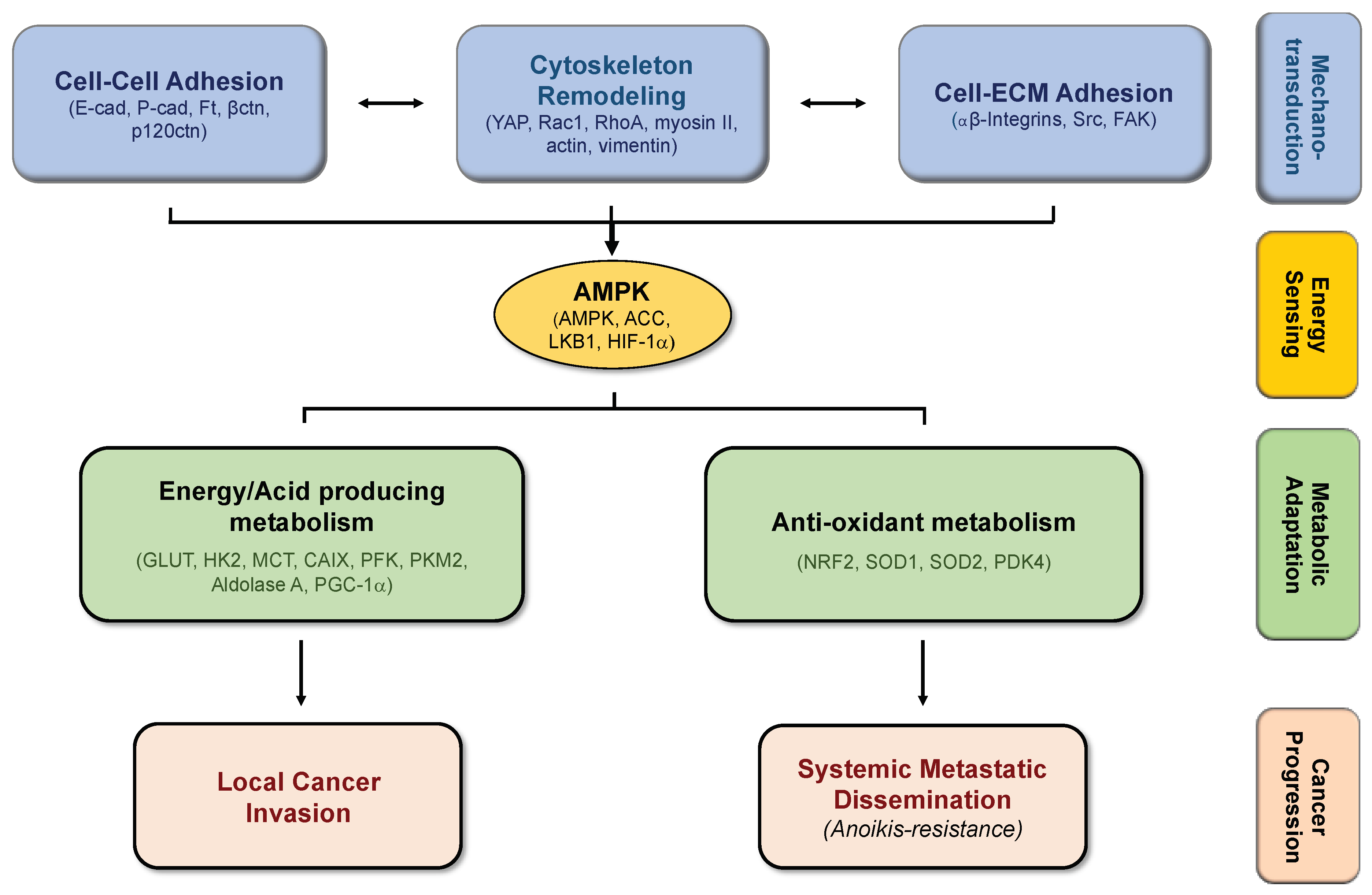 © 2019 by the authors. Licensee MDPI, Basel, Switzerland. This article is an open access article distributed under the terms and conditions of the Creative Commons Attribution (CC BY) license (http://creativecommons.org/licenses/by/4.0/).