Cytotoxic Acetogenins from the Roots of
Annona purpurea
1
Facultad de Ciencias Químicas, Universidad de Colima, Carretera Colima-Coquimatlán km 9, 28400 Coquimatlán, Colima, Mexico
2
Dipartimento di Scienze del Farmaco, Università degli Studi di Padova, Via F. Marzolo 5, 35131 Padova, Italy
3
Fondazione per la Biologia e la Medicina della Rigenerazione T.E.S.-Tissue Engineering and Signalling Onlus, Via F. Marzolo, 13, 35131 Padova, Italy
4
Facultad de Medicina, Universidad de Colima, Av. Universidad 333, Las Víboras, 28040 Colima, Mexico
5
Dipartimento di Scienze Biomediche, Università degli Studi di Padova, Via G. Colombo 3, 35121, Padova, Italy
*
Authors to whom correspondence should be addressed.
Received: 23 March 2019 / Revised: 5 April 2019 / Accepted: 6 April 2019 / Published: 16 April 2019
Abstract
Annona purpurea
, known in Mexico as "cabeza de negro" or "ilama", belongs to the Annonaceae family. Its roots are employed in folk medicine in several regions of Mexico. Taking that information into account, a chemical and biological analysis of the components present in the roots of this species was proposed. Our results demonstrated that the dichloromethane (DCM) extract was exclusively constituted by a mixture of five new acetogenins named annopurpuricins A–E (
1
–
5
). These compounds have an aliphatic chain of 37 carbons with a terminal α,β unsaturated γ-lactone. Compounds
1
and
2
belong to the adjacent bis-THF (tetrahydrofuran) α-monohydroxylated type, while compounds
3
and
4
belong to the adjacent bis-THF α,α'-dihydroxylated type; only compound
5
possesses a bis-epoxide system. Complete structure analysis was carried out by spectroscopy and chemical methods. All compounds were evaluated for their antiproliferative activity on three human tumor cell lines (MSTO-211H, HeLa and HepG2). Compounds
1
–
4
inhibited significantly the growth of HeLa and HepG2 cells, showing GI
50
values in the low/subnanomolar range, while
5
was completely ineffective under the tested conditions. The investigation of the mechanism of action responsible for cytotoxicity revealed for the most interesting compound
1
the ability to block the complex I activity on isolated rat liver mitochondria (RLM).
View Full-Text
►

▼

Figures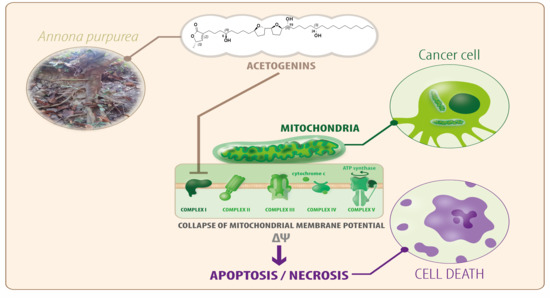 Graphical abstract
This is an open access article distributed under the
Creative Commons Attribution License
which permits unrestricted use, distribution, and reproduction in any medium, provided the original work is properly cited (CC BY 4.0).

Share & Cite This Article
MDPI and ACS Style
Hernández-Fuentes, G.A.; García-Argáez, A.N.; Peraza Campos, A.L.; Delgado-Enciso, I.; Muñiz-Valencia, R.; Martínez-Martínez, F.J.; Toninello, A.; Gómez-Sandoval, Z.; Mojica-Sánchez, J.P.; Dalla Via, L.; Parra-Delgado, H. Cytotoxic Acetogenins from the Roots of Annona purpurea. Int. J. Mol. Sci. 2019, 20, 1870.
Note that from the first issue of 2016, MDPI journals use article numbers instead of page numbers. See further details here.
Related Articles
Comments
[Return to top]