Characterization and Dye Decolorization Potential of Two Laccases from the Marine-Derived Fungus
Pestalotiopsis

sp.

1

Department of Biology, Faculty of Science, Chiang Mai University, Chiang Mai 50200, Thailand

2

Center of Excellence in Microbial Diversity and Sustainable Utilization, Chiang Mai University, Chiang Mai 50200, Thailand

3

Sup'Biotech, Villejuif, 94800 Paris, France

4

INRA UMR1163, Biodiversité et Biotechnologie Fongiques, Aix-Marseille Université, 13288 Marseille, France

5

Department of Genetics & Molecular Biology in Botany, Institute of Botany, Christian-Albrechts-University, 24098 Kiel, Germany

*

Author to whom correspondence should be addressed.

Received: 28 March 2019 / Revised: 11 April 2019 / Accepted: 11 April 2019 / Published: 15 April 2019
Abstract
Two laccase-encoding genes from the marine-derived fungus
Pestalotiopsis
sp. have been cloned in
Aspergillus niger
for heterologous production, and the recombinant enzymes have been characterized to study their physicochemical properties, their ability to decolorize textile dyes for potential biotechnological applications, and their activity in the presence of sea salt. The optimal pH and temperature of
Ps
Lac1 and
Ps
Lac2 differed in relation to the substrates tested, and both enzymes were shown to be extremely stable at temperatures up to 50 °C, retaining 100% activity after 3 h at 50 °C. Both enzymes were stable between pH 4–6. Different substrate specificities were exhibited, and the lowest
Km
and highest catalytic efficiency values were obtained against syringaldazine and 2,6-dimethoxyphenol (DMP) for
Ps
Lac1 and
Ps
Lac2, respectively. The industrially important dyes—Acid Yellow, Bromo Cresol Purple, Nitrosulfonazo III, and Reactive Black 5—were more efficiently decolorized by
Ps
Lac1 in the presence of the redox mediator 1-hydroxybenzotriazole (HBT). Activities were compared in saline conditions, and
Ps
Lac2 seemed more adapted to the presence of sea salt than
Ps
Lac1. The overall surface charges of the predicted
Ps
Lac three-dimensional models showed large negatively charged surfaces for
Ps
Lac2, as found in proteins for marine organisms, and more balanced solvent exposed charges for
Ps
Lac1, as seen in proteins from terrestrial organisms.
View Full-Text
►

▼

Figures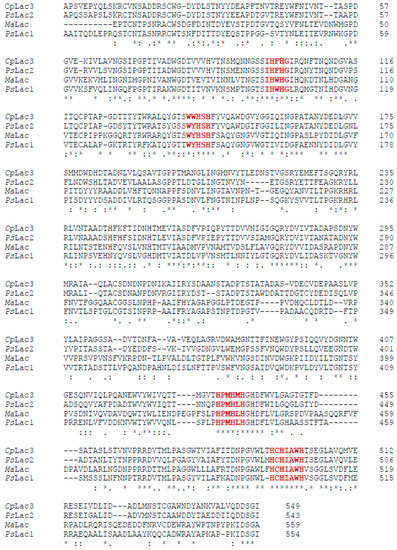 Figure 1
This is an open access article distributed under the
Creative Commons Attribution License
which permits unrestricted use, distribution, and reproduction in any medium, provided the original work is properly cited (CC BY 4.0).

Share & Cite This Article
MDPI and ACS Style
Wikee, S.; Hatton, J.; Turbé-Doan, A.; Mathieu, Y.; Daou, M.; Lomascolo, A.; Kumar, A.; Lumyong, S.; Sciara, G.; Faulds, C.B.; Record, E. Characterization and Dye Decolorization Potential of Two Laccases from the Marine-Derived Fungus Pestalotiopsis sp.. Int. J. Mol. Sci. 2019, 20, 1864.
Note that from the first issue of 2016, MDPI journals use article numbers instead of page numbers. See further details here.
Related Articles
Comments
[Return to top]