Green Tea Seed Oil Suppressed Aβ1–42-Induced Behavioral and Cognitive Deficit via the Aβ-Related Akt Pathway
1
Division of Applied Life Science (BK21 plus), Institute of Agriculture and Life Science, Gyeongsang National University, Jinju 52828, Korea
2
Institute of Hadong Green Tea, Hadong 52304, Korea
*
Author to whom correspondence should be addressed.
Received: 1 April 2019 / Revised: 11 April 2019 / Accepted: 12 April 2019 / Published: 15 April 2019
PDF
[3789 KB, uploaded 15 April 2019]
|

Review Reports
Abstract
The aim of this study was to investigate the availability of seeds, one of the byproducts of green tea, and evaluate the physiological activity of seed oil. The ameliorating effect of green tea seed oil (GTO) was evaluated on H2O2-induced PC12 cells and amyloid beta (Aβ)1–42-induced ICR mice. GTO showed improvement of cell viability and reduced reactive oxygen species (ROS) production in H2O2-induced PC12 cells by conducting the 2′,3-(4,5-dimethylthiazol-2-yl)-2,5-diphenyl tetrazolium bromide (MTT) and 2′,7′-dichlorofluorescein diacetate (DCF-DA) analysis. Also, administration of GTO (50 and 100 mg/kg body weight) presented protective effects on behavioral and memory dysfunction by conducting Y-maze, passive avoidance, and Morris water maze tests in Aβ-induced ICR mice. GTO protected the antioxidant system by reducing malondialdehyde (MDA) levels, and by increasing superoxide dismutase (SOD) and reducing glutathione (GSH) contents. It significantly regulated the cholinergic system of acetylcholine (ACh) contents, acetylcholinesterase (AChE) activities, and AChE expression. Also, mitochondrial function was improved through the reduced production of ROS and damage of mitochondrial membrane potential (MMP) by regulating the Aβ-related c-Jun N-terminal kinase (JNK)/protein kinase B (Akt) and Akt/apoptosis pathways. This study suggested that GTO may have an ameliorating effect on cognitive dysfunction and neurotoxicity through various physiological activities.

►

▼

Figures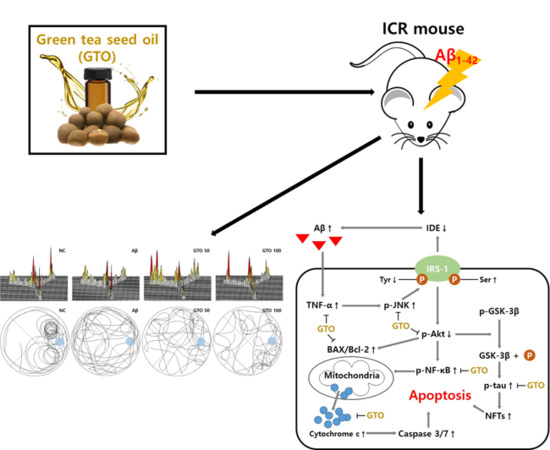 Graphical abstract
This is an open access article distributed under the
Creative Commons Attribution License
which permits unrestricted use, distribution, and reproduction in any medium, provided the original work is properly cited (CC BY 4.0).

Share & Cite This Article
MDPI and ACS Style
Kim, J.M.; Park, S.K.; Kang, J.Y.; Park, S.B.; Yoo, S.K.; Han, H.J.; Cho, K.H.; Kim, J.C.; Heo, H.J. Green Tea Seed Oil Suppressed Aβ1–42-Induced Behavioral and Cognitive Deficit via the Aβ-Related Akt Pathway. Int. J. Mol. Sci. 2019, 20, 1865.
Note that from the first issue of 2016, MDPI journals use article numbers instead of page numbers. See further details here.
Related Articles
Comments
[Return to top]