Instability of Alien Chromosome Introgressions in Wheat Associated with Improper Positioning in the Nucleus
1
Institute of Experimental Botany, Centre of the Region Haná for Biotechnological and Agricultural Research, Šlechtitelů 31, 78371 Olomouc, Czech Republic
2
Department of Botany and Plant Sciences, University of California, Riverside, CA 92521, USA
3
Department of Botany, Faculty of Science, Palacký University Olomouc, Šlechtitelů 27, 783 71 Olomouc, Czech Republic
4
Institute of Biological, Environmental and Rural Sciences, Aberystwyth University, Aberystwyth, Ceredigion, Wales SY23 3DA, UK
5
Department of Cell Biology, Centre of the Region Haná for Biotechnological and Agricultural Research, Faculty of Science, Palacký University Olomouc, Šlechtitelů 27, 783 71 Olomouc, Czech Republic
*
Author to whom correspondence should be addressed.
Received: 27 February 2019 / Revised: 18 March 2019 / Accepted: 19 March 2019 / Published: 22 March 2019
Abstract
Alien introgressions introduce beneficial alleles into existing crops and hence, are widely used in plant breeding. Generally, introgressed alien chromosomes show reduced meiotic pairing relative to the host genome, and may be eliminated over generations. Reduced pairing appears to result from a failure of some telomeres of alien chromosomes to incorporate into the leptotene bouquet at the onset of meiosis, thereby preventing chiasmate pairing. In this study, we analysed somatic nuclei of rye introgressions in wheat using 3D-FISH and found that while introgressed rye chromosomes or chromosome arms occupied discrete positions in the Rabl's orientation similar to chromosomes of the wheat host, their telomeres frequently occupied positions away from the nuclear periphery. The frequencies of such abnormal telomere positioning were similar to the frequencies of out-of-bouquet telomere positioning at leptotene, and of pairing failure at metaphase I. This study indicates that improper positioning of alien chromosomes that leads to reduced pairing is not a strictly meiotic event but rather a consequence of a more systemic problem. Improper positioning in the nuclei probably impacts the ability of introgressed chromosomes to migrate into the telomere bouquet at the onset of meiosis, preventing synapsis and chiasma establishment, and leading to their gradual elimination over generations.
View Full-Text
►

▼

Figures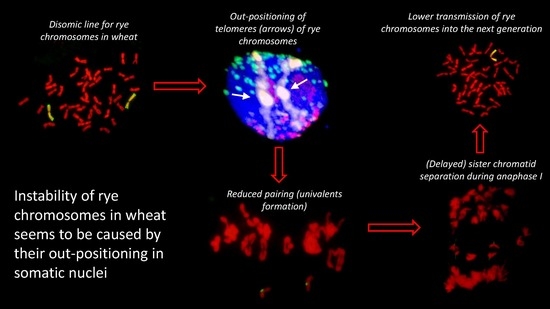 Graphical abstract
This is an open access article distributed under the
Creative Commons Attribution License
which permits unrestricted use, distribution, and reproduction in any medium, provided the original work is properly cited (CC BY 4.0).

Share & Cite This Article
MDPI and ACS Style
Perničková, K.; Koláčková, V.; Lukaszewski, A.J.; Fan, C.; Vrána, J.; Duchoslav, M.; Jenkins, G.; Phillips, D.; Šamajová, O.; Sedlářová, M.; Šamaj, J.; Doležel, J.; Kopecký, D. Instability of Alien Chromosome Introgressions in Wheat Associated with Improper Positioning in the Nucleus. Int. J. Mol. Sci. 2019, 20, 1448.
Note that from the first issue of 2016, MDPI journals use article numbers instead of page numbers. See further details here.
Related Articles
Comments
[Return to top]