Open Access This article is
freely available
re-usable
Review
Inflammation and Pancreatic Cancer: Focus on Metabolism, Cytokines, and Immunity
Department of Medicine – DIMED, University of Padova, Via Giustiniani 2, 35128 Padova, Italy
*
Author to whom correspondence should be addressed.
Received: 12 December 2018 / Accepted: 31 January 2019 / Published: 5 February 2019
Abstract
:
Systemic and local chronic inflammation might enhance the risk of pancreatic ductal adenocarcinoma (PDAC), and PDAC-associated inflammatory infiltrate in the tumor microenvironment concurs in enhancing tumor growth and metastasis. Inflammation is closely correlated with immunity, the same immune cell populations contributing to both inflammation and immune response. In the PDAC microenvironment, the inflammatory cell infiltrate is unbalanced towards an immunosuppressive phenotype, with a prevalence of myeloid derived suppressor cells (MDSC), M2 polarized macrophages, and Treg, over M1 macrophages, dendritic cells, and effector CD4+ and CD8+ T lymphocytes. The dynamic and continuously evolving cross-talk between inflammatory and cancer cells might be direct and contact-dependent, but it is mainly mediated by soluble and exosomes-carried cytokines. Among these, tumor necrosis factor alpha (TNFα) plays a relevant role in enhancing cancer risk, cancer growth, and cancer-associated cachexia. In this review, we describe the inflammatory cell types, the cytokines, and the mechanisms underlying PDAC risk, growth, and progression, with particular attention on TNFα, also in the light of the potential risks or benefits associated with anti-TNFα treatments.
Keywords:
anti-TNFα; cytokines; inflammation; miRNA; myeloid derived suppressor cells; pancreatic cancer; S100A8; S100A9; TNFα; T
reg
lymphocytes; tumor associated macrophages
1. Introduction
Pancreatic ductal adenocarcinoma (PDAC), one of the deadliest cancers worldwide, has a five-year survival rate of less than 6%, the lowest percentage for cancers in the period 2007–2013 [
1
]. The incidence of PDAC estimated for the year 2018 is 2.5%, with over 18 million new cases being diagnosed worldwide, while mortality is estimated as being 4.5% of the 9.6 million cancer-related deaths [
2
]. This low survival rate is mainly attributable to late diagnosis, because PDAC is almost entirely asymptomatic until it becomes advanced. This limits the percentage of patients benefitting from surgical resection combined with adjuvant multi-agent chemotherapy, the current standard of care [
3
].
Unlike other types of cancer, few risk factors have been attributed to PDAC. Although geographical variations might exist between populations [
2
], cigarette smoking, diabetes mellitus, chronic pancreatitis, and obesity are the most relevant risk factors for this tumor [
4
,
5
,
6
,
7
,
8
], while some nutrients (i.e., folates) or drugs (i.e., aspirin and metformin) have a slight protective effect [
5
,
9
,
10
,
11
,
12
,
13
]. The incidence of PDAC also differs between sexes, currently being higher in women than in men [
1
], and is linked to PDAC family history and heavy alcohol consumption [
14
].
The potential role of inflammation in the development and growth of cancer was initially described in 1863 by Virchow [
15
], who observed that inflammatory cells infiltrate tumors. In recent years, the advancements made in cancer biology have confirmed that inflammation plays an important role in the development of PDAC and its progression. The persistence of inflammation, a process initially triggered to protect the organism against loss of tissue homeostasis, is involved in several steps of the carcinogenetic process [
16
]. Organ confined chronic inflammatory diseases are known to enhance the risk of colorectal cancer in patients with inflammatory bowel diseases, oesophageal cancer in patients with Barrett's oesophagus, gastric cancer in patients with
H. pylori
infection [
17
,
18
,
19
], and pancreatic cancer in patients with chronic pancreatitis [
6
]. Systemic diseases characterized by low-grade chronic inflammation, such as metaflammation in patients with the metabolic syndrome, and diabetes mellitus, also enhance the risk of cancer, particularly pancreatic cancer [
20
]. Conversely, inflammation is chronically and abnormally present in cancer—the "wound that never heals". In this respect, immune cell populations have been linked to several processes in the interactions between tumor stroma, cancer cells, and local inflammation occurring within the tumor microenvironment.
The present review highlights the potential role of inflammation in PDAC development and progression, focusing first on the interactions known to exist among immune cells, tumor-surrounding stroma, and tumor cells (local inflammation), and second, on the role of inflammatory cytokines. Inflammatory conditions, such as diabetes and obesity, are also investigated, with recently reported findings supporting the effects of systemic inflammation on PDAC being reivewed.
2. Role of Inflammation, Diabetes, and Obesity in Enhancing PDAC Risk
3. The Role of Local Inflammation in PDAC Growth, Development, and Metastasis
4. Cytokines Released by Immune and Tumor Cells, and Their Role in Inflammatory Response to Cancer Cells
5. Cytokines Are Involved in Cachexia and Cancer Induced Metabolic Alterations
Several pro-inflammatory cytokines have also been reported to be associated with the clinical effects of inflammation; fever, an important paraneoplastic effect, is believed to be due to increased concentrations of circulating IL-6, TNFα, and IL-1β [
102
]. Cancer cachexia syndrome, the most extreme known consequence of systemic inflammation, frequently affects patients with advanced cancer. This syndrome, characterized by muscle tissue wasting, causes atrophy and mobility impairment because of fatigue and weakness [
103
]. While TNFα is known to play a major role in cancer-associated cachexia in general, the loss of exocrine pancreas function is one of the main causes of malnutrition and weight loss in cases of PDAC. Pre-clinical studies suggest that TNFα plays a major role in cancer cachexia, above all in muscle wasting. In mice, the peritoneal injection of cancer cells expressing TNFα has been shown to cause weight loss and cachexia [
103
]. The effect of TNFα on protein kinase C, for example, leads to the rapid conjugation of ubiquitin to muscle proteins, eventually leading to the enhancement of the proteosomal degradation of cellular proteins [
104
].
However, cachexia is accompanied by metabolic alterations triggered by deregulated carbohydrate and lipid metabolism, which, in turn, increase energy expenditure. For example, the marked metabolic alteration found in the tumor and non-tumor tissue of many cancer patients results mainly in glucose overconsumption and excessive lactate production. It has been demonstrated that TNFα can activate two key regulatory glycolysis enzymes, namely phosphofructokinase and fructose-1.6-bisposphatase. Moreover, small peptides derived from, for example, the proteolytic cleavage of full molecules, have been shown to alter not only PDAC metastatic potential by increasing cell growth and invasion, but also to modify β-cells insulin release by impairing the calcium flow [
105
].
Insulin resistance has also been suggested as a relevant mechanism involved in cancer cachexia. TNFα has been cited as being responsible for decreasing insulin sensitivity and contributing to insulin resistance in cancer [
104
].
Figure 1
shows the roles of TNFα in tumor promotion and in local tumor-associated inflammation.
6. Immune Response to Cancer Cells
Tumor-associated inflammation, a dynamic process, involves the infiltration of multiple immune cells subtypes into the tumor stroma. It is now known that both the innate and the adaptive immune systems are active against human cancer. Consequently, several studies have focused on the role of the immune system in the onset and progression of cancer [
46
,
106
]. The innate immune system consists of immune cells, already present in the body, that can be immediately recruited to the site of infection [
46
]. Innate immune cells include granulocytes, macrophages, mast cells, and natural killer (NK) and dendritic (DC) cells. Neutrophils usually trigger a prompt response to inflammation and can secrete cytokines, whereas after maturation, macrophages can differentiate into either M1, which can trigger the inflammatory response, and M2-polarized cells, which usually restrain the inflammatory response and promote tumor growth [
46
]. MDSC represent another group of innate immune cells that suppress both innate and adaptive immunity.
6.1. Myeloid-Derived Suppressor Cells
6.2. Tumour Associated Macrophages (TAM)
Alongside MDSC, macrophages, another type of immune cell, play an important role in acute and chronic inflammation. Normally responsible for clearing debris from sites of injury or infection, they can also present antigens to the hosts' immune cells (B and T cells), triggering adaptive immunity. Furthermore, they can undergo a differentiation into two phenotypes, M1 and M2, similar to the classification scheme of CD4
+
T cells into Th1 and Th2. One of the most important cytokines expressed by the M1 pro-inflammatory profile is TNFα, whereas the anti-inflammatory phenotype M2 produces the immunosuppressive cytokine IL-10 [
108
]. Although the amount of each phenotype can change during tumor development, all tumors contain M1 and M2 TAM subtypes. It has been shown that, in early stage cancer, TAM exhibits more of a proinflammatory M1 phenotype that promotes antitumor activity, whereas as the disease progresses, they exhibit more of an M2 phenotype, which is anti-inflammatory and contributes to tumor immunoediting, fostering tumor growth and invasion. Experimental studies performed in bone-marrow-derived macrophages, obtained after stimuli with recombinant macrophage colony stimulating factor 1 (CSF-1), IL-4, and IL-13, showed that TNFα blocks a set of M2 gene expression [
71
]. TNFα also suppresses IL-13 expression by eosinophils, thus preventing the production of a key M2-activating cytokine. Further evidence of the central role played by TNFα in the M2 phenotype polarization was obtained by means of etanercept, a soluble TNFR that partially limits TNFα bioavailability. The administration of this anti-TNFα therapy to mice bearing ovary EG7 tumors was followed by the increased IL-13 and M2 gene expression of TAM [
71
]. It was recently demonstrated that the close association between the master inflammatory NF-κB signaling and TNFα regulates the delicate balance between TAM and pancreatic cancer cells during the early stages of carcinogenesis [
113
]. In pancreatic cells, the activation of NF-κB promotes the production of a TGFβ superfamily member, GDF-15, which acts on TAM by inhibiting NF-κB signaling. GDF-15 reduces TNFα synthesis, and is followed by reduced TNFα-dependent tumor cell apoptosis and enhanced tumor growth [
113
].
6.3. Treg Cells
The presence of T
reg
cells, a prominent component of the immune infiltrate on the tumor stroma, correlates with a poor clinical outcome in many cancer types [
114
]. T
reg
cells, considered the most potent known inhibitors of antitumor immunity, can downgrade the activity of CD4
+
, CD8
+
, and NK cells. The various mechanisms suggested as underlying T
reg
cell-mediated immune suppression include the direct elimination of, or competition with, effector T cells for access to antigen-presenting cells. The release of TGFβ and IL-10 from T
reg
has also been postulated as a possible mechanism causing the immune suppression role of this cell type. Nevertheless, the exact role of T
reg
cells in pancreatic tumorigenesis remains largely unknown. Jan et al. demonstrated that T
reg
can confer an immunosuppressive property to their critical target, CD11c
+
DC, which suppress immunity against cancer cells [
114
]. Additionally, the adhesion molecule L1CAM (CD171) is upregulated in the pancreatic ductal epithelium during PDAC progression, in association with the accumulation of immunosuppressive T cells in tumor stroma [
115
].
From a clinical viewpoint, the overall number of circulating white blood cells and platelets might have prognostic implications in PDAC patients. A poor prognosis in these subjects is usually associated with a reduced lymphocyte count and increased platelet and polymorphonuclear cell counts. The derived lymphocyte/monocyte, neutrophil/lymphocyte, and platelet/lymphocyte ratios have been proposed as prognostic indices, their utility being supported by findings made in several studies [
116
,
117
,
118
].
7. Conclusions
Inflammation and metaflammation increase the risk of pancreatic cancer, but pancreatic cancer induces an immunosuppressive inflammatory reaction. The equilibrium between inflammatory cells-derived and cancer cell-derived cytokines and chemokines influences both carcinogenesis and the cancer associated inflammatory reaction. In this context, TNFα, produced by the tumor cells themselves and by tumor-infiltrating inflammatory cells, is involved in carcinogenesis, tumor progression, metastases, and anti-cancer immune control. Although inflammation remains a suitable target for therapy, the focus should be on emerging therapies targeting inflammatory cytokines, not only for their potential anti-tumor, but also for their potential pro-tumor effects.
Author Contributions
Conceptualization, A.P. and D.B.; writing (original draft preparation), A.P. and D.B.; writing (review and editing), M.P. and D.B.
Conflicts of Interest
The authors declare no conflict of interest.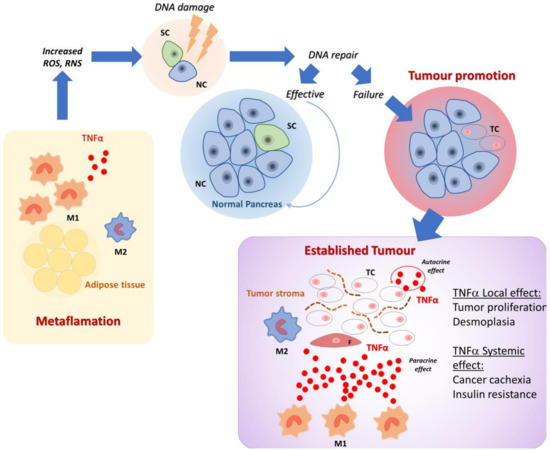 Figure 1. Tumor necrosis factor alpha (TNFα) role in tumor promotion and in tumor-associated inflammation. In adiposity-associated systemic inflammation (metaflammation), pro-inflammatory M1 macrophages infiltrate the adipose tissue prevailing over M2 macrophages. Low amounts of TNFα, produced by M1 macrophages, might cause DNA damage by inducing reactive oxygen (ROS) and nitrogen (RNS) species. When normal pancreatic ductal cells (NC), but mainly stem cells (SC) are targeted, the failure of DNA repair after damage results in the clonal expansion of tumor cells (TC) and tumor establishment. Within the tumor microenvironment, made of stroma, tumor-associated fibroblasts (F), and inflammatory cells, including M1 and M2 macrophages, TNFα is produced by both TC and M1 macrophages. TNFα exerts effects on TC, inducing proliferation; on F, inducing stroma production and desmoplasia; and on distant sites concurring in causing cancer-associated cachexia and insulin resistance.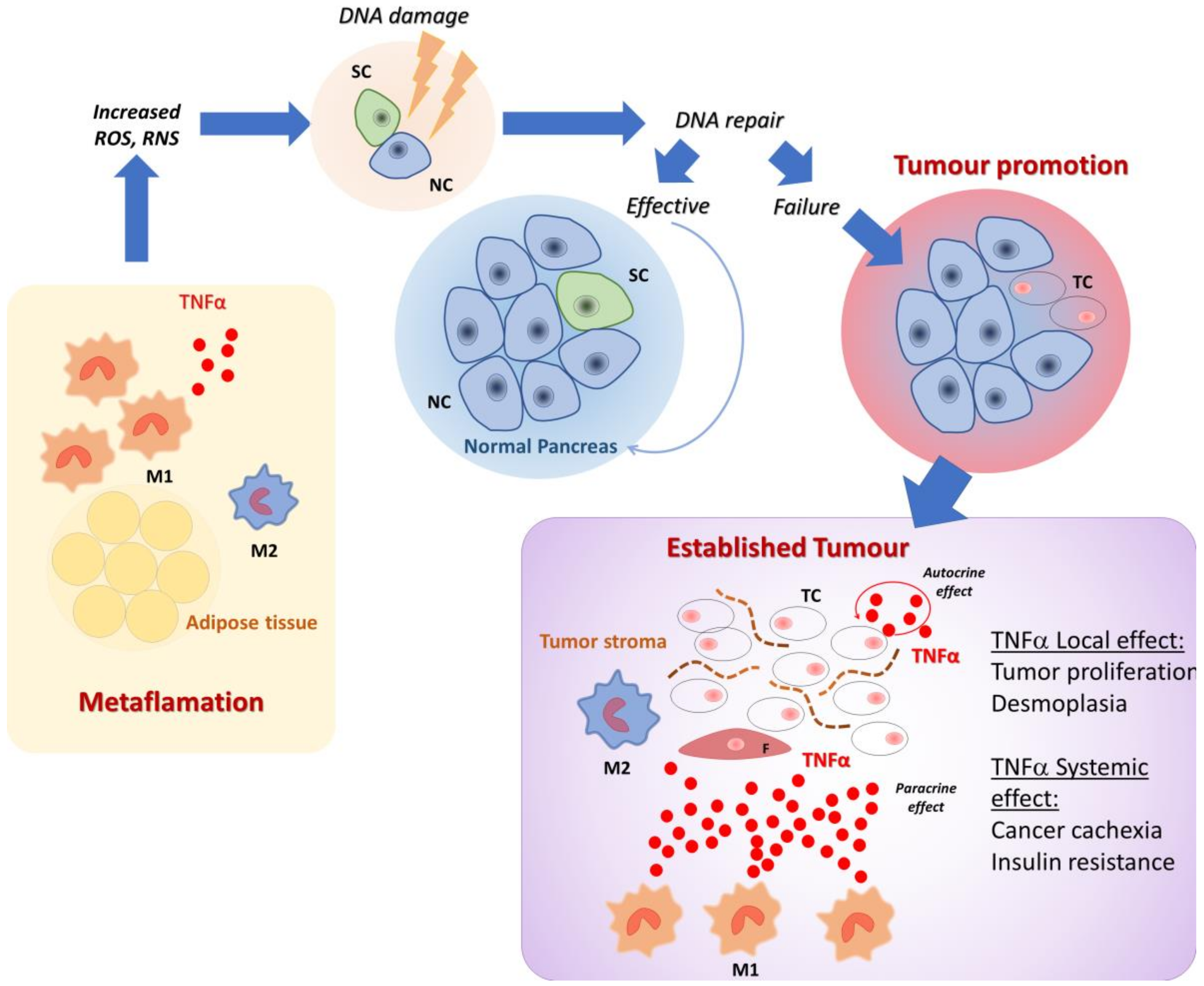 Pro-Inflammatory Cytokines

Cytokine
Cell sources
PDAC cells production in vitro
Effects on immune cells
Effects on PDAC initiation and EMT
TGF [58,60,61,62,63]
M2 macrophages, Th2 lymphocytes, and TAM
Yes—high
Promotes immune evasion and tolerogenic DC
Inhibits cell cycle progression in early stages, enhances invasion and metastasis by inducing EMT in advanced stages
IL-10 [60,61]
M2 macrophages, Treg, Mast cells, and TAM
Yes—high
Promotes immune evasion
PDAC associated TAM have a mixed M1 and M2 phenotype, produce high amounts of IL-10, IL-1β, IL-6 and TNFα and induce EMT in early tumorigenesis

Pro-Inflammatory Cytokines

Cytokine
Cell sources
PDAC cells production in vitro
Effects on immune cells
Effects on PDAC initiation and EMT
IL-6 [58,60,62,63]
CAFs and TAM
Yes—high
Promotes Th2 type cytokine production
Promotes oncogenesis through JAK2-STAT3 activation, angiogenesis through the induction of VEGF, cancer cell migration and EMT
IL-1β [58,60,61,64,65]
DC, M1 macrophages, and TAM
Yes—low
Recruitment of MDSC and T-cell activation by inducing the production of IL-2 and IL-2R
Promotes cancer growth, invasion, and metastases
IL-17 [60,66,67,68,69]
Th 17 CD4+ cells
Yes—low
Recruitment of MDSC
Induces stemness, tumor initiation, and progression, not complete EMT. The expression of the IL-17 receptor is evident on cancer cells undergoing EMT, and depends on oncogenic Kras
TNFα [46,60,61,70,71,72]
M1 macrophages, TAM, neutrophils, mast cells, and pancreatic stellate cells
Yes—low
Antagonizes M2 macrophages polarization
Associated with PDAC initiation. Promotes angiogenesis by inducing VEGF production by fibroblasts and metastases by activating NF-β signaling
CAFs—cancer associated fibroblasts; DC—dendritic cells; EMT—epithelial to mesenchymal transition; MDSC—myeloid derived suppressor cells; PSCs—pancreatic stellate cells; TAM—tumor-associated macrophages. VEGF—vascular endothelial growth factor; TGFβ—transforming growth factor beta; IL—interleukin; TNF—tumor necrosis factor; PDAC—pancreatic ductal adenocarcinoma.

Table 2. Anti-TNFα, miRNA de-regulated expression, and PDAC. To construct the table, studies that evaluated the effects of anti-TNFα therapy on miRNA expression were first selected. Secondly, those on miRNA that reported to be also associated with PDAC were chosen and detailed in the table. Only the RT-PCR-validated or statistically significant miRNA were used for the comparison.
miRNA
Up or Down-Regulated in PDAC [91] *
Average logFold Change *
Up or Down-Regulated by Anti TNFα Therapy
Anti-TNFα Therapy
hsa-miR-146 # polymorphism
Found downregulated in one study *
-
No correlation
Crohn's disease treated with infliximab or adalimumab [94].
hsa-miR-196a # polymorphism
Found upregulated in three studies *
No correlation
hsa-miR-221 polymorphism
Found upregulated in five studies
1.9
No correlation
hsa-miR-224 polymorphism
Found upregulated in four studies
1.8
No correlation
hsa-miR-106b
Found upregulated in seven studies cancer/normal
1.33
Downregulated in treated patients
Psoriasis treated with etanercept [95].
hsa-miR-26b
Found upregulated in one study/downregulated in three studies
−0.9
Downregulated in treated patients
hsa-miR-143-3p
-
Downregulated in treated patients
hsa-miR-223
Found upregulated in three studies/downregulated in one study
1.11
Downregulated in treated patients
hsa-miR-126
Found upregulated in one study/downregulated in one study
−2.41
Downregulated in treated patients
hsa-miR-5196
Not found
-
Downregulated in treated patients
Rheumatoid arthritis and ankylosing spondylitis treated with anti-TNFα treatment (Golimumab in 15%, Adalimumab in 77%, Certolizumab in 8%) [96].
hsa-miR-125b #
Found upregulated in two studies/downregulated in three studies *
−0.28
Upregulated in treated patients
Rheumatoid arthritis treated with infliximab or etanercept or adalimumab [97].
hsa-miR-126-3p
Found downregulated in one study
−0.70
Upregulated in treated patients
hsa-miR-146a-5p
Found downregulated in one study
−0.22
Upregulated in treated patients (see above)
hsa-miR-16-5p
Found downregulated in one study
−0.92
Upregulated in treated patients
hsa-miR-23-3p
Not found
-
hsa-miR-223-3p
Found downregulated in one study
−1.17
Upregulated in treated patients
hsa-miR-22
Found upregulated in one study
1.23
Downregulated in Adalimumab respondent patients
Rheumatoid arthritis treated with Adalimumab [98].
hsa-miR-886-3p
-
-
Upregulated in Adalimumab respondent patients
hsa-let-7d
Found upregulated in 3 studies/Downregulated in 1 study
0.54
Upregulated in treated patients
Crohn's disease treated with infliximab [99].
hsa-let-7e
Found upregulated in 1 studies/Downregulated in 1 study
0.33
Upregulated in treated patients
hsa-miR-28-5p
Found upregulated in 2 studies/Downregulated in 1 study
0.64
Upregulated in treated patients
hsa-miR-221
Found upregulated in 5 studies
1.9
Upregulated in treated patients (see above)
hsa-miR-224
Found upregulated in 4 studies
1.8
Upregulated in treated patients (see above)
hsa-miR-99a
Found upregulated in 2studies/Downregulated in 3 studies
−0.60
Upregulated in Adalimumab respondent
Rheumatoid arthritis treated with adalimumab or etanercept [100].
hsa-miR-143
Found upregulated in 3 studies/Downregulated in 2 studies
−1.05
Downregulated in respondent
hsa-miR-23a
Found upregulated in 6 studies
1.29
Upregulated in respondent
hsa-miR-197
Found upregulated in 5 studies/Downregulated in 1 study
1.20
Upregulated in respondent
* In the DBDEMC2 database, cancers were compared with healthy controls. # In miRbase (http://www.mirbase.org), hsa-miR-146 corresponded to hsa-miR-146-5p, hsa-miR-196a corresponded to hsa-miR-196a-5p, and hsa-miR-125b corresponded to hsa-miR-125b-5p [101].

© 2019 by the authors. Licensee MDPI, Basel, Switzerland. This article is an open access article distributed under the terms and conditions of the Creative Commons Attribution (CC BY) license (http://creativecommons.org/licenses/by/4.0/).