TNF-α Inhibitors Decrease Classical CD14hiCD16− Monocyte Subsets in Highly Active, Conventional Treatment Refractory Rheumatoid Arthritis and Ankylosing Spondylitis
1
Department of Rheumatology, J. Dietl Specialist Hospital, 31-121 Krakow, Poland
2
Department of Internal and Agricultural Medicine, Faculty of Medicine, Jagiellonian University Medical College, 31-121 Krakow, Poland
3
BHF Centre of Research Excellence, Institute of Cardiovascular and Medical Sciences, University of Glasgow, Glasgow G12 8TA, UK
4
Institute of Infection, Immunity and Inflammation, University of Glasgow, Glasgow G12 8TA, UK
*
Author to whom correspondence should be addressed.
Received: 17 December 2018 / Revised: 4 January 2019 / Accepted: 4 January 2019 / Published: 12 January 2019
Abstract
Monocytes are pivotal cells in inflammatory joint diseases. We aimed to determine the effect of TNF-α inhibitors (TNFi) on peripheral blood monocyte subpopulations and their activation in ankylosing spondylitis (AS) and rheumatoid arthritis (RA) patients with high disease activity. To address this, we studied 50 (32 AS, 18 RA) patients with highly active disease with no prior history of TNFi use who were recruited and assigned to TNFi or placebo treatment for 12 weeks. Cytometric and clinical assessment was determined at baseline, four, and 12 weeks after initiation of TNFi treatment. We observed that treatment with TNFi led to a significant decrease in CD14
hi
CD16− monocytes in comparison to placebo, while circulating CD14
dim
CD16+ monocytes significantly increased. The TNFi-induced monocyte subset shifts were similar in RA and AS patients. While the percentage of CD14
dim
CD16+ monocytes increased, expression of CD11b and CD11c integrins on their surface was significantly reduced by TNFi. Additionally, CD45RA+ cells were more frequent. The shift towards nonclassical CD14
dim
CD16+ monocytes in peripheral blood due to TNFi treatment was seen in both AS and RA. This may reflect reduced recruitment of these cells to sites of inflammation due to lower inflammatory burden, which is associated with decreased disease activity.
View Full-Text
►

▼

Figures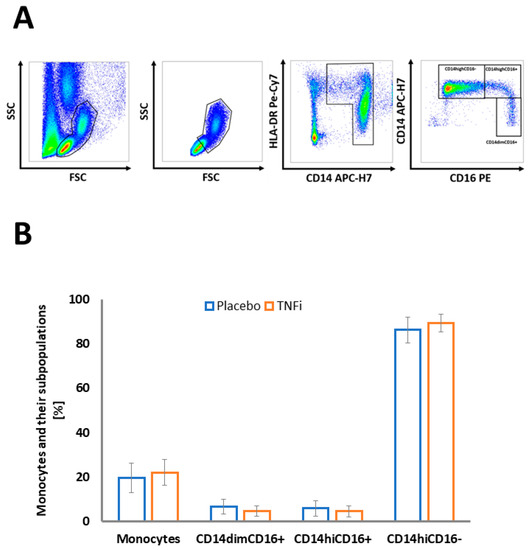 Figure 1
This is an open access article distributed under the
Creative Commons Attribution License
which permits unrestricted use, distribution, and reproduction in any medium, provided the original work is properly cited (CC BY 4.0).

Share & Cite This Article
MDPI and ACS Style
Batko, B.; Schramm-Luc, A.; Skiba, D.S.; Mikolajczyk, T.P.; Siedlinski, M. TNF-α Inhibitors Decrease Classical CD14hiCD16− Monocyte Subsets in Highly Active, Conventional Treatment Refractory Rheumatoid Arthritis and Ankylosing Spondylitis. Int. J. Mol. Sci. 2019, 20, 291.
Note that from the first issue of 2016, MDPI journals use article numbers instead of page numbers. See further details here.
Related Articles
Comments
[Return to top]