Open Access This article is
freely available
re-usable
Review
Pericytes in Microvessels: From "Mural" Function to Brain and Retina Regeneration
1
Department of Physiology & Biomedical Engineering, Mayo Clinic, Rochester, MN 55905, USA
2
Section of Medical Biochemistry, Department of Biomedical and Biotechnological Sciences, School of Medicine, University of Catania, 95123 Catania, Italy
3
Section of General and Clinical Pathology and Oncology, Department of Biomedical and Biotechnological Sciences, School of Medicine, University of Catania, 95123 Catania, Italy
4
Section of Haematology, Department of General Surgery and Medical-Surgical Specialties, University of Catania, 95123 Catania, Italy
5
Section of Microbiology, Department of Biomedical and Biotechnological Sciences, School of Medicine, University of Catania, 95123 Catania, Italy
†
These authors contributed equally to this work.

Received: 31 October 2019 / Accepted: 14 December 2019 / Published: 17 December 2019
Abstract
:
Pericytes are branched cells located in the wall of capillary blood vessels that are found throughout the body, embedded within the microvascular basement membrane and wrapping endothelial cells, with which they establish a strong physical contact. Pericytes regulate angiogenesis, vessel stabilization, and contribute to the formation of both the blood-brain and blood-retina barriers by Angiopoietin-1/Tie-2, platelet derived growth factor (PDGF) and transforming growth factor (TGF) signaling pathways, regulating pericyte-endothelial cell communication. Human pericytes that have been cultured for a long period give rise to multilineage progenitor cells and exhibit mesenchymal stem cell (MSC) features. We focused our attention on the roles of pericytes in brain and ocular diseases. In particular, pericyte involvement in brain ischemia, brain tumors, diabetic retinopathy, and uveal melanoma is described. Several molecules, such as adenosine and nitric oxide, are responsible for pericyte shrinkage during ischemia-reperfusion. Anti-inflammatory molecules, such as IL-10, TGFβ, and MHC-II, which are increased in glioblastoma-activated pericytes, are responsible for tumor growth. As regards the eye, pericytes play a role not only in ocular vessel stabilization, but also as a stem cell niche that contributes to regenerative processes in diabetic retinopathy. Moreover, pericytes participate in melanoma cell extravasation and the genetic ablation of the PDGF receptor reduces the number of pericytes and aberrant tumor microvessel formation with important implications for therapy efficacy. Thanks to their MSC features, pericytes could be considered excellent candidates to promote nervous tissue repair and for regenerative medicine.
Keywords:
Pericytes; microvessels; MSC features; brain and retina repair; stroke; brain tumor; diabetic retinopathy; ocular diseases
2. Pericytes: Canonical and New Functions
2.1. Angiogenesis Modulation and Vessel Stabilization
2.2. Blood Flow Regulation
Pericytes are able to regulate the perfusion of fluids and cells thanks to their high level of α-smooth muscle actin, similar to the smooth muscle cells of larger vessels, which confers contractile ability to them [
30
]. The contractile function in pericytes was also highlighted by the identification of contractile proteins such as tropomyosin and myosin. Furthermore, pericytes express both cholinergic and adrenergic receptors (α-2 and β-2). Specifically, α-2 response leads to contraction, whereas β-2 stimulation causes pericyte relaxation [
8
]. An in vitro study showed that membrane permeabilization and the following administration of adenosine triphosphate (ATP) caused selective contraction of pericytes but not of other cells (i.e., endothelial and epithelial cells) under the same conditions, thus confirming the contractile properties of pericytes [
31
]. Capillary pericytes actively contribute to the fine tuning of blood flow through contractile responses to local metabolic needs, i.e., high levels of carbon dioxide induce pericyte relaxation (metabolic auto-regulation of blood flow) [
32
].
Contraction ability is highly important both in physiological and in pathological conditions. Indeed, pericyte contractility is fundamental for the regulation of blood flow in microvessels during traumatic brain injury [
33
], ischemia [
34
], and in physiological neurovascular coupling [
35
]. Under hypoxic conditions, the contraction of pericytes increases. In this event, pericyte constriction may be a cause of the long-lasting decrease of cerebral blood flow that occurs when an obstructed artery is opened up after a stroke [
36
].
Neurovascular coupling controls cerebral blood flow by signaling pathways that cause dilation of capillaries and arterioles. It has been found that capillary dilation occurs following the effect on pericytes of E2 prostaglandins, released by astrocytes, whereas arteriolar dilation occurs following the effect of nitric oxide (NO) released by inter-neurons. Furthermore, the dilation of capillaries by pericytes occurs faster than that of arterioles and offers a greater increase in blood flow [
37
]. Moreover, the effect of NO, released by the neurons of the granular layer, is two-fold, in that, in addition to causing vasodilation, it inhibits the synthesis of the powerful vasoconstrictor 20-Hydroxyeicosatetraenoic acid (20-HETE), which is produced in pericytes by the metabolism of arachidonic acid [
38
]. On the other hand, it has also been demonstrated, by analyzing the cellular components of the microvascular contractile apparatus, that the occlusion of blood vessels during stroke is not caused by pericytes but rather by smooth muscle cells. Pericytes, therefore, would seem to play a role in coordinating the signaling pathways between the neural and vascular compartments [
39
]. The differences found by researchers in pericyte functions, both in physiological and pathological conditions, could depend on their position on the vascular bed. Thus, pericytes that are found at the ends of capillaries and that contain α-smooth muscle actin (α-SMA) could physiologically regulate blood flow and be responsible for capillary restriction during ischemia. Pericytes in the central part of the capillary bed, which contain less α-SMA, would be physiologically responsible for maintaining the characteristics of the BBB and would cause BBB breakdown during ischemia. Finally, pericytes at the end of the vascular bed physiologically regulate the passage of immune cells from the blood to brain tissue and the noticeable increase of these cells during ischemia is due precisely to the lack of control by pericytes [
39
]. Being able to distinguish the three pericytes classes would make it possible to identify precise therapeutic targets to limit the damage caused by various brain pathologies.
2.3. Anatomical Stabilization of the BBB and BRB
As is well known, the normal physiology of nervous tissue (CNS and retina) requires extremely rigorous control and protection of the neuropil, which is carried out by the BBB and BRB. Both barriers protect the neuronal milieu from harmful substances (e.g
.,
toxins, drugs) and microorganisms, and regulate the paracellular flow between cells and transendothelial fluid transport, ensuring an optimal chemical environment for synapses and neurotransmission [
23
]. Endothelial cells have always been considered the most characteristic cellular components, both because of their position (in contact with the bloodstream) and the above mentioned strict metabolic control. Pericytes have received much less attention than the other components of the microvascular bed; these cells are now considered fundamental constituents of both the BBB and BRB. The particular tightness of these two barriers is due to both tight and adherent junctions between endothelial cells; studies have shown that pericyte coverage is essential to form anatomically mature barriers and to maintain their function and tissue homeostasis, together with the endothelium, neuronal and glial cells, in a complex system named "neurovascular unit" [
23
]. An imbalance in pericyte coverage has been described in different CNS diseases [
40
], such as Alzheimer's disease [
41
], diabetic retinopathy [
42
,
43
], neonatal intraventricular hemorrhage [
44
], and amyotrophic lateral sclerosis [
45
]. Pericyte loss results in BBB breakdown and the increase of permeability, accumulation of plasma-derived proteins and subsequent neuronal degenerative alterations [
46
]. In an in vitro model of a bacterial infection of the BBB, on the basis of co-culturing endothelial cells and pericytes,
E. coli
invasion induced pericyte loss, and consequently a TEER decrease and BBB permeability increase [
47
].
Preclinical data have shown that pericytes play an important "modulating" role in the initial stages of endothelial sprouting driven by a brain tumor [
48
]. For example, the new vessels associated with glioblastoma are characterized by the absence of pericytes and the reduction of VEGF release induces their recession [
49
]. As a result of this, abnormal pericyte integration into the capillary wall, associated with deficient coverage, could be partly responsible for vessel abnormalities that contribute to disease, bacterial infection from the blood to nervous tissue and metastasis.
Pericyte coverage is crucial during embryogenesis, in fact, in PDGFR-β mouse mutants, the permeability through the BBB dramatically increases in the CNS [
50
]. In PDGF-B transgenic mice, the loss of pericyte coverage in the BRB is associated with reduced neuronal layers and a folding photoreceptor layer, signs that can be compared to diabetic retinopathy [
51
]. Moreover, the increased expression of zonula occludens-1 (ZO-1) tight junction proteins related to increased pericyte coverage highlights the role of pericytes in tight junction stabilization in developing retinal vessels within the first three postnatal weeks [
52
]. This evidence confirms the central role of pericytes in BBB and BRB structures, as well as in responding to metabolic demands.
2.4. Mesenchymal Stem Cell Features
The evidence so far reported on pericyte plasticity highlights their ability to represent a source of stem cells and lays the foundation for their future therapeutic use.
3. Pericytes in Brain Disease, Repair and Preservation
Neurological diseases such as ischemic stroke, traumatic brain injury, Alzheimer's Disease (AD), amyotrophic lateral sclerosis and Parkinson's disease are characterized by pericyte dysfunction [
64
]. Hereafter, short description of pericyte involvement in ischemia-reperfusion and brain tumor is presented.
3.1. Ischemia-Reperfusion
3.2. Pericyte Regenerative Potential in Ischemia-Reperfusion
3.4. Pericyte-Targeted Anti-Tumor Therapy
4. Pericytes in Retinal Diseases and Repair
Pericytes are particularly abundant in retinal microvessels [
121
]. It is well known that pericyte loss and BRB breakdown play a central role in the pathological development of age-related macular degeneration, uveitis, and diabetic retinopathy (DR) [
122
].
4.1. Diabetic Retinopathy
Since the loss of pericytes represents the focal point of DR pathogenesis, the repositioning of these cells in the empty dimples could represent an effective treatment of this pathology.
Summing up what has been stated above, the research on advanced therapies for the treatment of DR is making great strides and represents a promising future for the many patients suffering from this invalidating pathology.
5. Conclusions and Future Perspectives
Pericytes play a pivotal role in the development and formation of the vascular network as well as in tissue homeostasis. However, increasing interest in this type of cell comes from recent evidence of their MSC features. In order to pursue the goal of replacing or regenerating damaged or exhausted tissue through the control of the function and differentiation of MSCs and pericytes, there are several issues that should be addressed. For example, how can stem cells be integrated into a tissue? What will the immunomodulatory effect of these cells at the injured site be? How will it be possible to determine the most useful population of stem cells for the regeneration of a given tissue? Most importantly, the translation of data from in vivo and in vitro studies on humans will be problematic, and there will be rigorous controls both during clinical trials and at post-treatment patient follow-ups in order to gain a consensus on the therapeutic efficacy of pericyte/MSC therapies.
Author Contributions
Conceptualization, C.D.A and G.L.; methodology, F.D. and C.L.; software, C.G. and G.G.; validation, M.S. and S.C.; formal analysis, M.S. and A.L.; investigation, N.C.; resources, C.D.A. and G.L.; data curation, F.D. and M.T.C.; writing—original draft preparation, F.D.; writing—review and editing, N.C. and F.D..; visualization, N.C. and M.T.C.; supervision, C.D.A and G.L.; C.D.A. and M.S.; funding acquisition, C.D.A and G.L.
Funding
This work was supported by National Grant PRIN 2015JXE7E8 from Ministry of Education, University and Research (MIUR, Italy) and by the 'Piano triennale per la Ricerca Linea Intervento 2, University of Catania, Italy'.
Acknowledgments
We wish to thank the Scientific Bureau of the University of Catania for language support.
Conflicts of Interest
The authors declare no conflict of interest.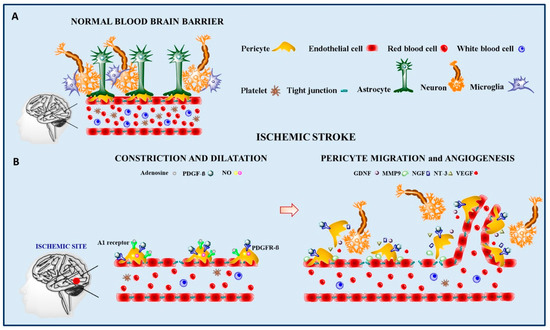 Figure 1. Schematic model of the blood brain barrier (BBB) in physiological conditions (A) and following ischemic damage (B). In the absence of any insult, the BBB is a highly organized structure, composed of different cellular types that cooperate to protect neurons from external agents circulating in the blood (A). In the presence of stroke, pericytes play a key role in restoring blood flow, by synthesizing different molecules involved in microvascular dilatation, new vessel formation and neuroprotection (B). A1 adenosine receptor (A1 receptor), adenosine, platelet-derived growth factor-B (PDGF-B), platelet-derived growth factor receptor-β (PDGFR-β), nitric oxide (NO), glial cell-derived neurotrophic factor (GDNF), matrix metallopeptidase 9 (MMP9), nerve growth factor (NGF), neurotrophin-3 (NT-3), and vascular endothelial growth factor (VEGF).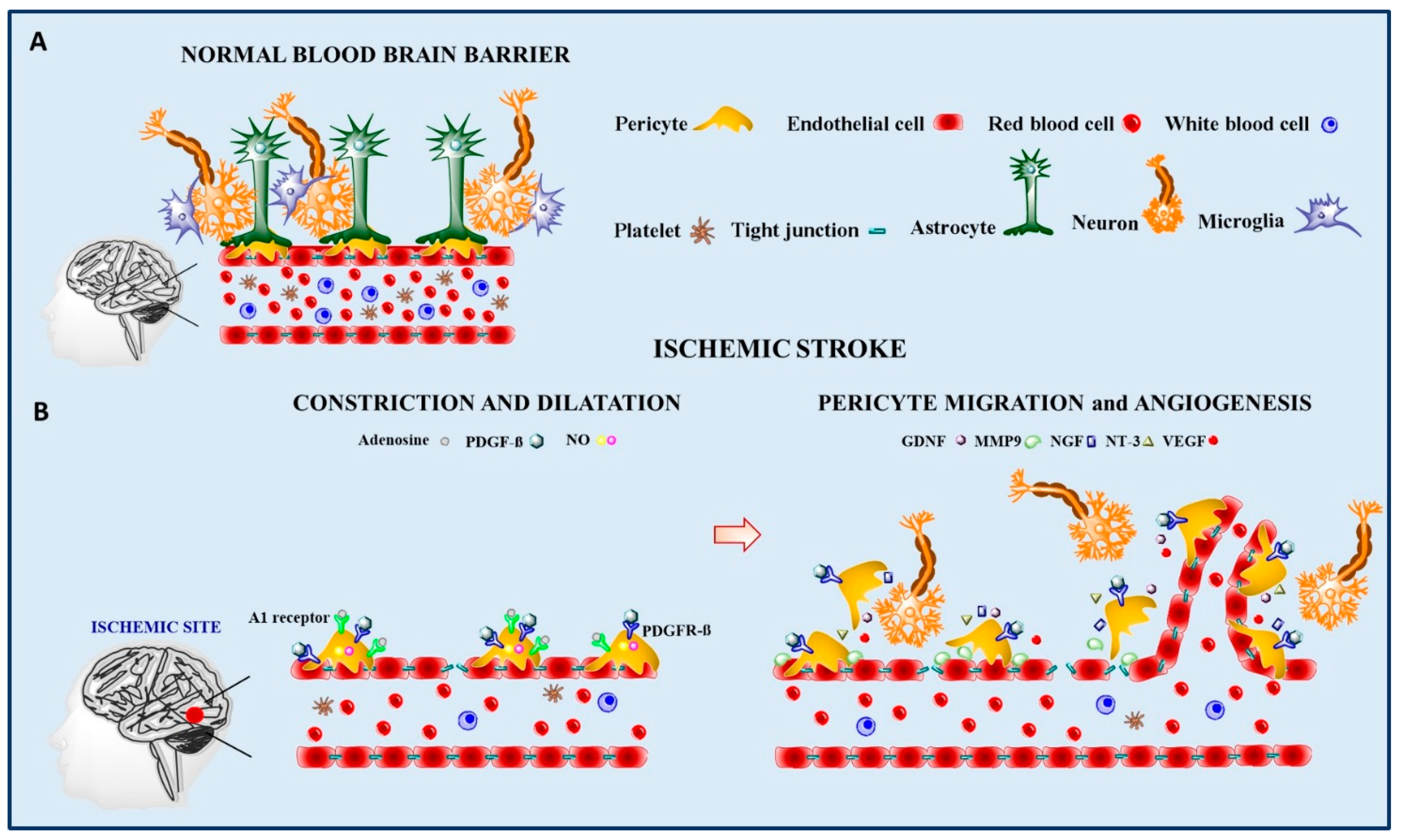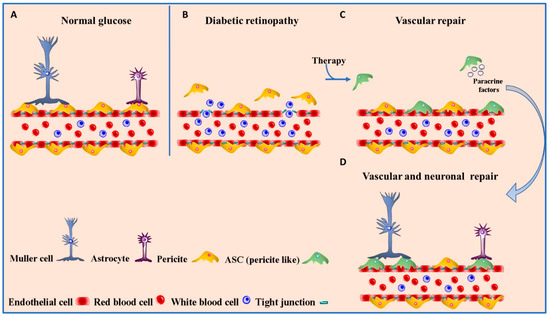 Figure 2. Schematic representation of the human blood retinal barrier (BRB) in the presence of normal glucose levels (A), in pathological conditions (B), under therapy with ASCs (pericyte like cells) (C,D). In the physiological state, specialized endothelial cells, connected by tight junctions, pericytes, Muller cells and astrocytes prevent the passage of potentially toxic molecules from the blood to the retina (A). Prolonged high glucose levels breakdown the BRB (B). The treatment with ASCs is able to make vascular and neuronal repair (C,D).

© 2019 by the authors. Licensee MDPI, Basel, Switzerland. This article is an open access article distributed under the terms and conditions of the Creative Commons Attribution (CC BY) license (http://creativecommons.org/licenses/by/4.0/).