Open Access This article is
freely available
re-usable
Review
The Beige Adipocyte as a Therapy for Metabolic Diseases
Center of Biomedical Investigation, (CIBUS), Universidad de La Sabana, 250008 Chia, Colombia
Received: 13 September 2019 / Accepted: 5 October 2019 / Published: 12 October 2019
Abstract
:
Adipose tissue is traditionally categorized into white and brown relating to their function and morphology. The classical white adipose tissue builds up energy in the form of triglycerides and is useful for preventing fatigue during periods of low caloric intake and the brown adipose tissue more energetically active, with a greater number of mitochondria and energy production in the form of heat. Since adult humans possess significant amounts of active brown fat depots and its mass inversely correlates with adiposity, brown fat might play an important role in human obesity and energy homeostasis. New evidence suggests two types of thermogenic adipocytes with distinct developmental and anatomical features: classical brown adipocytes and beige adipocytes. Beige adipocyte has recently attracted special interest because of its ability to dissipate energy and the possible ability to differentiate themselves from white adipocytes. The presence of brown and beige adipocyte in human adults has acquired attention as a possible therapeutic intervention for metabolic diseases. Importantly, adult human brown appears to be mainly composed of beige-like adipocytes, making this cell type an attractive therapeutic target for obesity and obesity-related diseases, such as atherosclerosis, arterial hypertension and diabetes mellitus type 2. Because many epigenetics changes can affect beige adipocyte differentiation from adipose progenitor cells, the knowledge of the circumstances that affect the development of beige adipocyte cells may be important to new pathways in the treatment of metabolic diseases. New molecules have emerged as possible therapeutic targets, which through the impulse to develop beige adipocytes can be useful for clinical studies. In this review will discuss some recent observations arising from the unique physiological capacity of these cells and their possible role as ways to treat obesity and diabetes mellitus type 2.
Keywords:
beige adipose cell; diabetes mellitus 2; metabolic disease; obesity therapy
2. The Origin of Adipocytes
3. Adipose-Derived Stem Cells (ADMSC)
The ADMSC has a great challenge for the treatment of systemic diseases that are of an inflammatory origin. Although the mechanism by which these cells can improve the conditions of patients are not fully elucidated. Evidence is accumulating that many of the immunomodulatory effects of ADMSCs are mediated by host cells. It has been demonstrated that the induction of apoptosis of intravenously infused ADMSCs and the subsequent engulfment of ADMSCs by phagocytic cells is crucial for the therapeutic effect of MSCs in graft versus host disease [
59
,
60
].
This hypothesis suggests that maximal therapeutic effects of ADMSCs can be obtained not by optimizing the migratory capacity and secretome profile of ADMSCs, but by generating ADMSCs that are optimally capable of inducing an immune regulatory and regenerative phenotype and function in phagocytic cells [
61
]. ADMSCs are under consideration as a treatment for a wide variety of conditions and the types of condition determines the route of administration of the cells. For most immunological disorders, intravenous administration has been the route of choice whereas for bone repair purposes. ADMSCs are seeded on transplantable scaffolds or administered as in vitro generated cartilaginous templates that undergo osteogenic differentiation after implantation [
62
]. Intralesional administration of 120 million allogeneic expanded ADMSCs (darvadstrocel, formerlyCx601) over control in the treatment of complex perianal fistulas in Crohn's disease patients has showed a significant beneficial effect [
63
].
5. Epigenetics Modifications in Adipose Cells
5.1. Epigenetic Regulation by DNA Methylation
5.2. Epigenetics and Mechanisms of Chromatin Modification
5.3. Epigenetics Changes by Non-Coding RNA
The regulation in gene expression is also established by non-protein-coding transcripts of long and small RNAs (ncRNAs), which represent almost 90% of our RNA.
6. Induction of Beige Adipocyte by Cold
7. Influence of Physical Exercise
Physical exercise has an effect on beigeing based on observations in animals. Apparently more than the intensity of the exercise the effect is more related to the duration of physical activity [
137
,
138
]. There are multiple hypotheses that have been brought forth to explain the mechanisms responsible for the exercise-induced increase in beigeing [
139
]. Studies have shown that beigeing occurs in response to increased secretion of the hypothalamic brain-derived neurotrophic factor (BDNF) during exercise [
132
]. The main mediator of this process seems to be PGC-1α, which influences myogenesis, mitochondria and oxidative phosphorylation [
140
,
141
,
142
]. Some proteins produced in the muscle can influence the metabolism of the fat cell. The derived from fibronectin type III domain-containing protein 5 (FNDC5), Irisin and Meteorin-like protein precursor (METRNL) can lead to the process of beigeing in different ways [
143
,
144
]. While Irisin regulates the expression of specific genes in beige adipocytes [
145
], METRNL increases the activation of type 2 macrophages through eosinophils [
146
]. The pro-inflammatory interleukin IL-6 can also increase the process of beigeing and induce an increase in calorie expenditure [
147
].
Three weeks of wheel cage running in mice significantly decreased the abundance of triacylglycerols (TAGs), phosphatidylcholines (PC) and cholesterol esters (CE) and increased specific molecular species of PC and phosphatidylethanolamines (PE) in brown adipocytes. Exercise decreased expression of genes involved in phospholipid metabolism (
Agpat3
,
Gpd1
,
Lgpat1
,
Ptdss2
and
Pld1
) and fatty acid biosynthesis (
Acaca
,
Scd1
,
Agpat3
,
Dgkd
and
Mlxipl
). The decrease in genes involved in fatty acid biosynthesis corresponded to a decrease in overall TAGs in brown adipocytes. These data indicate that exercise causes significant adaptations to the brown adipocytes lipidome, although the physiological effects of these changes on insulin sensitivity and glucose tolerance are still topics of investigation [
148
].
Lipid control in adipocytes can be changed during exercise. The size of the adipocytes are diminished and there is a reduction in the content of 18:1 (oleic acid) monounsaturated fatty acids and increase in linoleic acid (18:2 n-6) content in subcutaneous adipose tissue after chronic training in humans [
149
]. The decrease in the level of 18:1, the main monounsaturated FA (MUFA), might be associated with reduced activity of stearoyl-CoA desaturase (SCD1) in adipocytes [
150
]. Since metabolic disorders were shown to be associated with enhanced synthesis of 18:1 and other MUFA by SCD1 [
151
] a post-exercise decrease in adipose tissue content of 18:1 may be considered a favorable change. After 6 months of increased physical activity contributed to a significant increase in 18:2 n-6 in overweight elderly subjects, while no such effect was observed in untrained controls [
152
]. Previously was shown that training decrease in palmitoleic acid (16:1) and an increase in stearic acid (18:0) content, comparing to untrained controls [
153
]. Although the evidence is subtly short from human suggests that chronic exercise may contribute to a decrease in 18:1 content, with concomitant increase in 18:2 n-6 and 18:0. On the other hand it is very feasible that the it is likely that a product of anaerobic exercise such as lactate can influence the process of beigeing; this possibility requires future study [
154
].
8. Role of Interleukins
Obesity has been considered to be a condition of slight chronic inflammation, and interleukins can influence the function of fat cells in diverse ways. Pro-inflammatory interleukins that are increased in obese people, such as TNF-α, IL-1α and IL-6 secreted by type I macrophages, induce undesirable effects leading to cardiovascular complications in patients with obesity [
155
,
156
,
157
,
158
]. In contrast, in thin subjects and with specific stimuli, it is possible to generate a change in the population of macrophages by increasing the number of anti-inflammatory type II macrophages [
159
]. These macrophages may maintain sensitivity to insulin and remodeling of the extracellular matrix [
160
]. Type II macrophages are activated by T-lymphocytes and eosinophils [
161
,
162
]. In mice, Th2 lymphocytes secrete the anti-inflammatory interleukin IL-10, which improves insulin sensitivity by blocking the action of TNF-α. In addition, the eosinophils that migrate to the adipose tissue can maintain the activity of the M2 macrophages via the secretion of IL-4 and IL-13 [
163
,
164
,
165
]. The presence of type 2 innate lymphoid cells (ILC2s), which act as T helper lymphocytes and produce IL-4, IL-5 and IL-13, has attracted particular interest because a reduction of these cells in adipose tissues is associated with obesity in mice and humans [
166
]. Recently it has been observed that IL-33 is required for the maintenance of ILC2s in the white fat cells and for the development of the beige adipose phenotype [
167
]. IL-33 can induce the production of IL-4 by eosinophils and increase the production of Met-enkephalin by ILC2s [
130
,
168
].
9. Endocrine Factors and Metabolites in Beige Adipocytes
10. Potential Therapeutic Use in Humans
The biology of beige adipocytes is so novel that it is necessary to gain an understanding of the physiological conditions, the number of days that the cells can survive, the elements that may be necessary to maintain the functionality of this cell type, and so on.
Finally, it is important to determine the specific factors that provide plasticity to beige adipose tissue, which makes possible their differentiation from a mature white adipose cell. The process of beigeing from both the precursor adipose cells as well as from the white adipose cells may be a desirable element for weight reduction.
Funding
This research was funded by Department of Ciencias y Tecnologias (Colciencias) grant Number (123065740713) and direction of investigation Universidad de La Sabana grant number (MED-193-2015).
Acknowledgments
The author thanks Jeison Garcia, Wendy Rosales, Diana Vargas, and other members of the laboratory for helpful suggestions. This work was supported by Departamento Administrativo de Ciencia y Tecnologia (Colciencias) and by the School of Medicine and DIN (Research Department) from Universidad de La Sabana.
Conflicts of Interest
The author declares no conflict of interest.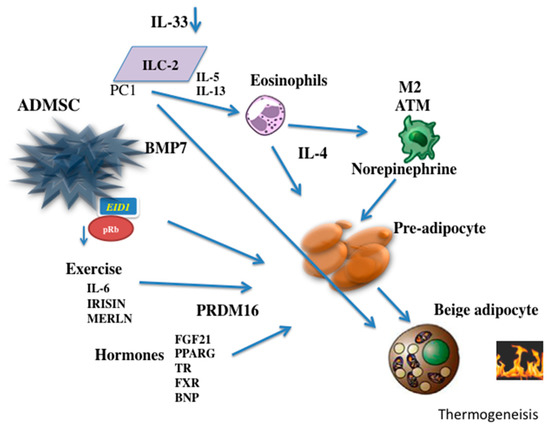 Figure 1. Determining factors in differentiation of adipose cell Beige. The adipose mesenchymal cells can be influenced by the retinoblastoma protein (pRb) and take decision to differentiate into fat cells when pRb is blocked. The EID1 protein among others can determine the differentiation of beige cells adipocytes from mesenchymal stem cells. BMP7 triggers production of mesenchymal adipose cells to brown adipose cells. Both exercise and some hormones can increase the capacity of adipose stem cells differentiate into beige adipocytes. Recently, it has been observed that cells of the innate immune system type 2, can secrete interleukins stimulating the production of IL-4 by eosinophils and norepinephrine production through the type 2 macrophage. IL-33 has the ability activating the differentiation of adipocytes directly Beige. ADMSC: Adipose Mesenchymal Stem cell; PC1: Prohormone Convertase 1;ILC-2 Group 2 innate lymphoid cells; BMP7: Bone morphogenic protein 7; EID1: EP300-interacting inhibitor of differentiation 1; M2 ATM: Adipose tissue type 2 macrophage; FGF21: Fibroblastic growth factor 21; PPARγ: Peroxisome proliferator-activated receptor gamma; TR: Thyroid receptors; FXR: Farnesoid X receptor; BNP: Brain natriuretic factor.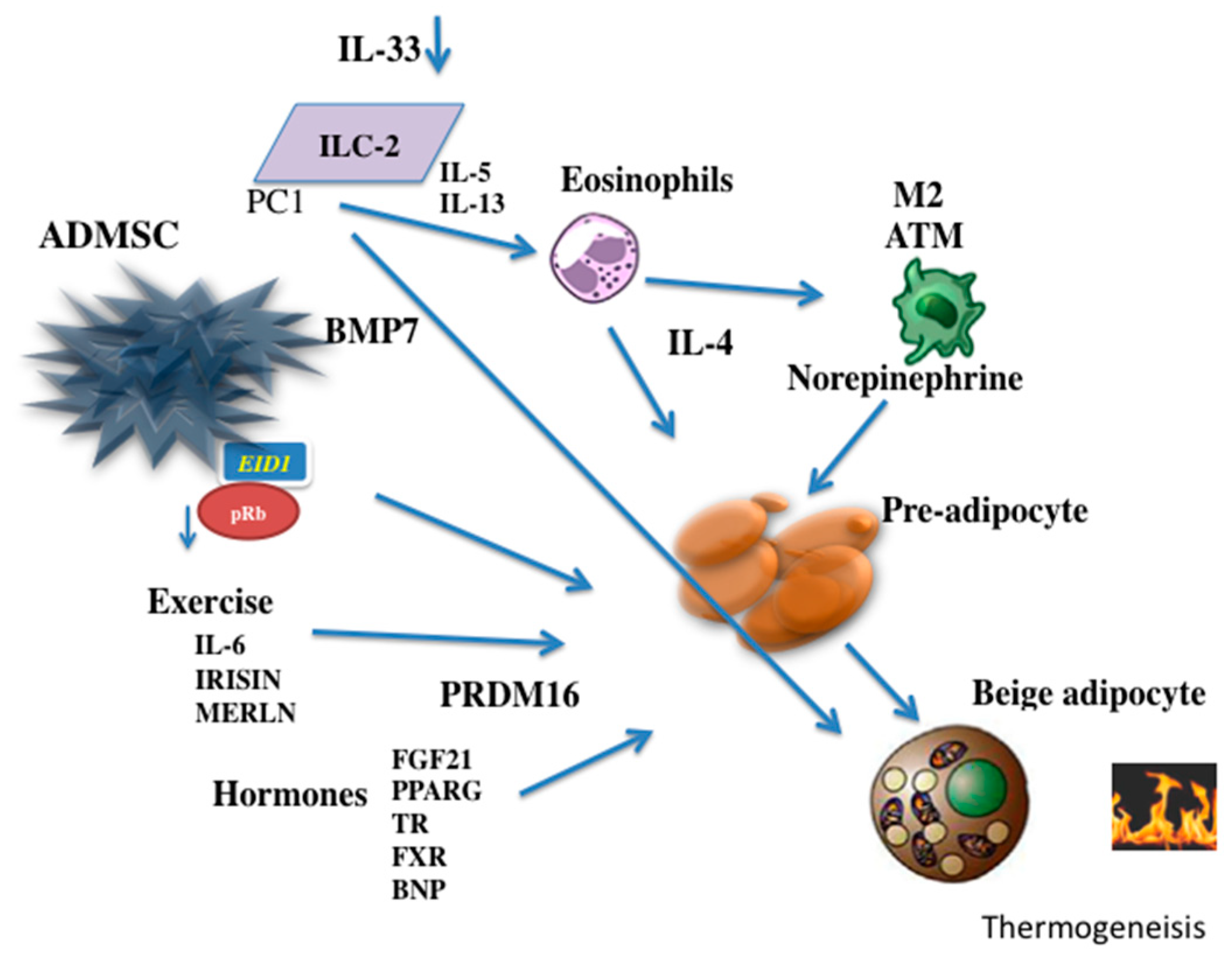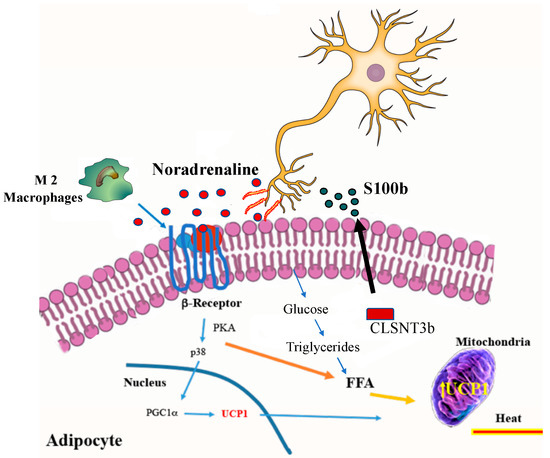 Figure 2. The effects of cold on the induction of thermogenic active adipocyte. The secretion of noradrenaline directly from nervous sympathetic system, or indirectly through catecholamine secretion by macrophage type 2 can stimulate glucose uptake in fat cells and improve the regulation of carbohydrate. Both glucose and triglycerides are used by UCP1 protein to increase thermogenesis. Calsyntenin 3β (CLSTN3β) that is expressed in beige and brown adipocytes aids the secretion of a growth-factor protein, S100b that facilitates the growth of projections from neurons and noradrenaline secretion. FFA: Free fatty acid; M2: Macrophages 2, SNS: Sympatic Nervous System; PKA: Protein Kinase A; UCP1: Uncoupling protein 1; PGC-1α: Peroxisome proliferator-activated receptor-gamma coactivator alpha 1; CLSTN3β: Calsyntenin 3β; S100b, S100 calcium-binding protein b.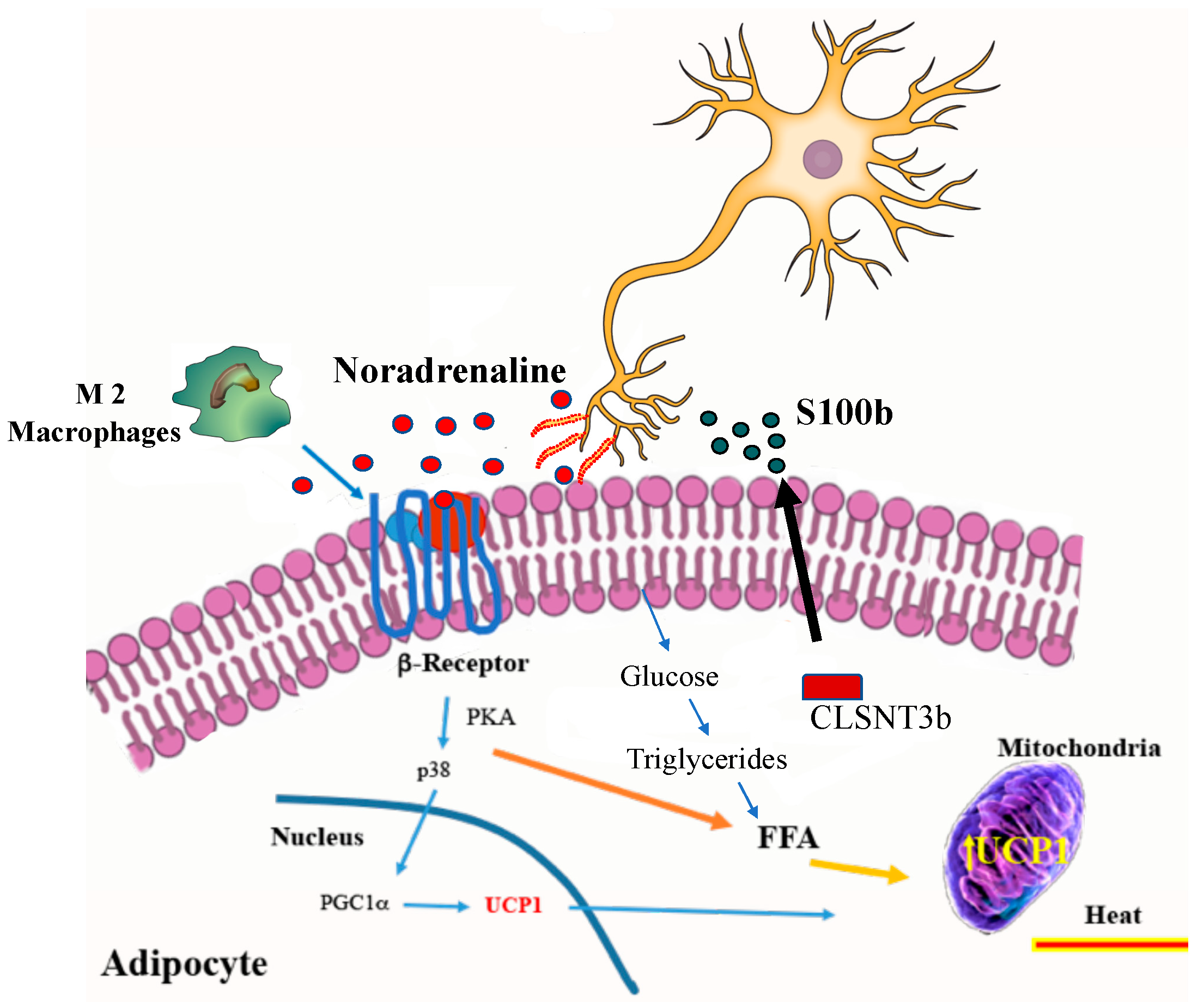 White Adipocyte
Brown Adipocyte
Beige Adipocyte
1 Cold, Noradrenaline, TZD, FGF21, IL-4; IL-6
Unilocular adipocyte
Multilocular adipocytes
Unilocular → Multilocular
Lipid storage (+++)
Lipid storage (+)
Lipid storage (+++) → Lipid storage (+)
Mitochondria (+)
Mitochondria (+++)
Mitochondria (+) → Mitochondria (+++)
Fatty acid oxidation (+)
Fatty acid oxidation (+++)
Fatty acid oxidation (+) → Fatty acid oxidation (+++)
Respiratory chain (+)
Respiratory chain (+++)
Respiratory chain (+) → Respiratory chain (+++)
UCP1 (−)
UCP1 (+++)
UCP1 (−) → UCP1 (+++)
PGC-1α (+)
PGC-1α (+++)
PGC-1α (+) → PGC-1α (+++)
Markers: Resistin, ASC-1, FAB4
Markers: Zic1, Lhx8, Eva1, Pdk4, CLSTN3b
Markers: CD137, Tbx1, Cited1, Tmem26, CIDEA, CLSTN3b
1 Conditions that stimulate the thermogenic activity of beige adipocytes. TZD: Thiazolidinedione; FGF21: Fibroblast Growth Factor 21; UCP1: Uncoupling protein 1; PGC-1a: Peroxisome proliferator-activated receptor-gamma coactivator alpha 1; ASC-1: adipocyte–specific cell surface protein; FABP4/aP2: Fatty acid binding protein 4; Zic1: Zinc finger protein 1; Lhx8: LIM/homeobox protein; Eva1: Epithelial V-like antigen 1; Pdk4: Pyruvate dehydrogenase kinase 4; CD 137: Cluster of Differentiation 137; Tbx1: T-box transcription factor 1; Cited1: Cbp/P300-interacting transactivator 1; Tmem26: transmembrane protein 26; CIDEA: Cell death-inducing DFFA-like effector, CLSTN3b, Calsyntenin 3β. (+) : low activity; (+++): high activity.

© 2019 by the author. Licensee MDPI, Basel, Switzerland. This article is an open access article distributed under the terms and conditions of the Creative Commons Attribution (CC BY) license (http://creativecommons.org/licenses/by/4.0/).