Extracellular Vesicle-Mediated Cell–Cell Communication in the Nervous System: Focus on Neurological Diseases
1
Department of Biomedicine, Neuroscience and Advanced Diagnostics (BIND), Section of Human Anatomy, University of Palermo, 90127 Palermo, Italy
2
Euro-Mediterranean Institute of Science and Technology (IEMEST), 90136 Palermo, Italy
3
Institute of Biophysics, National Research Council, 90143 Palermo, Italy
4
Department of Biomedicine, Neuroscience and Advanced Diagnostics (BIND), Section of Biochemistry, University of Palermo, 90127 Palermo, Italy
5
Department of Microbiology and Immunology, School of Medicine, University of Maryland at Baltimore-Institute of Marine and Environmental Technology (IMET), Baltimore, MD 21202, USA
*
Author to whom correspondence should be addressed.
Received: 10 December 2018 / Revised: 12 January 2019 / Accepted: 17 January 2019 / Published: 20 January 2019
Abstract
Extracellular vesicles (EVs), including exosomes, are membranous particles released by cells into the extracellular space. They are involved in cell differentiation, tissue homeostasis, and organ remodelling in virtually all tissues, including the central nervous system (CNS). They are secreted by a range of cell types and via blood reaching other cells whose functioning they can modify because they transport and deliver active molecules, such as proteins of various types and functions, lipids, DNA, and miRNAs. Since they are relatively easy to isolate, exosomes can be characterized, and their composition elucidated and manipulated by bioengineering techniques. Consequently, exosomes appear as promising theranostics elements, applicable to accurately diagnosing pathological conditions, and assessing prognosis and response to treatment in a variety of disorders. Likewise, the characteristics and manageability of exosomes make them potential candidates for delivering selected molecules, e.g., therapeutic drugs, to specific target tissues. All these possible applications are pertinent to research in neurophysiology, as well as to the study of neurological disorders, including CNS tumors, and autoimmune and neurodegenerative diseases. In this brief review, we discuss what is known about the role and potential future applications of exosomes in the nervous system and its diseases, focusing on cell–cell communication in physiology and pathology.
View Full-Text
►

▼

Figures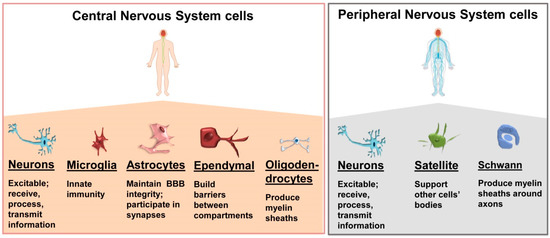 Figure 1
This is an open access article distributed under the
Creative Commons Attribution License
which permits unrestricted use, distribution, and reproduction in any medium, provided the original work is properly cited (CC BY 4.0).

Share & Cite This Article
MDPI and ACS Style
Caruso Bavisotto, C.; Scalia, F.; Marino Gammazza, A.; Carlisi, D.; Bucchieri, F.; Conway de Macario, E.; Macario, A.J.L.; Cappello, F.; Campanella, C. Extracellular Vesicle-Mediated Cell–Cell Communication in the Nervous System: Focus on Neurological Diseases. Int. J. Mol. Sci. 2019, 20, 434.
Note that from the first issue of 2016, MDPI journals use article numbers instead of page numbers. See further details here.
Related Articles
Comments
[Return to top]