Expression, Cellular and Subcellular Localisation of Kv4.2 and Kv4.3 Channels in the Rodent Hippocampus
Synaptic Structure Laboratory, Instituto de Investigación en Discapacidades Neurológicas (IDINE), Dept. Ciencias Médicas, Facultad de Medicina, Universidad Castilla-La Mancha, Campus Biosanitario, C/Almansa 14, 02008 Albacete, Spain
*
Author to whom correspondence should be addressed.
Received: 11 December 2018 / Revised: 29 December 2018 / Accepted: 3 January 2019 / Published: 9 January 2019
Abstract
The Kv4 family of voltage-gated K
+
channels underlie the fast transient (A-type) outward K
+
current. Although A-type currents are critical to determine somato-dendritic integration in central neurons, relatively little is known about the precise subcellular localisation of the underlying channels in hippocampal circuits. Using histoblot and immunoelectron microscopic techniques, we investigated the expression, regional distribution and subcellular localisation of Kv4.2 and Kv4.3 in the adult brain, as well as the ontogeny of their expression during postnatal development. Histoblot demonstrated that Kv4.2 and Kv4.3 proteins were widely expressed in the brain, with mostly non-overlapping patterns. During development, levels of Kv4.2 and Kv4.3 increased with age but showed marked region- and developmental stage-specific differences. Immunoelectron microscopy showed that labelling for Kv4.2 and Kv4.3 was differentially present in somato-dendritic domains of hippocampal principal cells and interneurons, including the synaptic specialisation. Quantitative analyses indicated that most immunoparticles for Kv4.2 and Kv4.3 were associated with the plasma membrane in dendritic spines and shafts, and that the two channels showed very similar distribution patterns in spines of principal cells and along the surface of granule cells. Our data shed new light on the subcellular localisation of Kv4 channels and provide evidence for their non-uniform distribution over the plasma membrane of hippocampal neurons.
View Full-Text
►

▼

Figures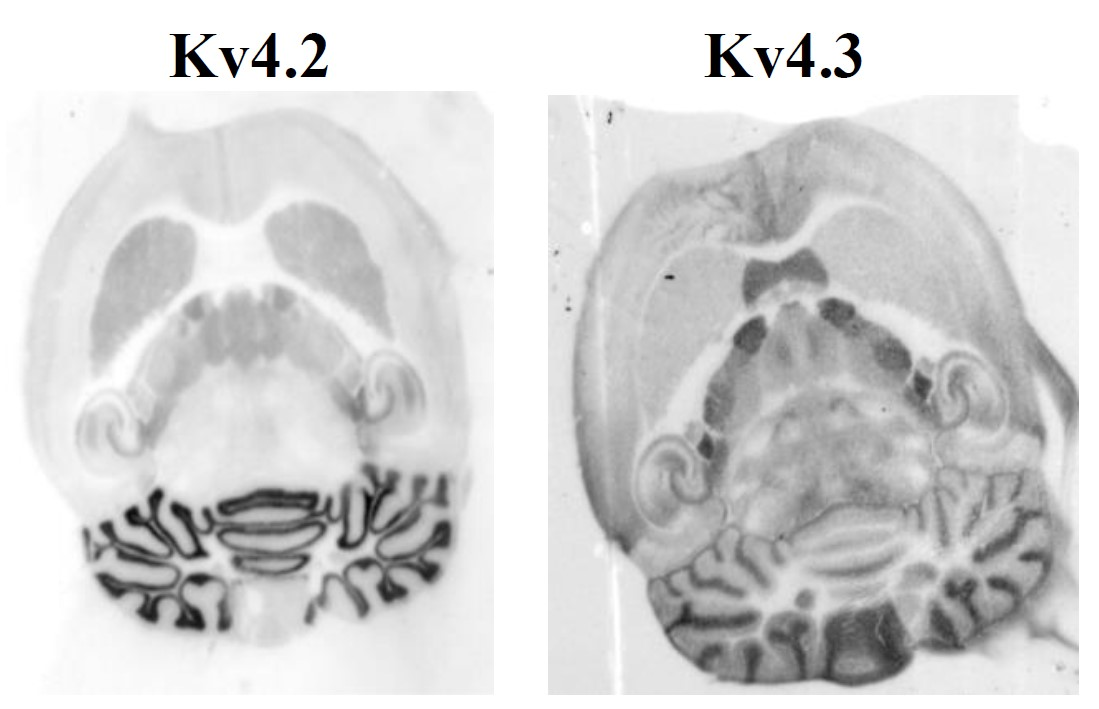 Graphical abstract
This is an open access article distributed under the
Creative Commons Attribution License
which permits unrestricted use, distribution, and reproduction in any medium, provided the original work is properly cited (CC BY 4.0).

Share & Cite This Article
MDPI and ACS Style
Alfaro-Ruíz, R.; Aguado, C.; Martín-Belmonte, A.; Moreno-Martínez, A.E.; Luján, R. Expression, Cellular and Subcellular Localisation of Kv4.2 and Kv4.3 Channels in the Rodent Hippocampus. Int. J. Mol. Sci. 2019, 20, 246.
Note that from the first issue of 2016, MDPI journals use article numbers instead of page numbers. See further details here.
Related Articles
Comments
[Return to top]