New Structures and Gating of Voltage-Dependent Potassium (Kv) Channels and Their Relatives: A Multi-Domain and Dynamic Question
1
Departamento de Bioquímica y Biología Molecular, Universidad de Oviedo, Edificio Santiago Gascón, Campus de El Cristo, 33006 Oviedo, Asturias, Spain
2
Oncophysiology Group, Max Planck Institute of Experimental Medicine, Hermann-Rein-Strasse 3, 37075 Göttingen, Germany
3
Departamento de Biología Funcional (Area de Genética), Instituto Universitario de Oncología del Principado de Asturias (IUOPA), Universidad de Oviedo, 33006 Oviedo, Asturias, Spain
*
Author to whom correspondence should be addressed.
Received: 20 November 2018 / Revised: 30 December 2018 / Accepted: 7 January 2019 / Published: 10 January 2019
Abstract
Voltage-dependent potassium channels (Kv channels) are crucial regulators of cell excitability that participate in a range of physiological and pathophysiological processes. These channels are molecular machines that display a mechanism (known as gating) for opening and closing a gate located in a pore domain (PD). In Kv channels, this mechanism is triggered and controlled by changes in the magnitude of the transmembrane voltage sensed by a voltage-sensing domain (VSD). In this review, we consider several aspects of the VSD–PD coupling in Kv channels, and in some relatives, that share a common general structure characterized by a single square-shaped ion conduction pore in the center, surrounded by four VSDs located at the periphery. We compile some recent advances in the knowledge of their architecture, based in cryo-electron microscopy (cryo-EM) data for high-resolution determination of their structure, plus some new functional data obtained with channel variants in which the covalent continuity between the VSD and PD modules has been interrupted. These advances and new data bring about some reconsiderations about the use of exclusively a classical electromechanical lever model of VSD–PD coupling by some Kv channels, and open a view of the Kv-type channels as allosteric machines in which gating may be dynamically influenced by some long-range interactional/allosteric mechanisms.
View Full-Text
►

▼

Figures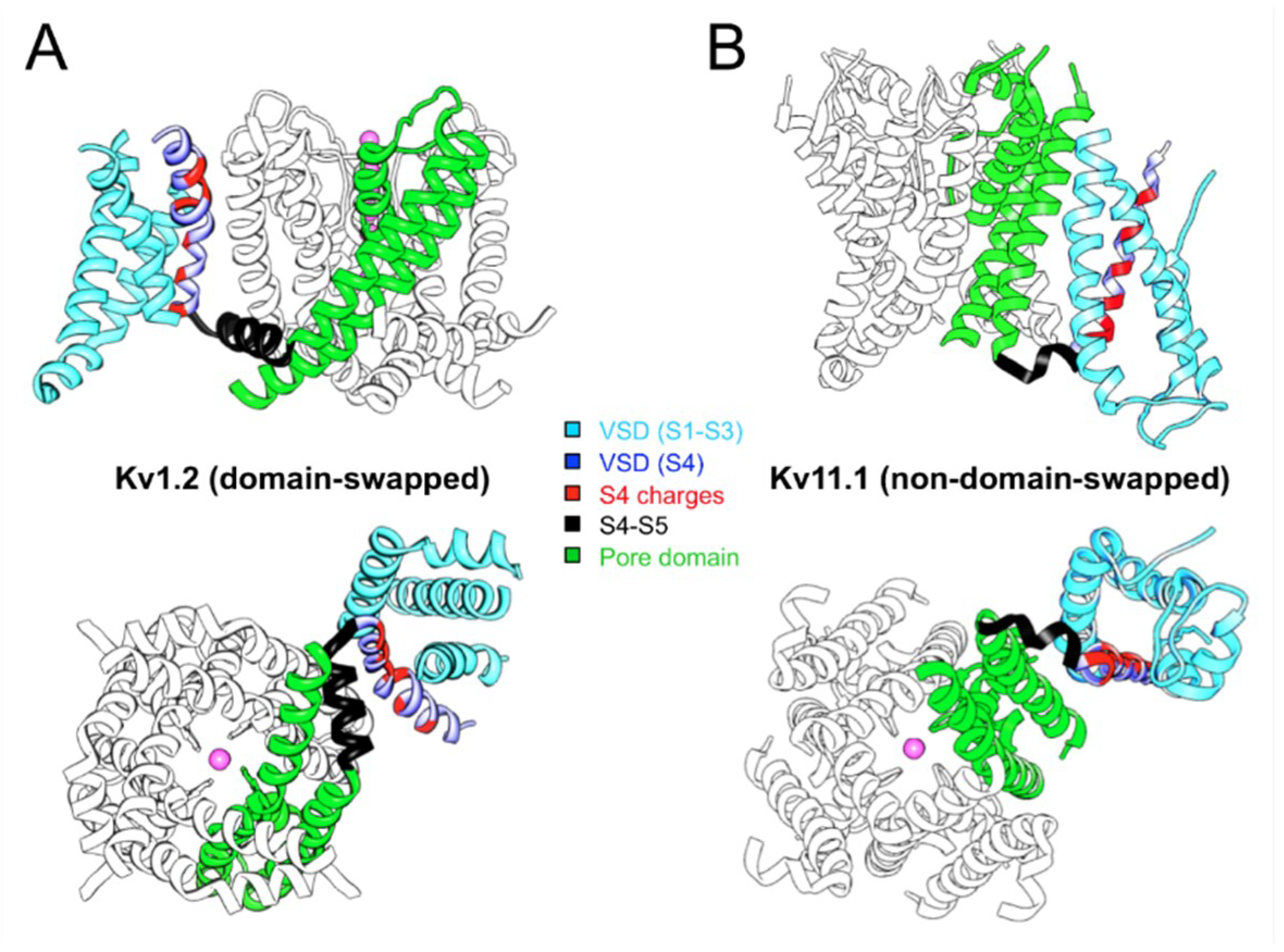 Figure 1
This is an open access article distributed under the
Creative Commons Attribution License
which permits unrestricted use, distribution, and reproduction in any medium, provided the original work is properly cited (CC BY 4.0).

Share & Cite This Article
MDPI and ACS Style
Barros, F.; Pardo, L.A.; Domínguez, P.; Sierra, L.M.; De la Peña, P. New Structures and Gating of Voltage-Dependent Potassium (Kv) Channels and Their Relatives: A Multi-Domain and Dynamic Question. Int. J. Mol. Sci. 2019, 20, 248.
Note that from the first issue of 2016, MDPI journals use article numbers instead of page numbers. See further details here.
Related Articles
Comments
[Return to top]