The Intercalation of CORM-2 with Pharmaceutical Clay Montmorillonite (MMT) Aids for Therapeutic Carbon Monoxide Release
1
Key Laboratory of Applied Surface and Colloid Chemistry MOE, School of Chemistry and Chemical Engineering, Shaanxi Normal University, Xi'an 710062, China
2
School of Materials Science and Engineering, Xi'an Jiaotong University, Xi'an 710049, China
3
Department of Biochemistry, College of Life Sciences, Shaanxi Normal University, Xi'an 710062, China
*
Authors to whom correspondence should be addressed.
Received: 6 June 2019 / Revised: 6 July 2019 / Accepted: 10 July 2019 / Published: 14 July 2019
Abstract
The pharmaceutical clay montmorillonite (MMT) is, for the first time, explored as a carbon monoxide-releasing material (CORMat). MMT consists of silicate double layered structure; its exfoliation feature intercalate the CORM-2 [RuCl(μ-Cl)(CO)
3
]
2
inside the layers to suppress the toxicity of organometallic segment. The infrared spectroscopy (IR) confirmed the existence of ruthenium coordinated carbonyl ligand in MMT layers. The energy-dispersive X-ray spectroscopy (EDX) analysis showed that ruthenium element in this material was about 5%. The scanning electron microscopy (SEM) and transmission electron microscope (TEM) images showed that the layer-structure of MMT has been maintained after loading the ruthenium carbonyl segment. Moreover, the layers have been stretched out, which was confirmed by X-ray diffraction (XRD) analysis. Thermogravimetric (TG) curves with huge weight loss around 100–200 °C were attributed to the CO hot-release of ruthenium carbonyl as well as the loss of the adsorbed solvent molecules and the water molecules between the layers. The CO-liberating properties have been assessed through myoglobin assay. The horse myoglobin test showed that the material could be hydrolyzed to slowly release carbon monoxide in physiological environments. The half-life of CO release was much longer than that of CORM-3, and it has an excellent environmental tolerance and slow release effect.
View Full-Text
►

▼

Figures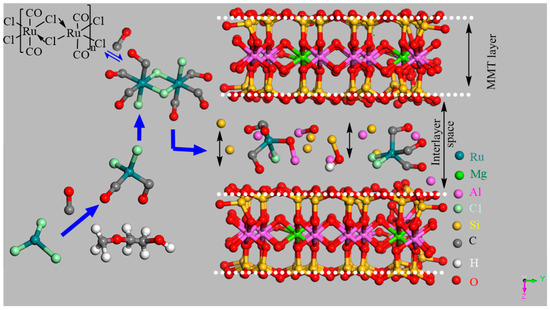 Figure 1
This is an open access article distributed under the
Creative Commons Attribution License
which permits unrestricted use, distribution, and reproduction in any medium, provided the original work is properly cited (CC BY 4.0).

Share & Cite This Article
MDPI and ACS Style
Faizan, M.; Niazi, K.U.K.; Muhammad, N.; Hu, Y.; Wang, Y.; Lin, D.; Liu, Y.; Zhang, W.; Gao, Z. The Intercalation of CORM-2 with Pharmaceutical Clay Montmorillonite (MMT) Aids for Therapeutic Carbon Monoxide Release. Int. J. Mol. Sci. 2019, 20, 3453.
Note that from the first issue of 2016, MDPI journals use article numbers instead of page numbers. See further details here.
Related Articles
Comments
[Return to top]