Differential Protein Expression Profiles of Bronchoalveolar Lavage Fluid Following Lipopolysaccharide-Induced Direct and Indirect Lung Injury in Mice
1
Department of Physiology, Louisiana State University Health Sciences Center, New Orleans, LA 70112, USA
2
Department of Biochemistry and The Proteomic Core Facility, Louisiana State University Health Sciences Center, New Orleans, LA 70112, USA
*
Author to whom correspondence should be addressed.
Received: 31 May 2019 / Revised: 1 July 2019 / Accepted: 10 July 2019 / Published: 11 July 2019
Abstract
The pathogenic mechanisms of acute lung injury due to direct and indirect pulmonary insults are incompletely understood. Using an unbiased, discovery and quantitative proteomic approach, we examined bronchoalveolar lavage fluid (BALF) proteome following lipopolysaccharide (LPS)-induced direct and indirect lung injury in mice. A total of 1017 proteins were both identified and quantitated in BALF from control, intratracheal (I.T., direct) and intraperitoneal (I.P., indirect) LPS-treated mice. The two LPS groups shared 13 up-regulated and 22 down-regulated proteins compared to the control group. Ingenuity pathway analysis revealed that acute-phase response signaling was activated by both I.T. and I.P. LPS; however, the magnitude of activation was much greater in the I.T. LPS group. Intriguingly, two canonical signaling pathways, liver X receptor/retinoid X receptor activation, and the production of nitric oxide and reactive oxygen species in macrophages, were activated by I.T. but suppressed by I.P. LPS. Cxcl15 (also known as lungkine) was also up-regulated by I.T. but down-regulated by I.P. LPS. In conclusion, our quantitative discovery-based proteomic approach identified commonalities, as well as significant differences in BALF protein expression profiles between LPS-induced direct and indirect lung injury, and importantly, LPS-induced indirect lung injury resulted in suppression of select components of lung innate immunity.
View Full-Text
►

▼

Figures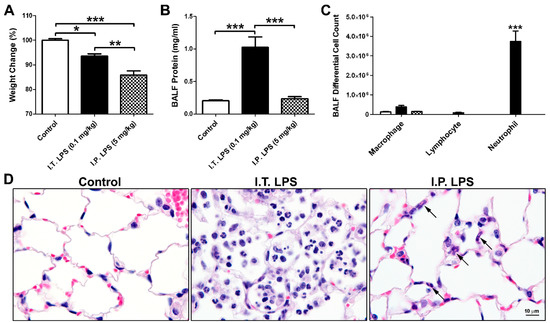 Figure 1
This is an open access article distributed under the
Creative Commons Attribution License
which permits unrestricted use, distribution, and reproduction in any medium, provided the original work is properly cited (CC BY 4.0).

Share & Cite This Article
MDPI and ACS Style
Yue, X.; Guidry, J.J. Differential Protein Expression Profiles of Bronchoalveolar Lavage Fluid Following Lipopolysaccharide-Induced Direct and Indirect Lung Injury in Mice. Int. J. Mol. Sci. 2019, 20, 3401.
Note that from the first issue of 2016, MDPI journals use article numbers instead of page numbers. See further details here.
Related Articles
Comments
[Return to top]